Top 5 Business Process Automation Tools that Turn Your Business Around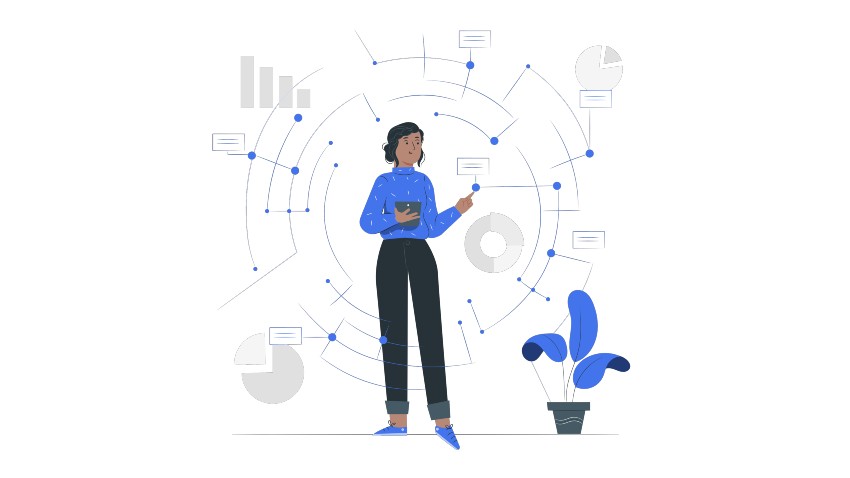 Business growth is synonymous with efficient change management and continuous process improvement. The performance of business processes directly impacts the growth of a business. Smooth and streamlined business operations stem from clearly defined and executed business processes.
Using the right tools to automate business processes is the most effective way to streamline business processes. Business process automation software empowers businesses to understand and orchestrate critical resources including people, applications, and systems. 
Basic Understanding of Business Process Automation
Business process automation is transforming organizational operations, empowering people and organizations to do more with less while scaling and aligning processes with business growth. Business process automation uses technology to perform a range of tasks that are repetitive in nature. Rote tasks that are part of every business process eat up valuable process time and resources. Automating business processes can be done with process automation software that takes care of all the rote tasks in the process. 
Rather than relying on human effort to complete menial tasks and simple tasks, business process automation uses technology to take care of them. Technology is more efficient and cost-effective in streamlining processes faster. Moreover, the incidence of errors is almost nil in automated processes.
Business process automation software can be used to automate digital processes and impact their business processes positively. When business process automation is paired with other processes, it helps organizations to –
Experience better customer engagement

Empower non-technical users to design business processes

Make informed business decisions

Understand the overall end-to-end process of a business

Speed up everyday operations

Eliminate recurring manual-based processes
Robotic process automation (RPA) is a type of automation that uses software robots or artificial intelligence to automate repetitive low-value tasks that are performed by humans. RPA enables organizations to handle high-volume processes with ease and prioritize more complex tasks, which reduces the burden on human resources. RPA generates high ROI and accelerates the digital transformation of businesses. 
What is the difference between business process automation and robotic process automation? Business process automation and robotic process automation can be differentiated on the following points – Integration, workflows, and pricing. 
1. Integration
BPA solutions work to streamline business processes for fast and accurate business decisions. RPA on the other hand focuses on replacing time-consuming, repetitive, and simple human tasks with technology. BPA systems are meant to address end-to-end processes in an organization.
RPA on the other hand integrates into existing BPA software like Customer relationship management (CRM) and enterprise resource planning (ERP). The seamless integration with existing processes does not affect the performance in any way, it only focuses on automating repetitive processes. When compared to RPA, BPA uses a more invasive form of integration that takes over other existing systems and implements its own system 
2. Workflows
RPA and BPA use different types of automated processes, but both of them focus on enhancing the efficiency and effectiveness of workflows. BPA uses a more complicated workflow by using a single processing model to create workflows that combine disparate systems. BPA makes use of diversified systems to exchange and extract information with each other when automating tasks.
The best example would be a process that requires database access and APIs, and significant IT support for coding and development. RPA bots replace human tasks with ease. Tasks like sending emails, copying and paste of information, transferring files, etc, can be automated using RPA. Automation bots record and repeat the entire process workflow and access existing user interfaces as well. RPA is best suited for business users who want minimal human involvement in workflows. 
3. Pricing
there is significant variation in the pricing of BPA and RPA. Business process automation platforms are usually priced based on the number of users. Indirectly, the pricing of business process automation tools depends on the size of the organization. Moreover, the scope of business process automation is much wider than that of RPA. The former focuses on end-to-end processes, while the latter focuses on specific tasks in the workflow. Due to a larger scope, BPA solutions are priced higher than RPA.
Pricing of process automation tools may be significantly high when used for automating complex business processes for multiple users in a big company. The pricing of RPA on the other hand depends on the subscription. To give you a fair estimate, yearly subscriptions of an unattended robot may cost anywhere between $8000 to $10,000. Attended robot subscriptions on the other hand may range between $1200 and $1500. 
What are the capabilities that process automation tools bring to business processes?
Visual designing of the process flow

Define various business rules and routing conditions

Accelerate business process execution

Monitor and track process execution

Spot process bottlenecks and redundancies
As per Gartner, business process automation tools have enhanced their core offerings by acquiring or integrating low-code application development, process mining, task mining, AI/ML, and process analytics.  
What is Business Process Automation Software?
The importance of adopting business process automation is evident from the above discussion on business process automation systems. Now, what is business process automation software? To put it simply, business process automation software is what runs process automation tools. Organizations can completely or partially automate their business processes by using BPA software. Business process automation solutions are software programs that automate the execution of business processes. 
BPA software and RPA software share the same goals, but RPA works more like humans and uses machine vision and screen scraping to manipulate software. BPA software in contrast automates the business processes of the organization and then integrates them into the software being automated. BPA technology plays a significant role in improving productivity in the organization and reducing operational costs. It enables users to automate the responses to customers. 
BPA software allows a company to automate customer responses
Customer software is usually used by companies that maintain a website. There are several online channels through which customers can reach the website. Let us assume that user logins via Facebook are not being tracked properly, as a result, responses to these customers may not happen on time. A BPA software can be used to automatically respond to any message with the keyword "Facebook" by saying it is a known issue and will be resolved soon. The customer support team will be freed from responding to these messages so that they can focus on other unknown tickets.
BPA automates process approvals 
Business processes like procurement, accounting, HR, and Admin require approvals at various levels. Timely approval of POs, invoices, leave requests, etc, is a must for the smooth functioning of these processes. Take for example the procurement process, where you are ordering pieces of new machinery. To complete this order, you might need approval from multiple departments. When you seek approval manually, you waste a lot of time on hunting down each manager for approvals. With a BPA solution, you simply have to click on "start the approval" and the request is cascaded to various approval levels to complete the process. 
BPA software leads the entire employee onboarding process
Employee onboarding is a highly structured process that is time-consuming and labor-intensive. HR personnel spends hours onboarding employees. Any delay in the onboarding process may paint a negative image of the brand. So, instead of carrying out the entire onboarding process, you can simply use BPA software to lead the entire process for you. Business processes that are made up of predictable and repetitive steps that are based on preset business rules are ideal for automation. 
Stages of Business Process Automation Software
Business process automation software requires a comprehensive and systematic approach to implementing the automation solution. In order to derive the maximum advantage of end-to-end automation, complementary automation technologies should be combined to augment business processes. This concept is referred to as "hyper-automation" by Gartner. Business process automation software must be implemented in the following phases – 
1. Analysis
Before implementing a business process automation technology into its workflows, it is crucial to gain insights into how the process works and the existing infrastructure and capabilities in the organization. Implementing an automation solution without proper impact analysis results in decreased productivity and efficiency.
Once stakeholders have analyzed processes and current systems, they can choose the best business process automation software that best suits their requirements. Organizations that are implementing BPA for the first time must start with just one BPA technology at a time. Although achieving automation at scale requires the use of a multitude of technologies, the implementation must be carried out incrementally to ensure that they work as intended. 
2. Implementation
Once the process/es to be automated are decided and the appropriate BPA solution is chosen, stakeholders proceed to set up and customize the business process automation technology. Tasks such as creating an in-depth list of functionalities, training end users, and assigning user access, are completed in the implementation phase. The BPA technologies undergo extensive testing to ensure that systems are performing as expected and are sufficient to satisfy organizational goals. 
3. Integration
Integration of the new BPA software with existing enterprise systems and third-party solutions is a must for smooth business operations. Data from disparate sources are typically combined and integrated in this step using APIs. The integration process can be simplified and expedited by using an intelligent business process management suite (iBPMS).
4. Maintenance
Business process automation is an ongoing process and a long-term business initiative. Organizations must provide support even after the implementation of the solution. Maintenance and support services for the BPA software are essential to ensure that the process outcomes are aligned with organizational goals.
Continuous monitoring of processes helps identify bottlenecks and inefficiencies. Advanced process monitoring technologies like process mining and process discovery can be integrated into an iBPMS. These technologies monitor business processes in real-time and enable prompt decision-making and corrective action.
The business process automation solutions must be continuously updated to ensure that the entire organization has access to technical support. Widespread user adoption fosters an automation-based culture that delivers high levels of success. 
How is BPA software used? The usage of BPA software depends on the type of business process you want to automate. There is no one-size-fits-all approach that suits all the business processes of the organization. The functions of the BPA software must be in line with the nature of the process. 
Business Process that Can be Automated
Not all business processes can benefit from process automation. Processes that are repetitive, rule-based, and predictive are ideal candidates for automation. When such processes are automated, the productivity and efficiency of the process are enhanced. Overly complex processes with multiple task dependencies are a challenge to automate and do not produce favorable outcomes when automated. 
Knowledge of popular use cases of business process automation helps in making the right decision on which process to automate. 
1. Employee onboarding
Hiring and onboarding employees may seem like a straightforward process. Still, in reality, it is a labor-intensive process that involves a host of tasks like filling out employee information forms, setting up induction and training sessions, creating bank accounts, gathering relevant documents, and assigning mentors. Without automation, the employee onboarding process may be quite chaotic and result in endless paperwork, missing documents, low productivity, and employee dissatisfaction.
Automating the onboarding process will ensure smooth transitions from one task to the next. When the employee onboarding is automated, the relevant employees are kept informed and deeper visibility into the status of the process is provided. 
2. Project management
managing a project – from the inception stage to delivery involves several intermediary steps that are to be executed in a predetermined sequence. Delay or skipping of even a single task in the loop results in the collapse of the entire project. The tools to automate business processes within a project are referred to as task management software. These tools are used to avoid miscommunication within the project by organizing emails, information files, and to-do lists. 
3. Customer support
Timely resolution of customer queries/complaints is paramount for a business. Customer support teams are often overwhelmed with a barrage of queries and complaints all of which seem like priorities. So how do they manage? Using a business process automation tool to sift through customer requests/queries/complaints, and categorize them based on priority is a huge help to the customer support team. Still better, when an RPA bot can actually address standard, simple queries so that the customer support representative can focus on complex and more important issues. A customer support software can save the team from the hassle of responding to hundreds or thousands of complaints about an issue by automating standard replies. 
4. Operations management
Operations are what keep the business running. Manual business operations make it extremely difficult to keep track of the who, what, why, and how of operations management. When the entire logistical part of operations management is automated, it becomes easy to track the status of each task and ensure the timely completion of all the tasks. 
5. Purchase order management
Purchase orders are a recurring part of the procurement process. The content of purchase orders and the approval hierarchy may vary according to the goods/services being purchased. The requesting team/individual fills up a form and sends it to the procurement team. The procurement team then reviews and routes the request to the appropriate approval authority.
After reviewing the purchase order, it is rerouted to the requestor in case any additional information is needed, or the approved request is sent to the requestor for further processing. A copy of the approved PO is created and sent to the supplier and the inventory team. As you can see there are a lot of routing and multiple approval levels that happen in the PO process.
Without a streamlined PO process, approvals could be delayed, productivity is reduced, errors or duplications occur in POs, or PO records could be incomplete. A business process automation tool like Cflow improves the efficiency, productivity, transparency, and speed of PO approvals. 
6. Invoice approval process
Similar to the PO approval process, the invoice approval process also entails multiple review and approval levels. An invoice is a document that is sent by the supplier to the buyer for payment for the goods/services that were delivered. Before approving an invoice it is subjected to the 3-way matching process.
The 3-way matching process compares the data on the PO, invoice, and goods received a note, to ensure that the goods delivered are as per the specifications in the PO and that the supplier has billed the client only for the goods that were delivered. This process is time-consuming and error-prone. Automating the invoice approval process ensures that all the documents are accurately matched and review and approval happen quickly.
7. Social media marketing
Advertising and marketing via social media is the reigning trend in the marketing world. The marketing team carefully mulls over the content of social media posts and publishes posts at the most appropriate time. The team spends quite a bit of their productive work hours on social media marketing.
Social media automation tools to the rescue! These automation tools can be used to schedule social media posts throughout the week or month, depending on the focus of the marketing campaigns. The biggest advantage of using BPA for marketing automation is that work gets done efficiently and the customer experience is greatly enhanced. Not just that, the process automation tool provides insights into areas that need improvement in the marketing workflow. 
Benefits of Business Process Automation
Automating business processes is the most effective way to streamline and optimize business operations. Businesses stand to gain several benefits from automating their processes. Here are some of them – 
1. Saves operational costs
businesses go for automation mainly to eliminate redundancies and automate repetitive tasks. According to a Forbes study, organizations lose at least 30% of their revenue annually to inefficient business processes. Manual business processes are ridden with errors, inconsistencies, delays, and resource wastage.
Automating repetitive, low-value tasks in a process saves a lot of time for the team, and also frees up resources for other important work. By automating key business processes, profit margins can be significantly increased and operational costs can be reduced. A process automation tool can eliminate resource wastage and ensure optimal use of resources, which empowers stakeholders to negotiate terms favorably and manage contracts efficiently. 
2. Accelerates document review and approval
Approval-based processes like PO processing or invoice processing or CapEx approvals, or expense reimbursement approvals, involve a tiresome review of data and validation against business rules and regulations. When such processes are executed manually, maintaining data and documents can be a nightmare.
Document management process automation helps you speed up document review, validation, and approval. Data and document management are greatly simplified via automation, making it super easy to retrieve and organize critical business data. Accurate information moves smoothly between processes and confidential data is secured easily with business process automation software. 
3. Improves transparency
When process automation tools are in place, tracking and monitoring multiple processes becomes easy. Process owners can establish key performance indicators for each process, which makes it easy to monitor the performance of the process. Process automation provides deeper levels of visibility and transparency into the process, which provides leadership with deeper insights into process performance and areas of improvement. Transparency into business processes helps teams stay informed on task assignments and improve accountability across the team. 
4. Helps monitor task progress
Managers and team leaders are often caught in the web of follow-up emails for tasks that they are incharge of. Leaders are often engaged in endless follow-ups with back-and-forth exchanges of emails to clarify details or check on the progress of tasks. When follow-ups are done manually, it is likely that updates on the current status of the task are lost in the web of emails or forgotten during Tele conversations.
In tasks that require approvals, requests for approvals are also lost in the thick web of email exchanges. In the end, managers are neither aware of the task progress nor aware of approvals pending at their end. BPA software reduces the processing time and the need for following up on task statuses. Automated alerts and notifications to relevant stakeholders to keep them informed on task completion or approvals required from them.
Monitoring document and task progress is effective when you automate the process. Moreover, the software also equips you with full traceability of sent, opened, and signed documents. 
5. Enforces company policies
Noncompliance can cost an organization dearly. Regulatory policies and standards are constantly changing, and keeping up with them and aligning the company's policies according to them can be a challenge when done manually. The good news is that business process automation tools can help organizations stay compliant with industry regulations and standards.
Company policies can be easily enforced by maintaining a log of records for task performance, names of stakeholders, details of given tasks, and time when they are completed. Updated logs make it easy to trace and update company data. Role-based access to business data also ensures that business data is safe from unauthorized editing or viewing. Better compliance with relevant regulations is a breeze with the right process automation tool. 
6. Streamlines communication
Despite having the best resources and a winning project plan, the process outcomes are not as expected. Why? Lack of clear communication could be one of the reasons why processes fail to perform at optimal levels. It is important that all the team members must be aware of the progress of all tasks.
Business automation software helps establish a clear communication channel within the team so that all team members are on the same page. In business processes like sales and customer service, it is important to have streamlined communication channels. Automation of all processes also retains process-related communications within the workflow, which makes process execution faster and easier. 
7. Does the heavy lifting
On average, employees spend 2.5 hours a day on rote, admin tasks like document processing, data entry and validation, review, and approval of paperwork, and searching for data. BPA software does the heavy lifting for you so that you can focus on tasks that add value to the organization. Moreover, automated tasks are completed in much lesser time compared to manual processes. Automation of labor-intensive tasks in a process decreases the turnaround time of manual tasks. 
8. Reduces meeting time
Automation can handle all the mundane recurring tasks in a process. Automated alerts and notifications issued by BPA software also eliminate the need for follow-up meetings that are held to update the status of tasks. When the time for meetings is reduced, employees can work on tasks that engage their brains in strategic and important functions. 
9. Eliminates human error and bias
Processes that are dominated by human intervention are marred by errors and biases. Even the most talented and capable employee is bound to commit errors at some point during their work. In data-intensive tasks like accounting and finance, even the smallest error may result in huge losses for the organization. Automation can eliminate the component of human intervention in data-intensive tasks, thereby, bringing down the error and bias margins. Eliminating data risks helps you fix common errors in the workplace like delays, manual slip-ups, inefficiency points, etc. Redundant business operations can also be avoided when you automate the process. 
10. Improves workflows
Business process automation brings consistency and standardization into the workflow. Predictable and rule-based processes are ideal for automation. In organizations where there are multiple tasks to complete, different filing methods, and different processes, automation brings standardization and ensures that all steps are executed systematically in a sequential manner. Once you have a process automation system in place, no documents will get lost and no critical steps will be missed. 
Does My Business Need Business Process Automation?
Deciding whether your business would benefit from process automation or not requires a deep analysis of existing processes. Each process must be analyzed to determine whether it is performing as expected by evaluating the key performance indicators. The process outcomes must be as expected and aligned with the overall organizational goal.
There is a strong correlation between implementing BPA software and higher process performance. The best business process automation tools can increase the efficiency of a process and boost performance.
How do you decide whether your business requires business process automation?
Here are a few pointers that indicate the need for automation. 
1. Too many meetings occur too frequently
Back-to-back team meetings can eat up the productive hours of employees. Moreover, each meeting will have a different agenda and discussion points that will not follow any standard format. Decision-making post-team meetings also get delayed due to a lack of proper recording of data.
When BPA software is used for organizing meetings, the meeting duration, time for making decisions, and streamlining collaboration are significantly reduced. This software facilitates online meetings that can be launched from anywhere. This is the best way to save time and boost productivity. The minutes of meetings are accurately recorded by the software so that data-driven decisions can be taken. Moreover, the entire meeting can be recorded for future reference. 
2. Several manual processes in practice
Businesses that rely on manual processes are marred by delays and errors. Repetitive admin tasks like creating daily reports, and compiling or validating data, are both time-consuming and prone to inconsistencies and errors. Manual reporting is also prone to errors and inconsistencies.
Tasks like creating daily reports and compiling data are tedious and time-consuming and lead to costly errors. Business process automation software gets rid of manual reporting and generates real-time updates on process statuses. When team members are freed from such tasks, they get time to focus on critical tasks. 
3. Spending too much time on document review/approval
We have all been in a situation where our work gets delayed as we wait for approvals from managers. Reviewing and validating a document is a time-consuming process that requires attention to detail. As a result, managers spend too much time on the review and approval of documents. Added to this, when a manager or a team lead is on leave, the entire process is thrown out of gear.
Business automation software streamlines the document review and approval process by automating the review process. Getting document approvals can be as easy and quick as clicking a button with process automation. Once the requestor adds files and data to the workflow, the software automatically routes them to the concerned approver.
The reviewer gets alerted via notifications about the submission of a request along with information on the last date/time for approval. They can quickly review the documents and requests and make a decision on approval or rejection right away. 
4. Low employee morale
When employees work on tedious, low-value tasks for a long time, their morale and work satisfaction is affected adversely. Moreover, the longer they work on such tasks, the lower will be their productivity. Low employee morale and work satisfaction result in higher attrition rates.
Automation of repetitive and low-value tasks in a workflow comes as a relief for employees, who can focus on tasks that add value to the organization and their careers. BPA creates a friction-free environment for employees to get their work done effectively. Process automation also automates approval tasks so that employees do need not to wait endlessly for approvals from superiors. Automation not only improves productivity but also enhances employee morale and work satisfaction. 
5. High operational costs
Process workflows that are made up of repetitive and redundant tasks are a source of high costs for a business. These steps lead to wastage of resources and high costs. A process workflow with repetitive steps increases the time to complete, which in turn increases the overall cost of goods and services. Automation of process workflows eliminates these redundant steps and the costs associated with them. The overall process costs are significantly reduced by automating the workflow. 
6. Lack of transparency
Manual processes often lack transparency and visibility into the status of tasks. Requestors in an approval-based process wait endlessly for getting approval for their request, without knowing where or with whom the request is pending. The status of each task in the workflow is not clearly visible to all the stakeholders in a manual process.
Business process automation clearly maps out each task in the workflow along with its dependencies, so that everyone is clear about the status of each task. Process automation improves transparency within the process workflow. 
7. Increased non-compliance
Complying with industrial and company policies and standards is a must for every business. Non-compliance can lead to serious issues that may even cause a business to shut down. Automation of process workflows streamlines and standardizes process workflows so that they are compliant with industry standards and are audit ready. Documentation is done in an organized manner by the software, to leave a clear audit trail. 
8. Low customer satisfaction
Customers expect top-notch products and services, and immediate resolution of their queries and complaints. Customer satisfaction is the key differentiator in any industry. Archaic business processes are full of redundancies and repetitive tasks that bring down the quality of deliverables.
If your customer satisfaction score has been consistently low, then it is time you consider moving from manual processes to automated processes. Businesses can achieve operational excellence with automation that will help exceed customer expectations with ease. Automation also brings about standardization into the process, which helps deliver consistent results all the time. 
End-to-end workflow automation
Build fully-customizable, no code process workflows in a jiffy.
Use Cases of Business Process Automation
Business automation is not restricted to a handful of functions in a business. There are certain factors that indicate the need for automation, including – 
High-volume of tasks 

Multiple people needed to execute tasks

Time-sensitive nature of tasks

Impact on other processes and systems 

Need for compliance and audits

Process ridden with repetitive tasks

Tasks that require low levels of intelligence

Rule-based processes
For a better understanding of how business process automation software works, here are some compelling BPA software use cases. 
1. Employee onboarding
Hiring employees is a tedious process that consumes most of the time of HR personnel. A typical onboarding process involves tons of paperwork – joining documents, academic qualification proofs, planning training and induction sessions, setting up bank accounts, and filling out employee information forms. Without the right BPA software, this process becomes inconsistent, informal, and disjointed. It could also result in –
Low productivity

Employee dissatisfaction

Missing out on crucial tasks

Endless hiring paperwork
Automating the employee onboarding process ensures that the transition from one task to another is smooth. BPA software also provides deeper visibility into the status of the hiring process while updating all the information on would-be employees. 
2. PO processing
In most organizations, PO and invoice processing is a recurring task that requires a lot of paperwork. The concerned department fills out a form and sends it out to the purchasing department. The details on the form are reviewed by the procurement team and a purchase order (PO) is created. A copy of the PO is sent to the supplier as well as the inventory team.
All the steps in the PO processing involve some form of documentation and exchange of data. Similarly, in invoice processing, there are several steps that involve documentation and review and approval of invoices. Without automating these processes, it is going to be a huge burden on the procurement and finance teams to go through each line item data and validate it. The issues that might crop up include – 
Errors while taking delivery of supplies

Mismatch in the invoice and PO data

Incomplete or duplicate records

Impaired productivity

Delay in PO or Invoice approval
Automating the PO and Invoice approval workflows speeds up the process and also enhances the accuracy of data processing. The transparency and accountability of these processes are greatly enhanced via automation. 
3. Payroll processing
Processing employee payrolls is a recurring task in any organization. The payroll calculations are based on the role or designation of the employee. Processing payroll is a standard process that is rule-based and requires minimum human intervention. Moreover, this is a high-volume task that can be effectively automated. 
Top 5 Business Process Automation Software Tools
Now that we have understood the what, why, when, and how of business process automation software, we should move on to a business process automation software comparison. By comparing and evaluating various process automation software we can arrive at a decision on the right tools to automate business processes. We have listed the top 5 business process automation software – 
1. Cflow 
Quick and effective workflow automation with this no-code BPM software. Cflow is among the top process automation software that is trusted by businesses across the globe for customizable automation. You can transform and streamline business processes with this cloud BPM automation software.
HR and Admin, IT operations, Finance and accounting, Procurement, and Sales and Marketing are the key business workflows that can be automated with Cflow. Reliable security and backup, seamless API integration, and flexible digital transformation are some of the features offered by Cflow. With competitive pricing that starts at $7 per user per month, Cflow is the right business process automation solution for small to enterprise businesses. 
2. Process maker 
Rated among the top BPM software, Process Maker is a low-code automation platform that empowers business users to rapidly design and deploy solutions to complex workflow problems in hours. This software makes it easy for users to automate processes, connect and extend third-party systems, reduce bottlenecks, and deliver agility to your organization.
This software can be used to easily design and automate workflows. You can accelerate digital transformation and connect all systems, people, and work on one platform. Standard pricing starts at $1495 per month and enterprise pricing starts at $2479 per month. 
3. Asana 
This is a project management tool that offers manager-centric and worker-centric features. The simple user-interface streamlines project management such that it encourages usage and interaction. Asana provides premade templates, shared calendars, task prioritization, task schedulers, and dashboards for project insights. You can easily share files via the drag-and-drop option for every task. Premium pricing starts at $10.99 per user per month and the business pricing plan at $24.99 per user per month.
4. Pipefy 
You can design and automate business workflows in minutes with Pipefy. This is a low-code BPA software that can automate CRM, human resources, finance, procurement, and IT. You can also automatically report on every step in the process with Pipefy. You can subscribe for monthly or annual plans Pipefy. The Business plan is priced at $19 per user per month and the Enterprise plan is priced at $32 per user per month.
5. Appian 
This software provides end-to-end process automation with bots. This is a low-code automation platform that can be used to design, automate, and optimize business processes. This software pricing starts at $75 per user per month.
Conclusion
Business process automation software contributes directly to improving the productivity of the business. Workflow automation software like Cflow helps businesses streamline their workflows by eliminating redundancies and automating repetitive steps. To explore Cflow, sign up for the free trial right away.
What would you like to do next?​
Automate your workflows with our Cflow experts.​
Get your workflows automated for FREE
---