Building a Great BPM Suite
Business strategies revolve around cost, product or service differentiation, and focus on niche customer or product segments. Companies must look at continuous process improvement and innovation to stay ahead of the competition.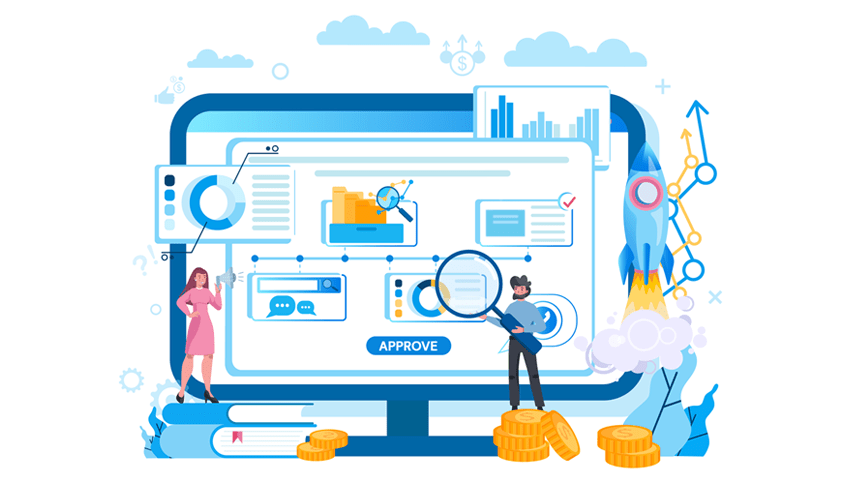 Business processes are at the core of all business strategies. Optimized business processes translate to efficient business operations that are cost-effective and produce quality goods/services. Business processes must constantly evolve and adapt in order to keep pace with market trends and customer demands.
Implementation of smart business improvement strategies like Business Process Management (BPM) empowers businesses with the ability to constantly evolve without disrupting business stability.
What is a BPM Suite?
Business process management aims at improving order, insight, and efficiency of the business workflows that make up business processes. Implementing a BPM solution eliminates the chaos and redundancies within the business process workflows by constantly optimizing workflows.
A BPM Suite is a set of automated tools that support business process management. BPM Suite is an integrated system of software that sets the application architecture and technology infrastructure required for the operation of BPM technologies.
A typical BPM lifecycle consists of the following steps:
Designing the business process
Modeling various scenarios under which business operates
Executing improvement solutions like standardization and workflow automation
Continuously monitor performance
Optimizing the business process on an ongoing basis
A BPM Suite is a model-driven approach that enables process improvement through the entire BPM lifecycle. The scope of a BPM suite is wider than a project management tool.
The BPM Suite allows users to:
Model processes
Apply business rules and create process applications
Configure functionalities
Run applications
Create custom reports
Monitor process results
A business process management suite models the businesses to use workflows, business rules, and data in an optimum manner for better business outcomes. A BPM Suite generates the applications and creates an environment for the business and applications to run. Companies use tools in BPM suites to execute BPM activities like mapping, modeling, automation, management, and optimization.
Must-Have Features of a BPM Suite
BPM Suites enable organizations to streamline their business processes by making business workflows more effective, efficient, and adaptable. The right BPM system can help you accomplish your business goals.
Here are some of the features that a BPM software must have:
Enable easy modeling of processes and forms: The BPM solution must have intuitive graphical modeling of processes that can be used by businesses to roll out their own forms and processes quickly without any technical knowledge.
Enterprise architecture modeling: An enterprise architecture model provides an overall view of operations, which allows optimal planning for the process.
Project and process management: Integrating process and project management provides the management end-to-end control over projects and processes. The BPM solution must be able to integrate project and process management.
Effective data capture: In the era of Big Data, your BPM solution must be able to effectively capture, manage, and analyze any type or form of business data.
Mobility: Your BPM solution must be flexible and support multiple form factors. Ideally, a mobile app should be available for your BPM suite so that it is easy for people to use on the go. It should provide easily configurable dashboards and navigation that can be viewable on mobile phones and tablets.
Data and document management: Managing massive data volumes and ensuring proper versioning of documents can be a challenge in today's data-driven environment. Your BPM solution must provide effective data and document storage and retrieval facilities.
Real-time process monitoring and measurement of KPI: Business processes must be monitored in real-time and KPI metrics must be measured and reported effectively by the BPM suite so that necessary action can be taken for continuous business growth.
On-premise and cloud deployment options: The BPM vendor must provide a choice of deploying the solution on-premise or on the cloud.
Social collaboration features: The BPM solution must enable social collaboration so that business activities and updates can be viewed and commented upon in real-time through an interface that is familiar to millennials.
There are dozens of BPM software available in the market. Choosing the right BPM solution for your unique business requirements is essential for success. Cflow is a no-code cloud BPM that can automate your business processes quickly and efficiently. Our easy-to-use visual form builder can be used by anyone to build a workflow within minutes.
Advantages of a BPM Suite
A BPM Suite provides a platform for running the BPM activities. The right BPM solution can ease out process bottlenecks and optimize operations. The advantages of a BPM Suite are:
Enables rapid process automation
Empowers the organization with remarkable agility
Enables seamless collaboration between processes and projects
Provides more control and visibility for process owners
Promotes management by exception by automating mundane, repetitive actions
Brings in more visibility and enables data-driven decision making
Accelerates the time to value with any business process
A BPM Suite is a comprehensive solution that enables businesses to improve their process performance and differentiate their products and services. Implementing a BPM solution helps businesses align their products/ services to market and customer demands.
Cflow is your automation partner for automating your business processes. Contact us so that we can collaborate for better business outcomes. Reach out to us today.