Building a Great BPM Suite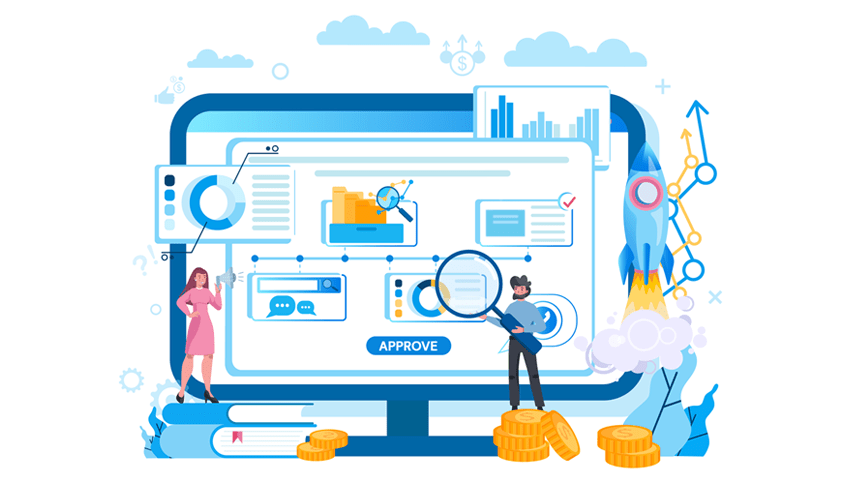 9 Must-Have Features of a BPM Suite
The software industry is constantly challenged to create high-quality products at reduced costs as per the trend. Several initiatives were proposed to meet customer demands and resolve them. One such initiative is the development of the business process management suite (BPMS).
The IT tools which support the business process management approach have rapidly developed over the last ten years. Initially, enterprises used only simple tools to optimize and model their business processes. The next-generation tools used intelligence in their applications and opened the door to endless possibilities for automation through artificial intelligence. This helped enterprises to face the tough challenges of the real business world.
Enterprises around the world conduct activities using business processes. They are at the core of all business strategies. Optimized business processes translate to cost-effective business operations and produce quality goods/services. Business processes must constantly evolve and adapt to keep pace with market trends and customer demands.
What is a BPM Suite?
Initially, it is essential to differentiate the definitions of BPM and BPMS. Business process management (BPM) can be defined as the ability to understand and manage different parts of a business process in an organization.
Business process management aims at improving order, insight, and efficiency of the business workflows that make up business processes. Implementing a BPM solution eliminates the chaos and redundancies within the business process workflows by constantly optimizing workflows.
Implementation of smart business improvement strategies like Business Process Management (BPM) empowers businesses with the ability to evolve without disrupting business stability constantly.
Well, a business process management suite (BPMS) can be defined as a software platform that allows the design, execution, and management of complete business processes. From conception to modeling, BPMS is an integrated part of the software environment used for automating business processes.
A BPM Suite comprises automated tools that support business process management. BPM Suite is a consolidated system of software that sets the application architecture and technology infrastructure required to operate BPM technologies.
A typical BPM lifecycle consists of the following steps:
Designing the business process
Modeling various scenarios under which business operates
Executing improvement solutions like standardization and workflow automation
Continuously monitor performance
Optimizing the business process on an ongoing basis
A BPM Suite is a model-driven approach that enables process improvement through the entire BPM lifecycle. The scope of a BPM suite is more comprehensive than a project management tool.
The BPM Suite allows users to:
Model processes
Apply business rules and create process applications
Configure functionalities
Run applications
Create custom reports
Monitor process results
A business process management suite enables businesses to use workflows, rules, and data optimally for better business outcomes. A BPM Suite generates the applications and creates an environment for the business and applications to run. Companies use tools in BPM suites to execute BPM activities like mapping, modeling, automation, management, and optimization.
Must-Have Features of a BPM Suite
From a software architecture perspective, the essence of a BPMS product is how efficiently it allows business managers or analysts to modify and describe the business processes. A BPMS tool comprises a process diagramming interface. This enables business analysts to use it to define the business processes where they can create, edit and terminate them once completed.
A BPMS engine will help in generating instances for each business process. Generally, it comprises two engines where one takes care of the graphic modeling things, and the other takes care of other tasks in the workflow. The BPMS tool should take care of business processes from employees as well as software applications.
BPM Suites enable organizations to streamline their business processes by making workflows more effective, efficient, and adaptable. The right BPM system can help you accomplish your business goals.
Here Are Some of The Features that Bpm Software Must Have:
1. Enable easy modeling of processes and forms
The BPM solution must have intuitive graphical process modeling that businesses can use to roll out their own forms and processes quickly without any technical knowledge.
2. Enterprise architecture modeling
This model provides an overall view of operations, which allows optimal planning for the process.
3. Project and process management
Integrating process and project management provide end-to-end management control over projects and operations. The BPM solution must be able to integrate project and process management.
4. Effective data capture
In the era of Big Data, your BPM solution must be able to effectively capture, manage, and analyze any type or form of business data.
5. Mobility
Your BPM solution must be flexible and support multiple form factors. Ideally, a mobile app should be available for your BPM suite so that it is easy for people to use on the go. It should provide easily configurable dashboards and navigation that can be viewable on mobile phones and tablets.
6. Data and document management
Managing massive data volumes and ensuring proper versioning of documents can be a challenge in today's data-driven environment. Your BPM solution must provide adequate data and document storage and retrieval facilities.
7. Real-time process monitoring and measurement of KPI
Business processes must be monitored in real-time, and KPI metrics must be measured and reported effectively by the BPM suite to take necessary action for continuous business growth.
8. On-premise and cloud deployment options
The BPM vendor must provide a choice of deploying the solution on-premise or on the cloud.
9. Social collaboration features
The BPM solution must enable social collaboration so that business activities and updates can be viewed and commented upon in real time through an interface familiar to millennials.
The heart of a BPM suite lies in the engine that is capable of managing the runtime execution of all the business process instances. Most of the BPM suite comprises more than one engine where one takes care of the workflow aspects of a business process, and the other takes care of the route information and communication processes. When it has one or two engines, you will have better coordination. You can manage all kinds of activities quite effectively.
There are dozens of BPM software available in the market. Choosing the right BPM solution for your unique business requirements is essential for success. Cflow is a no-code cloud BPM that can automate your business processes quickly and efficiently. Anyone can use our easy-to-use visual form builder to build a workflow within minutes.
End-to-end workflow automation
Build fully-customizable, no code process workflows in a jiffy.
When to Use a BPM Suite?
One of the complexities of a bpm suite is its comprehensive nature. It is conceivable yet sophisticated. It is managed by the rapid changes that are happening in the digital world. But also helps companies to organize and monitor their real-time progress effectively.
You need a business process management suite:
When there are frequent changes in business processes. There was not much hype over the BPM suite a few years ago. Back then, business leaders preached the golden rule that BPM should be used for automating repetitive processes. This happened because the business world strictly followed the six sigma rule to rule out variations and produce high-quality products.
When you couple a BPM suite with a continuous development mindset, it makes a huge difference when it comes to organizational performance. With the BPM suite, you can automate those processes much easier, which seemed impossible before.
* Automating your way through the value chain. It is irrational to think that the processes start and end within the wall of the organization. To really understand a business process, you should look from a customer perspective. Now, analyze the steps involved – including those that happen outside the organization. This includes vendors, business partners, dealers, franchisees, and customers.
When you have a BPM suite, you can easily overcome the challenges of automating processes in the value chain. Getting the BPM suite is not hard, but getting your employees to agree to the process is harder. This is where a strong organizational structure and employee relationship will help you.
* Cross-functional processing. This is another important place where you will definitely need a BPM suite. Many companies want the BPM suite to be implemented within a single department. They think that this way might reduce the risk, and employees can slowly learn from a single department at a time. But BPMS is all about cross-functional processing, which works between groups. You can still address the risk factor without limiting BPMS capabilities.
* When the expectations need to be fulfilled, for instance, take Amazon. It changed the face of e-commerce and how it keeps its customers happy and updated. It no longer uses just email updates as customers are not expecting them. They are expecting a full peer process and want to know each step of their order. To monitor this, Amazon uses BPMS, which is specifically designed to monitor the status of the work, irrespective of whether it is inside or outside the organization.
* BPMS helps in extending the legacy of your order applications. BPMS can become a layer that integrates with your existing system. This can save significant costs and time in replacing the existing applications completely. This also provides substantial maintenance backlogs and helps companies save money on maintenance as well. Employees can also quickly get used to it without needing much training.
* When you want to collect and maintain metrics. Since BPMS are a lot more advanced, they offer strong monitoring capabilities. This helps business managers to get real-time performance metric reports. You can also set SLA and performance indicators based on the required conditions. When the performance is monitored against them, you can study how well the BPM suite helps business managers to be efficient and what can be improved.
* When you want to improve consistency. This is the beauty of the BPM suite; it helps companies keep on track with digital progress. So many companies fall behind as they fail to adopt new tools which would simplify their business process automation. Without a BPM suite, a company is likely to get caught up in laborious manual processing, customer dissatisfaction, product inaccuracies, and extensive paperwork. Therefore, a BPMS will help you automate processes and also helps capture process knowledge for future research.
What Makes BPMS Special?
A BPM Suite provides a platform for running BPM activities. The right BPM solution can ease process bottlenecks and optimize operations. The advantages of a BPM Suite are:
Enables rapid process automation
Empowers the organization with remarkable agility
Enables seamless collaboration between processes and projects
Provides more control and visibility for process owners
Promotes management by exception by automating mundane, repetitive actions
Brings in more visibility and enables data-driven decision making
Accelerates the time to value with any business process
A BPM Suite is a comprehensive solution that enables businesses to improve their process performance and differentiate their products and services. Implementing a BPM solution helps businesses align their products/ services to market and customer demands.
Cflow is your automation partner for automating your business processes. Contact us so that we can collaborate for better business outcomes. Reach out to us today.
What would you like to do next?​
Automate your workflows with our Cflow experts.​
Get your workflows automated for FREE
---