Link Multiple Processes
An organization is made up of multiple departments and a good workflow automation program should always allow the user to stay connected with all to streamline the process. Cflow seamlessly links multiple processes so that be it a request for approval, vacation, employee onboarding or invoice clearance can be moved from one department to another seamlessly.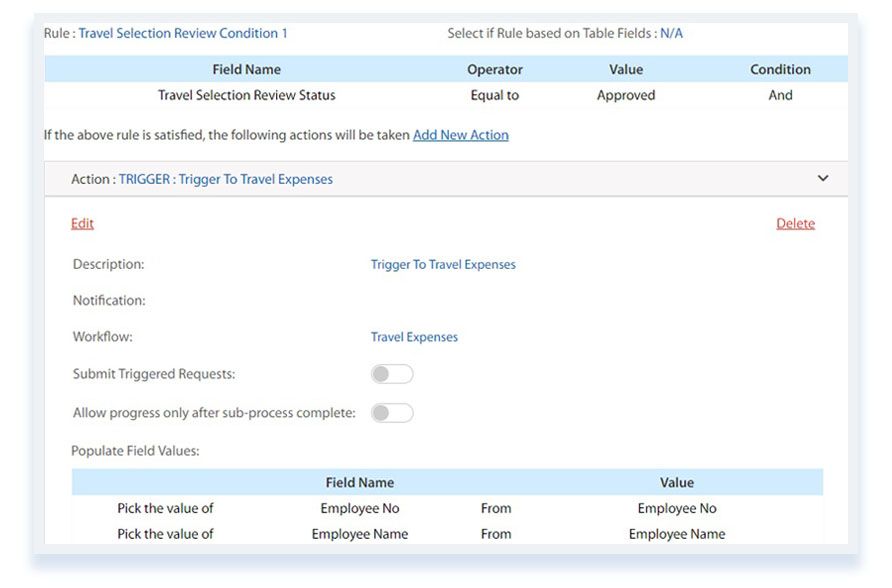 An example scenario is when the HR department onboard an employee after which the process automatically moves to the finance department to complete the banking procedure. Similarly, a leave or invoice request which has to be approved by the team leader and the manager in multiple departments will be pushed automatically from one level to the next. Linking multiple processes makes it easier to get the job done and provide a unified platform for employees in your organization to connect with one another when they have to.
Makes it easy for all departments in your organization to be in the loop
Break down long-winded processes into shorter processes and sub-processes, linking all of them together
Seamlessly trigger new requests in sub-processes that contain all pertinent information from the parent process
Pause parent process until sub-processes are completed. Or let both processes progress. You have a choice.
Supercharge your process flows with Cflow

 SLAs and Escalations
SLA and escalations are deployed in the first place to ensure your employees deliver.

Encryption & Security
We offer best-in-class security that offers the highest level of reliability & protection to data.

Sophisticated Rules Engine
Cflow is a customizable platform and when we say "customization" we really mean it!

 Visual Workflow Builder
The world of technology changed with GUI (Graphical User Interface) and with Cflow we aim to make workflows.

Auto Approvals
Have you ever come across a situation when a work process got delayed due to a missed approval?

Vacations & Delegation
With an easy to use vacations and delegation system, Cflow simplifies the process of keeping people notified!