Customizable Forms
Creating forms using Cflow is as intuitive as it could get! Make use of the visual form builder in the platform to create the template you need. Be it collecting details of a new joinee, particulars for an invoice or a checklist for the IT department to upgrade a computer setup, everything can be collected easily with the help of forms.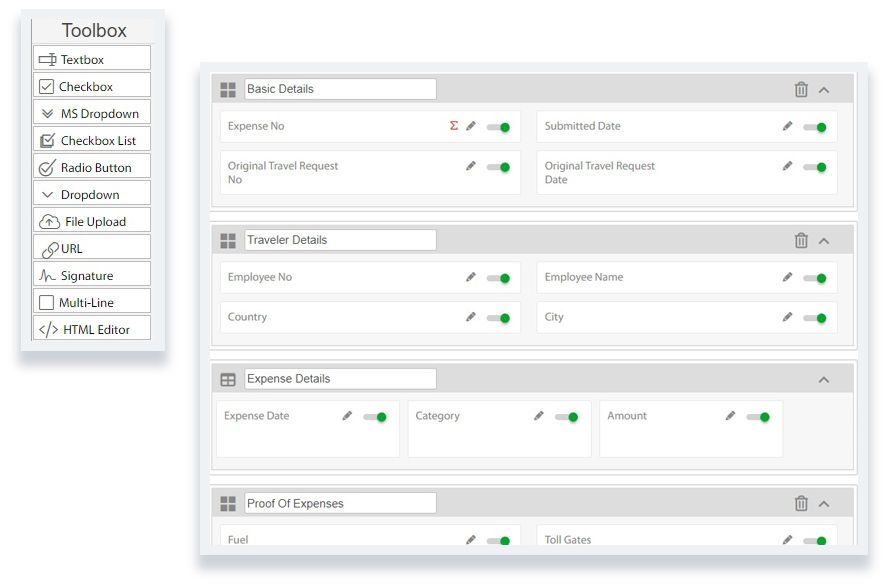 We help simplify your forms creation process with workflow software and make it as detailed as it could get or a simple one, however, you need it based on your requirement. Cflow allows you to create as many fields in the form, set specific parameters and add customized options such as checkbox, drop down menu to make the form into a comprehensive platform to acquire necessary information. Every individual's detail entered in the form is synced with Cflow's database so that you can access and organize them at a later time.
Create forms that are easy to customize and intuitive to use
Rearrange and group fields that are right for each process stage
Choose from a range of fields to add to your form to collect and display the necessary information
Create tables, checkboxes, dropdown boxes and other fields as required
Wide range of properties and validations to make forms most useful
Supercharge your process flows with Cflow

Public Forms
Reaching users outside of your Cflow program is easier than ever with Public Forms.

Custom Inbox
The inbox is where all your workflow details are shared and with the ability to customize.

Document Management
A good workflow is always designed to reduce work for you and the stress associated.

E-signatures
With Cflow, you can eliminate the difficulties associated with handling paper documents.

Integrations
Designed to be a versatile program from the ground up, Cflow is a user-friendly application.

Auto Approvals
Have you ever come across a situation when work got delayed due to a missed approval?