Cflow is a customizable platform and when we say "customization" we really mean it! The workflow automation program is powered by a simplified and intuitive user interface.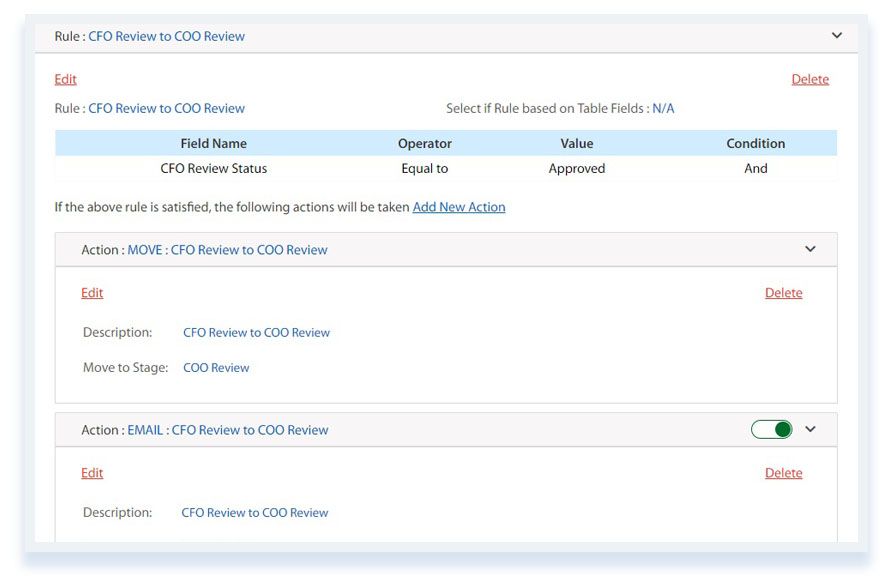 Designed for everyone in the organization, it features simple one-click setups to create a workflow, forward it to another person or approve pending requests.
However, for the nerd in you it is filled to the brim with in-depth customization features and sophisticated rules engine that you can make use of. Understand more about different rules and conditions you can tweak with to meet business specific requirements.
Supercharge your process flows with Cflow
Getting notified as and when it happens is essential. Notification that comes very late to your attention isn't valuable.
Have you ever come across a situation when a work process got delayed due to a missed approval?
With an easy to use vacations and delegation system, Cflow simplifies the process of keeping people notified!
A good workflow automation program should always help multiple departments to handle processes together.
SLA (Service Level Agreements) and escalations are deployed in the first place to ensure your employees deliver.
The world of technology changed with GUI (Graphical User Interface) and with Cflow we aim to make workflows.
Experience the power of automation in business processes.