Automate workflows from your mobile.
Save time and start approving requests faster. Cflow helps you request, manage, approve tasks on the go.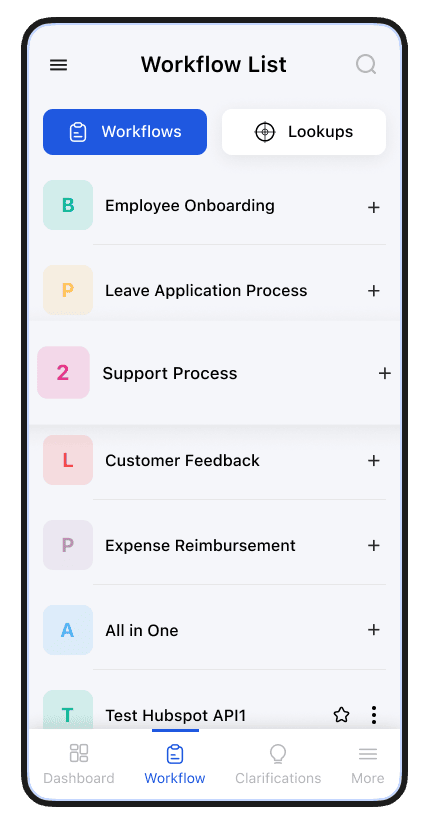 Cflow Mobile App. Automate. Just Like That.
Right from initiating a new request, tracking processes, managing pending tasks to approving those requests can be done easily. YES. You got an Android mobile or iPhone and we have the right app to automate your workflows.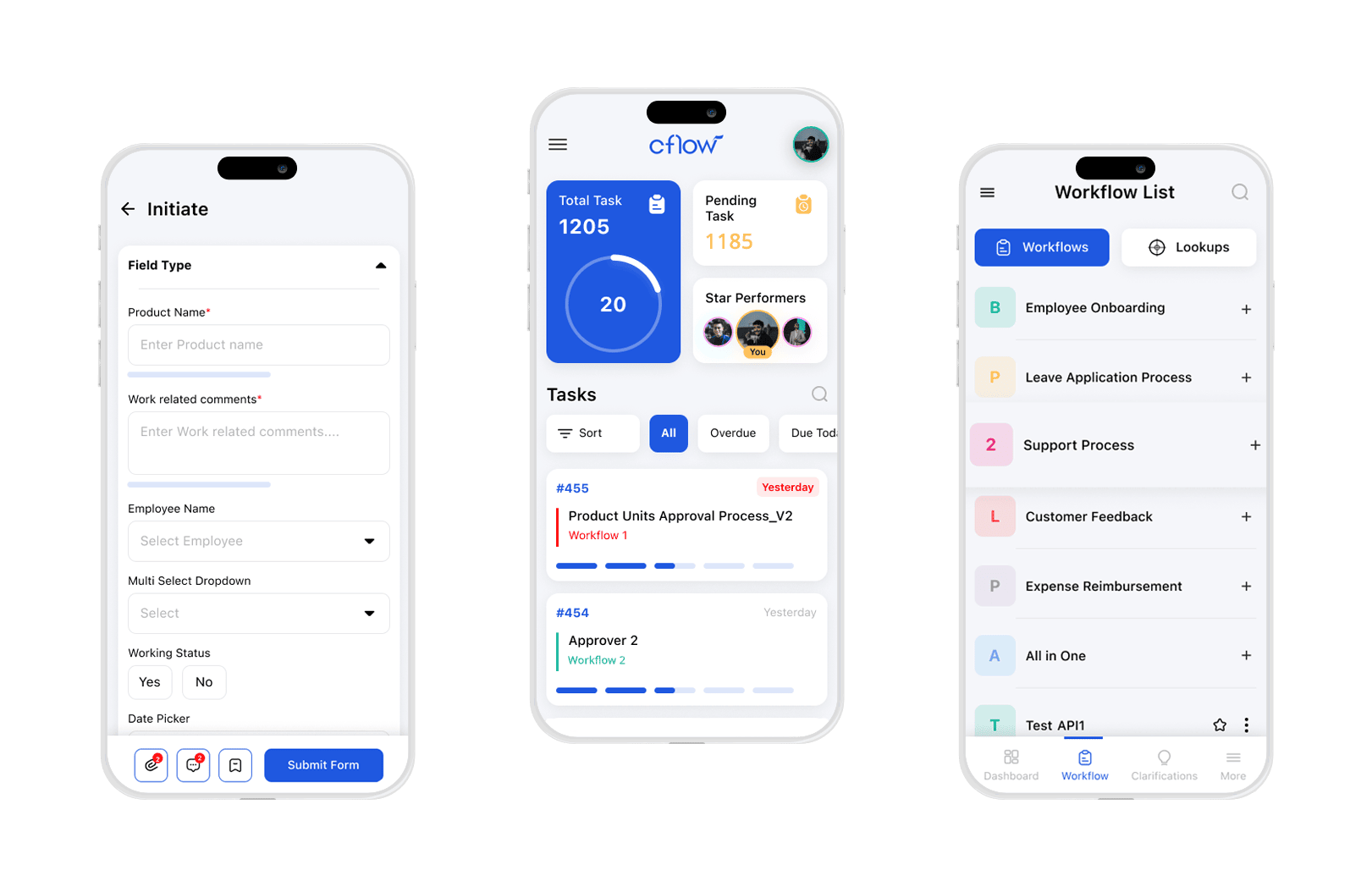 A highly-productive business starts with managing workflows.
Handling all your business processes is not intricate when you use a workflow management app that has all the special features.
A workflow app allows users to create, execute and manage a network of coordinated activities. These activities include several people like reporting, approvals, payments, etc., which can be done electronically.
Workflow apps enable task automation. The workflow app results from the efforts of business process reengineering as teams analyze business activity and find ways to improve its efficiency. This efficiency is often achieved when a piece of technology eliminates paperwork, reduces some processing stages, and automates some processes.
How A Workflow Application Approaches A Workflow
As mentioned earlier, workflow apps have been created to automate work in many situations where they have been regulated with a stable pattern of work, and these works are voluminous. Since the internet has changed the nature of work, making almost everything electronic, the success and failure of having a workflow app depend on the organizational circumstances.
Moreover, the internal procedures in a company are implemented in several ways to accomplish maximum efficiency from their routine tasks. They can be manual or automated. In a manual approach, a task is formulated and documented in a procedural manual. Each worker will take responsibility for their respective tasks in preparing the document. They use standard office tools, emails, and web browsers to accomplish the final result. Often, manual workflows can be tedious and prone to human errors, which need additional validation.
In the modern-day competitive world, business processes are market-centered descriptions. They include implementing organizational activities, information, and material processes. Simply put, the business processes are engineered in a way to meet the customers' needs by fulfilling a business contract.
The aim of workflow applications is to automate critical business processes to enhance efficiency and eliminate redundancies. With the abundance of available workflow applications in the market, they have taken some of these common approaches:
Message-Based
Features To Expect From A Workflow Application
Since the workflow app that you choose will act as a background for your company's productivity, it is essential to expect the following key features.
Easy deployment – Ensure your chosen workflow application is low-code/no-code software. The brilliance of any application can be seen in two qualities: the ease with which it is deployed and how quickly the automation is revised and adapted without the help of a developer. This no code/low code ability allows users to structure workflows and other processes the way they want.
Cloud-based – Cloud-based technology offers exceptional computational and storage capabilities on demand with its pay-as-you-go model. It has completely changed how we work, eliminating the need to be tied to the computer. Since files stored in the cloud can be accessed remotely, users can work from home, even via an app. Cloud-based workflow applications are more flexible and affordable.
Comprehensive features – When the workflow application has wholesome and precise features, you can easily automate the workflows. The level of flexibility of the workflow app will help you to create templates and processes from scratch easily and can automatically fit into a framework, notifying the corresponding people involved. This will significantly reduce errors and enhances collaboration and performance. Employees can better focus on value-added activities.
Customizations – The automatic email notifications and reminders will help prevent delays in completing tasks. Likewise, a flexible workflow app with immense customization options can be a powerful tool for your business. When you can customize the workflow app, you can create role-based access permissions giving control to those particular employees, stakeholders and clients involved. This increases security and strategically enhances the field of vision.
Integrations – This is another important feature to look for in a workflow app. Not even the best one could do in a single platform. However, a workflow app that supports integrations fills the gaps and strengthens your processes. A workflow app that is competent in integration can enhance your collaboration and minimize unnecessary disruptions.
Reports – This is the key feature to achieving consistency. You can also control the data and information that goes into workflows with up-to-date reporting and analytics. You can also sense potential dangers, which eliminates risks. Reports will help provide useful information on the prospects of the progress of the workflow. Analytics will help you forecast and predict your business's future trends.
Scalability – To have even better control, some workflow apps like Cflow will provide you with conditional logic and rules. The no-code features allow users to build a structure that will predict scenarios. When the workflow app has conditional logic, they determine the processes that need approval and direct them to the respective people. Moreover, as the business grows, the workflows and processes become more complex, for which you will need a dynamic workflow app like Cflow to achieve consistent scalability.
Unique Workflow App Use Cases
In most cases, workflow apps are used for procedures. For instance, onboarding where you need to hire new employees, find a new vendor for business, etc. however, there are some unique cases.
Distributed transactions – nowadays, transactions cannot rely only on the ACID (atomicity, consistency, isolation, and durability). So when you have a typical relational database, you will need additional requirements to scale down multiple transactions. Having a workflow app like Cflow will help you customize the workflows to remember the activities that are already executed and automatically invoke when the transaction fails. This compensation activity will help get the refund from the credit semantically. The app will help you to accept temporary inconsistencies and maintain eventual consistency without affecting the business flow.
Approvals – can be lengthy and even dull. When you sit in front of hundreds of emails and invoices, it can be pretty overwhelming. Even if you are using an email system, you need to send hundreds of emails. The to and fro communication might lose some important approvals, which can be easily overlooked. Instead, when you use the Cflow workflow application, you will have a centralized hub that controls all the approval processes. The automation enhances your clarity and automatically notifies the subsequent people in the approval chain. So you don't need to worry about getting lost in the sea of emails.
Distributed system communication – is the new normal in the field of Information Technology. However, they are complicated due to fallacies in computing. For instance, there are some instances when some services might not be available to the customers. They will try to invocate the services by responding to them, which sometimes falls out of synchronization. Customers will have to wait for messages that can take several hours or even days; when the timeout happens, the customers may not be ready to accept the solution. Therefore, a workflow app will simplify the communication process and reduces fallacies.
Onboarding – this is one of the most common areas where workflow applications are used. Since employees are the assets of a company and are responsible for their success, it is important to choose the right people to keep the customers happy and satisfied with their work. Failure in onboarding can cause a severe financial loss to the company. So with a simple and sophisticated tool like Cflow, you can structure your onboarding process, customizing every step in the process, increasing employee retention by 25%.
Orchestration – since in modern architecture, decomposition has predominantly been a bigger issue. When your workflow app works in several small components, it will be easier to connect the dots and identify the activity, the people involved, the quality of the process, and determine if the process is happening sequentially.
Content development and marketing – this is one of the easiest and most straightforward fields where using a workflow app will enhance your SEO performance. When you have a structured process, everything becomes a single thing that will be easier to monitor.
Decision automation is another fast field where workflow apps are getting vast recognition. It will allow you to set up business rules to evaluate and approve processes automatically. You can also set up fraud detection and determine assignees before giving access permissions.
But in real life, often the use cases come as a combination. For instance, when you want to automate an application processing completely, which is a classical business process automation, you have to invoke several web services with the help of distributed system communication. Set up business rules that will automatically detect fraud and decide if it is a scammer. If there is a suspicion, the particular process will be routed to the concerned manager.
1. What is a workflow app?
Workflow applications or workflow apps are software applications that allow you to represent the conditional logic behind the completion of a task in a process. Workflow apps are all-in-one solutions that can create custom workflows where you can add elements, notes, comments, and collaborate on projects. You can find desktop and mobile versions of workflow apps that allow you to collaborate on workflows. 
2. What is a workflow app used for?
Workflow apps are instrumental in bringing teams together by building on workflow diagrams. Workflow functionality can be found in every project management software. The advantage of using a project management solution is that you can also have access to other collaboration features that complement workflow diagramming. 
3. What are workflow diagrams? 
Workflow diagrams or flow diagrams are diagrammatic methods for mapping out a process workflow. All the tasks in the process along with dependencies need to be mapped out in order to understand the process. Once the tasks are mapped out clearly, it becomes easy to spot bottlenecks and improvement areas. Workflow applications are designed based on the findings in workflow diagrams. 
4. What are the examples of workflow applications?
Workflow applications can be used by businesses to automate their key workflows like – employee onboarding in HR, lead enrichment in Sales and Marketing, handling customer service, and CapEx approvals in Finance and Accounting function. Other examples of workflow applications are Invoice and PO approval in Procurement function, Document management, and IT support. 
5. Can tasks be scheduled using workflow apps? 
Yes, you can schedule tasks within workflows using workflow apps. Workflow apps are used for automating rule-based processes. All tasks in the workflow are executed according to the preset business rules. A trigger action is what initiates a task, and the sequence in which tasks are to be executed is decided by the rules-engine of the workflow app. 
6. Can workflow apps generate performance and status reports? 
Most workflow apps generate reports and perform real-time analytics on status and performance of the process. The users stay informed on the status of each task in the process. Once the process is complete, the workflow app performs real-time analytics on the process and generates performance reports. 
7. What are the different types of workflow applications?
Workflows can be divided into 3 primary types based on the complexity of the process. Sequential, state machine, and rules-driven are the different types of workflow applications. Sequential workflows are usually chart-based from one step to the next, always moving forward. State machine workflows are those that progress from one state to another. Rules driven workflows are those that are executed based on a sequential workflow that is driven by rules. 
8. Can I pause my workflow in the workflow app?
Although there is not a pause button for a workflow, you can set pause dates or time so that actions are not executed on specific days. On pause dates, actions will get rescheduled to the next available date/say. This feature is especially useful in sales and marketing functions when you have to manage campaigns that overlap with holidays or other specific dates. 
Learn more about Cflow's best features
how it can automate and be the most reliable Workflow Solution that could revolutionize your operations