Vacations & Delegation Process
With an easy to use vacations and delegation system, Cflow simplifies the process keeping people notified of your vacations and to ensure the work is being carried out. The authorized person can choose to assign the work to a different person if the assigned employee is on vacation for a longer period of time. On the same lines, any team member can choose to delegate to a fellow teammate in their absence.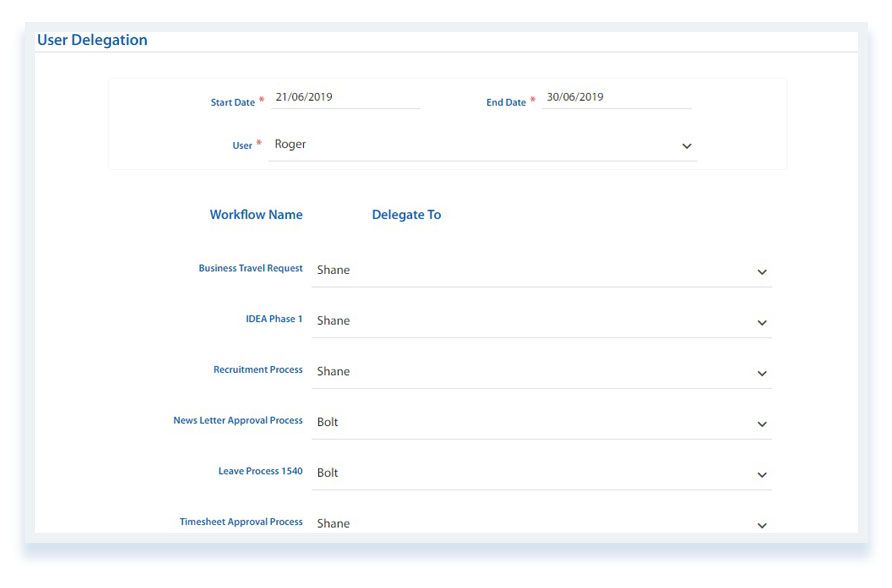 The Cflow vacations and delegation system is transparent keeping everyone involved in the task informed of the activities of others. It creates a wholesome work atmosphere allowing your employees to go on vacation when required but without compromising on their deliverance. The top-level authorities get the advantage of being notified of absent employees and delegate the task to the next person ensuring smooth workflow throughout the year.
The built-in system that notifies the right people at the right time when an employee goes on vacation
Managers/ team leaders can choose to manually delegate a task to a co-worker
Flexibility in delegating to different people based on the workflow and process stage
Creates a streamlined environment where work never gets delayed ensuring customer delight
The scheduler lets you define multiple delegate rules for different time periods