Top Rated All-in-one Workflow Automation Tool & Platform
Create forms, set up workflows, and automate any business process on the go! Cflow – the best workflow automation software, lets you set permissions, assign rule-based conditions, and go live within minutes.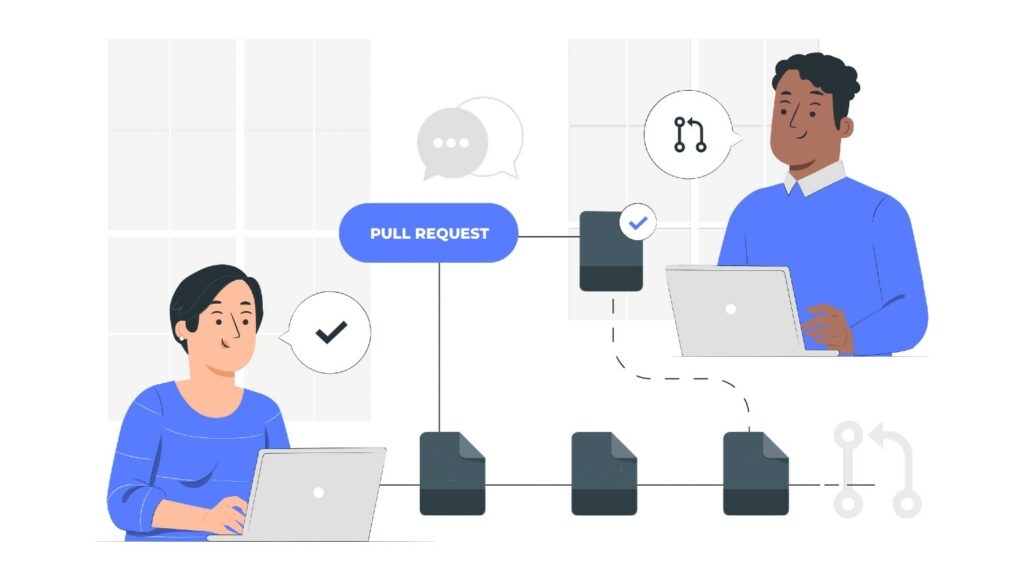 What is Workflow Software?
Automated workflow software helps businesses to automate any manual processes by creating flows, assigning rules, set conditions, and monitoring the overall performance.
A top workflow software simplifies workflow automation with the drag-and-drop visual builder that helps you create an automated flow without writing a single line of code.
Basically, it helps companies to get rid of manual and traditional ways of getting approvals. It saves time, money, and resources and thus enhances the return on investment.
Let's find out the difference that workflow automation can make to your business operations.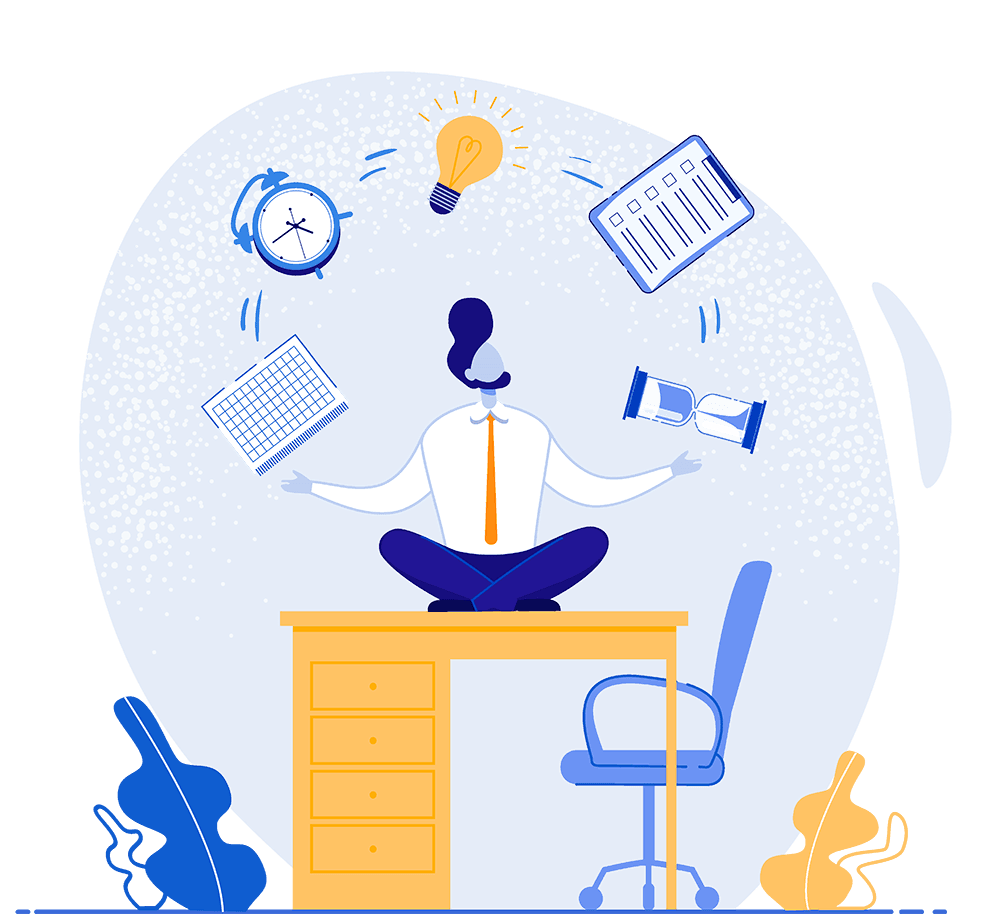 Workflow has been there in different organizations in different ways. Right from industry workflows like manufacturing, banking, real estate, IT, e-commerce, education, and healthcare to teams like sales, marketing, finance, accounting, admin, HR, and procurement.
Cflow - Workflow Automation Software
No Code, Fast, and Reasonable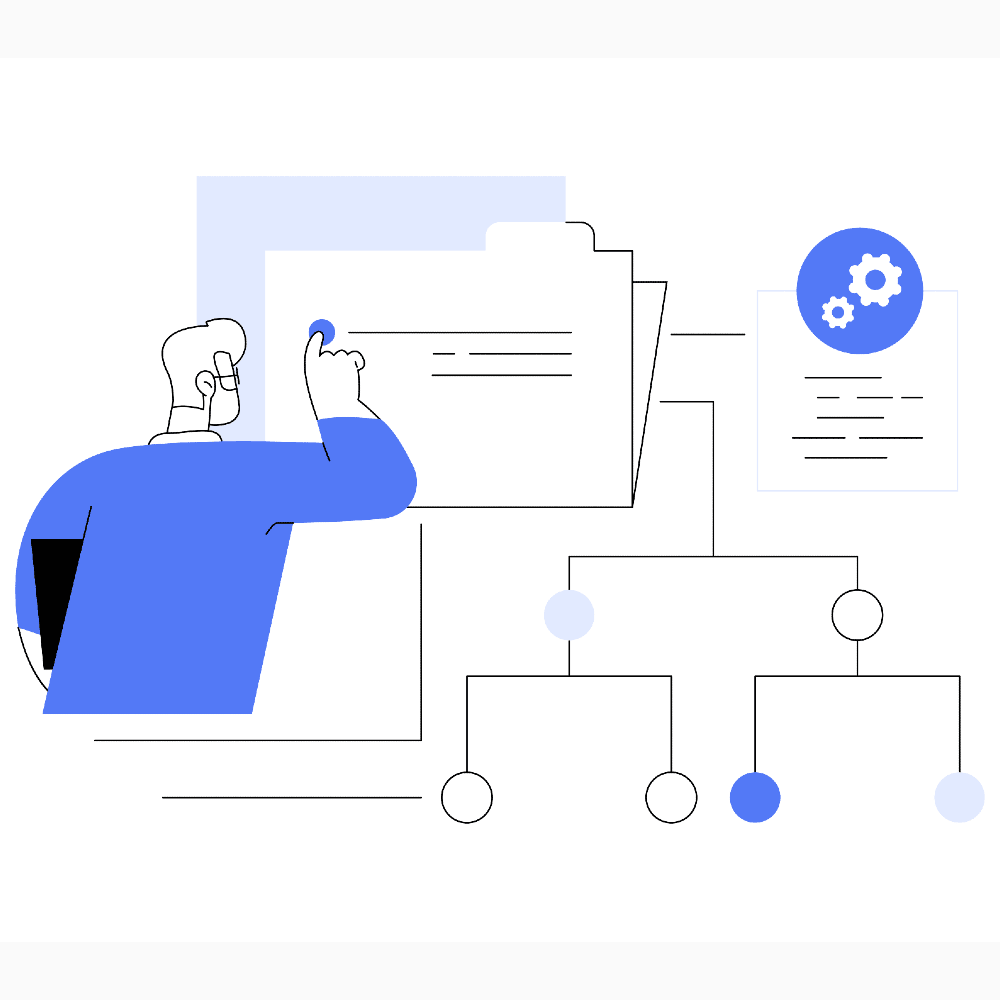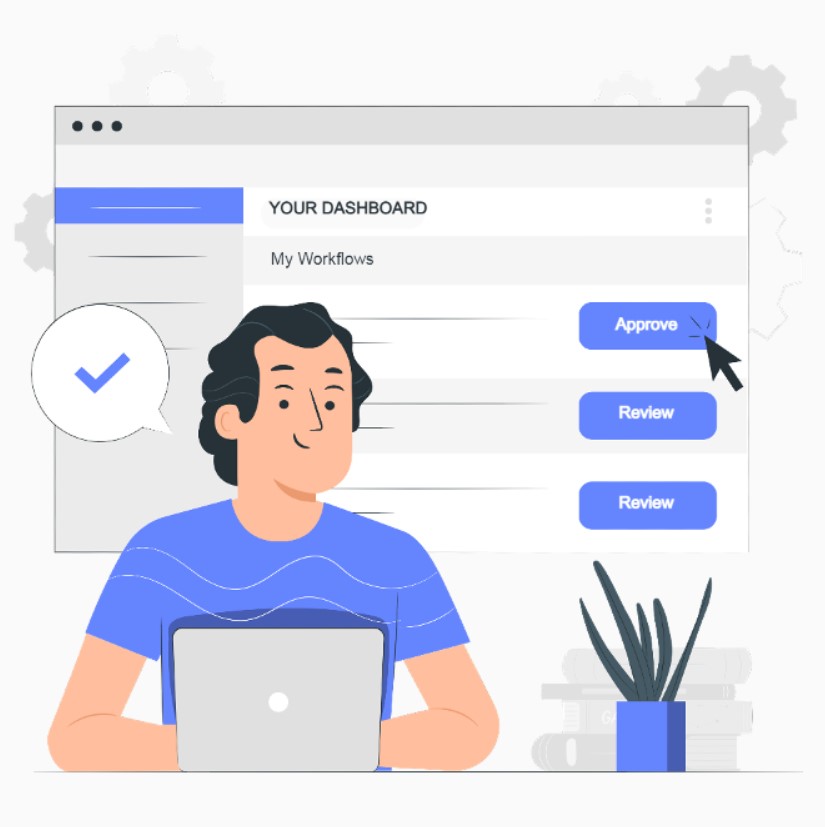 Role-based Easy Approvals
Custom Reports, Notifications, & Tracking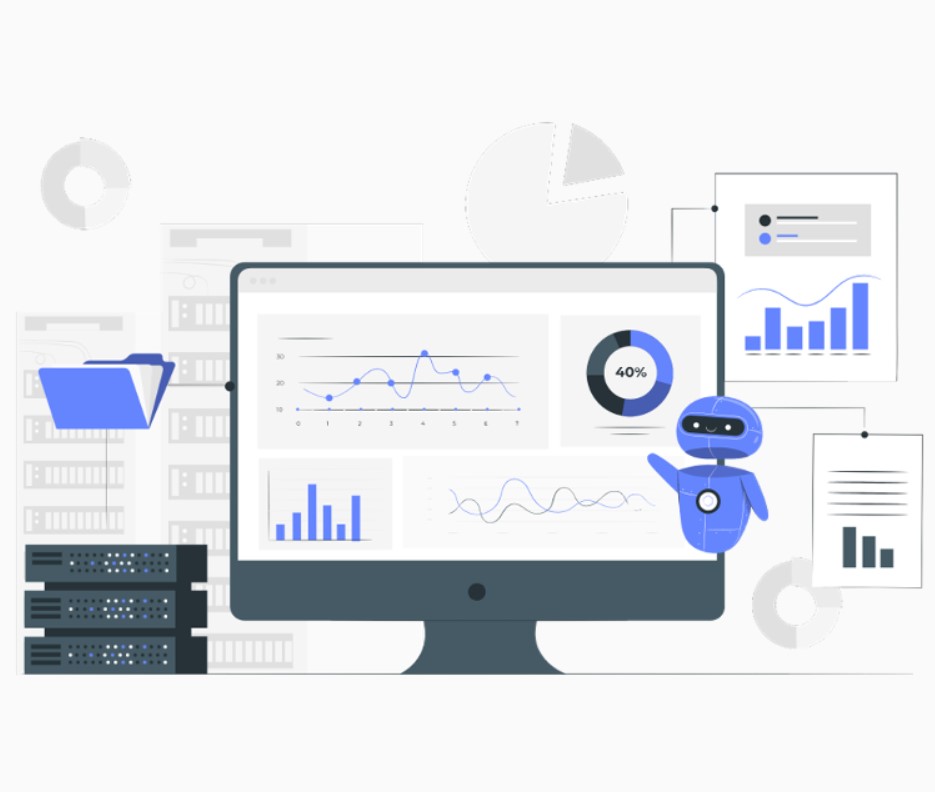 Download the Cflow mobile app!
Initiate, and review requests from your Android or iOS device.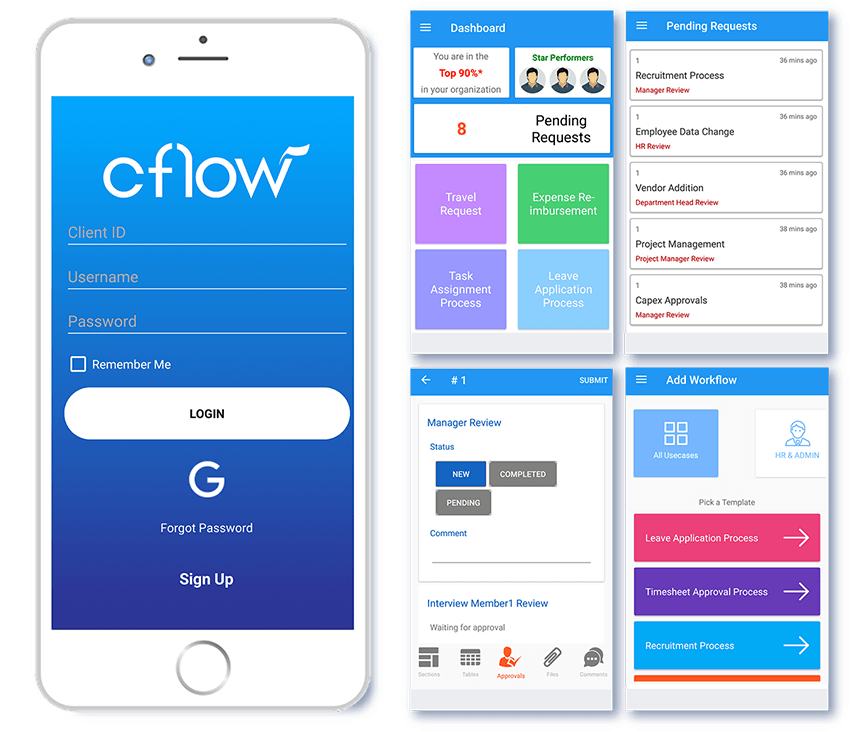 Our feature-rich workflow automation software is powerful and intuitive to cover every scenario and stage of the process automation.
Pre-built Templates – Create your own custom process or make use of our pre-built workflow templates.
Workflow Integrations – Our API helps you to integrate useful products like Slack, SAP, and Quickbooks.
Workflow Management – Manage the whole business process with Cflow workflow management software
Email Approvals – Approve any request immediately via Email when notified.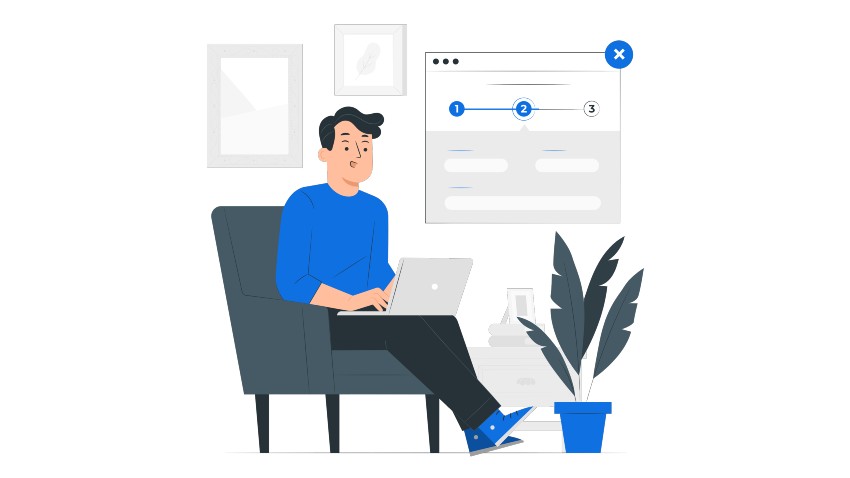 How Does Workflow Software Work?
Here's the step-by-step guide to create, initiate, track, and review workflows within a few minutes using Cflow workflow software.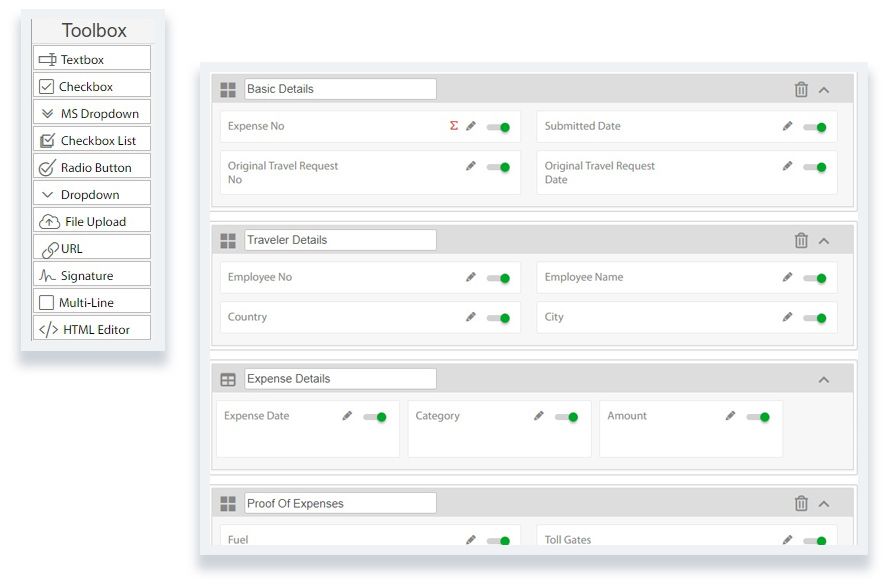 Create Form
Use the drag-and-drop form builder to build custom forms by organizing them into sections.
Use pre-built templates for different workflows
Highly customizable with various rules and conditions
Create sections and fields with no limit
Set Up Workflow
Simply create the workflow stages by using the no-code workflow designer.
Set up parallel workflows and back-and-forth process flow.
Create a similar process flowchart with the help of the Clone option.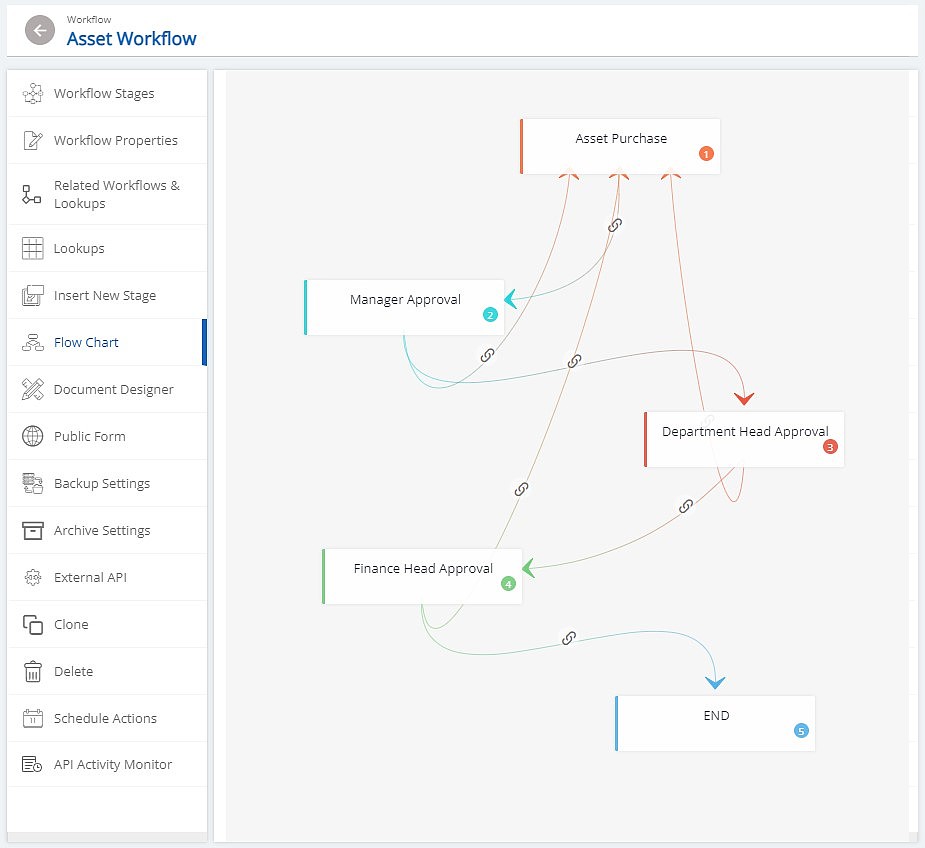 Top Workflow Software for 2023
Choosing the right workflow software tool for your organization is extremely important for the success of business operations. We have listed the top 6 workflow software for 2023 for your reference. This review compares software based on pricing, top features, integrations, pros, and cons.
1 – Cflow
USP – The best workflow management software for automating manual processes
Cflow allows users to shape powerful business workflows for teams of varying sizes. You can create custom and automatic workflows that boost the productivity of the teams with Cflow. Some of the key business workflows that can be tracked and automated with Cflow include project management, marketing, CRM and sales, software development, operations, HR and recruitment, and IT. The no-code automation with this software puts your project workflows on autopilot mode. You can easily align goals, set priorities, and manage deadlines with this workflow tracking tool. There are totally 3 plans offered by Cflow, starting with the Happy plan starting at $7 per user per month to the Bliss plan priced at $16 per user/month. A 14-day free trial is also available.
2 – Smartsheet
USP – Best workflow management software for those who love operating on spreadsheets
This is a powerful project management software that helps manage tasks, projects, programs, and processes on a single platform. With Smartsheet, you can keep project plans and schedules on track by standardizing key project elements, increasing velocity, and improving collaboration. The dynamic portfolio management feature enables you to manage projects, resources, and portfolios with a holistic view across the business. Gantt charts provide visibility into process dependencies and predecessors, which helps you track the most important tasks effectively. The software is priced from $7 per month to $25 per month, the Enterprise plan depends on the individual requirement of the company.
3 – Wrike
USP – The best workflow management software for hybrid remote workspace.
Wrike enables you to eliminate chaos and achieve goals faster. This workflow management software provides insights into every detail of the project through clear visuals. You can build custom workflows from scratch and get deep visibility into the progress and status of the project. You can automate manual processes into efficient processes that propel your business forward. Wrike enables you to keep the whole team in the loop with customizable notification alerts. You can predict timeline estimates and manage dependencies with improved accuracy and consistency with Wrike. The Gantt charts provide a visual representation of the time frames and help you keep track of project statuses in real time. The professional plan is priced at $9.80 per user/per month and the business plan is priced at $24.80 per user per month.
4 – Kintone
USP – Best workflow software for building custom workflows
Kintone is a customizable workplace platform that lets you manage your team's data, tasks, and communication, from a centralized platform. Whether it is sales leads or customer quotes or an employee database, Kintone helps track critical data and tasks from a central place. You can unify your data and conversations under a single location so that important data can be referenced easily later. Automated reminders, approvals, and task handoffs enable teams to spend less time managing work and more time focusing on what really matters. With Kintone, your team can view, edit, and manage data from any internet-connected device or desktop so that employees can collaborate effectively without missing a beat. The pricing of this software is $24 per user per month. There is also a free trial of the software.
5 – Process Bliss
USP – Best workflow management software for process improvements
With Process Bliss, you can bid goodbye to paper, spreadsheets, and black holes in project management. This software enables you to stay focused by creating a single source of truth. Tasks, actions, reminders, and ideas can be managed efficiently from a single point. Process Bliss centralizes processes so that you can execute them as checklists. This way activity becomes consistent and ideas are implemented swiftly. Accountability and visibility across the project are possible with Process Bliss. They provide 3 pricing plans – starter assistance (free), accelerator pack ($1350), and Managed implementation.
6 – Kissflow
USP – Best enterprise workflow management software
It is a no-code, low-code work platform that covers a wide spectrum of business workflows. Business and IT can cooperate on a unified platform. Workflows can be automated using the drag-and-drop no-code visual studio. The solid low-code app builder accelerates the creation of workflows. The same platform can be used for development, testing, and production as well. The project and case management boards provide full visibility into project status. The no-code connectors can be used for seamless integrations with third-party apps. The custom dashboards display key project metrics and custom components on a single page. Kissflow offers an exclusive procurement cloud for handling all procurement challenges. There are 3 plans that are offered based on the size of the business – a small business plan priced at $10 per user per month, a corporate plan priced at $20 per user per month, and an Enterprise plan with a custom quote.
Cflow – Goto workflow tracking and management software for SMBs
Cflow is a workflow automation software that can be used by businesses to automate their critical business processes within minutes. This is a no-code BPM solution that can be used across several industries. The visual form builder in Cflow enables even employees without any coding experience to create workflows easily. The intuitive dashboard provides a bird's eye view of all the processes. Important approval-based business workflows like Finance, HR and Recruitment, Procurement, and CapEx can be effectively automated with Cflow. Real-time reports and analytics on the process and task status provide deep visibility into statuses. This workflow tracking tool is best suited for SMBs and Enterprises. Cflow can be seamlessly integrated with over 1000 apps via Zapier.
Trusted by the world's leading organizations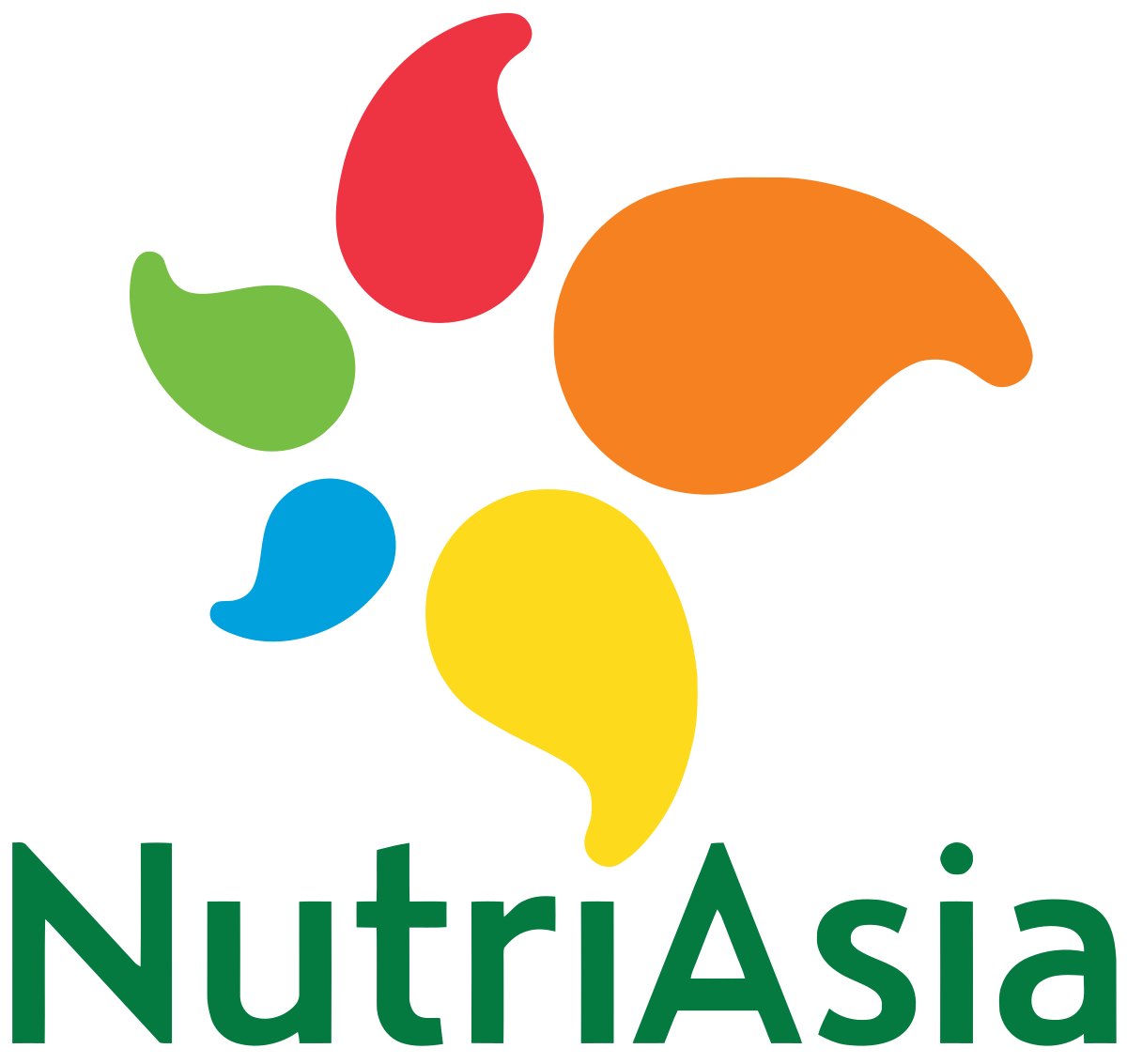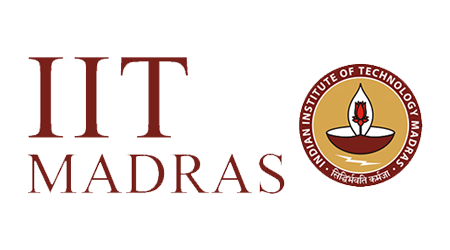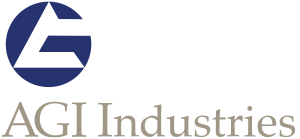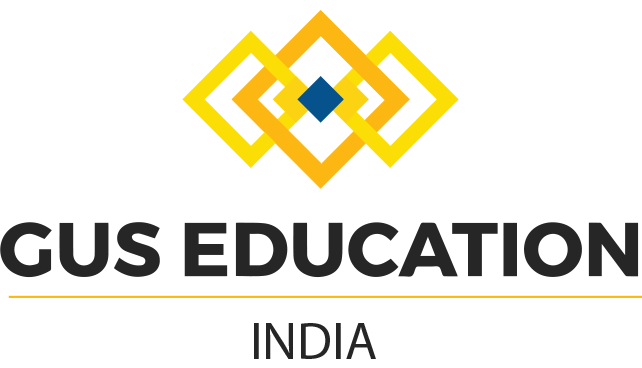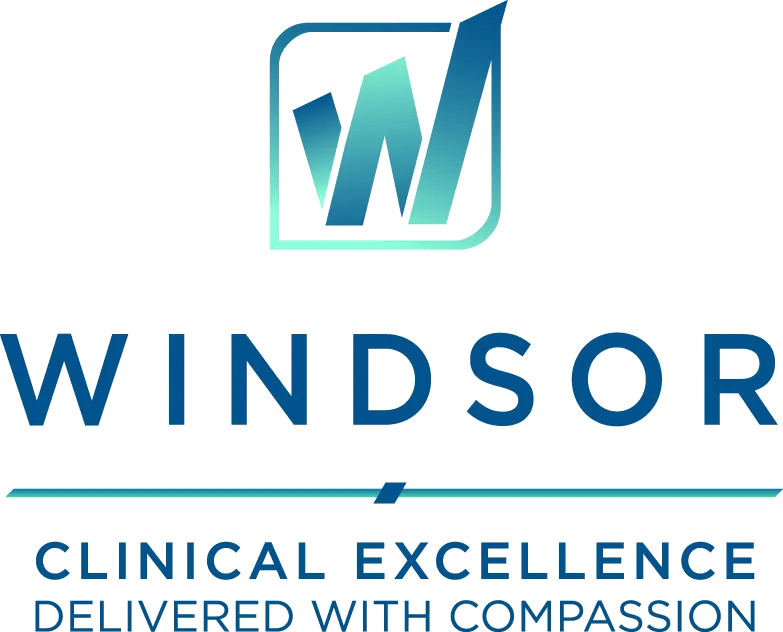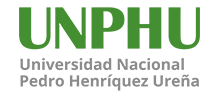 Which workflow do you want to automate today?
Your business is safe with us!