5 Steps For An Effective Process Workflow Automation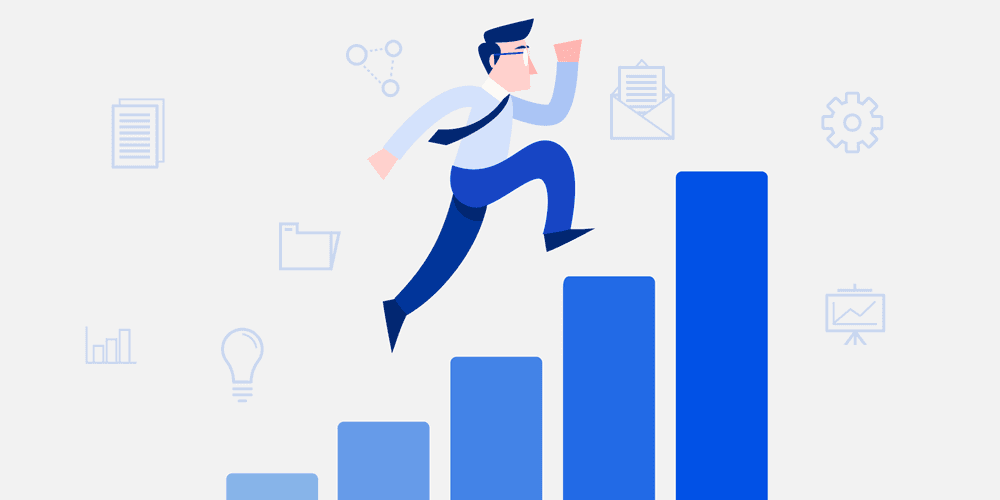 Steps to Automate Manual Processes
Workflow management involves setting up your workflow in advance so that it runs smoothly at all times. It also ensures that each step within your workflow has been completed correctly before proceeding to another step in the sequence. The goal is to eliminate manual tasks as much as possible, so you don't need two people doing them at once – and instead focus more on what matters most: getting things done right now!
When there is a process (usually repetitive) to implement a series of tasks, it is typically managed manually with a bunch of paper files or at best with a combination of spreadsheets and good old email.
Workflow Automation helps in streamlining this process with less human intervention, thereby removing the possibility of human errors.
Business process management gives you better visibility of the various tasks, can pinpoint bottlenecks, and suggest areas of improvement and thereby increasing the overall business productivity.
Now, with all these thoughts on automation, how exactly does a business identify the steps to reach the stage of maximum efficiency or a fully automated workflow process?
Before a business moves to workflow automation, the management must perform a self-evaluation with their team to come up with answers to the following questions –
Is the organization ready to work smarter?
Are the employees ready to move from the traditional working methodology of spreadsheets and files to a new system as a team?
Once automated, can the organization work with lesser manpower and still deliver products or services with the same or better quality?
The answer to all the above queries will determine the decision the management makes and a workflow application to make a smooth transition from your traditional mode of working to the automated approach will be inevitable.
The automated workflow that your organization opts for should only automate the repetitive steps of your workflow for better results. It should give you the flexibility to make any additional changes in the future if required.
The new automated workflow should not be a forced-upon system added to your existing workflow, it should be just an improvisation of the required specific areas of the workflow. It should not require the users to master any new programming languages or skill sets to operate the automated workflow.
Disadvantages of Manual Processes In Your Business
From the CEO to new hires, a considerable amount of time is spent on routine, repetitive tasks. The time an organization spends on repetitive work eats away at productive time. Freeing associates from such tasks will significantly increase productivity, which translates to better performance.
Manual workflows are time-consuming and ridden by inaccuracies. Even the smallest manual process can pile up and distract you from more challenging, productive project work.
Here is how manual tasks can slow down your business…
Increased dependency on people: Manual processes are people-centered. Human errors and biases creep into the process inadvertently. Verification and rectification of the data generated by manual processes can be a huge burden on the employees.
Limited visibility: Manual processes operate in silos. As a result, data visibility is localized. Even the top leadership has a limited view of the critical path and is unable to take immediate action. The immediate tasks might not be known to the team members and may cause a needless delay.
Low productivity: Most of the work hours are spent on repetitive tasks or data validation and rectification of errors that arise from manual processing. The availability of time for productive work is reduced, which brings down productivity.
Waiting time and bottlenecks: Manual approval processes are ridden by long waiting times and bottlenecks. Due to limited visibility of the process flow, pinpointing the reason for bottlenecks is a challenge.
Every company would desire smooth and efficient business processes, and manual business flows are definitely not going to help in achieving the targets. Freeing employees from mundane tasks, improving productivity, optimizing process operations – achieve all this and more with automated workflows.
Basics of Process Automation
The design, execution, and automation of business processes based on workflow rules are called process automation. Business workflows involve the routing of data, human tasks, or files between people and systems according to pre-defined business rules. Automation of workflows is done to eliminate the redundancies of manual processing and to optimize business operations.
Common business workflows that can be automated include
Creating a comprehensive workflow diagram is the best way to build an automated workflow.
Once you have the workflow diagram ready, building an automated workflow can be done very easily with a drag-and-drop interface provided by new-age automation software. Cflow enables businesses to automate workflows within minutes with an easy-to-use visual form builder.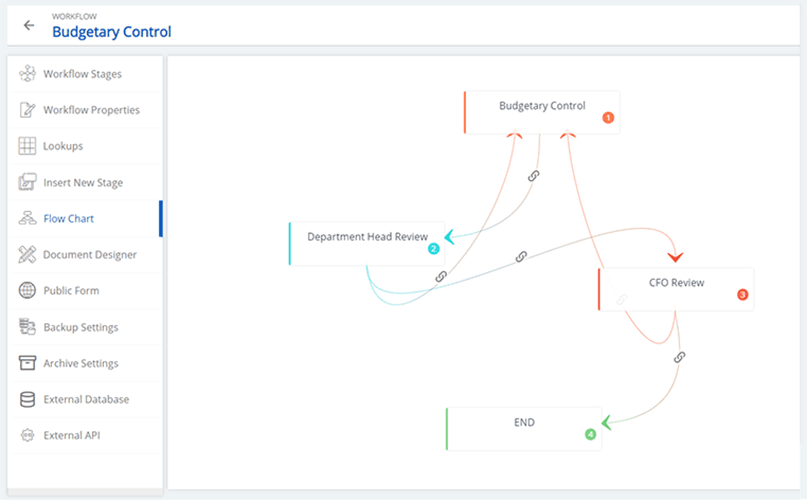 Fig: Budget Workflow
Workflow automation can be done for simple as well as complex business processes. Apart from simplifying the business process, automation also saves on costs. Employees and leadership can get rid of repetitive tasks and are able to spend time on more productive, strategic initiatives.
End-to-end workflow automation
Build fully-customizable, no code process workflows in a jiffy.
5 Practical Steps for A Successful Workflow Automation
Now, let's take a quick look at the 5 major steps every business will consider before they move completely to process workflow automation.
1. Identify Repetitive Tasks:
The first step to approaching automation is Identifying the area that has repetitive tasks should be the first step when a business considers workflow automation.
To identify the problem, a deep understanding of the business is essential. The best way would be to make a visual representation of your as-is workflow with the help of flow diagrams and understand your business workflow better and identify the repetitive tasks.
Now you can create an ideal workflow that improves your existing workflow and may simplify the process by automating repetitive tasks. This is a key step that needs to be done in close consultation with the other stakeholders and the actual users of the process.
You might also consider the net benefits in terms of time saved and effective cost savings. This will help in presenting a clear business case to support the automation of these business processes.
2. Define Business Goals:
Once you identify the problem, the next step will be to define your business goals using your current manual workflow as the benchmark.
Your target could be related to improving the throughput or reducing cycle time on a single processor optimizing resources for more productive tasks.
You might want your workforce to deal with less data entry and focus more on process insights and optimization.
It could possibly be anything, but you need to be able to justify how your business goals will be achieved by automation and how you will measure them.
3. Select the Right Workflow Automation Solution:
The next step would be to decide on the means to the end. How do we wish to achieve the business goals? To arrive at a solution, your next priority step will be to select the right workflow automation solution.
Choose the right software to get an idea of the best way to choose your solution provider.
There are a plethora of options available in the market for an automation tool. It is important to understand the ideal fit for your organization.
More and more companies are moving to the cloud option that provides tremendous flexibility and lowers costs.
Would that work for you?
How important is data security?
Do you need to have a vendor that is compliant with government regulations like HIPAA or certifications like ISO 27001?
Based on your specific needs, you might want to shortlist 3 to 5 vendors and then do a deep dive into the pros and cons of each solution. You might consider a cloud-based safe and secure software like Cflow which can design your workflow in minutes, but you might want to see a complete demo of the Cflow workflow software before you make this decision.
Select your workflow software to automate your business process based on the goals you have set in your previous step. The selected workflow should be simple and user-friendly and easily adaptable by your users.
4. Train the Users:
The next step would be to train the workforce to use the new workflow software.
Any new change brought in by the management is always met with resistance as it is seen as unnecessary by the employees.
So it is imperative to involve the end-users right from the first step and include them in the discussions so that they are made an integral part of the decision-making process. This sets the end-users to be accountable and brings the best ideas to the fore.
Providing a clear transition path from the current manual process to the new automated system and giving them adequate training to help them get up to speed would go a long way in making this transition successful.
5. Measure Key Performance Indicators and Improve Your Workflow:
After you are done with the above steps, you are up and running on your new automated workflow system.
Your business users will provide feedback on the process based on their usage and it is important to fix the kinks in the armor at this point. Then you are ready to do the final step which would be to measure the key performance indicators and improve your workflow.
Continuous monitoring and measurement of your automated workflow will help identify bottlenecks and suggest areas for improvement. Continuous assessment of your newly upgraded workflow will help your team become more efficient.
Conclusion
"If you always do what you've always done, you'll always get what you've always got". – Henry Ford.
I hope the above steps guide you in the right direction to move your business workflows toward automation and greater productivity.
Let us know if these steps were helpful in migrating your manual processes to automated processes. Feel free to share with us your experiences.
A multi-purpose workflow software like Cflow will make it easier for you to identify repetitive tasks and automate them.
When you clearly define business goals, you can easily create workflows based on team requirements and implement them to streamline the daily process. Cflow provides all the tools you need to build productive workflows using a visual workflow designer in a no-code platform.
What would you like to do next?​
Automate your workflows with our Cflow experts.​
Get your workflows automated for FREE
---