Marketing is everything! The entire world of consumerism is driven by aggressive marketing and getting your products across to the crowd is an art that is best done using a wide variety of factors.
In order to successfully get your product or service across, it is mandatory to make use of an efficient workforce, analytics, reports, and most importantly the right kind of tools to carry out the process seamlessly. Workflow automation software is an important tool for every organization and every type of business. The software is an integral piece of the tool in marketing where speedy delivery and customer satisfaction are of utmost importance.
Why Use Marketing Workflow Software?
The term marketing workflow software refers to the conventional workflow software which has been customized to suit a marketing team's immediate requirements. Right from initiating and closing deals quickly to automating sales cycles, customer relations management, lead management, and marketing material analysis can all be done with the convenience of the tool.
Automation helps close deals quickly
Lead generation and database management can be handled through the workflow software's intuitive UI
Create forms, requests, and customer data applications using a visual UI builder
Enhance customer relationships management
Create a streamlined work environment connecting all employees in a marketing team
Lead nurturing promotes better customer conversion rates
Unified database boosts ROI and helps organize customer data for future reference
Boost Lead Generation with Workflow Software
Lead generation is a vital aspect of successful marketing. Generating quality leads pertaining to the business that actually converts into customers and long-time patrons will push the business in the right direction.
With the help of workflow automation software in marketing, it's easier than ever to create as many workflows as needed to carefully move the lead from one phase to another. A customer's satisfaction matters the most!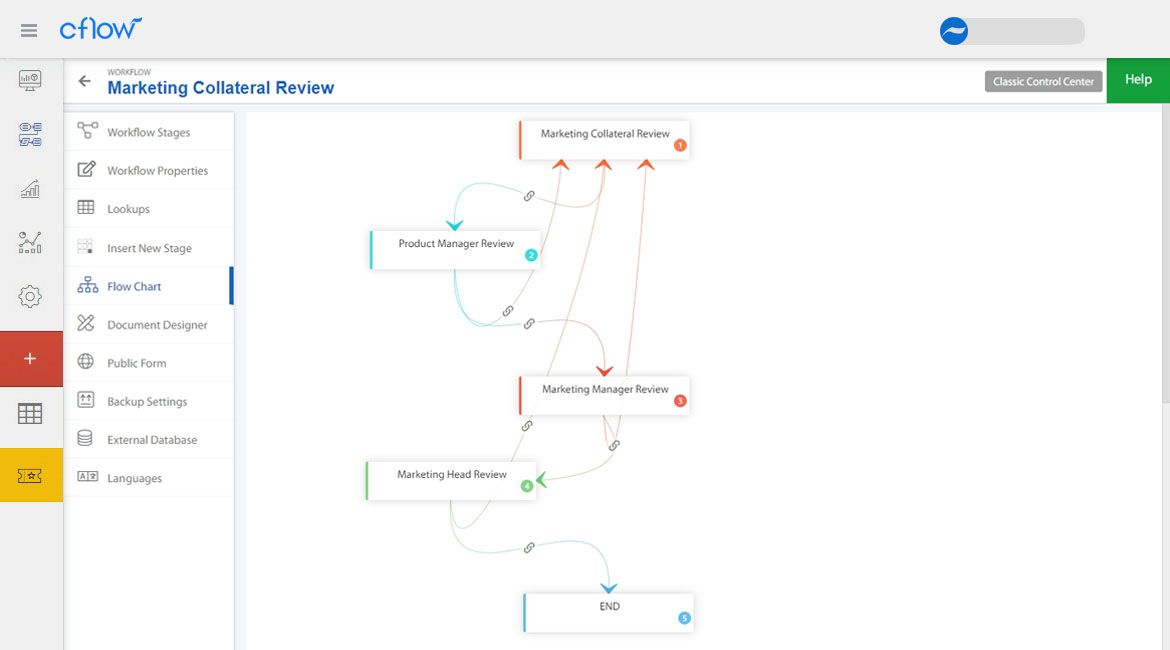 Example: Marketing Collateral Review Workflow
Your employees or the team you manage can work efficiently only when they have a proper communication channel, keeping everyone notified of what's happening in the office. A workflow process will help them know a customer better, have access to their data, know when they came on board, and know what they are looking for without having to ask too many questions.
Impress Your Customers with Efficient Marketing
1. Automate your social media – Hosting and running multiple ad campaigns or posting in social media is easy with workflow software. Be it Twitter, Facebook, LinkedIn, or Instagram, you can reach wherever your audiences are. Automated campaigns are handy when you need them.
2. Keep Track of Customers – All customer data generated is stored in the same database server and presented in an easy template. The entire team will have access to customer information, making it easy to make decisions and maintain cordial customer relationships.
3. Send Newsletters and Offers – Instead of spamming a customer's e-mail address, it is important to send what really matters to them. The newsletters can be scheduled with the help of marketing workflow software and sent out at the right time. You can also create offer e-mail letters, infographics, and a lot of other marketing content.
4. Share Marketing Collateral Within Teams – The team can spend time on each marketing collateral that is created, share ideas and feedback before finalizing on the best one. It enables them to come up with creative solutions that connect well with your audience and help establish a strong brand image.
Quick Features and Marketing Workflows You Can Create with Cflow
Email scheduling
Set triggers to start a campaign
Integrated sales automation
E-mail tracking and report
Automated lead scoring
Segregate your audience based on behavior and tags
Customizable workflows for Agile and other methodologies
Cflow is the #1 marketing workflow software that allows you to create every type of process needed to successfully carry out a marketing campaign, an ad, or generate, segregate appropriate leads. Efficient marketing is what a brand needs to establish itself in the market. A workflow automation software like Cflow boosts it and helps the workforce put their best efforts on what matters the most, while all redundant tasks are automated.