Workflow automation is considered an essential part of every company, be it the one with 10+ or 100+ employees to seamlessly automate their daily tasks for improved efficiency. By providing a platform for every team member to seamlessly connect with one another, it is easier for workflows to move from one phase to another.
G Suite is the most popular and widely used office productivity apps around the globe. Almost every IT employees and people working in various sectors are now used to the ease of access provided by the whole range of apps. Microsoft Office was the strongest player in the market which later shifted to become Office 365 to compete with G Suite and the Swiss Army Knife of applications provided by the people at Google.
What is G Suite?
Based on the definition provided in the official website, G Suite is a bundle of cloud-based applications designed by Google to allow users to easily access everything they need under one roof. The biggest difference between G Suite and Microsoft Word or Excel is that the Google product taps the power of cloud making it relevant to the modern generation.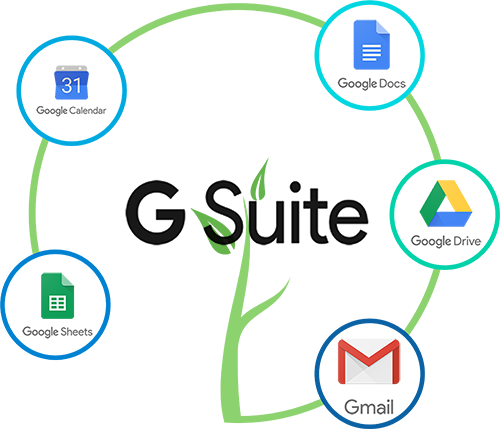 G Suite is the conglomeration of a variety of popular and widely used apps including Docs, Sheets, Slides which also works in collaboration with Gmail, Calendar, Drive and all other apps. In other words, you will never miss another meeting again, can easily share documents with a team member and check e-mails within the same user interface.
Why You Need Google Apps Workflow Integration?
Enterprises are largely dependent on workflow integration and Google Apps to complete their tasks. Every company is used to tapping into the power of cloud storage provided by Google Drive. For a fraction of a cost, you can get terabytes of storage space on the Drive and be able to attach those files to your workflow software is not just an essential feature but something most employees would intuitively expect to happen.
Similarly, appointments made in the calendar, invoices in your Google Sheets and presentations made using Slides should sync with the workflow software. Cflow does it all and more providing the most seamless connectivity with Google Apps, unlike any other workflow automation software.
3 Reasons Why Your Workflow Program Should Support Google Apps/ G Suite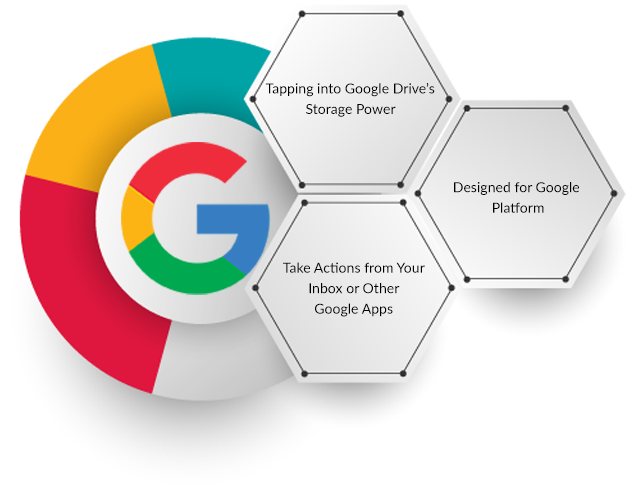 Tapping into Google Drive's Storage Power – Compared to a local storage or the servers any enterprise owns, Google Drive's storage capacity is much higher and easier to access even for small and medium businesses. When workflow integration is seamless with Google Apps, you can easily attach files, access them and share them with team members.
 Designed for Google Platform – The workflow automation software that you choose should be designed for Google Platform. Throughout the years, the internet has changed from Yahoo to Microsoft and everything is done primarily using Google services, be it Gmail, Calendar or Android phones. Cflow is fully compatible with iOS and Android while being a workflow integration software that Google loves.
Take Actions from Your Inbox or Other Google Apps – Your employees no longer have to leave their Gmail inbox or other Google Apps interface to access the workflow software. Cflow makes it easier for them to take actions right with the comfort of wherever they are. It's easy to send reminders, share files, spreadsheets or presentations directly from GSuite to workflow without having to log in again.
Cflow – the #1 Google Apps Workflow Tool
With Cflow, you will have access to the best of Google Apps and the convenience of workflow automation provided by the tool. We have built it right from the ground up to be a solution that makes life easier for you and streamlines your work in the right direction.
All your Cflow workflows can be accessed from within the Google Apps Suite. You can download the program from the Google Marketplace and get to work immediately.
Be it sharing files on Google Drive with your fellow team members, creating a reminder in your calendar or sharing sheets, every action can be done with the convenience of Google Apps with Cflow's capability to seamlessly integrate without any additional login required.
Automate your workflow with Cflow! Google Apps workflow integration is just icing on the cake as it makes it easier to automate things, connect with each other and improve work efficiency.
What are you waiting for?
Try Cflow to experience the simplicity and power of automation in business processes.
And it is FREE!