No Code
Workflow Platform.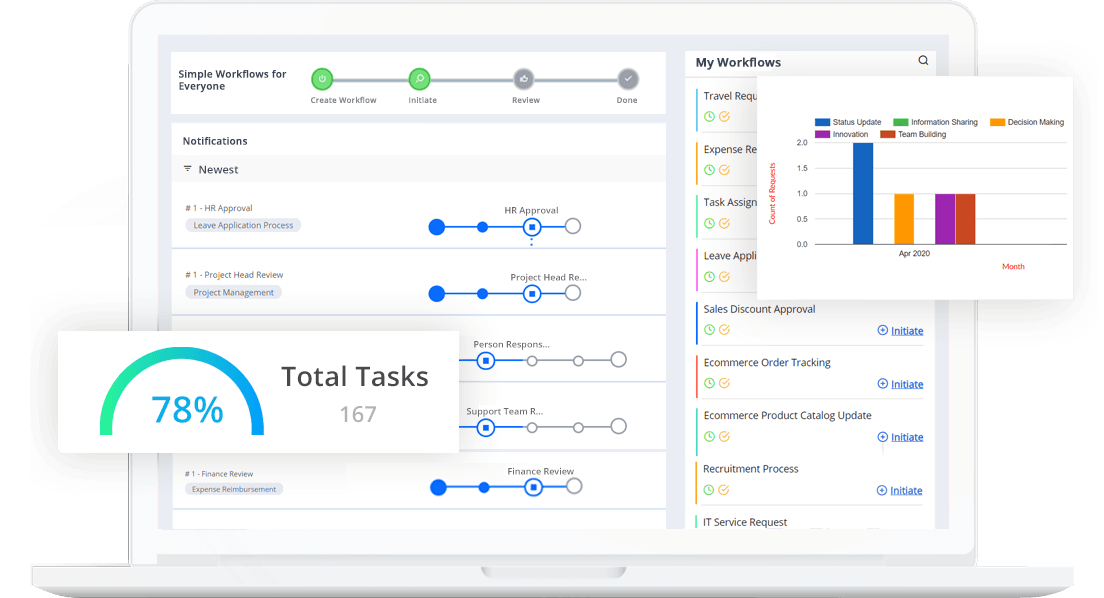 Trusted by 100,000+ users worldwide
Trusted and loved by customers across the globe, Cflow is the preferred workflow management platform for small, medium, and enterprise businesses.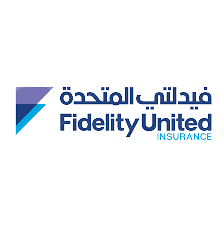 What is No Code Platform?
The name says it all! Not all web savvy users can be coders and every employee in an organization cannot be a programmer which is why no code platforms become an essential aspect.
No Code Platform: If You Can See it, You Can Do it
Everything about Cflow workflow application is completely visual and we have made things simple so that the administrator of the software, whoever it is can create workflows quickly.
Your employees don't need any special training to use our easy workflow software.
The intuitive user interface is easy to understand, there is a quick tutorial page and support whenever you need it. We not only make apps easy but also fun so that you can create as many workflows as your organization requires without any difficulty.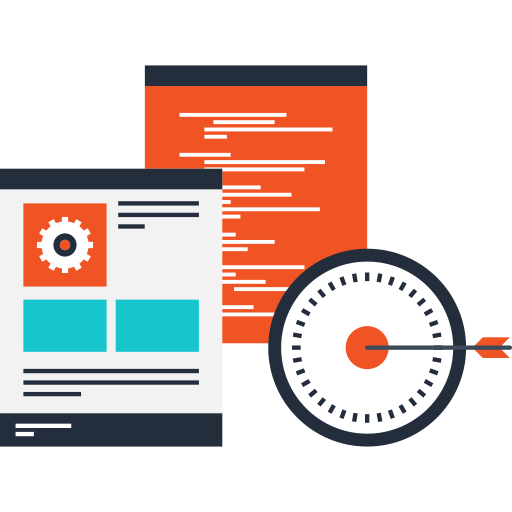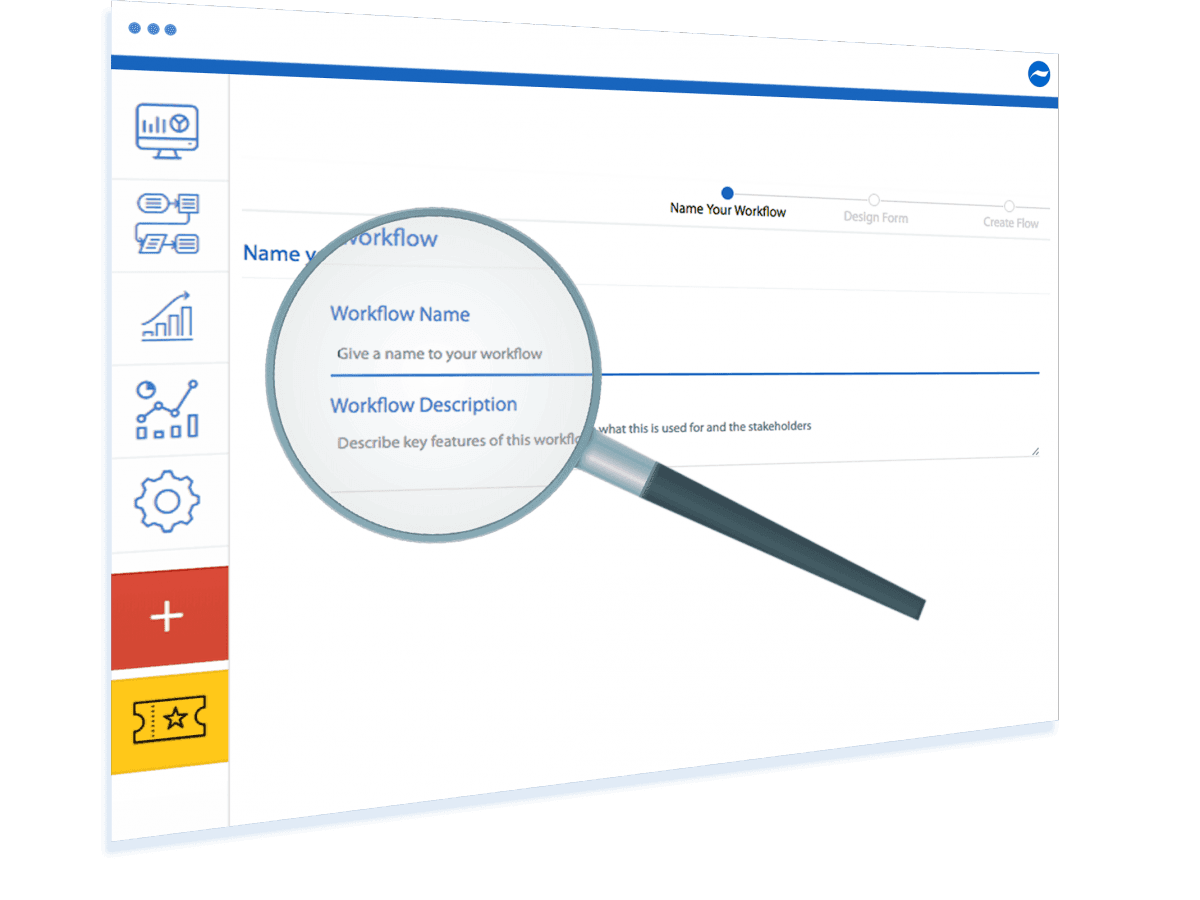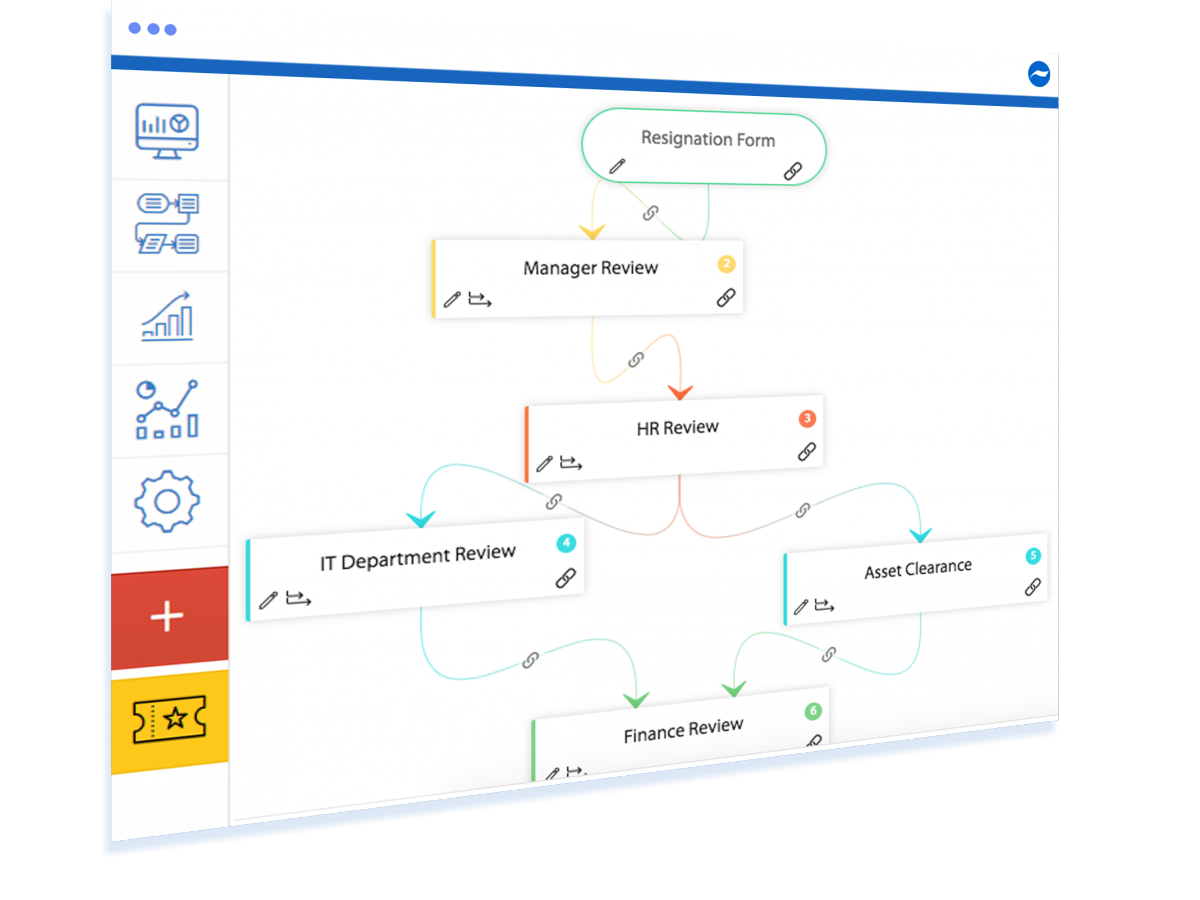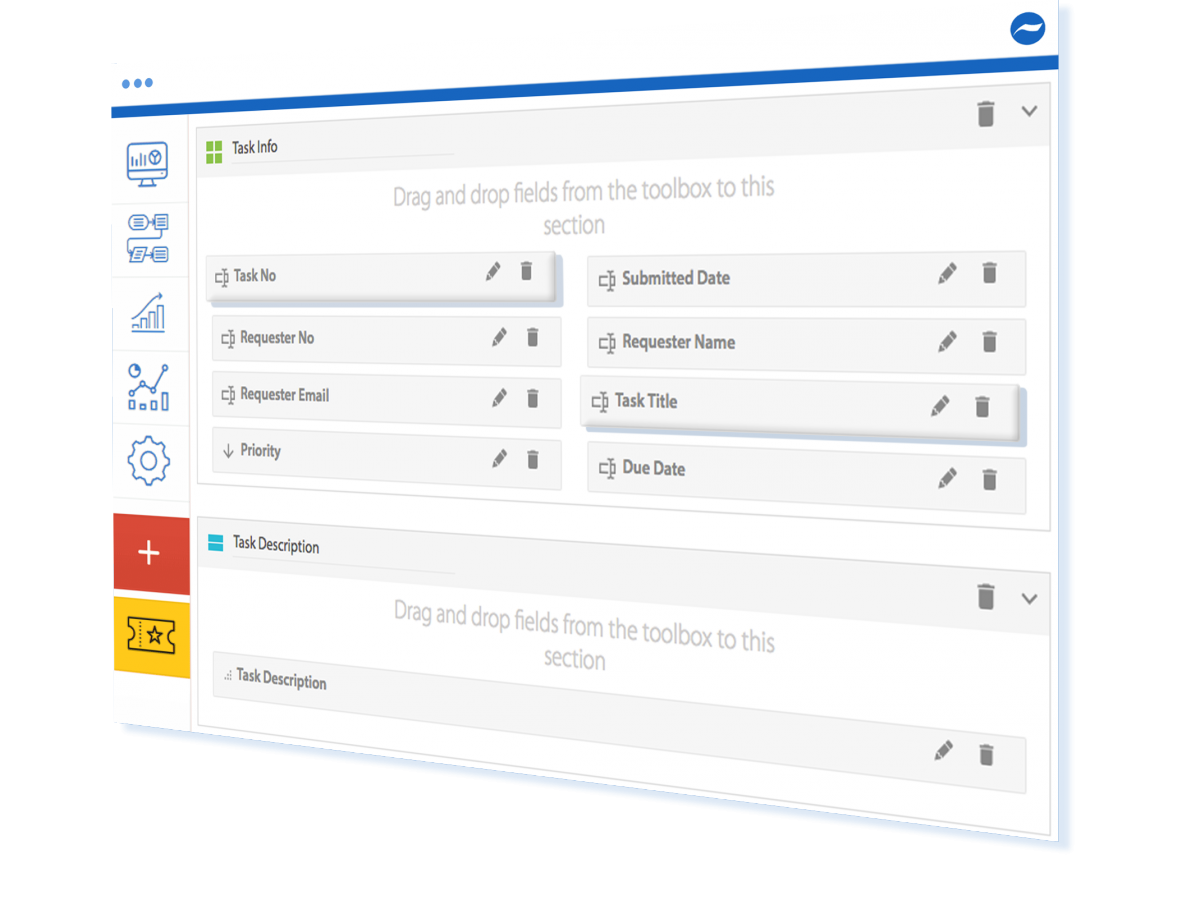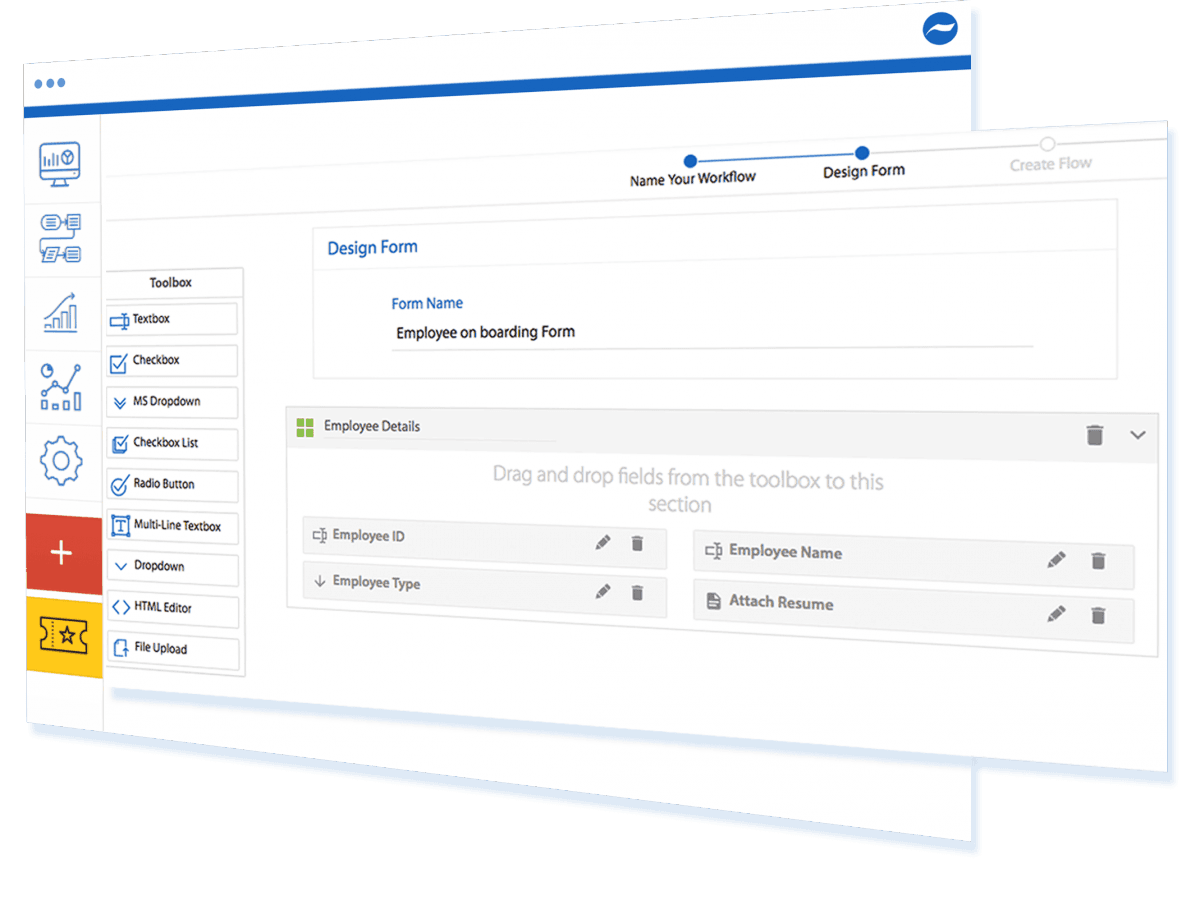 Cflow – Workflow Automation Reengineered
Cflow is a No Code Development Platform – right from the start and will help you create workflows within matter of minutes. Everything is simplified with a visual UI builder. Drag and drop functionalities save you time and you no longer have to feel frustrated or lost because you don't 'code'.
Automate Your Business, You Don't Need to be a Programmer to do it
Programming is found in every aspect of an organization and business. Almost every business that is carried out in this digital era is dependent on the web to reach customers worldwide. While we understand that computers and the internet are essential parts of expanding your business, coding is not! Not everyone has to be a programmer because their job role never warrants them to learn codes. So, are they supposed to be in the dark when it comes to using software programs?
Not at all!
With Cflow, you can easily automate your business but you don't need to be a programmer to do it. When you are the head of your business or an employee with years of experience, you obviously know the in and out of your business processes. Our 
workflow automation software
is designed to automate and streamline your business. The drag-and-drop design allows you to create workflows quickly without any programming. You don't need technical support to do this all and it should be that way. That's what our no-code application does.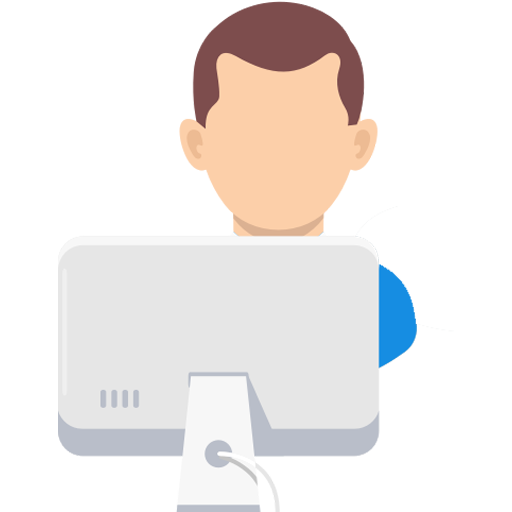 Why Should You Go for a No Code Workflow Platform?
No code platforms are becoming increasingly popular among B2B and B2C businesses, owing to the simplicity in putting together a custom-tailored application or software solution using a no code platform than it is to hire a web developer agency. Using a no code platform simplifies workflow creation greatly. But, there are several other advantages that it brings to business operations, making it one of the most preferred ways of creating custom software applications. Let us look into some of the distinct advantages that no code workflow platforms bring to enterprises. 
Increased flexibility – To begin with, no code development platforms allow enterprise to enjoy much greater agility. Such platforms are preferred for the nimbleness, agility, and flexibility that they bring to workflows. It is very easy to understand and master no code development platforms. Even employees without any technical or coding background can use a no code development platform and build good software for your organization. Even if you choose to include advanced features or automation workflows in your business application, the right no code platform (read Cflow) will let you accomplish this without much trouble. The increased agility helps businesses develop unique or specialized software quickly. Moreover, the time and resources spent on developing software comes down drastically. 
Simple user interface – The templates and user interfaces provide unique, customized user experience and functionalities. Workflow templates allow users to make workflows, data displays, forms, and other common functions and features by simply moving visual workflow elements. The flexibility and ease of use offered by these no code platforms make them excellent tools for boosting business agility across the board. 
Increased productivity – When processes are more flexible, it leads to greater productivity at the workplace. No code development platforms help businesses gain an edge over competitors in the same industry or niche. You don't need a dedicated IT team for developing workflows/software, when you have a no code platform. A no code development platform can be used to create the right tools that empower your teams to accomplish major workplace objectives or complete certain tasks, quickly and easily. 
A no code workflow platform like Cflow allows you to integrate automation workflows and tools into existing software. This cuts down the time spent by staff on tedious tasks like data entry, or categorizing things, and other recurring tasks. Workplace productivity can skyrocket when you use the right no code workflow platform. 
Lower pricing – In majority of business requirements, creating custom business applications can be a costly affair. You need to have a dedicated IT team or hire a software development agency to get the work done. In either case, you will end up spending several thousand dollars (at least) to get tailored software as per your needs. Even if the app is developed by an inhouse team, it would require a substantial amount of time, effort, and money for developing the app. Resources are locked throughout the app development lifecycle. No code platforms on the other hand do not require a dedicated team for building automated workflows, hence, associated costs come down significantly. With these tools, you can get solutions quickly without having to spend huge amounts of money and time. Before choosing the no code platform, it pays to compare various platforms on their costs and offers and discounts, so you get the best deal for your business. 
Seamless integrations – Majority of the no code platforms allow for simplified and helpful integrations. Integrations with third-party tools and features are vital for most modern B2B and B2C business applications. Let us take the example of an email marketing tool that is used to send out marketing emails to consumers regularly and consistently. With a no code platform, it is easy to integrate the email marketing tool without much of a difficulty. What's more! No code platforms help you integrate multiple apps and create a workflow journey. You can also create several different software solutions with the no code platform, then design them in such a way that they interact and integrate quickly and easily. No code platforms bring advanced automation capabilities to business processes. 
Accessible automation – Automation tools can be valuable timesavers and can increase productivity at your enterprise in several ways. No code platforms allow you to integrate automation tools and workflows without much effort. The more automation that is included in workflows, the better will be process performance. Critical tasks like customer or patient communications, employee onboarding, data entry, and finance and accounting data management, etc are prime candidates for automation. It is for such recurring work that employees log more work hours and spend a lot of effort. So it makes sense to automate such tasks so that significant time and costs can be saved. By making automation accessible to workers, the organization may see more improvements in workplace morale, employee productivity, and job satisfaction. 
Rich feature set – Many organizations are under the false notion that no code platforms are overly simplistic and altogether not very useful. Modern no code platforms and workflow automation tools allow teams to bootstrap feature-rich tools and software applications that can do almost anything you need them to. Modern tools allow businesses to design, develop, and deploy apps that are tailored to specific business requirements. Modern no code platforms are much more robust than theory were originally. 
Better security – No code platforms provide the highest level of security and data encryption features. The main reason being, no code platforms use pre-checked chunks of code or apps that have been used several times before, so their security has already been established. Custom-created software may have its advantages, but it hasn't been used "in-the-wild", so you cannot be sure about its ability to steer clear of modern malware threats or other intrusions. No code platforms lend your business greater digital security, especially when you use software apps exclusively developed by no code development platforms. 
No Code platforms - are they right for your business?
We have explored several reasons why you should go for no code platforms, but are these the ideal tools? To decide on that, you should know the business and circumstances for which no code platforms are the best fit. 
Before deciding on no code development platforms, you need to consider your budget and ideal software needs. No code platform helps you get ahead without breaking the bank. 
Why is Cflow the Best No Code Platform for your Business
Cflow is a no-code workflow development application that could revolutionize and re-engineer your workflow processes. Sign up as a free user to see how powerful the program is and join our league of happy customers.
Top 10 No Code Workflow Platforms to Consider for 2024
Cflow – Cloud-based no code BPM platform for automating key business workflows. Cflow provides pre-built apps that can be customized according to unique business needs. Workflow templates in Cflow can be used to create custom workflows as per the process without any coding or technical expertise. The visual drag-and-drop form builder helps create custom workflow templates within minutes to automate tedious and repetitive tasks. From IT operations to HR to sales and marketing – any business process can be automated with Cflow. The public forms feature allows almost anyone to access the Cflow form. These forms make it easier to connect with users that are not directly associated with the organization, but are required to provide information your company needs. 
Headless forms – This is a backend solution that offers the right tools to online form creators to receive respondents' submissions in real-time, without the need for code. You can receive form submissions, send auto response emails without writing any backend code. You can simply connect your form, add form attributes,and configure the end point. 
Intellect QMS – This is a robust QMS software suite and platform that offers extreme configurability. The software helps you meet FDA compliance and ISO standards, drive operational excellence, and enhance business productivity. This is the most configurable and easy to use enterprise Quality Management System software suite and no code platform for business process management and automation. Mobile apps with offline capabilities empower the workforce to stay connected and compliant. 
Caspio – This no code platform is ranked among the leading software for building online database applications without coding. This all-in-one platform provides users all that they need for digitally transforming their operations and workflows. The integrated cloudbase, visual app builder, scalable global infrastructure, enterprise grade security, and regulatory compliance are some of the notable features of the software. 
Solavista – This software is a pioneer in 2-in-1 field service management that is built within, and provided with no-code application technology. Solavista streamlines your field service operations by providing ready-made but customizable features that combine to create intentful, easy-to-use business process automation. This software can be seamlessly run on the web and on phones, tablets, and PCs. This no code platform lets you do more with less, while improving customer experience while enabling an agile business. 
AppSheet – This no code platform comes with a host of features like activity tracking, calendar management, application management, access controls, authentication, and change management. The customizable reports and fields feature in the software allows a deep level of customization of the forms and reports. The drag and drop functionality makes it super easy to create workflows and forms as per user requirements. You can even set role based access in this software so that data is handled securely. 
Prontoforms – This is a leading enterprise grade mobile form builder built with field teams in mind. Prontoforms makes real-time, accurate data collection fast and easy. You can empower your employees to compete with complex instructions, audit, and other tasks on their mobile devices itself with confidence. Notable features of the software include alerts and notifications, abbreviation detection, activity dashboard, access controls/permissions, app management, audit management, asset tracking, and barcode/ticket scanning. 
Quickbase – This no code platform empowers businesses to quickly turn ideas into applications that make them more efficient, informed, and productive. With this software, anyone (without a technical background) can create business applications that continuously perfect the process that makes your business unique. Quickbase supports 3PL management that is used for e-commerce applications. Other key features include access controls/permissions, API, accounting integration, agile methodologies, activity tracking, audit trail, backup and recovery, and CRM. 
Formaloo – This no code platform makes it super easy and interesting to build apps and live presentations that actively engage your audience. Top features include activity tracking, abbreviation detection, ad-hoc query, alerts and notifications. Audit trail, backup and recovery, campaign management, and collaborative development. 
Ninox – This is a cloud-based platform for building custom database applications, with built-in templates, drag-and-drop formulas, custom actions, and scripting. This is an easy way to automate SME businesses, that empowers teams to digitize business processes without the help of an IT department. You can simplify the complexity of workflows by deciding what you want to view, filter, sort, or group data. You can easily customize tables, forms, views, or charts the way you want. With Ninox you can build exactly what you want because it is flexible and easy to adapt. From resource planning to accounting, Ninox creates complete ERP solutions tailored to their needs. 
Pre-built apps waiting for you!
Sign up for a 14-day Free Trial! No credit card required.