How to Improve your Workflow Efficiency?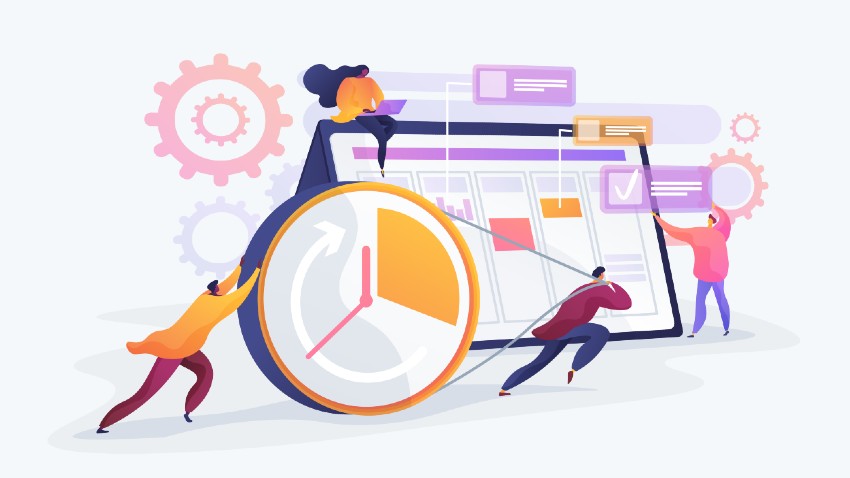 According to a study conducted by DJS Research on behalf of Unit 4, office workers spend a whopping 552 hours per year on repetitive admin tasks. This means that 552 hours of work time is wasted on tasks that need no intelligence.
Admin tasks do not contribute to project productivity and they also adversely affect employee satisfaction by robbing them of their project time. To improve workflow efficiency, one has to focus on reducing time spent on administrative tasks.
Lost Productivity in Organizations
Wasted time in the workplace is a major concern for organizations. Companies run into significant productivity losses due to this wasted time. Did you know that lost productivity is costing the Global Service Industry over 5 trillion USD per year? What are wasted hours? Performing any work that is not related to the project can be classified as wasted hours.
Surfing the Internet, logging onto Social media platforms, performing mundane admin tasks, etc. are considered wasted tasks. According to the survey by DJS research, the USA leads the list of countries spending on administrative tasks. A whopping 2873, 3 billion USD are spent on administrative man-hours annually. Wasted hours are the greatest contributors to the loss of productivity in an organization.
How do wasted hours contribute to the loss of productivity?
Spending more time on mundane, admin tasks robs an employee of his/her productive time. The time spent on meaningful, project-related work comes down due to wasted hours.
Employees lose focus on project work due to admin tasks. The time and effort spent on admin tasks distract the employee's focus on project-related work.
Employee satisfaction is adversely affected when he/she has to spend time on tasks that are repetitive and not intellectually stimulating.
Manual execution of admin tasks requires closer scrutiny during the approval stage. Human error and bias bring down the accuracy of the task.
The overall productivity of an organization is drastically affected by these wasted hours. The more time employees spend on project-related work, more will be the more productivity. Engaging employees actively at work is essential for higher employee satisfaction and productivity.
Workflows for Higher Productivity
Did you know that most business leaders do not have a comprehensive understanding of their business processes? Surprised? A complete understanding of business processes is essential for improving operational efficiency. You need to know every process in every department in which the business operates. Analyzing how your business has been operating so far and identifying the process loopholes is the first step toward improving process efficiency. This analysis forms the basis for the creation of workflows.
Creating a workflow for business processes helps identify repetition, redundancy, and duplication in the process. Workflow maps the flow of work, data, and documents within the process. Workflows help streamline business processes and identify processes that do not need human intervention. This helps automate repetitive processes that do not require human intervention. Automation also speeds up process execution and improves process efficiency.
Streamlining workflow processes is a project in itself, it requires a dedicated team that analyzes, identifies, maps creates, and implements the workflow. An efficient workflow eliminates process redundancies and improves productivity. Employees get to spend more time on project work, and as a result, employee satisfaction and efficiency also increase.
End-to-end workflow automation
Build fully-customizable, no code process workflows in a jiffy.
Ways to Improve Workflow Efficiency
Creating and implementing a workflow alone is not enough to ensure operational efficiency. We need to evaluate the efficiency of the workflow to ensure those project goals are met. To improve workflow in the office, we need to keep a tab on the workflow and the output. Improving workflow efficiency empowers teams to do more with less time and effort.
Here are 5 ways to improve workflow efficiency.
Complete analysis of existing workflows: If you need to change/upgrade something, you first need to study the existing process/system to identify areas of improvement or change. This analysis must include employee feedback on existing processes and ways to improve. The roles and responsibilities must be analyzed to ensure the right allocation of work and optimal resource utilization.
Prioritizing projects based on their importance in the overall business strategy is required before reassigning tasks or reordering the workflow. The right tools should be used to track projects that employees are working on.
Assign specific people to specific tasks for optimal resource utilization. People with specialized skill sets must be utilized to ensure that they are intellectually stimulated at all times.
Optimizing communication is an important way of improving workflow efficiency. Efficient ways of communicating work allocations, and tracking work statuses, and approvals are essential for seamless flow or processes.
Getting the best automation tools is the most important way to improve process efficiency. The tools must run collaboratively and smoothly to ensure that there are no process bottlenecks.
Finding the right workflow automation tool can be challenging with plenty of options available in the market. With an automation tool, you can customize the process flow for maximum efficiency and productivity. Cflow is a powerful workflow automation solution that improves workflow efficiency significantly.
Sign up for our 14-day free trial to empower your business with simple, yet powerful automation.
What would you like to do next?​
Automate your workflows with our Cflow experts.​
Get your workflows automated for FREE
---