How to Improve a Process at Work? 10 Ways to Improve Processes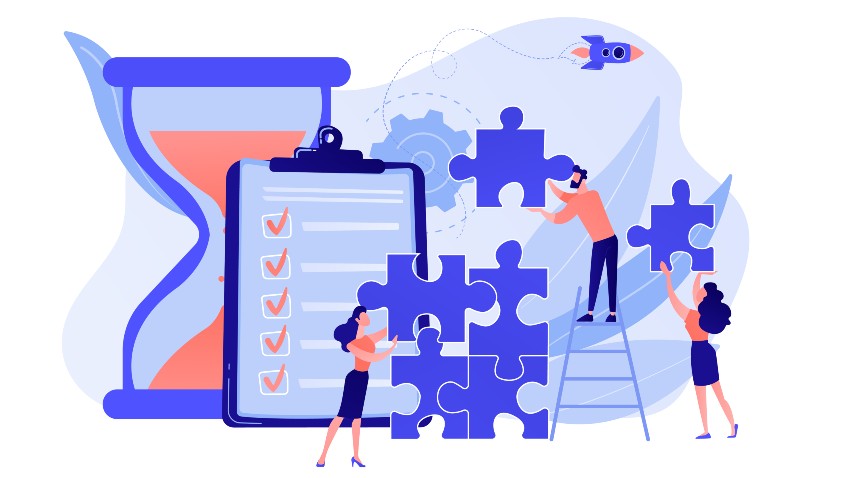 Whatever the type of business, work processes are an integral part of the business. Each business function is built on work processes.
10 Practical Tips to Improve Processes at Work
A work process is a sequence of steps (tasks) that are executed to achieve a business goal. The leadership needs to improve work processes for better business outcomes.
Work Processes
A business or a work process is a sequence of tasks executed by a team to achieve an end goal of a business function. For example, the end goal for the employee onboarding process is the induction of employees into the team. The intermediate steps in the process could be the completion of joining paperwork, setting up a work environment, scheduling orientation, introduction to the project team, and training and induction formalities. Business processes can either be repeatable or one-off projects. Repeatable work processes are executed frequently.
Work processes can either be informal or formal. Formal processes are documented and employees conform to a set of rules for executing the work process. Informal processes on the other hand are not documented and are executed by employees without much thought. Formal processes are also referred to as procedures. Documenting processes is always a benefit for the business. Transforming an informal process into a formal one is called standardization.
The advantages of having standardized processes are:
Transparency: When processes are executed as per preset rules, there is more transparency in the process execution. All the stakeholders know the process status at all times.
Accountability: The roles and responsibilities of each stakeholder in a standardized process are clearly outlined. Everyone knows who is responsible for what is a formal process.
Improved productivity: Since the roles and responsibilities are clearly outlined in a formal process, the chances of bottlenecks, duplication, or redundancy are almost nil.
Need for Process Efficiency
The main aim of all business processes is to streamline the way work is executed by teams. The scope for error or delay is eliminated when the entire team follows preset rules. Work execution is much more efficient in a formal process. Efficient execution of individual business processes impacts the business bottom line.
Typical issues that inefficient work processes throw up are:
Improper customer engagement
Dissatisfied employees
Errors, duplication, and overlook in work
Wastage of resources
Increase in overhead costs
Process bottlenecks that cause indefinite delays
It is clear that having a well-documented work process is essential for business success. Improving the work process translates to greater productivity and efficiency.
End-to-end workflow automation
Build fully-customizable, no code process workflows in a jiffy.
10 Ways to Improve Work Processes
Streamlining your work processes and developing an efficient workflow can be done by following these simple, yet effective steps:
1) Understanding the current workflow:
The first step is to analyze and understand existing workflows. In most businesses, the leadership does not have detailed knowledge of the work processes. To improve work processes it is essential to understand the existing workflow. The goal is to determine current operating procedures and identify problematic areas.
2) Identifying the key focus areas:
Once process analysis is done, the next step is to identify potential areas for improvement. Pinpoint the factors that are bringing down the effectiveness of the process and design a better and improved version of the process.
3) Breaking down the process:
The entire process is then broken down into smaller and simpler tasks. Breaking down the process into simpler steps makes it more manageable.
4) Prioritizing tasks:
Once you break the process into discrete steps, you can arrange them according to their importance. This helps you maintain a logical flow of the process.
5) Documenting workflow:
Documenting each step, the process flow, and exception conditions are extremely important. Creating a workflow diagram can be useful in documenting the workflow.
6) Automating the workflow:
Automating the new workflow is the most important step to improving process efficiency. Repetition and redundancy can be eliminated from the workflow by automating it.
7) Testing new workflow:
Before implementing the workflow, a test trial is advisable. The effectiveness of the new workflow needs to be tested under various conditions before implementation.
8) Modifying workflow:
Testing the new workflow helps identify any gaps or deviations in the process. Modifications can be made to correct these deviations or errors.
9) Implementing the workflow:
The final implementation of the workflow can be done after proper testing. All the stakeholders need to be informed before the implementation so that they know what to expect from the new workflow.
10) Optimizing the workflow:
Implementation of the new workflow should be followed up by a regular review of the outcome. Refinement and optimization of the process need to be done in order to ensure that the outcome conforms to the overall business goals.
Conclusion
Most business processes will need improvement over time. Processes that do not fulfill business goals cause financial losses, frustration, and delays. Continuous review and optimization of business processes are essential to building a sustainable business. Improve your work processes and start hitting project deadlines with Cflow.
A powerful workflow automation solution that empowers businesses to reach dizzy heights of success. Sign up for a 14-day free trial and be ready to be amazed at the capabilities Cflow brings into your business.
What would you like to do next?​
Automate your workflows with our Cflow experts.​
Get your workflows automated for FREE
---