Fast Track towards Operational Excellence with Business Process Optimization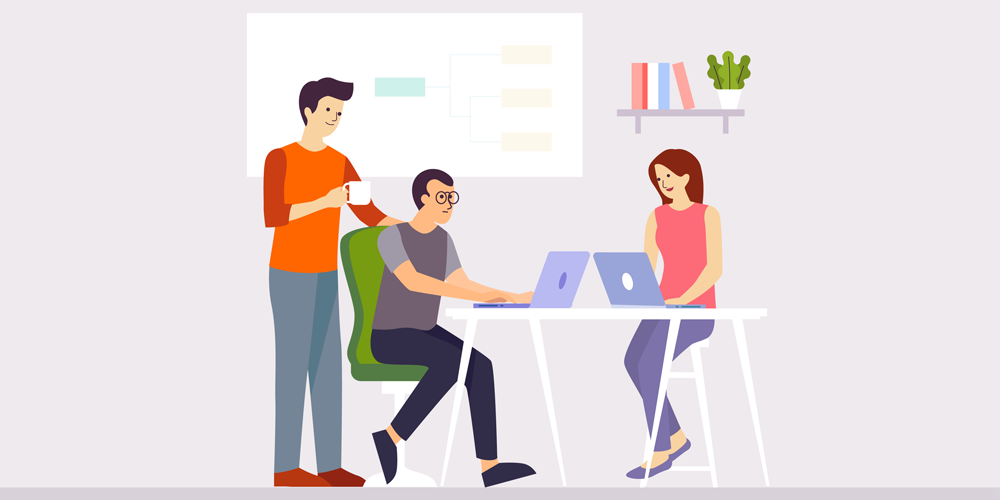 All business processes functioning at their peak efficiency at all times and under all circumstances is what every organization aspires for. Process efficiency has a direct impact on the productivity of employees and the organization as a whole. The easiest and fastest way to operational excellence is business process optimization. Process optimization is the discipline of adjusting a process in order to optimize a specific set of parameters without violating any conditions or constraints in the process.
What is Business Process Optimization?
Optimizing business processes allows you to streamline and standardize business processes for optimal performance. What is process optimization? Business process optimization or process optimization is the process of improving existing business processes for better performance and operational efficiency. For business optimization to happen, there must be a recognition of the need for improvement and areas of improvement.
Business processes fall short when they are not efficient, which brings down the overall business performance. Process optimization definition includes all those targeted redesigns of core processes to promote efficiency and strengthen the alignment of individual business processes with overall business strategy and goals.
Business optimization should span across all the processes in the organization, rather than individual processes. When businesses optimize the core process across the organization, they can see a significant competitive advantage, improved customer service, and more efficient operations.
How to get the perfect optimized process design?
Here are some tips to plan process optimization:
Document the current state of processes in order to understand whether the process goals are being met
Align the team's understanding of optimization strategies and primary business goals
Make the team understand the non-negotiable constraints of the process
The strengths and weaknesses of the process currently performed must be understood by project teams
Acceptable optimization strategies for every process must be made familiar to the team
Optimizing business processes must be done in a well-planned manner so that expected results are achieved. Optimized business processes must be able to manage the resources available in order to improve existing process outcomes. Process optimization must improve existing processes within your means. Business optimization is part of the business process management framework (BPM), which is a systematic framework for improving existing processes.
Who Needs Process Optimization?
We can also define optimization as an operational practice that identifies, evaluates, and resolves business issues and concerns. At the core of BPM are business process improvement and business process optimization. Do all processes need optimization? How do we recognize which processes are prime for optimization? Here are a few ways to recognize processes that require optimization:
Poor or broken communication channels – Seamless communication is primal for any process, the lack of which causes chaos in the process execution. Irrespective of whether your team is working on-site, or remotely, they must communicate with each other about the projects they are executing. Effective business processes relieve employees of asking questions continuously for clarity in various tasks. If your processes do not provide proper guidance to the team members and clear communication channels, then they need to be optimized.
Redundant steps in the process – Effective business processes must be straightforward, without any unnecessary or duplicated steps. While developing an exhaustive business process, businesses may actually create room for redundancy. The longer the process, the more execution time and increased resource requirements.
Repetitive issues – The issues with a process are repetitive and you receive complaints from employees and customers about a specific issue. Everyone complaining about the same issue shouldn't be ignored at any cost. It is a clear indication that something is off with the process and needs to be fixed immediately.
Improper version control – How well are our team members utilizing document version controls? Are versions of a document mixed up? Although this may seem like a minor issue, the repetition of mix-ups costs the business dearly. Identifying different versions of a document may be tasking for the employees. Process optimization allows you to update each version of the process and documentation without any hassle or confusion.
Difficulty in filling out open positions – The requirement for new employees is a sign of business growth. Filling open positions can be a tedious process without streamlining recruitment and onboarding processes. Optimized HR processes can automate repetitive tasks, document processes, and collaborate seamlessly.
How to go about Business Process Optimization?
Business process optimization can be a daunting task without the proper plan. Proper focus on optimized process design is required while optimizing processes. Focussing on the following aspects of process optimization is an important part of process optimization-
Customer focus –
The end game of business operations is customer satisfaction. Putting customers first is important to re-design processes in order to cater to customer needs. Improve your business processes from the customer's perspective.
Being aware –
Process optimization requires awareness of process status and progress. A step in the right direction is an indication that you are on the right track. Defining tangible key performance parameters to analyze and measure process performance.
Communication –
Open and transparent communication accelerates the pace of process optimization. Team members and stakeholders should be aware of relevant information on the latest developments and changes that arise while improving the process. All these changes must be communicated to all the stakeholders.
Collaboration –
Each team member has a role to play in different stages of process optimization. Inputs must be derived from all stakeholders as feedback to ensure that employees and customers are getting the most from the processes.
Continuous execution –
Optimization is not a one-time process, as processes evolve, new bottlenecks will emerge in the process. Process optimization design must make provision for effective change management. Process optimization must allow continuous process improvement with minimum downtime.
Business process improvement and optimization aim to redesign existing processes to make them more efficient, streamline operations, reduce errors and costs, and upgrade communication.
End-to-end workflow automation
Build fully-customizable, no code process workflows in a jiffy.
Pros and Cons of Process Optimization
Any major change in business operations, like process optimization, comes with pros and cons. In the case of business process optimization, clearly, the pros outweigh the cons. Let us consider the pros of optimizing a business process –
Improved compliance management – Industry regulations are laid down to guide businesses on legal policies and procedures that they must follow. They enforce law and order in the best interest of society. Organizations that violate these rules and regulations are clamped down or are subjected to fines and penalties. Optimized business processes are streamlined and adhere to regulatory stipulations and laws.
Reduced risks – Depending on the type and scale of a business, the associated risks vary. Risk management involves process improvement and optimization. Business process optimization helps identify the risks that arise from process execution and removes risk by improving process operations. Process optimization brings awareness among employees about standard operating procedures that are tested and certified as risk-free.
Streamlined operations – Bottlenecks in a process affect the workflow and result in undue delays and sometimes halts the entire process. Process optimization eliminates process bottlenecks and creates a free and seamless workflow.
Maintains consistency and quality of process – Acquiring new customers and increasing customer retention rate can be successfully done by enhancing the quality of deliverables. When new customers have been onboarded the quality of deliverables determines whether they will stay or not. Process optimization helps deliver quality products/services and also maintain the quality of products and services. As you optimize business processes for consistency and quality assurance, you can automate some complex processes to minimize human errors.
Improves resource utilization – Sustaining process resources depends on how they are utilized by the process. Overutilization or underutilization of process resources is not good for a business in the long run. One effective way of ensuring proper resource utilization is to eliminate redundant steps, which in turn eliminates the wastage of resources. Process optimization is the best way to remove redundant and repetitive steps from a process.
Enhances customer satisfaction – The end result of any business process is customer satisfaction. Effective processes are the key to customer satisfaction. Business process optimization ensures that processes are aligned with their end goal at all times.
Let us go onto the cons of business process automation.
Improper issue resolution
Implementing process optimization measures is mostly done for the entire process rather than specific tasks or steps that need improvement. When the entire process is optimized, emphasis is more on the overall process efficiency rather than the condition of individual tasks. It is important to identify the root cause of the problems and fix them one after the other. When loose ends in a process are not tightened, they cause friction in operations.
Inadequate data
For successful optimization, you need sufficient data to point out areas of improvement. Complete information on the current process like stakeholders, conditions for process execution, inputs, and expected outcomes. Data collection must not be limited to top-level officials while optimizing data, all the employees who are part of the process need to be included.
Moving too fast
Once the decision to optimize the process is taken, teams usually speed up the efforts to reach the finish line. Process optimization requires attention to detail and consistent efforts. The impact of changes to the process must be observed in detail to ensure that the changes are as expected.
Excessive dependence on technology
Process optimization without technology is unimaginable. Excessive reliance on technology for process optimization complicates the implementation. Technology must be used only in areas that warrant its usage.
Inconsistencies across departments or teams
Different departments that experience the same type of issues may use different terminologies for describing the issue. They might be referring to the same issue, but due to differences in their communication, you might assume that they are talking about different things. During optimization, it is important to ensure that the same process maintains the same terminology or language across the organization.
Delay in implementation
Business process optimization requires a collaborative effort between various teams or departments, which often stalls the process. When different teams work together, one team does its task and passes it on to the next team. The subsequent team may not be able to deliver on time, which does not allow the project to move on. Business optimization is not one-size-fits-all, so leadership has to choose the method that suits the unique needs of the business.
Steps in Process Optimization
Depending on the type and magnitude of the issues/setbacks you are facing in your business, you need to choose an optimization solution.
However, there are some common steps of optimization that can be applicable to all types of businesses.
Identify the Issues – The first step is to identify the issue with the process or process causing the issue. There might be several issues within a process, the best approach is to identify and address each one of them separately. Focus on a specific problem and zoom into identifying what is making it ineffective.
Rethink – Process optimization thrives on efficiency and optimal use of resources. Rethink whether a complete overhauling of the process is needed or only a part of the process needs optimization. For example, if a process is slow, you are better off identifying the factors that are responsible for slowness and removing them instead of discarding the whole process.
Analyze – Making changes to the process requires deep analysis of the impact of changes. Mapping out the objective of the changes first by considering all the areas at stake. Developing a set of KPIs will help in measuring the impact of the changes. In a situation where you have to implement workflow software to automate some of the repetitive tasks, these KPIs can be used to measure the success of process optimization.
Implement/Automate – Automation is an integral part of optimization. Automating repetitive, low-value tasks is an effective way of optimizing the process. This way your team members will have more time on their hands to carry out more engaging tasks.
Monitor – Most efficient business processes need to be continuously monitored for constant improvement. Despite proper planning for process optimization, without regular monitoring, it would be difficult to identify any slackness that may arise in the process. It is important to closely monitor the newly optimized processes to detect any downfalls.
Process Optimization Methods and Techniques
The main focus of business process optimization and improvement is to redesign an existing process to make it more efficient, streamline operations, minimize errors and costs, enhance workloads, and upgrade communications. Changes due to optimization must evolve as businesses evolve and new technologies emerge. There are many time-tested optimization techniques and methods that businesses can choose from.
Here are some process optimization methods:
Six Sigma
This is a data-driven methodology for streamlining operations for efficiency. This is one of the earliest developed management techniques for total quality management. Six Sigma is based on the DMAIC (Define, measure, analyze, improve, control) framework for continuous process improvement. Elimination of defects and measurement is the main focus of Six Sigma. Define what needs to be fixed or improved, measure the performance of changes, analyze the root cause, improve setbacks of the process, and control by paying close attention to process performance.
Lean Sigma
Lean methodology is a modified version of Six Sigma. The lean model focuses on specific tasks that deliver more value to customers and identifies areas of potential process inefficiencies.
Total Quality Management (TQM)
This methodology became popular during the 1980s among manufacturers and government agencies. The main focus was to eliminate process defects and improve the overall quality of the final product/service.
DMADV
This is another process improvement methodology that focuses on defining, measuring, analyzing, designing, and verifying business processes. The defining step first identifies the "what" of the process. The second step measures the performance of the process. Analysis of the process before commencing the changes is the third stage. Developing design alternatives for your optimization is the next step. The last step is the verification of changes to help you determine the feasibility of the design.
International standards organization
The International Standards Organization (ISO) is a certification that helps businesses to develop and improve their performances with international standards of operations. In order to get ISO certification, organizations have to undergo an Audit of the ISO standards in their industries. By gaining the ISO certification, organizations can gain in several ways –
* Streamlined operations
* Regulatory compliance
* Risk identification and assessment
* Increased business opportunities
ISO-certified organizations need to document their management systems, implement the documented procedures, verify the effectiveness of the system, and register their system to undergo certification.
Kaizen
Constant evolution is required for running a successful business. Kaizen's methodology is based on continuous improvement. It is a Japanese terminology that translates to "for the better".
The two main aspects that Kaizen is based on are
Philosophy: Philosophy holds that change is a collective effort of everyone in an organization.
Action: The action aspect focuses on the cultivation of continuous improvement by executing a series of Kaizen activities.
The first step is to establish a culture of Kaizen by creating Kaizen corners. Gathering all the suggestions and evaluating them carefully is the first step in establishing a Kaizen culture. Training employees on how process improvement is done.
The second step is to ensure that employees committed to process optimization are duly rewarded for their efforts.
The last step is to put Kaizen into practice.
Organizing your team, defining the problem, developing key metrics, creating solutions, testing the solutions, and implementing the new process are steps involved in putting Kaizen into practice.
Choosing the Right Business Optimization Software
The success of business process optimization largely depends on the software you are using. When you choose the right software, teams need not sweat out every little detail and focus on delegating and automating tasks. Here are some points to bear in mind while choosing process optimization software.
Industry-specific
The process optimization software is usually designed to serve businesses in certain industries. You need to choose the tool that is suited to the industry to which your business belongs.
Automation
Automation is a non-negotiable part of process optimization. You need a tool that enables easy automation of tasks that are repetitive in nature.
Integration
Every software can do only so much in optimizing business operations. Usually, a combination of tools will give better results for the business. Seamless integration with other business tools is an important feature to have.
Ease of use
Using the software must be easy for the users. Configuring the software and using it must be easy and quick for the users.
Conclusion
Process optimization is a must for process-intensive businesses. The market competition bar is always rising as businesses grow. Failure to optimize business processes stagnates business growth. Business process optimization is the most effective way to improve the performance of business processes. Optimization and automation go hand in hand to improve business outcomes.
Cflow is a workflow automation software that helps automate key business processes. To explore our feature-rich workflow automation software, Sign up for the free trial right away.
What would you like to do next?​
Automate your workflows with our Cflow experts.​
Get your workflows automated for FREE
---