Business Process Improvement
Continuously evolving markets, technological advancements at lightning speeds, dynamic consumer demands, cut-throat business competition – is your business floating or sinking in this melee?
Getting Out of the Comfort Zone
Picture this – AA-BB is a medium-size business that started 5 years ago. Their product was an instant hit in the market mainly due to the innovative design and aggressive marketing campaign. 5 years down the lane, the business has reached a plateau. The leadership still endorses the business strategy that was followed when the company was founded. The marketing team is struggling to position the product to match the changing market requirements. What was once an innovative product now seems like a run-of-the-mill idea.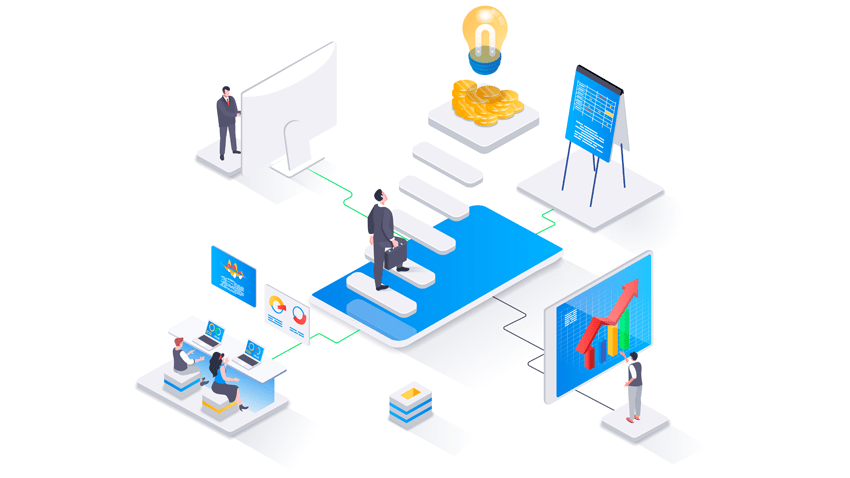 Time for a change? Time to step out of the comfort zone and focus on innovation and business process improvement?
Most businesses require a very strong reason to step out of their comfort zone to even think of improving their business processes. Business processes are a sequence of tasks performed repeatedly for creating a product or a service. Ever since business came into existence, they were depicted by flowcharts. A flow chart is a visual representation of the business process.
All business processes work towards an objective. A bigger business process can be broken down into smaller functions for easy understanding and design. Depending on the objective of the business processes, they are classified as operational, management, or support. Streamlining of the business processes directly affects the business bottom line. So, the only way businesses can stand out in the market is to go for Business Process Improvement (BPI).
What is Business Process Improvement (BPI)?
Business Process Improvement (BPI) includes all the activities that analyze the effectiveness of business processes, identify improvement areas, and re-engineer processes for better operational efficiency. Organizations opt for improvement of business processes in order to:
Cut out the chaos and friction from existing processes
Bring down operational time and improve operational efficiency
Set better compliance standards for processes
Some of the commonly followed business process improvement methodologies are Six Sigma, Kaizen, Lean Management, Agile Management, and Total Quality Management. Irrespective of the type of BPI followed the goal and execution are the same.
The important steps in business process improvement are:
What needs change: Before coming down to the process level, a high-level analysis of what needs to change in the business must be done.
Analysis: Identifying and analyzing existing processes for their effectiveness is the first step. In this step, each step in the process is analyzed to spot redundancies and bottlenecks.
Identify improvement areas: While analyzing existing workflows, the areas of improvement are also identified.
Simulate proposed changes: proposed changes to the processes are run as simulations to study how they affect the business.
Feedback: based on the feedback from simulations, the processes are reorganized for better efficiency.
People function: As part of process analysis, the people involved in the process are also analyzed to find the right fit. Reordering process workflows may require reassignment of people's roles.
Once a business process improvement is implemented, a continuous review of the outcome is required until the changes get absorbed into the system. Regular audits of the processes ensure that the results of the BPI initiatives are as expected and in line with the company's overall business strategy.
Advantages of Business Process Improvement
"The message of Kaizen Strategy is that not a day should go by without some kind of improvement being made somewhere in the company." – Masaaki Imai.
Every business looking to differentiate its products/services needs continuous process improvement. Continuous innovation and process improvement is the key to building a sustainable business. BPI enables businesses to keep pace with evolving markets and consumer demands.
Here are some of the benefits of adopting business process improvement:
Higher Productivity – Mundane tasks can be automated through business process automation. The time spared from these tasks can be better utilized by employees for project-related work, which in turn increases productivity.
Better Employee satisfaction – Relief from repetitive tasks is a welcome thing for employees. They are happy to work on project-related work that utilizes their capabilities.
Better Compliance – Handling compliance-related work can be a headache when done manually. Automating compliance-related tasks ensures 100% accuracy and transparency.
Better Customer engagement – Customers would rather take their work elsewhere than deal with companies using outdated technology. Upgrading to the latest technology frees your staff from repetitive mundane tasks and focuses on real-time customer collaboration.
Agility and Flexibility – Business process management is flexible and reusable. BPI focuses on implementing agile and flexible processes that can be deployed easily.
Integration – Integrating with the latest technology becomes easy when you have a business process management system in place.
The best time to adopt business process improvement is NOW. You need reliable and capable bpm software that enables seamless business process transformation.
Cflow is a business process management software that can automate any business process. Our bpm software does not require any complex setup or coding. With Cflow, anyone can create a workflow and automate their daily tasks in no time. To see how Cflow can transform your business, sign up for a 14-day free trial now.