Differentiate your Business through Continuous Process Improvement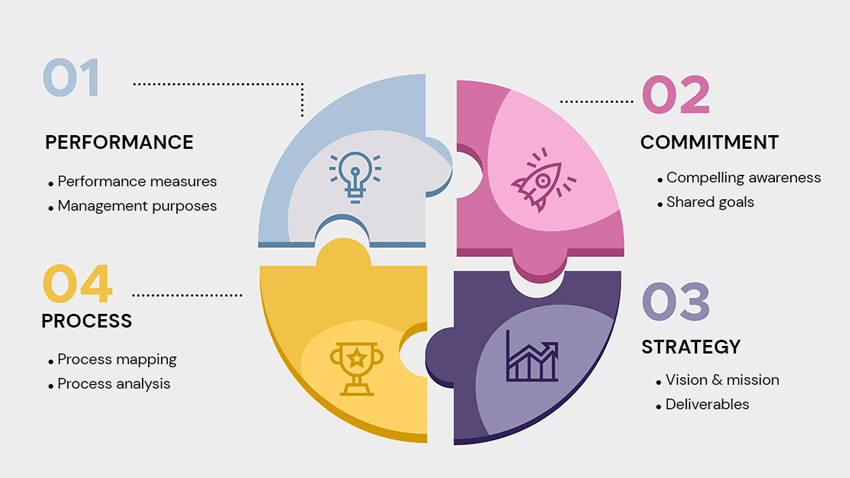 What is a Continuous Process Improvement (CPI)?
To survive in a dynamic market and ensure long-term business gains, businesses need to continuously evaluate and improve their processes. Continuous process improvement (CPI) is a methodology that focuses on continuous improvements to products, services, or processes. Changes or improvements can be done gradually or in one go. The important aspect of CPI is that it is an ongoing activity rather than a one-time initiative.
Differentiate your Business through Continuous Process Improvement (CPI)
Markets are changing rapidly. Consumer requirements are changing rapidly. The need for product/service innovation is increasing rapidly.
Is your business improving and evolving continuously in tune with these changes?
Is continuous process improvement at the core of your business strategy?
Organizations that focus on continuous improvement become increasingly competitive and are able to maintain an edge over competitors. Continuous improvement of businesses ensures that processes, methods, and practices are accurate, effective, and efficient.
Continuous improvement is done by examining and improving business processes to eliminate bottlenecks by using the best software option and management methodology. CPI on the other hand focuses only on processes to evaluate if they are meeting the company goals. Making incremental changes that provide long-term business benefits is the main aim of CPI.
Continuous process improvement tools are as below:
Business process mapping: Creating a business process map helps you understand every process better. A simple flowchart mapping the entire business process helps in understanding the process loopholes, redundancies, and areas of improvement.
Deming Cycle: Once the process flowchart is created, Deming's cycle can be implemented for process improvement. The Deming Cycle, also known as PDCA, is a 4 step process improvement technique. The 4 steps are to plan, do, check, and act.
Process management software: Digital processes and software can be created to ensure that process improvements work successfully. A business process management system (BPMS) routes tasks between employees, which ensures that the task is completed efficiently.
Continuous Process Improvement (CPI) Strategies
Continuous process improvement when done right, enables businesses to realize long-term cost benefits and gain a competitive edge. There are many methodologies or strategies that can be categorized under continuous process improvement techniques.
Choosing the right methodology as per your business requirements holds key to successful CPI implementation.
Some of the improvement methodologies are:
Value Stream Mapping: This methodology is compatible with all other business strategies. The design and flow of processes in a company are evaluated from the perspective of value addition. A properly planned value stream will contain all the details of business processes. This helps identify those areas in the process that add value and those that do not add any value. Elimination of the latter steps from the process helps optimize the process.
Lean and Continuous Improvement: This strategy aims at eliminating waste throughout the company. Anything that doesn't add value to the business is considered waste.
Kaizen: This is a popular improvement strategy that has been around since the 1980s. The primary aim of the Kaizen method is to focus on improvements in many small business areas rather than a few larger changes. Capital investments, an engaged workplace, and long-term improvement are some of the benefits of implementing the Kaizen method.
The 5S Strategy: This strategy focuses on organizing a workplace for improving efficiency and effectiveness. Each step in a process is evaluated to identify the needs of the step and ensure the availability of the requirements.
Total Quality Management: This strategy was originally used in the manufacturing sector. The focus of TQM is on improving employee involvement, customer satisfaction, customer engagement, and other elements within the organization. This strategy can be used alongside other strategies.
End-to-end workflow automation
Build fully-customizable, no code process workflows in a jiffy.
Business Process Management and CPI
Business process management techniques are used for CPI. Continuous process improvement is a set of methodologies that are used to improve business processes for long-term cost and performance improvements. BPM is implemented for specific business processes to remove redundancies and repetition.
CPI focuses on improving processes, products, and services continuously by adopting various improvement methodologies. BPM software is designed based on process workflows for optimizing the process flow. CPI is usually an umbrella of improvement software that aims at long-term business benefits.
A no-code cloud BPM software like Cflow enables businesses to improve and optimize their business processes within minutes. Cflow comes with an easy-to-use visual form builder that lets you set up workflows within minutes. Finance, procurement, marketing, and HR workflows can be easily set up using Cflow.
Conclusion
Continuous process improvement helps businesses survive and sustain market competition and deliver innovative product and service ideas. Choose a CPI methodology that brings out the best in your business. Continuous process and product improvement are key to business differentiation.
Cflow is your automation partner for sustained business improvement and innovation. All you need to do is to sign up for a free trial of Cflow to unleash the powerful capabilities of your business processes.
What would you like to do next?​
Automate your workflows with our Cflow experts.​
Get your workflows automated for FREE
---