There are ways to streamline your leave approval process, This is how!
Can a cumbersome leave approval process frustrate your most talented employees and make them think twice about staying in your company? Actually, it can!
Imagine yourself as a team leader or a manager (probably you are one in real life or maybe not). With promising projects piling up, it's important to have your best workforce onboard. When you find that those important team members are absent when a presentation call is about to go live, it's going to be incredibly frustrating but that's not their mistake either because they could have been working throughout the week without a break.
When you finally take the plunge and start using a workflow software that automates leave management, these are some of the most common and widely found issues that can be solved.
Balanced Workload on HR and Finance Team
Smothering human resource teams with calls all day and night while expecting the finance team to be able to know Loss of Pay LOPs or deduct leaves properly without a centralized system is just bad. They may be on the verge of breaking down and on top of all that, employees can get extremely frustrated when their salary is deducted for an approved leave. You wouldn't want that, would you?
By using a workflow software, you will not only reduce the workload on HRs, and finance team but will also retain employees in every team. The operational team will be happy with a streamlined system while the younger generation who's not willing to make phone calls or sign forms will find your organization more proactive in adopting new technology.
Easily Accessible Leave Schedules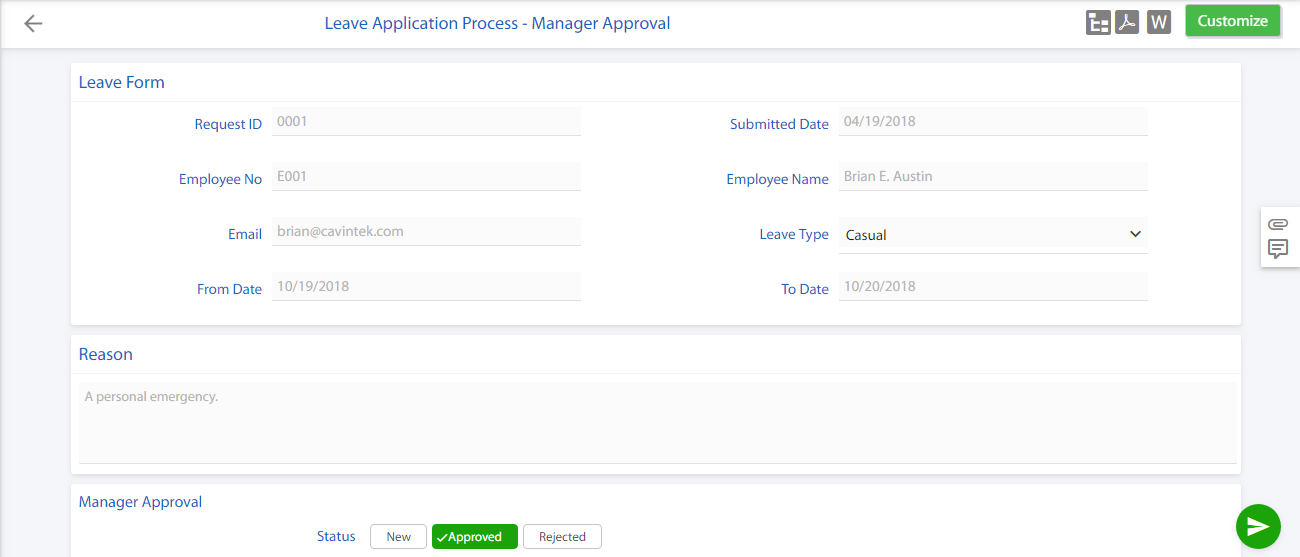 The conventional way of managing leaves is through e-mails which could become extremely tedious even when your workforce is above 10 employees or so. When the organization further expands with increased team members, it's going to be one hell of a nightmare if leave management is done using email or an excel sheet.
Some organizations try to share excel sheets online in which employees can fill up their requests but what if someone tampers with the data or says they never availed a leave in the first place? There is a possibility that a leave approved more than a month earlier could go unnoticed and at times, an employee may not want to avail an approved leave and it should be added back to their sheet. Everything is much easier on a centralized software program which automates and keeps track of approvals besides keeping them readily accessible to all.
Reduced Errors and Detailed Reports
When everything is promptly recorded, there is no need to worry about errors and the continuous blame from employees when their LOPs are initiated even though they shouldn't be. A lot of organizations follow a simple procedure where a sick employee can call in an off by sending an email, a phone call which will be updated in an excel sheet.
Trying to find leave requests from a pile of old emails is tedious and can never reap the desired results. The leave approval process handled through a software will also allow the finance team and other authorized personnel to generate detailed reports of leaves available, type of leaves besides calculating any balance leaves to be paid at the end of a fiscal year.
Leave Management Software: Cflow Gets Your Leave Approval Process on Track
With an all-purpose workflow automation software like Cflow, you can finally reign control on your Leave approval process and understand the whole picture. The entire leave process, when carried out on a platform as such, will allow you to know everything including pending leaves for an employee, leaves availed, type of leaves availed, company holidays at a quick glance.
The software can finally stop employees from getting frustrated due to wrong leave management and help finance team process salaries without any errors. Your employees can plan holidays ahead, inform teammates easily and also understand the organization's policy so that they know what kind of leave benefits they can avail.
Get your workflows automated for FREE