What is Leave Management System Process Flow?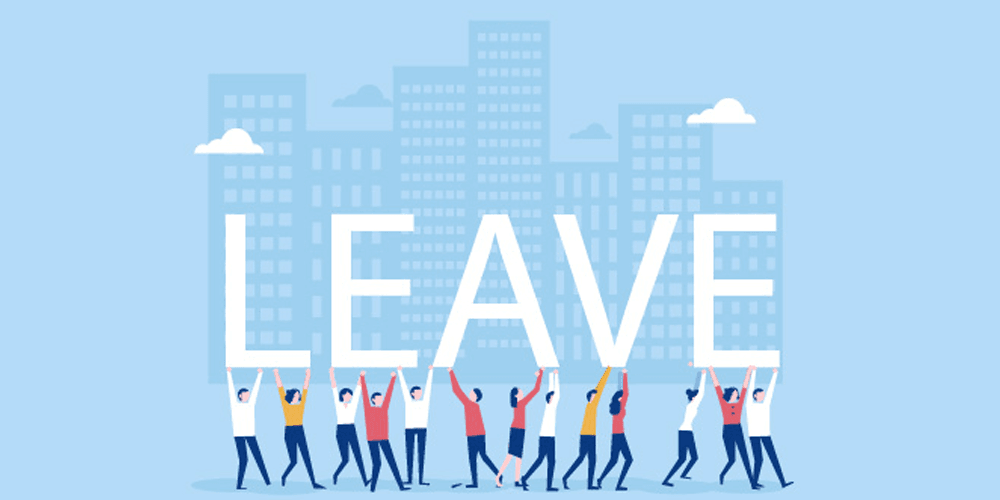 Stop Losing Talented Employees, Upgrade Your Leave Management Process Now
The leave management process encompasses all the policies and processes for managing employee time-off requests. The leave management system is also referred to as the time off management process. Time-off requests like holiday requests, vacation requests, sick leaves, and paternity/maternity leaves are managed by the leave management process.
A good leave management process ensures that operations run smoothly and provides employees with the chance to take time off in a planned manner. This process can become a nightmare for the HR team without a process in place. Managing employee leaves without disrupting business productivity is important for the HR team.
How can you make it easy for employees to track their leave balance and take time off? Optimizing the employee leave management workflow is a good place to start streamlining the leave management process.
A set of Policies that govern Time Off Requests make up the Leave Management Process.
Submitting leave request forms, routing them to the appropriate approval authority, notifying the HR department for payroll purposes, and logging employee records are the main tasks in the leave management process. Each step of the process needs to be managed efficiently to ensure that sufficient staff is available for the day and that compliance with labor laws is maintained. Leave management is an important part of HR responsibilities.
Managing time-off requests, juggling staffing requirements, ensuring legal compliance, and maintaining employee satisfaction is necessary for effective leave management. A clear leave management process ensures that all the stakeholders are on the same page and both personal and business requirements are met adequately.
Why is the Leave Management Process Important?
Organizations can falter in productivity due to unplanned leaves taken by employees or too many leaves taken at the same time by the team. Although unexpected issues may crop up within any organization, it is important to keep a clear record of leaves and how it affects productivity.
Another aspect to leave management is maintaining employee satisfaction levels. Employee burnout is one of the main reasons for attrition in organizations. Taking time off helps maintain the work-life balance, which in turn improves employee satisfaction and productivity. A leave management system helps manage employee time offs in a fair, efficient, and accurate manner.
Here is why the leave management process is important:
1. Ensures compliance with labor laws
Keeping track of leaves and paying accordingly keeps organizations on the right side of the law. As per the law, all employees need to be paid leave that they are legally entitled to. All employees are entitled to annual leave, public holidays, sick and bereavement leaves, and parental leaves. Keeping accurate track of employee leaves and holidays eliminates errors in leave entitlement and payment calculations.
2. Business costs and productivity
Costs in any business are proportional to employee time. Frequent unavailability of employees disrupts business productivity, which in turn causes business losses. Inconsistent leave policies cause huge losses to the company. Unplanned leaves also lead to missing deadlines and targets in project execution.
3. Encourages leave planning
A leave management system encourages employees to plan their vacations well in advance. A streamlined automated system for managing leaves helps accommodate work situations in advance and promotes great work ethics.
4. Proper channel for leave application
Having a leave management system encourages employees to route their time off requests through a proper channel. They can also access data on allocated and available leaves through a central portal. Absenteeism is minimized and transparency increases significantly.
5. Employee satisfaction and well-being
When employees know that they are getting their proper leave entitlements, their trust, and confidence in the business increase. Staying updated on entitled leaves and available leaves encourages better leave planning within the team.
6. Increases accountability
Absenteeism proves to be costly for any business. A system that tracks leaves increases accountability among employees and reduces absenteeism within the company. A leave management system also helps analyze leave patterns and how it affects the business.
A smart leave management system can take care of employee leave management and avoid issues whatsoever in the process.
Features of a Leave Management System in HR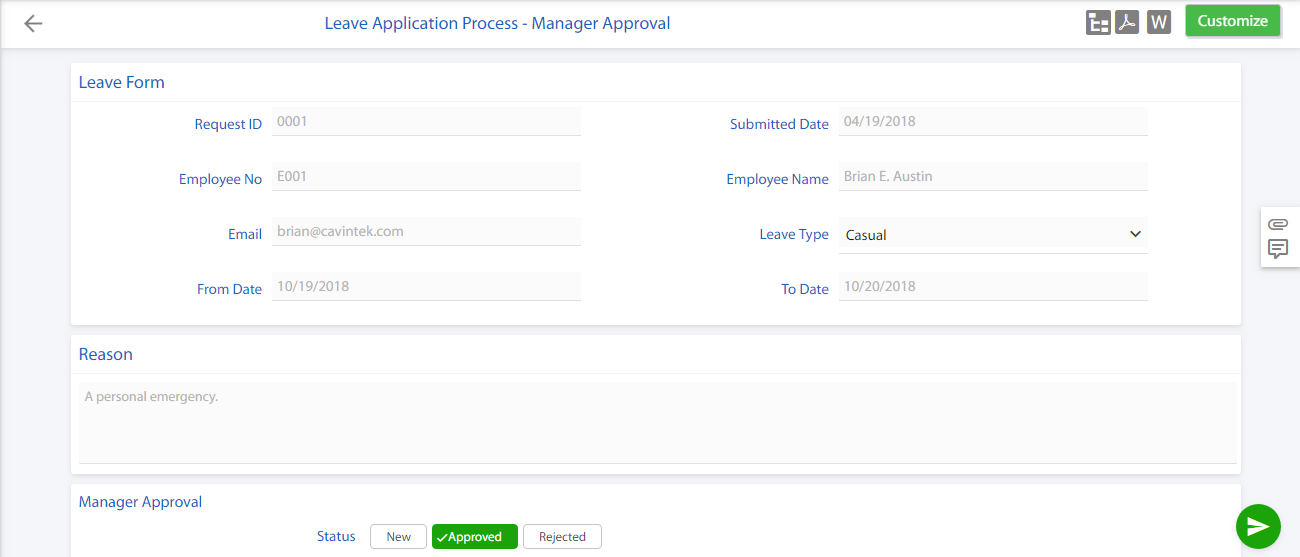 A leave management system (LMS) automates the leave request process so that management and employees can manage leaves such that business productivity is not affected. Each step of the leave management system seems to form a complex web of internal leave policies and rules, laws, workflows, and regulations made by state and central authorities.
The complexity of the system increases further when employee records need to be managed and updated, compliance with leave policies needs to be ensured, and leave information needs to be processed.
The choice of the automated leave management system makes a huge difference to HR operations. There is several leave management automation software available in the market, each of them with a unique feature set.
End-to-end workflow automation
Build fully-customizable, no code process workflows in a jiffy.
The top features that every leave management system must have are listed below:
1. Customization of leave policies
An ideal leave management system enables the HR team to create and manage leave policies easily. Leave policies to vary in every organization. A rigid leave management system that does not let you customize the fields to fit organization policies.
Customization of the system based on guidelines around public holidays, half-day calculations, and other types of leaves. The software must allow customization that enables users to design a department-wise hierarchy for a streamlined approval process. A customizable approval workflow for employee leaves is a must for faster and more efficient leave approval.
2. Leave balancing
Keeping track of employees' leaves and balancing leaves manually is tedious and complex. Good leave management software automatically tracks the leave history of the employee in such a way that both employees and line managers can access leave information.
Previous leave applications and conversations are also visible. An automated leave management system not only improves the efficiency of leave management but also improves transparency within the HR team regarding the status of leaves.
3. Cloud-based software
Today's users expect anytime, anywhere access to information from various software applications. Cloud-based software provides multiple channels for accessing data. Various internet-enabled devices like laptops, smartphones, and tablets can be used to place leave requests and get them approved.
The need for installing software and updating it is eliminated when cloud software is used. Using a cloud-based leave management system improves the efficiency of leave management and enables anytime, anywhere access to data and approval of leave requests.
4. Payroll Integration
Leave calculations to have a direct impact on employee payroll. The leave policy in some organizations dictates that the leaves left over at the end of the financial year are encased into the employee's account. A leave management software must ensure accurate calculation of pending leaves to ensure that leaves are encased properly.
Loss of pay calculations or leave without pay calculations are also dependent on the leave management system. The leave management system must integrate seamlessly with HR management software for payroll, and timesheet management. Seamless integration eliminates data silos and enables cross-functional reporting.
5. Reporting
Real-time reporting and analytics are needed for the management to make informed decisions. The leave management system must provide interactive reports based on updated leave data, which gives the management visibility into employee leaves. These employee-wise and organization-wise reports help the management analyze leave patterns and use these actionable insights to optimize leave management policies.
Centralized dashboard
The leave management system must provide a bird's eye view of the balance leaves, entitled leaves, and holiday lists. A centralized dashboard is a must for the leave management system. Employees require a centralized view of leave balance, co-workers' days off, and entitled leaves so that they can apply for leaves that do not overlap with co-workers' days off.
Supervisors and HR managers must have access to employee leave balance, department leave schedule, workforce coverage, and holiday lists to evaluate leave requests better. A centralized dashboard is a single source of truth for employees and management.
Benefits of Using a Leave Management Workflow System
As with any automated system, the leave management system provides several benefits over manual systems. Automated LMS is an all-in-one platform that handles all employee vacation requests and ensures the smooth functioning of projects. Leave management HR software is great when it comes to managing risks and costs effectively. LMS is designed to bring several benefits to the company by avoiding issues like the overlap of leaves or leave calculation errors.
Here are the key benefits of using leave management software:
Saves time and work bandwidth for HR managers
Manual leave management systems are riddled with inefficiencies like errors, overlooks, and overlaps. An HR manager wastes a substantial amount of time following up on each leave request. An automated leave management system saves the mental bandwidth of managers by automating leave calculation, leave scheduling for the team, balancing leave interpretation in terms of payment, etc. Elimination of human intervention also brings down the error margins in leave calculations.
Eliminates paperwork and manual data entry
Manual processes are synonymous with bulky paperwork and data entry errors. Integrating data silos can be a cumbersome process and prone to inconsistencies. Once the leave policies and approval workflows are set, the process of applying for leave requests, review, and approval becomes streamlined. Status of leave requests, intimations of submitted requests, and approval of leaves are done automatically without any paperwork.
One source of truth
A centralized dashboard consolidates all the data pertaining to employee leaves, organization holidays, and public holidays. The employee simply needs to refer to the dashboard to check his balance of leaves, team holidays, and co-workers' days off to check when leaves can be taken so that productivity is not affected.
Reporting and analytics
Management can make data-driven decisions on optimizing leave policies armed with the real-time reports and analytics provided by the LMS. Analyzing leave patterns for each employee and for the entire organization can be easily done with the help of employee-wise and organization-wise reports.
Better compliance with labor laws
An automated LMS guides employers to guarantee the leaves that the employee is entitled to based on their experience and nature of work. Various leaves like self-care leaves, maternity leaves, and sick leave need to adhere to labor laws in the region. A regulated and streamlined leave management process creates a culture of trust within the organization.
Team collaboration
A leave management system provides visibility over the leave schedule of the entire team. This encourages employees to plan their leaves without any overlap with those of co-workers. Collaborative leave planning ensures that the team's productivity is not hampered and the need for overworking is eliminated.
Challenges of the Leave Management Process
Outdated leave management tools can drive even the best of HR personnel crazy. The sheer volume of employee records that need to be constantly updated can be a nightmare for the HR department. One such HR process that simply cannot do without an automated system is the leave management process.
What are the challenges in manual leave management processes?
Poor communication
Most employees complain about the lack of clear communication about the leave policies in the organization. Either they are misinformed, or they are unaware of certain leave policies. The lack of a single source of reference for all leave-related information results in frustrated and misinformed employees. A leave management system standardizes the communication sent out to employees regarding the leave policies within the organization. Lack of communication between team members regarding leave durations is another challenge faced by HR. Visibility into the leave plans of co-workers is a must for having a team leave schedule where leaves do not overlap.
Outdated processes
Lack of standard LMS results causes employees to get caught in complex and convoluted processes for processing leave requests. Complex processes around leave management result in delayed approvals, wrong rejections or approvals, and inaccurate leave calculations – in a nutshell, chaos!
Payroll errors
Manual leave management systems work in silos, and the data from these systems are not integrated with a timesheet or payroll system. As a result, payroll calculations or timesheet submissions are not in sync with leave data. The risk of making payroll errors is high with a manual system.
Optimizing the Leave Management Process Flow
All the above-mentioned challenges faced by leave management systems can be overcome by automating the leave management workflow. From leave submission to approval to payroll integration – automation is the key to optimizing the leave management system. Automated workflows manage to leave requests and approvals seamlessly. Here is how an automated leave management system optimizes the leave management workflow –
Creates a customized online leave management system for easy and quick submissions and approvals
Configures each step of the approval workflow based on pre-set business rules
Creates dynamic digital forms that help businesses go completely paperless
Integrates with other HR systems like Payroll and Timesheet management
Sends automatic alerts and notifications for review and approvals
Minimizes manual data handling
Connects forms automatically to the database to retrieve leave balance data
Promotes collaborative leave planning
Using a workflow automation tool like Cflow provides your organization with several benefits. Visual form builder in Cflow enables the HR team to build customized leave request forms using the easy drag-and-drop functionality. Leave approval workflows can be built in a jiffy with Cflow.
Leave Management Best Practices
How does one develop a comprehensive leave management system that addresses the challenges of existing manual systems? Here are a few tested best practices in leave management systems for your perusal –
Get a clear understanding of the labor laws
A clear understanding of the local, state, and federal labor laws is a must for creating an efficient leave management system. Organizational leave policies and their administration must be strictly by these laws. Many organizations run into legal issues inadvertently when they do not have a good understanding of the laws. Employers and employees must be made aware of these laws so that leaves are managed consistently and appropriately.
Focus on the company culture
Clear understanding on the part of the management (HR) about the labor laws and policies is the cornerstone for building strong leave policies. Management needs to continuously evaluate the company culture to ensure that they are updated on the latest trends. The pandemic was an eye-opener regarding the need to revise company policies as per the trends.
Communication is key
Creating a leave policy that accommodates employee requirements is important. Talking with employees to identify gaps in leave policies is a must for HR. Once the policies are framed, clear communication must go from HR or management about the same. All the information must be accessible in a centralized place.
Encourage collaboration
The leave management system must encourage collaboration among team members when they plan their leaves. Clear visibility into co-workers' days off helps employees plan their leaves so that they do not overlap, which in turn ensures that productivity is not impacted adversely.
Use technology to strengthen the system –
Using workflow automation technologies helps HR build a foolproof and efficient leave management system. Workflow automation software eliminates the redundancies in the process and standardizes data and process flow.
What would you like to do next?​
Automate your workflows with our Cflow experts.​
Get your workflows automated for FREE
---