Automate Workflows in 2 Minutes
There are a number of ways organizations use workflow automation to achieve their business objectives. Come along for a quick tour of Cflow – the intuitive Workflow Automation Software.
Cflow's simple 2-step Visual Workflow Builder will help you get up and running in a matter of minutes and you will experience the easier way of getting work done.
You can create your workflow in 2 ways –
Select a process from the "Process Library". This will import and automatically publish the workflow so that it is ready to use.
Start from scratch by clicking on the "Create new workflow" button. This will take you to the 1st step in the workflow creation process.
The whole process takes less than 2 minutes.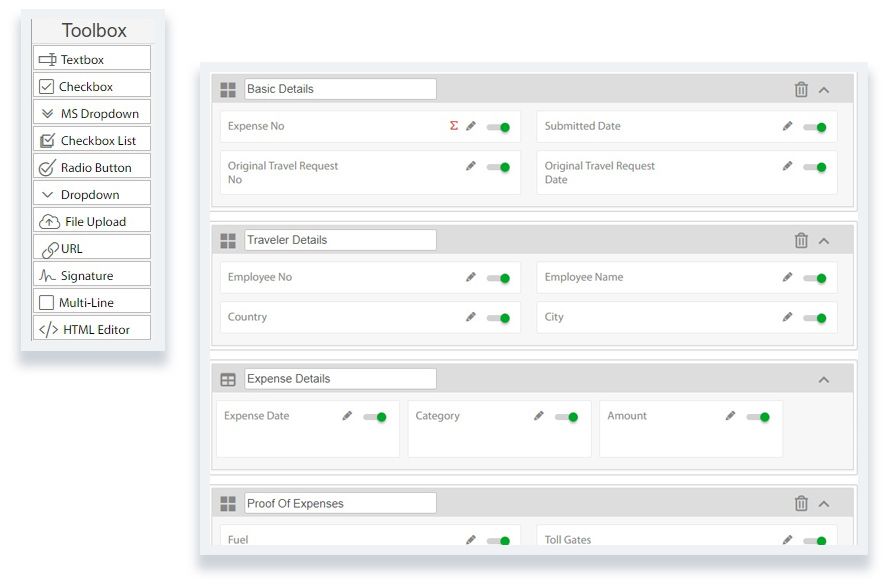 1. Design Form
Give a name to the process you wish to automate, say., Employee Onboarding Process, Leave Approval Process or something similar.
Design your form to make it intuitive for users to work with. Organize the form into sections and drag and drop fields from the toolbox. There are no limits on sections and fields. Use your imagination to design forms that are easy to fill in.
Need to fill in order items or multiple items in a form? No problem, add a Table section to your form and specify the columns you wish to have. Need to do complex tax calculations? No problem. Use hidden fields to store intermediate values and use the math feature to define your tax calculation.
2. Create Flow
Create your workflow simply by clicking the Process Stage button and connecting the stages. There is no code to write and your entire process can be automated in a matter of minutes.
Need to capture data in each stage? You can add/remove fields, design a new form in each stage and set field properties that give maximum flexibility to the workflow designer.
Create a parallel flow where the request is sent to two or more stakeholders simultaneously. The request is seen by all parallel owners and they can approve and comment easily.
One branch of the parallel flow needs to go through a sequence of approvals before it joins the main trunk? Sure, we can do that. The business user can get a process up and running in no time using Cflow.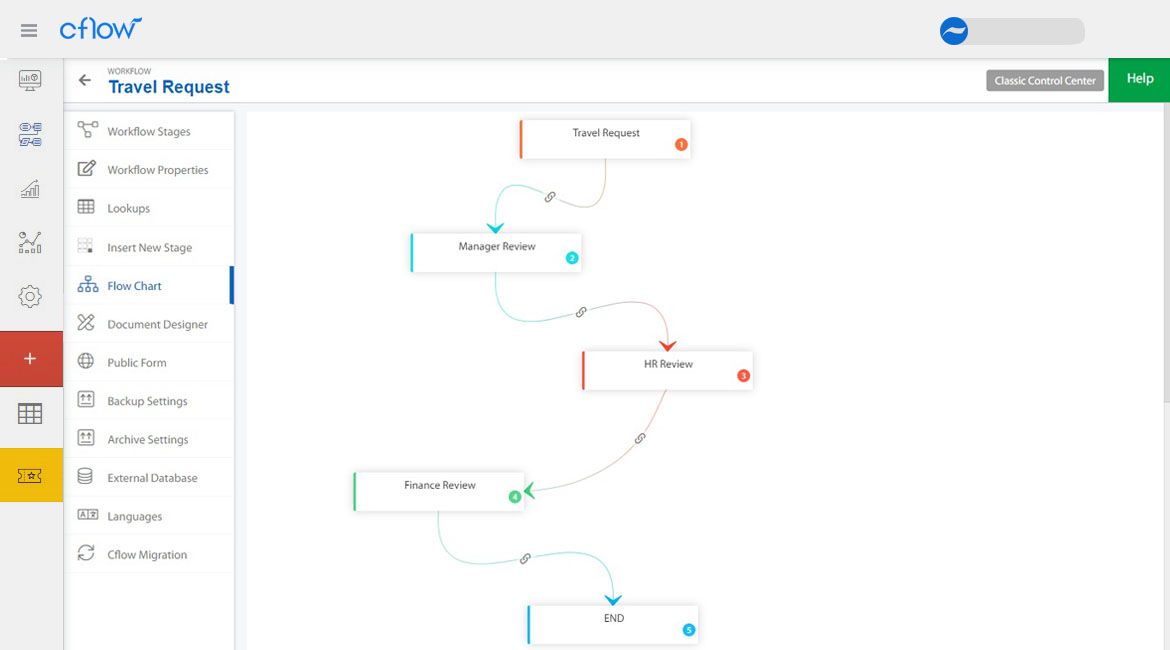 General FAQ
What is workflow automation?
Workflow automation is managing or streamlining manual, repetitive business processes using automation tools. Processes such as HR, Finance, Operations, Sales, Marketing, or any organizational workflows can be automated.
What are the benefits of automating a process?
Streamlined communication, improved productivity, enhanced operations, increase in quality, time-saving and lowered costs.
What business processes can be automated?
Human resources, admin, procurement, IT operations, sales & marketing, accounting, financial processes, etc.
Why workflow is important?
Workflow helps to minimize errors, streamline repetitive jobs, increase employee efficiency and help you to make clever judgments.