Understanding the Importance of Workflow Management in Healthcare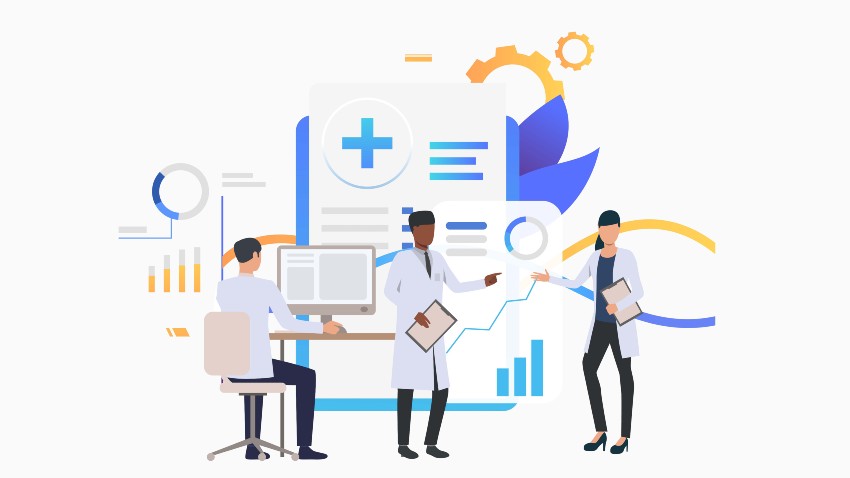 Timely interventions in the healthcare industry are crucial in saving lives. Likewise, quick and efficient healthcare processes save a significant amount of money for the healthcare industry. Millions of healthcare transactions that occur daily are costly and tedious administrative processes.
According to the Council for Affordable Quality Healthcare 2020 Index, the US healthcare industry is missing out on saving billions of dollars by conducting key business transactions manually. The report goes on to say that out of the 39 billion USD spent by the healthcare industry, a whopping 16.3 billion USD could be saved by migrating to fully digital transactions. Workflow automation in healthcare improves the efficiency and accuracy of transactions.
Improving Healthcare Process Workflows
Healthcare workflows are complex processes ridden with workflow variations and transitions. What is a workflow? The workflow may be defined as a sequence of repeatable administrative, mental, or physical tasks that are performed by employees. To ensure the delivery of quality healthcare, workflows need to be streamlined. From patient registration to medical reports to insurance documentation – all medical workflows involve several repetitive admin steps.
Manual healthcare workflows are characterized by paperwork. Paperwork is like a necessary evil – as much as it is important to maintain healthcare records, it is equally important to ensure the accuracy and consistency of paperwork. Not just being consistent, healthcare records also need to be compliant with HIPAA regulations.
From a business perspective, the key to improving profitability is to improve the efficiency of key clinical workflows. How do we improve healthcare workflows?
Here are key focus points for improving hospital workflows:
Reduce wastage – The wastage in the healthcare industry is humongous. Resource underutilization is a main source of wastage. The first step is to study existing workflows in-depth and identify areas for change/improvement. Scrutiny of existing workflows helps eliminate repetitive and redundant steps. Using technology to improve the efficiency of workflows is an effective way to reduce the wastage of resources. Electronic health records (EHRs) help healthcare providers deliver high-quality healthcare by digitizing patient information updates and maintenance. Streamlining clinical workflows enables clinicians to reduce the wait time and communicate and collaborate better.
Communicate seamlessly – Outdated communication systems like a pager, faxes, emails, and landlines can bring down productivity drastically. Both medical personnel and patients are frustrated with the use of such outdated systems. Most healthcare systems work in silos with broken communication chains. These outdated systems must be replaced with modern integrated systems for seamless communication.
Collaboration systems – Communication and collaboration systems are critical to improving clinical workflow efficiency. Using mobile communication devices compliant with HIPAA texting standards improves collaboration between disparate clinical teams and systems. Modern Clinical Communication and Collaboration (CC&C) solutions minimize wait times and ease communication bottlenecks, accelerating admissions and discharges, improving patient safety, and enabling faster clinical decisions.
Efficient workflow management in healthcare can be brought about through healthcare workflow automation.
What is Workflow Automation in Healthcare?
Automating workflows is particularly useful in healthcare because they have several programs, disparate systems, and data requirements that need to collaborate daily. A single clinical process relies on several disparate systems.
Although existing systems have worked well so far, the lack of accuracy, labor-intensiveness, and siloed working model of these systems do not work in their favor. Automated medical workflow management is focused on improving process efficiencies and effectiveness, increasing productivity, and cutting costs.
Workflow automation for healthcare is a dependable way to improve patient safety and quality of healthcare. A streamlined hospital workflow enables healthcare providers to improve compliance, accountability, and accuracy. Workflow automation in healthcare focuses on streamlining the healthcare process workflows by eliminating redundant steps.
The first step is to map out existing workflows to identify areas for improvement. The next step is to involve all the stakeholders to plan out a new workflow that is in sync with process requirements and expectations. The new workflow must achieve the end goal of the process through optimal resource utilization.
Once the new workflow is run by the team, the next step is to implement the new changes. All the stakeholders must be informed about operational the new changes and their impact on the workflow. Post-implementation the workflow performance must be reviewed. The feedback from the review process helps fine-tune the workflow as per user expectations. The success of healthcare workflow solutions is measured based on key metrics.
End-to-end workflow automation
Build fully-customizable, no code process workflows in a jiffy.
Benefits of Automating Healthcare Workflows
Automating the healthcare workflow process brings several benefits to clinical processes. Healthcare providers are bogged down by inefficient, disparate processes that bring down work efficiency and productivity. Healthcare providers that have automated their key workflows swear by their benefits.
The key benefits of automating healthcare processes are listed below:
Centralizes and simplifies business operations – Automated workflows provide a single source of truth for all healthcare-related information. Centralized access to data saves a lot of time for the users.
Manages capital and operational expense processes – Workflow automation in healthcare helps healthcare professionals manage capital and overhead expenses efficiently.
Standardizes admission and discharge processes – A workflow automation solution standardizes the patient admission and discharge process. Speedy admission and discharge of patients help improve the brand image of the hospital.
Ensures compliance with HIPAA regulations – A healthcare workflow automation solution ensures that patient information records are maintained as per HIPAA regulations.
Ensures a compliant vendor approval process – Only compliant vendors are to be admitted into the healthcare system when they come through the workflow automation solution.
Manage incident reporting and management – Incident reporting and management are managed efficiently through healthcare process workflows.
Examples of Workflow Automation in Healthcare
Some of the key healthcare workflows that can be automated are health information management (HIM), cyber security incident reporting, hospital facilities management, vendor qualification, and capital and operational expenditure reporting.
Capital and operational expenditure – Healthcare organizations receive large volumes of capital expense requests that must be managed efficiently. Handling these requests manually is prone to delays, errors, lack of visibility, and lack of compliance. Deploying a consistent and compliant workflow via automation brings down the risk of mishandling and errors and increases the speed of returns on capital spending. Audit trails can be standardized for internal purposes and external compliance.
Vendor qualification – Healthcare companies are responsible for ensuring that processes are in place for the proper qualification of external vendors and contractors. A workflow management system helps assess the accountability, consistency, and risk of inconsistency while vetting new vendors. Consistent screening of vendors and their approval can be standardized by the workflow management solution.
Hospital facilities management – Efficient facility management is vital in a healthcare environment. Top-notch levels of hygiene need to be maintained in a clinical environment and managing ambulance service efficiently is critical for healthcare providers. From managing building security access to fixing the HVAC issues to maintaining hospital rooms automated hospital workflow management systems enable centralized, consistent facilities management.
Health information management – Efficient management of patient health information is essential for a smooth admission and discharge process. Forms requests and approvals, audit management, pharmacy recall notices, pharmacy drug tracing, and many such activities involved in patient information management can be effectively automated by workflow management.
Not just the above examples, there are several healthcare processes that can be effectively automated. Workflow management in healthcare helps improve the accuracy and consistency of operations. Workflow automation eases the burden of expense management.
The success of workflow automation in healthcare depends on the automation solution that is chosen. Cflow is a workflow automation solution that automates key business workflows easily. Visual form builders enable users to create workflows within minutes.
FAQs
Adopting workflow automation in healthcare is a significant decision for healthcare organizations. Migrating from manual to automated work environments may seem like a daunting task for healthcare providers. Healthcare organizations have several queries in their mind when considering the automation of their operations.
Here are a few FAQs that may help decision-makers-
What is a workflow?
A- workflow is a sequence of physical and operational tasks that are performed by various people within and between work environments. For example, the workflow for ordering medication includes several tasks between the provider and the patient.
Why should we analyze workflows?
A- Analysis of workflows is important for identifying process loopholes and redundancies. Once these redundancies and bottlenecks are identified, necessary process improvements can be made to improve process efficiencies.
What does workflow automation entail?
A- Automating clinical processes involves sound planning and execution. All the stakeholders must be involved in the planning process to ensure that the workflows are in sync with the requirements of the business. Once the new workflow is created, it is implemented and reviewed regularly to ensure that goals are met.
When should I assess workflows?
A – The need for workflows arises when existing systems do not perform at optimal levels and expected results are not achieved. At this stage, existing workflows must be assessed to improve process outcomes.
Workflow automation in healthcare is essential to ensure that top-notch healthcare is provided to patients. A workflow automation solution like Cflow can turn the tables around for healthcare providers. Signup for a free trial to explore Cflow.
What would you like to do next?​
Automate your workflows with our Cflow experts.​
Get your workflows automated for FREE
---