End to End Process Automation with Automation Platform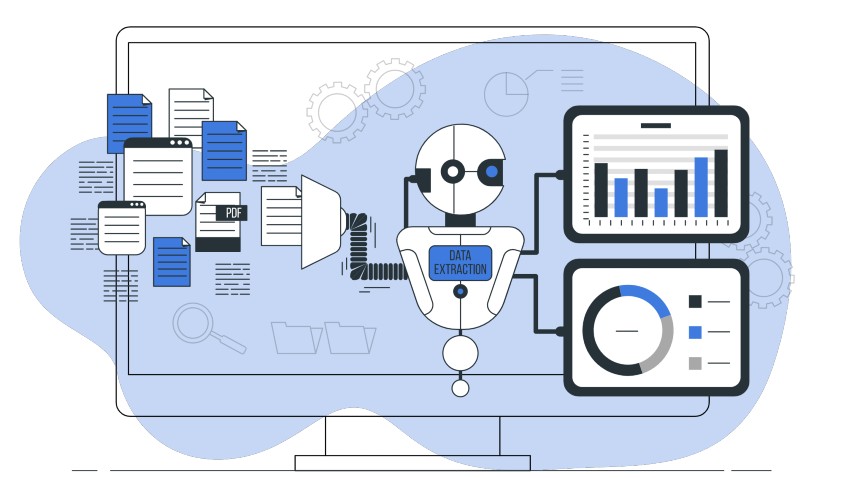 How would you like to have a one-stop solution for all your automation needs across departments? The right automation platform can help in all areas of your business by offering tools and solutions that enable digital transformation. Digital transformation has altered the way companies approach expansion. One can offer top-notch products and services only when the internal and external processes are robust and integrated. An automated platform helps you streamline your processes and optimize business performance. In this blog, we will be exploring what an automation platform is, its benefits, and how to choose the right one from the list of top 10 automation platforms. 
What is an Automation Platform?
Success in a business relies heavily on the performance of the processes. Workflow applications need to coordinate between tasks performed by humans and automated tasks to improve daily business operations. Whether you are automating internal or external processes; or the core or support business processes, an automation platform helps improve process performance and outcomes significantly. What is an automation platform? Automation is a type of cloud-based software that businesses can use for a variety of purposes. An automated platform helps businesses complete more tasks while reducing the time spent on them. 
Automation platforms can be used for a variety of business functions, such as data entry, employee onboarding, IT request management, or customer service. The right platform for automation equips businesses with the right tools that can streamline any process. Businesses of any size in any industry can use automation platforms to improve the consistency of repeated tasks and make it easy to track the process.
These platforms are commonly used in situations that require strict compliance with regulatory policies and laws. A good automation platform can tackle the complexity of processes and scale up to meet the evolving needs of its users. Unlimited processes, tasks, alerts, reports, and transactions can be derived from automation platforms. Internal and external stakeholders will be happy and satisfied when the automation tool frees them from mundane activities. Backed by the capabilities that automation platforms bring to the processes, businesses can expand their reach. 
The main reason why businesses choose automation platforms is to reduce waste, increase efficiency, and improve productivity. Repetitive admin functions, content management, data analysis, and software training are some of the tasks that can benefit from automation. These platforms can focus on any number of departments, including accounting, marketing, software training, etc. Advanced automation platforms use artificial intelligence and machine learning. Intelligent automation platforms combine the latest advancements in robotic process automation and AI, to deliver unmatched business efficiency through data-intensive workflow automation. 
The capabilities of platforms can be expanded with tailor-made intelligent automation solutions that can even handle complex operational challenges. 
How to Choose the Right Automation Platform?
To derive maximum value from automation platforms, you need to choose the right platform that fulfills the requirements of your business. Effective workflow management depends solely on digital tools that streamline tasks through appropriate features and functionalities. While choosing the automation platform, you need to ensure that the following features are included in the platform.
Intuitive form builder – The most important component of workflow automation is the form builder. The form builder must be easy to use and intuitive. The automation platform must use intuitive technology that can be understood and used by anyone. A visual form builder like the one used in Cflow incorporates the drag-and-drop option to create forms for various workflows. The form builder must also include agile features that facilitate quick iterations, like preview and edit tools. 
Access controls – Automation platforms must provide high levels of security and accuracy while handling data. Allowing only specified authorities to handle data ensures that data is safe and secure. The access control feature ensures that data accuracy is maintained and it is not tampered with. Automation platforms make use of the access control feature to assign workflow steps to specific users and set view or edit features according to their role. 
Alerts and notifications – Automated workflows are based on specific business rules that assign resources to roles. To ensure that processes are running smoothly, the automation platform must issue alerts or notifications to users when it is time for them to perform the assigned activity. For example, in an invoice approval process, the approver is issued a notification when approvals are due. Notifications could be in the form of emails that are sent as soon as a workflow step is ready for the user's action. These reminders ensure that the step is completed on time. 
Integrations – Sometimes, the capabilities of workflow automation software may not be enough for the business. In such cases, capabilities beyond the automation software can be brought in by seamlessly connecting to other platforms. The automation platform must enable seamless integration with other apps and platforms to send your data where it needs to go. 
Monitoring and tracking – Workflows are ridden with bottlenecks and delays. Constant monitoring and tracking of the workflow are required for complete visibility into the process. Effective workflow automation software offers features to give visibility into each task. Assigning a step timer is one way of tracking the time spent on each step. Tracking the time gives a clear indication of how long each step or process is taking. Visibility into time for each step helps spot bottlenecks in the process. 
Data security – Topmost priority must be given to process data. It must be handled with utmost security and accuracy. The workflow platform must provide the highest level of data security while handling, transferring, and storing process data. Browser security, database encryption, and password protections are some of the ways data security can be provided by the automation platform. 
The right automation tool paves the way for effective and efficient automation of the entire process. Pricing is also another important factor that must be considered while choosing the automation platform. Some software providers charge based on the number of users, while others charge based on subscription duration. Either way, the automation platform must provide complete value for the money.
Benefits of Automation Platforms
From saving time and money to improving employee satisfaction, automation platforms provide a host of benefits to businesses. Businesses of any size or type can use an automation platform if they intend to make repetitive tasks more consistent and efficient. An automation platform is usually used in situations that require strict compliance with regulatory requirements. The main benefits of using automation platforms for improving process performance are:
Improve customer service – An automation platform helps build a positive and strong customer relationship. Customer service teams need to coordinate with clients in a consistent and proactive manner to establish good customer relationships. An automation platform takes care of the repetitive tasks in a process so that the team is available for productive tasks like handling customer queries/complaints. Customer service teams, therefore, can focus on consistent and rapid follow-up instead of routine admin tasks. Tasks can be completed quicker and services can be offered at lower rates with automation platforms. 
Streamline business operations – Automation platforms give teams more time to work on value add tasks, by streamlining the process. Especially when teams need to do more with fewer resources, automation platforms can be of great help. The tools provided by automation platforms can be accessed from anywhere at any time with a click of a button. The platform will route the information to where it needs to go based on preset business rules. Automation platforms also streamline the communications between various systems to ensure that all the systems talk to each other and exchange critical data. 
Compliance and audit preparedness – An automation platform brings about standardization in the automated process. A standardized process ensures that the activities required to complete tasks are performed in a consistent manner. Standardized processes ensure that all compliance requirements are satisfied, and data and processes are always audit-ready. Generating reports is also easy in an audited process. External clients are also assured that compliance requirements are met and the process is audited duly. 
Reduces error rates – In data-intensive processes, even a misplaced comma or a digit can cost thousands of dollars for the business. AI-powered intelligent automation platforms eliminate the human touch points that are the main source of errors. Using an automation platform across various systems prevents data errors and ensures more reliable and consistent results. 
Improves employee productivity and satisfaction – Optimal utilization of employees' capabilities is possible only when they are assigned tasks that utilize their talents and capabilities. Employees spending too much time on unproductive admin or data entry tasks, lose interest in their work and feel undervalued. Automation platforms ensure that employees work on productive tasks, by automating repetitive, low-value tasks. Employees are more productive when they work on productive tasks that utilize their potential optimally. 
Builds future-proof process workflows – Automation platforms increase the level of security within workflows. Intelligent automation platforms strengthen cybersecurity and tackle inefficiencies within process workflows. Automation also future-proofs the business by providing a more secure automated environment for future business expansion and growth. Automation platforms also improve the flexibility and agility of workflows, which helps accommodate increased demands that might arise in the future. 
End-to-end workflow automation
Build fully-customizable, no code process workflows in a jiffy.
Top 10 Automation Platforms for 2023
Choosing the right automation platform is important for the success of automation implementation. What features should you look for in automation platforms? The most important feature that automation platforms must provide is customization. The platform must allow easy customization according to the requirements of the business. Another must-have feature of automation platforms is seamless integration between disparate processes and systems. The platform must be easy to use and present data in an easily readable format. 
We have put together a list of the top 10 platforms for automation.
1- Cflow – A trusted, no-code automation platform that can transform and streamline business processes. Designed from the ground up, Cflow is a versatile automation platform that can seamlessly integrate with several business systems. The intuitive dashboard in Cflow provides a centralized view of the status of all processes. Cflow connects with external databases without writing any code and moves data effortlessly. You can connect to external systems via API, webhooks, or direct connection. You get a feature-rich workflow automation platform at a highly reasonable price with Cflow. 
2- Hive – This is a leading project management platform that offers in-app automation, and integrations with outside tools for creating a streamlined workflow. Hive integrates directly with popular tools like Zoom, Slack, Gmail, and Dropbox. Hive Automate is a powerful tool that saves valuable time by automating everyday tasks, both inside and outside of Hive. This automation platform lets you build workflows using triggers and logic for desired outcomes. 
3- Hubspot – The Hubspot automation platform is equipped with a wide range of automation tools for email marketing, creating and executing sales funnel templates, and streamlining customer service. The only disadvantage of Hubspot is its high pricing. 
4- Keap – This is an all-in-one sales-CRM automation platform best suited for sales and lead generation in small businesses. This platform comes with all essential features for automating the sales processes, right from lead capturing to email marketing. Keep also integrates seamlessly with other applications like Google Apps, Salesforce, and Zapier. 
5- Zapier – This is an integration platform that automatically moves information between online tools. This platform enables a more efficient and effective way of working via seamless integration. When Zapier takes over the repetitive tasks in the apps you use every day, you have more time to focus on productive work. Zapier is a great option to speed up workflows and connect apps that otherwise cannot be connected. The automated connection called Zaps chooses one app as the trigger from which information comes. Pricing of Zapier is broken down by automation on a monthly basis. The forever free plan provides 100 automation monthly. 
There are other automation platforms like MailChimp, Airtable, Active Campaign, and Engage Bay, each one providing unique features. Choose the automation platform that fits well with your business requirements. 
Conclusion
Automation platforms are no longer a good to have, but rather a must-have for progressive businesses looking to keep up with market competition and consumer demands. An automation platform integrates internal and external processes for comprehensive business growth. Choosing the right platform for automation is paramount to experiencing the complete benefits of process automation. A no-code BPM automation platform like Cflow provides a host of benefits for businesses. Features like visual form builder make it super easy to create customized workflows with the drag-and-drop option. To explore the full feature set of Cflow, sign up for the free trial today.
What would you like to do next?​
Automate your workflows with our Cflow experts.​
Get your workflows automated for FREE
---