Streamlining the Accounting Process with Accounting Workflow Software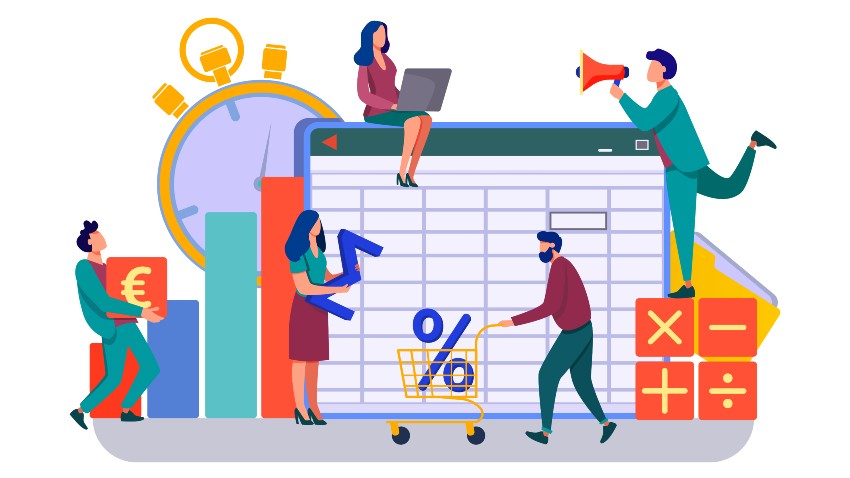 Speed is crucial in business operations – whether it is decision-making or executing a project or delivering orders, or processing payments. Business functions that are made up of repetitive, data-intensive tasks, such as the accounting process, benefit greatly by accelerating business operations.
Making accounting workflow software an integral part of accounting operations helps you complete tedious tasks quickly and efficiently. Now, why should you switch over to accounting automation when your existing manual processes are working just fine? Read to know why it is important that you make the switch and the top accounting workflow management software you can choose from.
Importance of the Workflow Software for Accountants
The accounting function is a central part of a business that is linked with almost all the business functions. those financial systems that help a firm in the bookkeeping of financial information in the organization, financial analysis, summary, and report creation. The accounting process is the backbone of any type of business. Accounting systems identify, assess, and record transactions of financial nature in a systematic manner.
Accounting plays a vital role in running a business because it helps you track income and expenditures, ensure statutory compliance, and furnish quantitative information to investors, management, and government agencies. The financial data provided by accounting enables businesses to make data-driven decisions.
The 3 main financial statements provided by the accounting process are-
Income statement that provides information about the profit and loss
A balance sheet that gives a clearer picture of the financial position of the firm
Cash flow statement that bridges the income statement and balance sheet
The statements issued by the accounting process help evaluate the performance of the business. The financial records reflect the results of operations as well as the financial position of the company. Maintaining clean and up-to-date records helps you track expenses, gross margin, and possible debt.
The accounting process also helps businesses maintain statutory compliance by maintaining proper accounting records. The accounting team keeps a tab on all the changes in regulatory laws and policies and aligns financial documentation to these changes.
The accounting process plays a crucial role in creating budgets and financial forecasts. The financial data recorded by the accounting process is the base for financial budgeting and forecasting.
Drawbacks of Manual Accounting
Accounting operations produce outputs that are used in several ways by the business. Efficiency and consistency of accounting operations are a must for a business. Manual accounting methods may be convenient and cost-effective for small businesses or start-ups, but as business operations expand manual accounting ceases to be effective and accurate. There are several drawbacks to the manual accounting process.
1. Lack of accuracy
Any process that is run by human resources is susceptible to errors and bias. When a data-intensive process like accounting is handled manually, accuracy and consistency are greatly compromised. Bookkeeping and record keeping are two main accounting processes that require a high degree of accuracy, which cannot be accomplished via manual accounting. Moreover, accountants need to slog out to identify even minor errors in accounting data by manually scouring through volumes of data.
2. Delay in approvals
Some of the accounting tasks require approvals by authorized personnel. Manual accounting processes lack transparency, which makes it difficult to spot bottlenecks in the process. It is very common for finance requests to be stuck in manual accounting.
3. Lack of compliance
Data gathering and documentation when done manually lacks standardization. The manner in which data is gathered and updated in the accounting system is not consistent, which in turn affects the audit trail. Lack of standardization in manual accounting systems ultimately results in non-compliance with financial regulations and policies.
4. Lack of visibility
The accountant is required to present reports to external and internal stakeholders. Disparate manual systems do not provide a comprehensive view of the accounting information. The lack of visibility over accounting data is a major drawback in manual systems.
5. Lack of security
The accounting data of an organization is susceptible and requires a high level of security. Manual accounting systems fail to secure vital financial data from damage or distortion.
Proper accounting workflow management is a must in any organization, and manual accounting systems cannot provide the level of accuracy and speed expected from the accounting process. Automating the accounting workflow overcomes all the drawbacks of manual accounting and simplifies workflow management for accounting firms.
Automate the Accounts with Workflow Software
Automated accounting involves the use of accounting workflow software to automate important accounting processes. The accounting workflow is concerned with the way of monitoring and tracking all the accounting processes and tasks. The accounting workflow takes care of the entire accounting cycle of the firm.
Having accounting workflow software helps accountants gain complete visibility over the status of the process, who is working on what, and the task delivery timelines.
Accounting firm process workflow helps businesses gain complete transparency over the accounting process, and lets you manage multiple processes under a unified console. Workflow systems work best when they include separate workflows for each type of accounting process. Workflow management software for accounting firms comprises workflow software for accountants and workflow software for bookkeeping.
Automating the process workflow in an accounting firm drives efficiencies and provides firm-wise visibility. The right accounting software brings the firm together to work towards a common goal and enables it to easily adapt to evolving market trends, meet growth targets, and provide a better work environment for the employees.
The accounting process can be carried out through the following steps.
1. Evaluating the existing accounting process
Not all the tasks in the accounting workflow can be automated. The existing processes need to be evaluated to determine what needs to be changed so that business requirements are met. Evaluation of existing processes must consider if the tasks are repetitive and frequent, the extent of human intervention required, and error margins.
For example, the payroll process is a time-consuming process that is data intensive and made up of repetitive steps. Automating this process helps make accurate calculations, disburse paychecks, and organize employee data with just a few clicks.
2. Choosing the accounting software
Once the automation requirements are established, the next step is to choose the software that caters to these requirements. Factors that need to be considered while choosing accounting software include:
Accounting features required by your business
Company's long-term needs
Company's budget
Existing software tools used by the accounting process
Compatibility with the existing accounting process
3. Creating a migration plan
Once the accounting software is chosen, the data from existing accounting systems must be migrated to the new software. The migration process is usually handled by the IT department which takes care of data protection and error prevention. Workflow management for accountants must take care of onboarding accountants on the use of the new accounting platform so that they gain familiarity with its usage.
4. Setting up the new system
The ideal automated workflow requires a trigger, action, and result. Before launching the new system, it must be tested to adjust triggers and actions accordingly.
5. Integrating with other systems
The capabilities of the accounting software can be expanded by integrating it with other accounting systems. For example, the accounting software can be integrated with the expense tracking system for better control and monitoring of expenses.
6. Monitor and communicate process changes
Once the automated system is in place, the performance needs to be monitored regularly. Key performance metrics need to be monitored to ensure that the process outcomes are as expected.
Accounting software brings a range of features and functionalities for improving the effectiveness and efficiency of the accounting process. The main accounting processes that are suited for automation include:
Accounts payable and receivable
Expense management
Purchasing
Finance management
Payroll
Cash and visibility forecasting
Advantages of Accounting Workflow Software
The benefits of automating the accounting process come in all shapes and sizes. Workflow management for accounting firms provides a viable alternative to traditional accounting systems that work with outdated, cumbersome spreadsheets, and manual reporting. The main advantages of accounting automation are listed below:
Reduction in inaccuracies and inconsistencies – Human intervention is invariably a big cause of inconsistencies and inaccuracies. Accounting workflow automation offers tailor-made workflows with automated forms and clear data permissions.
Reduces costs – Accounting automation eliminates the redundancies in the workflow, which automatically improves process efficiency. Automated workflows and tasks need far less manual employee intervention, which reduces the spending on staff and frees up finance teams from working on mundane tasks.
Accelerates data processing speed – Irrelevant finance processes, and repetitive, manual tasks are taken care of by accounting automation. Elimination of repetitive steps improves the speed of data processing significantly.
Avoids a cash flow crisis – Mismanagement of funds is the main cause of bankruptcy. Fund mismanagement stems from unhealthy accounting protocols that exist in manual systems. Automation of accounting activities brings about standardization in accounting methods, which provides transparency and visibility into all transactions.
Manages accounting on the cloud – One of the main advantages of accounting automation is access to cloud computing. Accessing and sharing documents on the cloud simplifies the work for CPAs. Cloud access enables CPAs to quickly process transitions and analyze data from any location, at any time.
Adapts to business requirements – Accounting software comes with high levels of flexibility that enable it to adapt to the current and future requirements of the business. Workflow software offers a variety of templates that can be used by businesses to create business ledgers and other financial statements.
Enhances data security – accounting workflow management software makes use of encryption technology and other advanced security features for maximum protection of sensitive accounting data. Financial data is safe from cyberattacks and fraud. Automation provides role-based access to sensitive data so that only selected employees have edit access to data.
Eliminates paperwork – Accounting automation enables finance departments to go beyond their present capabilities. Automation software provides accuracy in data entry, processing, and storage, eliminating volumes of paperwork usually associated with manual processes.
Speeds up data access and retrieval – All accounting data is stored in the cloud, which makes it super easy and fast to access data. Moreover, accountants and managers can access data from anywhere, at any time.
Enables comprehensive reporting and analytics – Accounting software allows for quick presentation and distribution of accurate financial data. Comprehensive reports are available for everyone in the company. Managers can pull out reports on financial performance for any time period within minutes. Automation also provides a more accurate way to analyze trends, variances, and predictability.
Prepares records for audits and Tax deductions – Scrambling to track expenses and receipts during the tax season is a nightmare for all accountants. Workflow management for bookkeepers helps accountants track and update records quickly and accurately. Automated bookkeeping eliminates the frenzy during the audit and tax seasons by automatically updating the system whenever transactions occur. Automated bookkeeping also helps in figuring out the tax deductibles accurately so that business owners know how much to expect during the tax season.
Facilitates professional development – Working on rote accounting tasks can curb the professional growth of accountants. When accounting automation takes care of these repetitive, and low-value tasks, accountants get time to focus on their professional development. Relieving accountants from such tasks enhances their interest in their job and makes them more productive and efficient. When used correctly, accounting automation eliminates the tedious and frustrating parts of accounting jobs. This relief gives accountants more time to develop strategies and communicate better with colleagues.
End-to-end workflow automation
Build fully-customizable, no code process workflows in a jiffy.
Top Workflow Management Software for Accounting Firms
We have curated the list of best workflow management software for accountants and accounting firms for 2023. This list is based on the overall performance of the software and its suitability to the specific accounting process.
1. Cflow – The best workflow automation software for accounting firms.
A no-code BPM software that can automate key business workflows quickly and effectively. From procurement to accounting to CapEx approvals – Cflow can be used to automate workflows within minutes with the visual workflow builder. Users can use the drag-and-drop option in the workflow builder to create customized workflows for the accounting process.
2. Zoho books – Overall workflow software for accounting firms
A comprehensive cloud accounting platform that takes care of your business finance and accounting needs. Core accounting, stock trading, bank reconciliations, and managing projects are some of the capabilities that Zoho books bring to the accounting process.
3. Patriot – Ideal automation software for businesses with limited requirements
This is an affordable, powerful, and easy-to-use accounting software that can be used for automating payroll, accounting, and time management in the organization.
4. Sage Intacct – Accounting software for automation
Automation of repetitive tasks in accounting can be easily done with Sage Intacct software. Activity management, customizable dashboards, integrations, account management, and client project management, are some of the features provided by this software.
5. Xero – This workflow management tool for collaboration and accounting templates.
A powerful project management software that lets you manage your tasks, projects, programs, and processes in one dynamic platform. Dynamic portfolio management helps manage projects and portfolios with a holistic view across the business.
Conclusion
According to a report by Future Market Insights, the accounts payable automation market is expected to grow at a CAGR of 10% to reach $ 6.7 billion by 2032. The importance of automating key accounting processes grows with the increasing need to keep up with evolving market trends. Tedious and time-consuming accounting tasks can be effectively automated with workflow automation software like Cflow.
The visual form builder in Cflow helps create fully-customizable workflows for automating accounting tasks like accounts payable and receivable, budgeting and forecasting, and payroll. Reports and analytics created in Cflow enable management to stay on top of the accounting workflow Software. To explore the rich automation features offered by Cflow, sign up for the free trial right away.
What would you like to do next?​
Automate your workflows with our Cflow experts.​
Get your workflows automated for FREE
---