Creating the Best Workflow Design – Is it Possible or a Myth?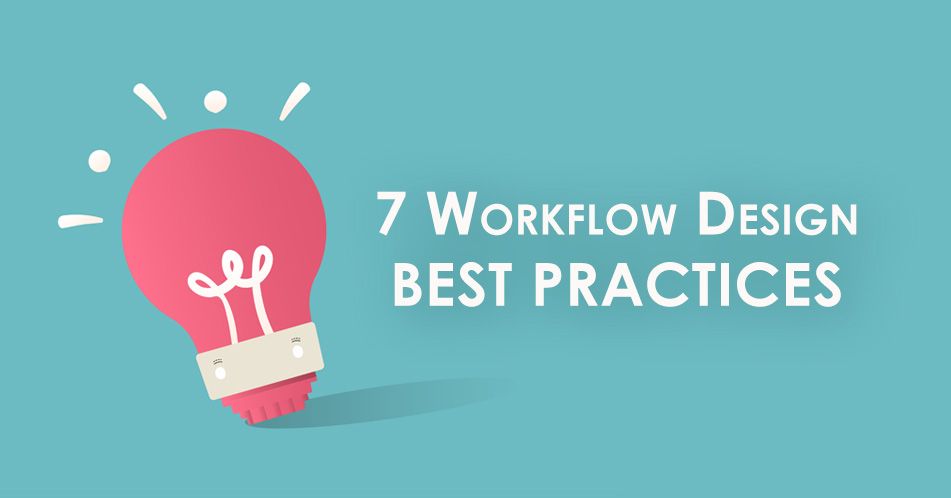 Talking to business people, you will often come across people suggesting you use software or go online to seek help.
Most believe for some reason that computers and smartphones can get everything done. But, in reality, you have to follow some of the best practices when creating anything – be it workflows, a design, a logo, or a business strategy.
Workflow Automation Design Best Practices
A properly streamlined workflow can go a long way toward making or breaking the office process. When you have an important file to be delivered, the latest updated version should be available in the cloud. Even if one of the employees in charge can't deliver it, another person should have access to it.
Similarly, an invoice to be processed for the vendor should be handled without fail. A delay in clearing the invoice due to petty reasons like unavailability of a person, delay in funds released, or lack of coordination can affect business processes.
7 Things to do When Creating Workflow Design
1. Think of Workflow as a Non-Linear Process
Every time you mention the word workflow, most people immediately assume a flow chart process. In this mildly flawed, conventional process, the chances of deviation are less but it is also constrained towards a straight line.
An ideal way is to imagine it as a non-linear process because in case you have to go back to the first step, the design should allow you to do so. It helps avoid mistakes, make corrections even at the end of the process, and gives space for improvement.
2. Keep Things Visual
The first and foremost method to be able to handle a workflow design is to visually represent it during the building stage. After all, irrespective of how easy and simple the design might sound, it is still a difficult execution process if everyone else couldn't understand the concept.
Start by creating a visual design or draw a flowchart that represents how the workflow design will flow from one step to another. There are so many ways to visually represent it such as drawing out shapes on an iPad or using sticky notes or pins on an office wall to show the map that will be used.
3. Empower Employees to Ensure Work Flows
From an organizational perspective, it may reflect an employee's lack of capacity to complete a task on time. At every point, the workflow tasks will be assigned to different people and they are expected to complete them. When they slow down or become a hurdle in completing it on time, it is mandatory to check if they have the resources to do the work.
Workflow automation is a great way but there are times when employees may require guidance, and assistance on complex work, and the top management should ensure they are empowered to handle the tasks assigned to them.
4. The Right Automation Software can Favor Workflow Design and Management
Automation is a frequently used topic that people discuss. Organizations are so keen on automating their tasks but there is little clarity on what the technology can actually do and how it can enable a team to perform better.
In order to achieve the best workflow design and manage it, the right workflow software is essential. Instead of urging your employees to spend their time doing mundane, repetitive tasks, an automation setup made possible by a workflow tool like Cflow can do wonders for their work.
The right automation tool is the one that can handle different workflow designs, and new models and has space for innovative ideas to be implemented into your workflow strategy.
5. Specify and justify the workflow models
Imagine your workflow as a bundle of boxes put together to achieve the desired results. It should be a modular design because business processes always evolve and space is mandatory in order to make changes at a later point.
Here are some of the basic elements that should be part of your workflow design model
Modular design to support adding new features or removing an outdated process
A versatile template is one of the best workflow design practices because it can be used for multiple purposes and teams
The clarity in design so that you can easily identify if there is an error and fix it
With these elements in place and a solid automation tool such as Cflow, you will not only be creating effective workflows but they will also be future-proof and have the scope to be expanded.
6. Understand the Most Used Workflow Models
Before venturing into the world of workflow design best practices, having basic knowledge of the two widely used workflow models will allow anyone to come up with a usable design. 
Instead of trying to go with the trends, it would be great if you can focus on what your team and the exact task need are before adopting the "right" workflow model. 
The State Machine is a workflow model that ideally is used for tracking different processes such as shipping, agile methodology in development, and similar tasks

The Sequential workflow model is useful for shorter processes where speed is the key to success and used for less complicated, quick-to-end tasks
7. Categorize Your Workflow Steps based on Priority
There are crucial, game-changing steps in every workflow that you will create for your office. While the automation tool will handle them all with utmost priority to each given step, it is up to the user to specify and highlight them for easier scrutiny at a later point.
With the help of color codes, creating categories for an important step such as a point where an invoice will be approved or a product sent for shipping and modular design, these best workflow design practices will be easier to use in the long run.
In case there is an error in delivery or an issue, the person handling the work or the entire team can skip all other phases in a workflow to focus only on the priority boxes. Those steps will speed up the processing time, avoid errors at critical points and handle work much easier when there are urgent requirements to complete while skipping non-critical steps. 
End-to-end workflow automation
Build fully-customizable, no code process workflows in a jiffy.
Two Things Not to Do When Creating Workflow Design
1. Never create workflows before understanding the need
A very common and repetitive mistake that lots of newcomers do are trying to create a workflow and automate tasks. The first step is to be fully aware of the process and handle it manually before exploring the option of going for workflow design.
2. Avoid a complex system
Set the starting and endpoint for a workflow before the design is confirmed. Keep it simple and straightforward because if you try to mingle every team into the same workflow, assuming it speeds up the task, you are wrong. It creates lots of complexity that can be avoided and workflow design doesn't work that way.
The best practices that can lead you to the perfect workflow design are done through lots of hurdles, potholes, and failures. While it may sound like a bad thing, it is not because understanding how your process works and going in sync with your employee work cycle is important to gain the best results. Remember that workflow design is always designed to be customized and no one solution fits all companies or every task you throw at it. Instead build individual, dedicated workflows that get work done with the help of automated process flow whenever possible.
What would you like to do next?​
Automate your workflows with our Cflow experts.​
Get your workflows automated for FREE
---