Pre-built Automation Templates
Get started with ready to use workflow templates from Cflow library. Start automating all your workflows in minutes.
Cflow gives users the freedom to create their own workflow templates without any coding or technical expertise. The visual drag-and-drop form builder helps you build custom workflow templates within minutes to automate tedious and repetitive tasks. From IT operations to HR to sales and marketing – any business process can be automated with Cflow. Users can use the drag and drop process stages to create business rules automatically and set any process in action. Repetitive and redundant tasks can be eliminated by automating key business workflows.
Decoding the What, Why, and How of Workflow Templates
A template in general is a form, mold, or pattern used as a guide to make something. Navigation templates, process templates, app templates, form templates, design templates, page content templates, and the list goes on. So what is a workflow template? Workflow template or workflow process template is a project management tool that allows you to chalk out steps, resources, timelines, and roles that are needed to complete a project. A business workflow template comes handy when you are working on a multi-step project, whether it is a business process or a design project. 
A workflow template may be used for plotting out actions, to achieve a goal and organizing a timeline for completing those actions. The main reason for creating workflow templates is to manage the process and iterate faster without any constraints. From a marketing manager to designers to content developers – workflow templates are used to align on processes and improve efficiency when executing projects. A workflow template comes handy when the needs of a digital team need to be met adequately, and when everyone needs to stay aligned, be aware of what needs approval, and know what is ready for production. 
Large scale projects require careful management with attention to the minute details. This is where a workflow process template comes into the picture, by outlining each step in the process and eliminating redundancies. You can use a workflow template to play out the steps, deadlines, resources, and roles involved in the project. A workflow template keeps all stakeholders tuned in 24/7 to all that is happening in the process. 
Workflow templates consist of pre-designed action flows that can help you automate the most common business activity without having to set up a workflow from scratch. For instance, say you want to send out email reminders to sales owners whenever a new prospect is assigned. The content of the email is more or less the same, so creating a workflow template for email reminders is an example where workflow templates come handy. With business workflow templates, these commonly executed business processes are templatized and made easy to create and access. Users simply have to choose the template as per their requirement, customize it and enable it at the click of a button. Additional actions may be applied on a template to suit specific business needs.
Why do you Need a Workflow Template?
You must be wondering why you should use a workflow template in the first place? For starters – a workflow process template simplifies the creation of workflows. In a workflow automation tool like Cflow, there is a large library of workflow templates that covers all the key business processes. You can pick the workflow template that you require and customize it to suit the current workflow requirements, and you are set! 
Let us look at some other reasons why you need a workflow template:
Communicates process plan – Having a complete workflow template demonstrates to your stakeholders and your team how exactly you plan to get your project off the ground and completed. A workflow process template serves as a blueprint for operations that anyone involved in the project can refer to at any point to clarify priorities and order of operations. 
Helps in project planning – Productivity in any business starts with planning, and a comprehensive workflow template ensures that the planning process starts on the right foot. When project ideas arise in your head and you know that they fit seamlessly, but are in a muddled state, you can take the help of a process template that helps you with the journey mapping process. The template clarifies the order in which process operations should be executed. 
Spots bottlenecks – The overall plan of the process alone may not seem very clear in the beginning. When a workflow template is used to outline the tasks or steps in the process, managers can easily spot the hurdles and bottlenecks. A clear-cut map of your project is made available by the template, allowing broad and detailed planning well ahead of time. 
Brings transparency – A workflow template leaves no room for guesswork by mapping out projects and processes. It is important that the process is clear to all the stakeholders, not just the manager or team lead, and the workflow template does the job really well. Everyone in the team can refer to the workflow template to derive clarity on the sequence of tasks, and roles played by each resource. Everyone working on the project feels confident in the plan and can execute tasks in the right order with the ability to refer back as needed. 
Clarifies delegation – As much as you might trust the project plan that lies in your head, you need a visual map to communicate and delegate ideas to the right resource. A workflow template does half of that work by establishing which steps go where. Team members can refer to the template at any time to clarify any doubts on their role and understand how their work fits into the larger picture.
Key Components of a Workflow Template
Cflow provides a variety of workflow templates for processes within key business functions like operations, IT, Procurement, Finance, HR & Admin, and Sales and Marketing. Each workflow process template in Cflow breaks the process into stages and shows how each stage follows after the other. The business workflow templates in Cflow are also arranged according to Solutions, such as, Travel, Inventory management, CapEx process approvals, and Expense Reimbursement process. 
Indent Request Workflow Template is given below.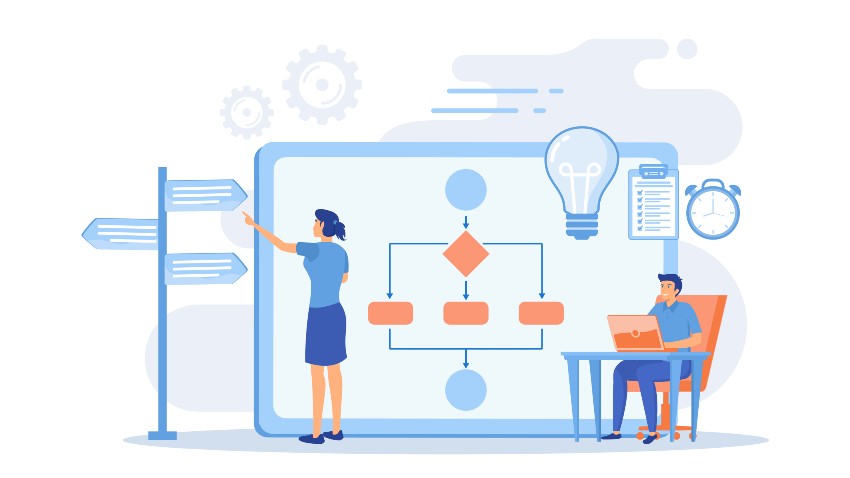 This template allows you to include other details like PO print details, Manager and Finance Review, Product Details, and Notes or comments. 
Irrespective of the type of template, every workflow template is made up of 4 key components, namely, Stakeholders, Brainstorming, Timeline, Communication, and Resources. While creating a workflow process template, you need to specify all of the above details. 
Ready to create your own workflow template?