Invoice Approval Process
The finance team in an organization has to face so many queries every day and is continuously under pressure from other departments. By automating the invoice approval workflow using a dedicated program like Cflow could change the situation in your favor.
In most scenarios, organizations make the mistake of manually creating invoices and approving them. At the end of every month, the accounts team should verify and process multiple invoices at the same time. With an automation workflow software for invoice processing, you can save time, make efficient use of resources available and not wait for a manager to approve invoices as e-mails get lost often.
It is easy to avoid a situation when the accounts team becomes answerable because a manager didn't approve invoices in time. Automation ensures everyone is happy and keeps sending gentle reminders so that they complete their tasks on time.
How to automate your invoice approval workflow with Cflow?
1. Create an invoice template
With a Visual UI builder, it's easy to create invoice templates using Cflow. The invoice should be in detail, and you may have to collect a bunch of data to complete the process.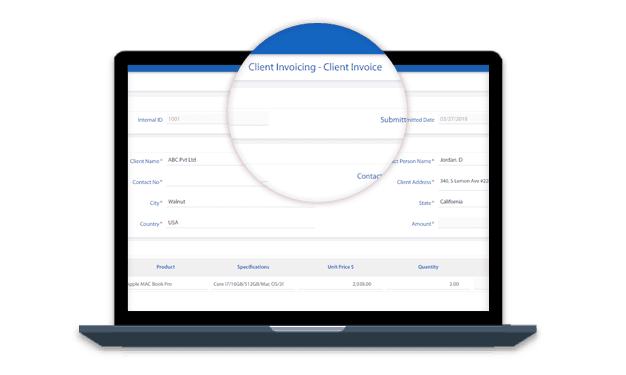 Create tables for the following most commonly used fields,
Specify an invoice number
Client/ Customer/ Supplier details including name, address, and contact info
Number of items
Payment amount
Remarks
2. Specify how the invoice should be approved
Providing clear instructions on how an invoice should be approved will make it easier for the process to be carried out. Some of the essential factors to specify include,
Specify the approving authority and secondary authority
Set conditions for approval to be carried out
Mention the next steps for the invoice to proceed
While the forms mentioned here are a simple template, you can always choose to add more items as per requirement. Each organization's requirement is different.
The automation of sales invoices makes it easier to push the invoice through multiple levels from the accounts team to sales team leaders, managers, and finally to approval.
3. Set specific conditions, and terms to be met for approval
The invoice approval workflow automation is made easy when you specify conditions to be carried out and the terms to be met for an invoice to be approved.
You can choose to hide your invoice from specific people, and teams, and provide access only to stakeholders who are involved in the process.
Many private fields in the invoice can be set to read-only for additional security. For example, you can choose to keep the invoice amount static and not allow anyone in the group to modify it. The same rule applies to all types of confidential data.
Getting the Invoice Workflow Live
When you use an automated invoice workflow, make sure to use the proper invoice number, customer name, and the date within which it should be approved. Automatic notifications will be sent to all concerned members to make sure the invoice approval carries out smoothly.
Check out Cflow to automate invoice approval workflow and save time.
Create happy customers and make efficient use of your finance team by making use of workflow automation software. Try the Cflow trial today.