Workflow Model
The workflow is an intricate element in every organization. The quickest and most efficient way is to sit down with a team of employees, managers to brainstorm the idea. Instead of waiting for that one best workflow, it is great to implement the process and make changes as it evolves to suit the work culture in a particular company.
The Definition and Action of a Workflow Model
A workflow model is easy to define and understand. The specific set of rules and paths that anyone would follow in an organization to complete their respective tasks are referred to as processes, tasks, or workflows.
The rules and policies that act as guidelines are the ones that are implemented with the help of workflows. The concept is quite similar to setting up roadways for miles because there will be plenty of hurdles, obstacles created by others, and changes that need to be implemented.
As long as workflow models are evolutionary with the ability to adapt to changes, they will continue to be conducive to a productive environment. Sometimes, users will be inclined to keep things simple and get it over with. In the long run, they tend to affect the end goal and should be reworked to identify gaps, to fill them up with relevant resources.
Discuss on Various Aspects of Workflows
Collating ideas from every end of the spectrum is necessary so that the process could start moving towards its final stages.
Not every senior management will be able to identify the potholes because a third person will often have more insights and easier solutions, because the clients and customers are the ones who are often at the receiving end.
Similarly, employees who work in the organization should be made part of the brainstorming team. They can help provide simple solutions to complex problems because unlike the decision-makers, people in the lower grade will avoid getting into regulations and complex solutions. Instead, they will view a workflow from their job's perspective besides contributing based on the years of experience they have accumulated in the particular role.
While it may sound like lots of work to implement dozens of perspectives when creating a workflow, the right way is to explore and implement the prototype. The model will evolve as more changes are made to it, ideas added and eventually, it will reach a point where the workflow process can efficiently contribute to the bigger picture.
Create plot points for the various input solutions provided by the individuals after which it should be a breeze to implement the workflow that makes meaningful changes to the organization's approach of handling daily activities.
These points can later be implemented for improvisation, if not to be done immediately during the brainstorming session.
Differentiate Sequential and Parallel Tasks
In a direct view, it is easy to distinguish a sequential and parallel task.
When the workflow is in motion, a couple of tasks can be carried out simultaneously so that they can be combined towards the end. There are specific tasks that can be triggered only when the task is completed.
A simple example would be to focus on how a product can be purchased. If the operations team or IT should purchase a new laptop, they need to have the funds released by the finance team. However, the process of creating specifications for a computer and the invoice budget can be parallel handled so that both works get completed within a specific time frame.
It is up to the workflow creator to understand which process needs not to wait for complete approval while others have to be delayed until specific steps are completed.
Ensure Clarity in your User Interface
The users often easily lose their attention and tend to make lots of mistakes if the user interface they have is not familiar.
Avoid using complex steps and too many instructions in a workflow if you want it to easily reach your target audience. While employees are willing to adopt new technology, they require coaching to be able to understand and if the syllabus is simple, it is easier to implement it.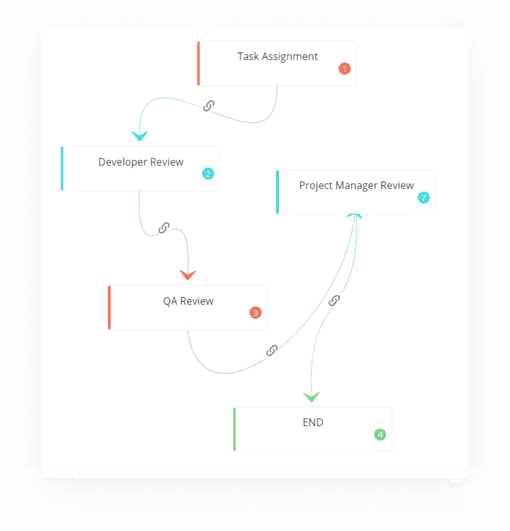 Workflow Example
Each field in Cflow should be handled with caution so that the newbie can easily understand what is required. The instructed steps should be followed so that they can proceed to the next step. Even if they are careless and miss something, they will not be able to proceed which helps assure better productivity.
Set Definitive Roles
Let the role definitions be clear.
Anyone who comes onboard inside the workflow that you built for the organization or a specific task, should be able to understand it at a glance. The simplification is what makes things clear and roles will assure approvals are not done by everyone.
Besides, the definitive roles help managers and decision-makers focus on the tasks that need their immediate attention rather than spending all their time on trivial tasks.
Test Workflows in Real-Time
There is no need to hesitate to implement a workflow because whatever the obstacles are, they will come into limelight once your employees start using it.
Test the workflow model with multiple teams and a large group of employees.
Before implementing it, consider letting your employees and teams get a fair idea of what to expect. The approach will allow the workflow to evolve and become better with time.
Evolution is the Key
Cflow sports a visual workflow builder which plays a key role in making life easier for workflow model creators and also helps in creating a conducive environment for your employees to deliver their best.
Let the workflow model evolve and it will continue to reach new pinnacles with better productivity as time goes by.