Decoding the What, Why, How, and When of BPM Platforms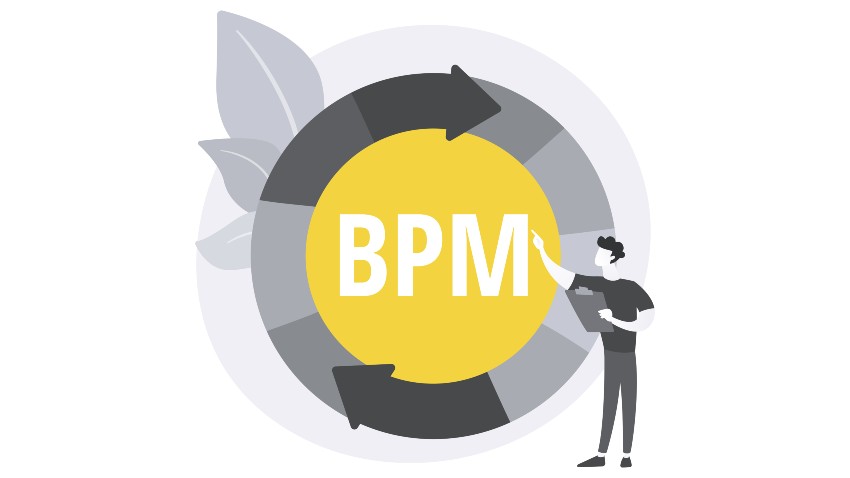 You do not need a Master's degree in Business Management to understand the importance of process management in running a business. A business is as efficient as its business processes – simple, and straightforward! Well-managed business processes can improve operational efficiency, team collaboration and communication, and customer service.
A BPM platform can help you get to stay on top of all your business processes by streamlining and standardizing them. Let us get started on the what, why, how, and when of Bpm platforms.
What is a BPM platform?
According to Gartner, a business process is essentially a combination of the behavior of people, systems, and things, for producing specific business outcomes. A BPM platform includes a graphical business process and/or rule modeling capacity, a process registry/repository that handles the modeling of metadata, a process execution engine, and/or a rule engine.
Advanced BPM platforms also contain tools for data integration and a reporting engine for monitoring activities and performance for auditing purposes.
BPM platforms are basically of 3 types –
➢ Basic BPM platforms,
➢ Business process management suites (BPMSs),
➢ Intelligent BPM suites (iBPMSs).
Why Use BPM Software?
Solution architects and business outcome owners use BPM platforms to accelerate application development, transform business processes, and digitize business processes.
BPM platforms improve business outcomes.
A BPM platform provides a variety of capabilities to teams to manage all aspects of the business process lifecycle.
BPM platforms provide the framework and tools for businesses to manage tasks and workflows in a process that is related to systems or people.
IT teams or DevOps teams can use a BPM platform to manage business processes effectively.
A BPM platform can either be cloud-based or private cloud-based or installed on-premise, depending on the requirements of the business.
Cloud-based BPM has gained popularity in recent times owing to its scalability and data security. Moreover, cloud-based solutions are low on maintenance and offer solutions that are flexible and cost-effective.
BPM platforms are also referred to as business process management systems. These systems allow you to put processes in place and help with tasks like improving accuracy, cost reduction, increasing customer service, and improving communication between employees. A BPM platform also helps reduce errors and improve collaboration between departments within the organization.
Components of a BPM platform
Business process management is a mature technology that has evolved continuously over decades to meet the changing requirements of enterprise businesses. From its origins in middleware integration used by IT staff to more user-centric systems, BPM has always focused on making the organization's workflow more effective and more adaptive to changing work conditions.
The latest development in BPM tools is low-code systems that reduce the complexity of traditional BPM systems via a set of automation tools that can be used by business users without any traditional coding skills.
Full-service BPM platforms enable the organization to achieve maximum operational efficiency by combining the following components:
Modeling using Visual Design Tools
Process modeling is the first step in business process management. Visual modeling of the process helps conceptualize current business processes using diagrams, flow charts, and other graphical representations. These representations are the basis of information exchange between IT and business departments regarding process improvements.
Business process model and notation (BPMN) is a standard flow-chart method illustrating a detailed and easily understandable sequence of business activities.
A low-code BPM platform like Cflow provides easy-to-use drag-and-drop visual development functionality and code automation features that can simplify process modeling.
Process Builder
A BPM platform that allows users to build an automated process based on preset business rules and business logic based on the process model. The process builder creates an automated process based on the visual representation of the process.
The BPM software must integrate and automate processes from multiple departments and narrow the focus to a particular department or group.
The process builder in the BPM software provides an integrated development environment (IDE) for the implementation of the automated process. The easier the process model, the more seamless the implementation.
Process Engine
The process engine or the process execution engine is capable of interpreting and executing the process and implementing the functionalities associated with each notation in the business process model and notation. After interpreting the symbols in the BPMN, it should be executed by creating instances of the process, evaluating the flow conditions, and moving this instance according to the definition.
Reporting and Analytics Engine
BPM platforms include features for metrics reporting and analytics. Business activity monitoring is an integral part of BPM platforms. The dashboard must provide real-time data that will allow workers, analysts, and managers to monitor and optimize workflows within your business.
Why and When Do You Need A BPM Platform?
Why should a business use a BPM platform? Here are 5 reasons why a business uses a BPM platform-
Strategically maximize resources to minimize expenditures
BPM software helps reduce the cost to execute transactions by giving businesses a closer look at process workflows. Close scrutiny of the process workflows enables process owners to spot inefficiencies and process gaps. Spotting the process gaps enables teams to quickly make adjustments to seal the gaps. This way time is not wasted and employees get time to spend on more important tasks.
Proper utilization of resources by allocating them to the right task for the right time ensures maximization of resources.
Some of the BPM platforms are equipped with A/B testing and similar features that help them gauge the effectiveness of new workflows before implementing them.
Gives better visibility and control of business processes
Running a business requires process owners to handle and track several tasks simultaneously. It is feasible to do this manually for a small number of tasks, but as the business grows it becomes difficult to manage operations manually. A business process management platform maps out the workflows from beginning to end and maintains a central repository where the protocols and tasks are detailed. This simplifies task assignment and status reporting.
Reinforcing BPM with software solutions provides a 360-degree, real-time view of your processes. Process owners can see the status of process productivity as they operate. The visual process modeling that most BPM solutions are fitted with makes it easy to make minor changes to workflows easily.
Spot operational deficiencies to improve productivity
When it comes to improving the productivity of a process, it is always an ongoing process. Businesses adopt a reactive approach to improving and maintaining high productivity by changing workflows to address specific situations or problems. BPM platforms enable businesses to take a more proactive approach to managing tasks and eliminate the guesswork from process improvement. Key deficiencies in the workflow can be spotted easily so that more targeted and efficient solutions to bottlenecks in the process.
Take informed business decisions to remain competitive
BPM platforms can streamline processes from the start and map out workflows for reevaluation and redefining. With the BPM platform taking over monitoring of the business processes, it frees up time for the team to focus more on important and attention-demanding tasks and headspace for better decision-making. The right BPM platform helps automate repetitive tasks so that more hours are available for productive tasks.
Fine-tune workflows to increase operational agility
Bpm platforms help businesses improve their operational ability by providing a methodical approach to business operations. BPM software not only provides a detailed map of the entire process but helps get a closer look at the interdependency of their processes and resources. BPM tools not only help in drafting new processes but also implement them at lightning speed.
Now we come to the discussion of when you need a BPM platform. What are the indications that a business presents that warrant the need for a BPM platform?
Here are some indications that warrant the need for BPM platforms:
➤ Customer service and customer engagement are not at expected levels
➤ Project deadlines are not being met consistently
➤ Managers are not getting complete visibility into the status of tasks
➤ Comprehensive view of process data is not available
➤ Process outcomes not aligned with overall business objectives
➤ Employee morale comes down due to involvement in labor-intensive projects
➤ Overall productivity of the process is low
➤ Process resources are either underutilized or overutilized
➤ Businesses processes unable to keep up with scaling up business operations
Automating Business Workflows
How do we go about implementing BPM solutions? Digital transformation has redefined the way companies have approached expansion and growth. Irrespective of the department's function in the organization, an automation platform helps you satisfy internal and external client expectations.
What is a workflow automation platform?
A workflow automation platform is a cloud-based software that a number of businesses use for streamlining their process workflows.
Automation software can be used for several business functions like employee onboarding, finance, customer service, and IT request management.
Businesses of any size in any industry can use an automation platform to simplify repetitive tasks and make them more consistent and trackable.
Automation platforms are used in situations that need strict compliance with regulatory requirements. Business processes that become more complex, can scale to meet the evolving needs of their users.
The best automation platforms offer unlimited processes, tasks, alerts, transactions, and reports.
Automation of business processes improves customer service. It becomes easier to build a positive reputation with clients with automated processes.
Business functions that are customer-centric require consistent, and rapid follow-up, which can be achieved by automating the process. Manual processes are ridden with redundancies and repetitive steps.
Automating manual processes cuts out repetitive steps to streamline operations. Employees can work on more important tasks that add value to the business rather than low-value mundane tasks with automation.
The BPM platform will route the information to where it needs to go based on preset rules. Automated processes can be seamlessly integrated with other business systems so that all these systems can talk to each other and share critical data.
Automation also improves compliance with regulatory requirements by ensuring that the activities required to successfully complete tasks are performed in a consistent way. Automation not only helps meet compliance requirements but also enables the process to be audited and reported accurately.
Uses of a BPM Platform
The BPM platform is a holistic systems approach to achieving optimized business outcomes. BPM platforms enable organizations to align business functions with customer needs and help executives determine how to deploy, monitor, and measure company resources.
When BPM software is executed correctly, it can enhance the efficiency and productivity of business processes. Implementing best practices in BPM contributes to sound financial management and provides visibility into how the organization is progressing toward meeting its success goals.
A BPM platform provides several benefits for the business, some of which are listed below:
Increased revenue growth – Workflow automation as part of the BPM implementation is effective in eliminating resource wastage from the process. Improved resource utilization in turn increases the revenue for the business.
Cost reductions – BPM platforms streamline the process by removing redundant and repetitive steps/tasks. When repetitive steps are eliminated, it brings down the cost of execution of these steps. Moreover, the team members get to spend time on important tasks, which in turn improves business productivity.
Compliance management – BPM platforms standardize business processes so that all the steps and process data are as per regulatory standards. The data is always audit-ready and controlled access is given so that not everyone has access to sensitive business information.
Risk management – A BPM platform that enables businesses to ensure the highest levels of data security. Automation of key tasks brings about standardization of business operations, which in turn mitigates the risk of deviation from standard operating procedures.
Productivity improvements – When mundane tasks in the process are automated, the team gets more time to focus on meaningful tasks that add value to the business. More resources focusing on strategic tasks in turn improves the productivity of the team. Implementing a BPM solution improves productivity by as much as 50%.
Improved customer experience – The more efficient the business processes, the better will be the quality of the products/services delivered by the business. Improved quality of deliverables translates to better customer experience. Forrester's research with their clients that employ BPM solutions revealed that BPM projects have 30-50% productivity gains for processes that involve back office staff.
Reduced lead cycle time – Implementing a BPM solution reduces the lead time by as much as 90%. Elimination of redundant steps in a process speeds up the process and reduces the lead time.
Top 5 BPM Platforms for 2023
Choosing the right BPM platform for the organization is a decision that should be taken after considering all the features of different BPM software available in the market. Gartner has curated a list of the top 10 BPM platforms in the market. We have listed the top 5 in this blog.
Cflow BPM –
Businesses looking for robust business process automation software would find the right match in the Cflow. This software is the market leader in business process automation from scratch.
A non-coding software for business process modeling and management, workflow automation, and productivity boost. The visual designer enables a quick workflow setup with no IT resources required.
Some of the workflows that can be automated by the Cflow are,
CapEx approval workflows
IT service workflows
Document workflows
Order processing workflows
Claims workflows
End-to-end workflow automation
Build fully-customizable, no code process workflows in a jiffy.
Appian BPM Suite –
A low-code automation tool that democratizes data modeling and workflow automation, enabling the user to deliver workflows and applications fast. Appian helps unify the data, build apps, and automate business processes with low-code BPM software. You can integrate enterprise data sources without any migration with the Appian BPM suite.
Nintex Workflow Automation –
The Nintex workflow automation platform helps businesses discover, automate, and optimize business processes. The Nintex Workflow cloud is the next-generation automation platform that helps in process mapping and management, intelligent forms and mobile apps, workflow automation, and document automation. This BPM platform includes RPA, eSignature, connectors, and process analytics features.
Oracle Fusion Middleware –
This is a cloud platform for digital business for the enterprise and the cloud. The Middleware solution provides an entire suite of automation tools and integration solutions for management, collaboration, and business intelligence reporting. Some of the featured solutions are Cloud Platform as a Service, Mobile solutions, Internet of Things, Content and experience management, Big data integration, and Enterprise Security.
webMethods Integration platform –
This platform provides you the power to connect anything faster via open, standards-based integration. This platform is easily scalable and ready for integration.
Conclusion
BPM platforms provide businesses with a complete suite of business process management solutions that take care of process modeling, workflow automation, and process reporting. A BPM platform like Cflow streamlines business processes so that resources are used optimally for optimal business outcomes. The no-code workflow automation platform automates key business processes like finance, HR, IT services, and procurement. To explore Cflow and its features, you can sign up for the free trial or demo right away.
What would you like to do next?​
Automate your workflows with our Cflow experts.​
Get your workflows automated for FREE
---