Benefits of Business Process Automation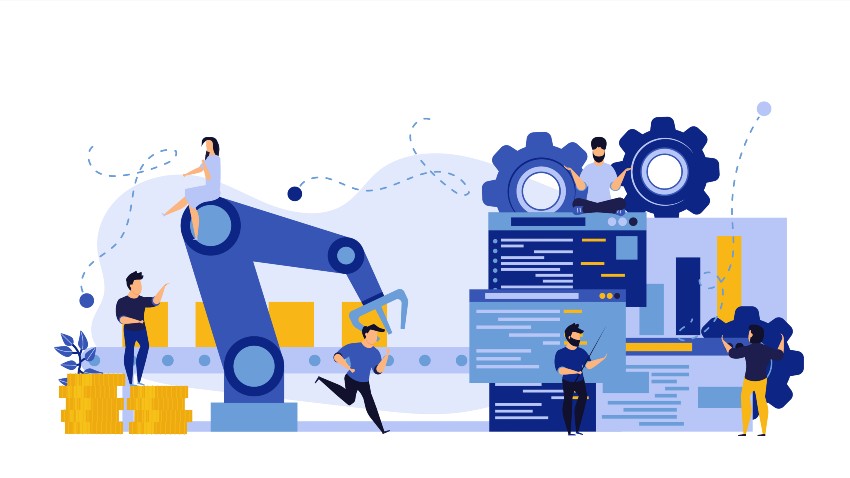 Business process automation has become a fundamental prerequisite for depicting how organizations will conduct business in the future. Automation brings you ample benefits, opportunities to achieve reliability and scalability, and increased efficiency. Globalization, recent economic turbulence, and regulatory bodies are constantly mandating process compliance. This has further increased organizations worldwide to garner the benefits of business process automation.
This year, in 2022, the majority of companies around the world have started to make intelligent investing moves on digital transformation. Around the world, the spending on global digital transformation (DX) touched 1.8 trillion USD, which is expected to reach 2.8 trillion USD by 2025. Moreover, a recent survey by Gartner suggests that 66% of businesses have opted for business process automation in one or more of their business functions compared to 57% in 2018. The global hyper-automation software market is expected to reach around 600 billion USD by 2022.
Let's understand how automation steadily gains a competitive advantage and why it is important for your business.
What is Business Process Automation?
Business process automation (BPA) can be defined as automating complex business processes beyond conventional data manipulation and record-keeping activities with the help of advanced technological tools. It helps companies to focus on "run the business" instead of "count the business" types of automation efforts. It allows companies to efficiently deal with mission-oriented, event-driven, and core business processes. BPA provides the enterprise's workforce with the needed knowledge to satisfy the many needs of its constituencies.
How does automation work? BPA focuses on the bigger picture. Though some BPA for businesses looks like they are using it for form filling and recordkeeping, BPA is more advanced. For instance, it is used for processing payrolls, inventory control, and management and for managing other complex processes.
What and What Not to Automate?
You can reinvent your business with automation. But you need to know what to and what not to automate. In fact, many organizations are moving from manual processing to digital operations as automation evolves. We all love automation as it's a great way to optimize your business processes. With automation, your team will feel motivated, enhance employee job satisfaction and provide consistent customer service. However, automation can be easily misused when implemented on the wrong things.
When you misuse it, automation wastes your time and resources. Here are some of the things that you should and shouldn't automate to avoid confusion and chaos:
Should be automated:
Invoice processing can be automated. The process consists of three steps – matching, routing, and coding. When you automate these steps, it can solve operational inefficiencies.
Hiring can be arduous, and the employee onboarding process can be automated. A workflow software will take care of the candidate data management and helps you with the smooth onboarding of new hires.
Who doesn't wants automated customer support? Automating customer support using bots can be proactive and increase operational excellence.
CRM can be automated as it can help salespeople to prioritize other tasks such as prospecting and lead generation. Paperless contracts, digital workflow, and automated call logging can help the sales team to avoid manual data entry and saves time.
Nowadays, businesses are automating social media management and publishing creative content across different digital platforms to cover huge audiences. Automating social media management can help with better marketing.
Shouldn't be automated:
First things first, you should not automate everything. The face value may seem tempting, but it is easy to get carried away with the new automation tool in your hand. Even when you automate tasks, losing the human touch and a friendly face will make the customers feel alienated.
Even when you use chatbots for customer service, avoid automating phone calls. No one wants to get stuck in an automated phone call for eternity. Automated phone trees will make the customers end up frustrated and reduce customer satisfaction. Instead, use chatbots and have human agents handle calls.
Moreover, when you automate business processes, it should give you a fairly high ROI. Automation is an intelligent investment for your business. Any process which would give you low or no ROI should not be automated. Have these three V's in mind when you automate: volume, variance, and value.
Why Automation? Why Is It Important?
You can improve the compliance of your business with the right kind of automation. Conventional use of business automation has helped reduce costs, productivity, and operational speed. Whether running a small business or a large enterprise, business automation tools can be an excellent way to streamline operations.
Businesses must consistently use automation tools to realize their full potential. From time to time, automation tools have proven that their best practices result in faster and more effective customer experience and simplify internal processes. It provides end-to-end automation solutions.
End-to-end workflow automation
Build fully-customizable, no code process workflows in a jiffy.
Benefits of Business Process Automation
1. Productivity Escalation
This is typically one of the major advantages of automation. You can boost your organization's productivity by handing over repetitive tasks to bots, as they can work much longer and faster than humans.
Business automation helps solve the "productivity paradox" by solving the wasted time on people who spend more time navigating the apps, switching them, and slowing down the processes. The amount of time boosted depends on the type of business automation tool implemented. You can foster productivity by integrating with RPA. You can use two types of bots: attended and unattended bots.
Attended bots work alongside humans to complete tasks. For instance, humans can concentrate on customer-centric tasks while bots work on sending notifications, reporting, and data calculations. When you use an attended bot, the process can be a little slower. When you use unattended bots, they can work 24/7 and don't require human assistance. You need to decide which kind of bot will be most effective for your business as some need human intervention and some don't. However when business automation helps save time and increases productivity.
2. Operational Effectiveness
You can achieve operational efficiencies using business automation. It amplifies efficiency by enabling faster processing, 24/7 operating, improved accuracy, and collecting analytics. RPA and business automation tools can accelerate processes and make quick transactions compared to humans. When there is increased processing speed, it has a positive impact on the customer experience as it shortens the time to respond.
Bots don't get tired, nor do they sleep. They can work around the clock, with which you can run some processes and business tasks operating at all hours. If some problem occurs, they can automatically set aside the task for human intervention until morning.
Business automation helps in operational efficiencies through analytics collection. They collect data on everything and file them in reports. You can get useful insights to identify the issues in the processes. You can easily analyze and check for bottlenecks, slow areas, risks, and inefficiencies.
Business automation can make you meticulous by reducing human intervention. It also helps remove major errors from your processes when designed to follow specific rules.
3. Reduced time and cost
You can save a great deal of time and money using business automation. It allows you to work smarter, not harder. Automated tools will take care of your recurrent tasks, freeing up ample time for your employees to focus on other important tasks which require creativity and a bit of human touch.
By delegating mundane tasks, business automation helps you to increase profitability in different ways. Business automation saves a significant portion of employee wages which goes towards those recurrent manual tasks which bots can do. This means you can reinvest those wages and make smart decisions to invest in automation to improve your company's performance.
4. Adherence – compliance
Streamlined compliance is another significant benefit of business automation. Compliance is crucial for the success of any business. Compliance ensures that you adhere to the standards given by your governing agency. When your business fails to comply with the rules, the repercussions can be costly and inconvenient.
With business automation, you can encrypt and fulfill GDPR's compliance requirements. You are digitizing the processes which automatically create records for each and every detail. Plus, you will have features such as automatic data deletion enabling data deletion, and other legal obligations. Having all the information automatically stored will be beneficial during auditing.
5. Reliability – security
Business automation can help you improve reliability. You can quickly analyze the internal processes and makes them more predictable. It enables you to create sequences for jobs and execute tasks with minimal errors. You can even intelligently handle complex tasks using pre-defined specifications.
If your company still uses paper-based record keeping, they haven't realized the risk of security issues. Physical paper documents can be vulnerable to being stolen, corrupted, or ruined by any other circumstances. Therefore, when you use automation tools, you can provide additional security to safeguard all your confidential information. The digitally stored information is generally stored in the cloud, with multiple layers of protection. Password-specific logins and verified user access can be provided to avoid data breaches.
6. Transparency
Business automation software offers you great transparency. They enable users to have increased visibility with the help of their customizable dashboards. For instance, you can easily keep track of the KPIs in the current and continued process. This will reveal where and which process needs improvement. When there is gained transparency, it will have a positive effect on the employees. They feel motivated and can stay informed and be accountable for their progress.
7. Better collaboration
Since visibility is enhanced, business automation makes you more organized, tracking the project process and performing tasks improving collaboration. It de-stress employees and frees them. When business automation fosters better collaboration, it will simplify daily tasks. This will result in better teamwork, increased problem solving, better team spirit, improved workers' morale, enhanced innovation, and refines the company's performance.
Another amazing benefit of automation is that it enables collaboration by sending automatic reminders and updating the team with relevant tasks to be completed. Moreover, business automation frees up time for interpersonal work and strengthens internal communication.
Team morale is highly essential for the success of any business. Unhappy employees are dangerous. Sometimes, team morale is overlooked while implementing business automation. With thriving business process automation, you will receive a lot of monotony as it reduces friction and makes employees more effective. With faster-automated approvals, employees are not left waiting around and cutting loose ends. Automation exponentially increases job morale and increases employee retention.
8. Better service
When you are implementing business automation, you are letting the customers know that you care about the overall experience. Your constituents are invariably the most valuable assets of your business. Therefore, when you automate your processes, you eliminate tedious manual processing from your agenda. You are shifting your focus towards providing a consistent customer experience.
9. Reduced errors
Errors are expensive. Sometimes human errors may cost around $62.4 million for an organization, according to a whitepaper by International Data Corporation (IDC). But, even the most skilled and capable employees can make mistakes.
Multitasking, being absent-minded, and lack of attention can hinder a company's performance. Unlike humans, computers don't forget and don't get tired. So, with the correct use of business automation, you can drastically reduce the likelihood of mistakes. Fewer errors can be timesaving and un-burdening and give you a better idea.
10. Standardized process
You can standardize your workflows using business automation. Different employees perform differently, which is not always efficient. Well, when you use automation, they will all follow the same steps to complete a specific task. They will not deviate from the defined rules.
When you have standardized business processes, you will have scaled-down manual processes that hinder your growth. For instance, when you have to process a hundred invoices from clients manually requires more time and resources.
Also, when you have standardized processes, your leadership enhances which will allow you to have better insight into how business processes work. It will be easier for business leaders to refine and dig deeper into the processes. They get more information, collect more data and analyze. Therefore, standardized processes allow you to make unbiased decisions.
Obstacles in Business Automation
The benefits of business automation are endless. You can free up your workforce and streamline processes better, and automation is a big win for any business.
Many people are still skeptical about robotic automation taking over the tasks which were done manually for so long. Well, it takes time for employees to accept automation as sometimes they see it as a threat to their jobs. Therefore, it is essential that you clearly communicate the benefits of automation.
Moreover, not all businesses can afford automation tools. Sometimes, the in-house automation solutions can be a little expensive and require high maintenance. Here, it is essential to understand how automation can benefit your business and is a smart investment for the company's future growth in the long run. Though automation tools can run without the help of humans, you need skilled professionals to handle the technology.
How Cflow's Automation Can Benefit Your Business?
Automation is increasingly becoming an essential resource to be harnessed for its flexibility, sustainability, and efficiency. If your business wants to remain competitive, then it's time that you incorporate automation tools into your business.
Are you looking for the right kind of automation tool? Well, Cflow comes to save the day! You can automate workflows and streamline business processes easily. Since it is all automated and cloud-based, it makes you paper-free and error-free. It is your all-in-one workflow automation tool that will help you set up rules, intrusive dashboards, data collection, reports, and analytics.
You can drastically improve your productivity and eliminate chaos with Cflow. You can also easily integrate with different third-party tools such as G Suite, Office 365, and endless other apps via Zapier. It is highly reliable as it comes with ironclad AWS data centers for encrypting all your important information. The backup policies can be configured accordingly for automated backups and all of these happen in the cloud. So you don't worry about data breaches at all!
What would you like to do next?​
Automate your workflows with our Cflow experts.​
Get your workflows automated for FREE
---