Digital Workflow – Where Less is More
Repetitive, Recurrent, and Redundant – the 3 R's that bring down the efficiency of business processes. From healthcare to mortgage, and from manufacturing to travel industry the lesser the time spent on the 3 R's, the higher the efficiency and productivity.
Take for instance the Mortgage sector, the lesser time load officers spend on inspection and rote paperwork the more time they get to focus on loan processing and client discussions.
Manual processing is not only repetitive but slow and tedious in most scenarios. How does one optimize the business workflow without compromising on the quality of output? Enter "Digital Workflow".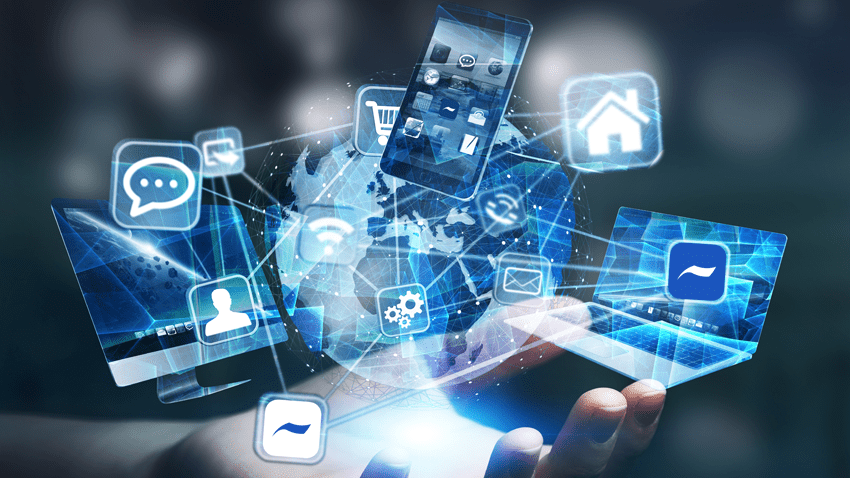 Simply put, a "digital workflow" is the automation of a company's external and internal processes for effective workflow management. Digital workflows can be as simple as email communication to a more comprehensive business process automation.
Getting to the Finer Details of Digital Workflow Software
Digital workflow software can vastly improve the efficiency of workflows irrespective of the type or scale of your business. With that said, let us now get into the details of implementing a digital workflow. Digital workflow software enables businesses to manage and track workflows efficiently and effectively.
Running a business smoothly requires effective, easy-to-use tools that map out, assess, and improve your process workflows. Digital workflow software tools do just that, they optimize and cut out the extraneous steps, accelerate workflow.
Removal of redundant steps from the workflow translates to cost-cutting, which ultimately means higher business revenues. Digital workflows happen only on the computer, there is no paperwork whatsoever. What digital workflows do is build a strong foundation to carry out workflow automation, which is critical for business processes to function smoothly without intervention.
Digital workflows offer limitless possibilities when combined with automation. Automation cuts out redundancy from business processes to ensure process efficiency and accuracy of results. While companies recognize the advantages of digital workflows, the transition from manual to digital process workflow is a challenging proposition.
Here are a few pointers that help businesses in the digital transformation:
Perform a workflow audit: This helps assess the current workflow and identify the pain points. Post this assessment, you will have a fair idea of the complexity involved in digitizing the process/s.
Prioritize the processes: Workflow audit helps in prioritizing business processes that benefit most from digital transition.
Phased Implementation: The prospect of reaping the benefits of digital workflow automation can excite businesses to jump in and try to implement on a mass scale. Ideally, the transition done in a phased manner yields better business outcomes and also enables businesses to take timely corrective action wherever applicable.
Successful adoption of digital workflows requires careful planning, implementation, and maintenance. Digital workflow automation can be as simple or as complex as we make it out to be.
Another common assumption that businesses make is that digitization applies only to high-tech business processes. The truth is that digital workflows can help businesses of all types and sizes to optimize their operations for hassle-free process flows and better business outcomes.
Value Addition of Digital Workflows
We have covered the efficiency part of implementing digital workflows in the preceding sections.
Let us now delve into the key benefits of digital workflow automation:
Eliminating the scope for human error: Automating business processes reduces human intervention to a negligible fraction. The more people are involved in the business process, the more is the margin of error and inconsistency. Digital workflows eliminate these issues.
Cutting out redundancy: Digital workflows cut off the extraneous and redundant processes to ensure an optimized workflow. As a result, work gets done faster and more efficiently.
Reducing the carbon footprint: There is minimal or zero paperwork involved in digital workflows. Online form submissions, online inventory management, and online feedback forms are some of the ways digital workflow automation cuts down on the carbon footprint of the business.
Choosing the Right Digital Workflow Software
The decision to digitize your business workflow is only half the battle won, the actual success depends on the choice of workflow software. Here are a few tips to help you choose the best fit for your business:
Does the software have an intuitive user interface?
What are the control features for security?
Does it provide tracking and reporting features?
Is there flexibility to customize according to your business?
Are the payment plans flexible?
Run the potential digital workflow solutions by these questions before you make a decision. One of the digital workflow automation solutions that provide all the above features is Cflow.
Cflow is cloud-based workflow software that helps you automate your business processes quickly and efficiently. It provides you with tools to identify the process bottlenecks, improve productivity, and optimize business operations.
At Cflow we believe in leveraging technology for better business outcomes. To see how quickly and efficiently you can automate your workflow, request a demo today.