What is Digital Process Automation?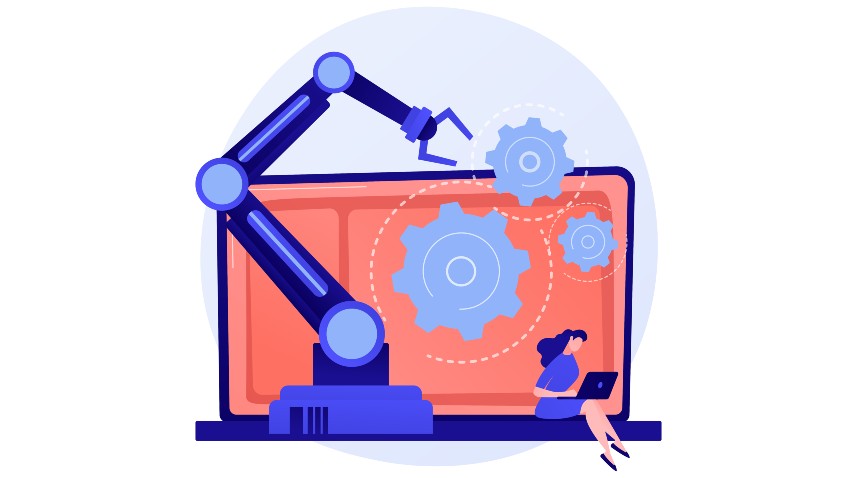 Business process management (BPM) helps businesses optimize their business operations. The first step in business process management is to review and understand existing process flows. This enables businesses to differentiate steps requiring human intervention from those that don't and identify redundancies and bottlenecks.
Know How Digital Process Automation Can Benefit Your Business
Process automation is integral to BPM as it ensures transparency and uniformity in managing business processes. Process automation, in general, can enhance your business efficiency and provide you with new insights into handling business challenges. IT everywhere expects fluid, integrated and adaptive processes with sophisticated automation solutions. So businesses must have holistic approaches to thrive in digital transformation successfully.
"The next five years will be more disruptive than the last 15. This is NOT business as usual. A lot of technology that came in three years ago doesn't work anymore." — Saul Berman, IBM
This is absolutely true. Digital process automation is a hot topic and a big market right now. The emergence of IoT, expeditious adoption of AI, and edge computing are making enterprises accelerate in the unambiguous path of digital transformation.
As technology vendors, we need to embrace this paradigm shift. The constant transformational process should be embraced, and be ready to optimize your internal operations in the digital age market. Have a clear goal that will direct your ideation to actual implementation and simplify the complexities.
Enterprises need to be resilient by being innovative and adopting fluid strategies which will unleash their hyper-productivity. They must model an ideal digital workflow and automate those steps that do not require human intervention. This is where digital process automation can contribute significantly.
What is Digital Process Automation?
Digital process automation (DPA) is the last step in the evolution of BPM. It is a tool powerful enough to address the project management system with more advanced abilities. BPM is becoming a global thing aligned with customers. Low-code development tools are used to automate processes across multiple applications. Sales, marketing, management, production, and IT use DPA to automate their business processes.
What does DPA mean exactly? DPA is part of business process management that optimizes processes and practices, allowing teams to focus on tasks that matter. A simple explanation is that DPA eliminates those tasks that a process need not perform. Businesses with a BPM will find it very easy to implement digital process automation.
DPA is a method that focuses on automating workflows using the software. Certain tasks in sales, marketing, or IT require a certain level of human intervention; in such cases, partial automation can be done. Often, digital process automation and business process automation (BPA) are used interchangeably. Although the aim of both processes is the same, they differ in many ways. BPA is the technology-based automation of activities to accomplish a specific function. Digital automation, on the other hand, assumes that business processes are already digitized and focus on optimizing digital workflows. BPA builds, operates, and automates manual processes, while DPA focuses on the human element of interaction by updating processes.
Digital automation automates one or more tasks in a business process. Mostly, partial automation of the process is achieved through digital automation; some aspects of the process workflow still require human intervention.
Robotic process automation (RPA) is software that creates robots or bots that can mimic, learn, and execute rule-based business processes. Intelligent process automation (IA) is the new trend in DPA, a combination of robotic process automation and artificial intelligence. IA covers the entire automation journey, from discovery to work orchestration.
Is Digital Process Automation Required For Your Business?
Businesses looking to optimize their operations would look at automating routine and repetitive tasks through digital process automation. Digital processes eliminate the need for human intervention for repetitive tasks, thereby saving the time of employees for more intuitive tasks.
Here are a few reasons why businesses should automate their business processes:
Do away with manual effort – Manual effort is prone to error, variability, and bias. Automation of repetitive tasks increases the speed and accuracy of processes.
Increase productivity – Automation provides better control of the process flow and improved use of resources, which results in increased productivity. Lesser human-induced variance also results in less scrap.
Better safety – In industrial processes, automation of risky tasks ensures human safety.
Better customer engagement – Digital automation aims at creating better customer engagement.
In general, any business looking to improve its processes' accuracy, speed, and productivity can look at digital automation.
Trends and Predictions in Digital Automation
The accepted business principles which were accepted for generations have been completely turned upside down by the global pandemic. Now leaders know that digital automation is the only way for future businesses to be efficient. As we head into the post-pandemic world, it is good to know some of the trends and predictions of digital automation.
Hyperautomation is the ultimate solution.
Companies are focusing more and more on IoT, AI, machine learning, digital twins, DPA, and RPA. But if they are kept in silos, then their capabilities cannot be fully explored, and the expected results cannot be achieved. So, enterprises that utilize one or more of these technologies can unleash hyper-productivity and solve unique problems, thereby uncovering new business opportunities. This is called hyper-automation.
Leading CIOs will adopt hyper-automation strategies by embracing cloud-first platforms and speed strategies to provide end-to-end solutions, as predicted by Forrester. Also, the IDC states that by the end of 2025, 30% of cities with a blend of hyper-automation can improve remote management of critical digital services and infrastructures.
Humanoids are the norm!
Yes, you heard it right. Humanoids are the new norm. But not the ones like in the I, Robot. Humans and machines work closely together, and the last few years have been a debate on pitting humans against machines.
Anything can be automated. Everything that can be automated should be automated as everything needs to be augmented. As Gartner predicted, 80% of machines automate business processes and provide the necessary information for people to make informed decisions. Many leaders accept the fact that the technological changes due to digital automation are not in the far-off future. IDC also predicted that in the next two years, 50% of enterprises will have their own AI-enabled robot assistant, which will help them prioritize activities, collect information and automate repetitive work.
Pragmatism is the key
Innovation at its early stage is simply all aughts, and before the pandemic, there was no major pragmatic innovation to adopt digital automation on a larger scale. The international data corporation (IDC) predicted that 70% of all organizations would transform their existing business processes using digital automation to improve employee engagement, customer satisfaction, and business resiliency by 2022. Also, Gartner predicted in the next three years, enterprises with digital it process automation would have adopted hyper automation and lowered operational costs by 30%.
Creating Innovation Powerhouses.
Innovation powerhouses are made when a larger software enterprise gobbles up smaller startups to maintain consistency in the areas of RPA, AI, and cloud computing. The merger and acquisition (M&A) activities have been going on for some time now as it provides valuable business insights for future growth.
By 2024, it is expected that one or more mega technological vendors will survive as a standalone and acquire targeted hyper-automation companies leaving 60% of RPA dispensable. Globally around 2000 companies have acquired at least one AI-integrated software for automating their business processes.
Integration plays a major role in these M&A activities. Businesses are now deeply involved in creating what they call "digital innovation factories." They want to morph the collaborative business cloud with the new automation tools with the view of a holistic approach.
Defiance is impractical!
All these trends and predictions are expected to happen in the near future. Within the next few years, digital native companies will have transitioned completely towards hyper-automation. So resisting these changes is futile as it is the way of the future. Digital automation is the future.
Digital Process Automation vs. Robotic Process Automation
The shifting paradigm of automation has revealed that DPA and RPA are among the fastest-growing segments of BPM technology at present. A recent study has revealed that the RPA market will reach $246 million by 2022 compared to DPA, which has a net worth of $6.76 billion and is expected to reach $12.61 billion in 2023.
So do they compete or complement one another? They both have the same goals with distinct technological features. But put together, they will be the embodiment of hyper-automation and becomes the pillar of digital transformation.
RPA is a technology that allows users to automate repetitive and mundane tasks using bots. These bots complete their routine without human intervention. So an RPA doesn't necessarily replace the BPM platform. The automation depends on the bots and integrates with an external API. However, RPA is not a standalone as it doesn't have AI or machine learning to make decisions. It is deployable as PaaS and has a low code futuristic approach; it can automate hundreds of tasks which doesn't require human intelligence.
DPA signifies how BPM technologies have evolved over time. When interacting with enterprises, DPA focuses on giving better experiences to vendors, partners, stakeholders, and customers. It sounds similar to BPM, but there is a difference. DPA acknowledges that the business is already digitized and ready to be optimized. DPA is well suited for maintaining transparency, triggering notifications, and automating customer tasks. In general, DPA is best for programmatic, exploratory, and transactional tasks such as customer onboarding, credit approvals, and purchase orders.
Though DPA and RPA can be implemented separately, their true potential is seen when deployed together. RPA eliminates the need for human intervention, while DPA can help improve customer experience. Since DPA is not designed to replace humans completely, this is where RPA comes to fill the gaps. DPA and RPA complement each other and help organizations to achieve their automation goals.
End-to-end workflow automation
Build fully-customizable, no code process workflows in a jiffy.
Suitability of Digital Process Automation
Digital automation enables the optimization of business operations. The nature of business operations is an important factor to consider while deciding on automating processes. What type of processes can be automated effectively? Processes that involve data collection, activity tracking, triggers, approvals, compliance and standardization, and information routing can be effectively digitized.
The suitability of DPA is as below:
Triggered tasks: Triggers can be initiated by humans or machines. Any event or request occurring in a CRM system can trigger a process. In such processes, triggering can be automated.
Data collection: Online registration or feedback forms generate a lot of data, which can be automatically extracted or received from a system. Data collection processes can be automated effectively.
Activity tracking: Processes that need to be measured or audited can be automated for better control and tracking.
Information routing: Data exchange between two systems is based on a set of rules and logic that can be automated.
Risky manufacturing steps: In industrial environments, repetitive actions that are risky for humans can be automated. Automating repetitive steps in manufacturing or assembly helps reduce the hours worked per week.
Those were some of the cases where digital process automation proved to be effective.
Implementing Digital Process Automation for your business
You can implement digital process automation for your business in these four simple steps.
Pin down the automation candidates – the first step is investigating which business processes needs to be automated. Managers in enterprises usually do this. They can also use process mining tools to help simplify the investigation process. Once identified, they can prioritize the automation based on opportunities.
Discuss and collaborate with IT – Finance, sales, marketing, and management teams should work together with IT. their automation center of excellence evaluates and decide which processes need automation. The automation is implemented using RPA, DPA, or even a dedicated cloud software service.
Ensure guidance – privacy and security teams should keep a close eye on the digital process automation tools. They work closely with the IT and management teams to identify risks with any specific automation processes.
Ensure scalability – ROI is a key element here. It is always better to start small. Simple and short-term deliverable ROI will boost team confidence and brings out their true potential. Once the organization reaches its expected ROI, then it can move on to large-scale hyper-automation strategies.
Use Cases of Digital Process Automation
Some of the examples of business processes that can be automated with DPA:
Procurement: DPA plays a major role in procurement. It can help automate many processes such as transferring data from ERP to the ordering systems, data entry in tracking systems, automatic invoice creation, and updating when the purchase orders are placed.
Onboarding customers: DPA helps in executing various tasks related to customer onboarding. DPA can streamline the customer journey and customer experience. This includes tasks such as automatic entering of data across multiple applications, conducting background checks, automatic welcome emails when users sign ups, and creating login credentials.
Loan credit process: Process automation enhanced with DPA tools can help regulate the approving and declining process of financial loans. When you automate the loan processes, you can request funds, manage disbursements, and screen and check customers and documentation.
Mail and payment management: DPA manages the financial processes better. When there is a large scale payment processes, you can automate them and receive receipts on time. This ensures better security and visibility over money handling.
Order fulfillment: DPA tools can strengthen customer relationships by managing shipments efficiently, tracking orders, and automating backend work. With information stored in servers, managers can easily track a shipment's location and provide regular order status updates.
Digital Process Automation Tools
There are two types – DPA deep tools and DPA wide tools. DPA deep tools tend to be best suited for managing long business processes. They are typically built using traditional business process modeling practices. These DPA tools are ideal for healthcare, banking, and insurance industries, which have powerful process requirements. There are several traditional BPM vendors such as Appian, Bonitasoft, IBM, OpenText, Pegasystems, Genpact, Bizagi, and Kofax. These are providers of DPA deep tools.
On the other hand, DPA-wide tools help work across different automated platforms, especially in a rapid development scenario. These tools have a strong sense of orchestration capabilities. These are low-code tools enabling users by providing leverage in governance. Some of the leading DPA-wide tool vendors are Creatio, Axon Ivy, K2, Nintex, AgilePoint, JobRouter, Newgen, and Ultimus.
Digital automation tools are designed to work efficiently to combine low-code/no-code workflows with AI, RPA, and machine learning abilities. With these capabilities, enterprises can manage more sophisticated workflows easily.
Advantages and disadvantages of digital automation
Typically, automation was developed to reduce human intervention. Though automation helps businesses to be more efficient and economical, there are certain pros and cons which need to be acknowledged.
Pros:
* The very obvious advantage is reduced human intervention.
* Higher production rates are possible, allowing industries to be more productive in using resources at a reduced cost.
* Productivity increases when automation is implemented, which increases innovation and creates value for the company.
* Effective use of resources is one of the best advantages of automation. New technology impacts businesses in different ways, which leads to greater ROI.
* Since automation reduces or eliminates human intervention, the quality of the product is significantly improved. This, in turn, results in greater customer satisfaction.
* Safety is improved by limiting human error, reducing costs, and improving production process efficiency. This is especially true for industries such as mining and agriculture.
* Reduced labor workload is seen as an important benefit of digital automation. You can automate anything from start to finish and maximize the output. Automating factory processes from beginning to end will increase production by 60%.
* Consistency is crucial, and automation helps businesses maintain consistency and stability. It allows businesses to explore new options and adapt to changes based on what customer wants. The market is dynamic, and the trend changes as consumer needs keep changing. You can save time, and money and make new innovations with automation.
Cons:
* Displacement in work is one of the significant disadvantages of automation. As automation has reduced human labor, and is faster and more accurate, it replaces human needs, thereby cutting off employment. For instance, when Disney started using self-driving cars to transport its guests, many people feared it would create fewer job opportunities for humans.
* Automation, though efficient, is not economical. Implementing the DPA tools requires large capital expenditures. Since everything is cloud-based and data management is completely online, automation is susceptible to cyber-attacks. This makes a company vulnerable to potential hackers.
* The convenience of automation becomes redundant when the particular automation tool becomes obsolete. They need constant modifications to keep up with the dynamic business world out there. Otherwise, they would become redundant to the particular business solution. Making these changes can be an additional workload for the company.
* Chances of unexpected safety hazards are possible during the operating conditions of the automation tools. For instance, a self-driving/driverless cab is programmed to drive autonomously. But what if it causes an accident for a pedestrian? What are the ideal conditions in a street for pedestrians to use it?
* Though automation can replace some human jobs, automation still needs human help. When a self-driving car runs, it detects most of the obstacles on the road. But what if the sensors misinterpret an obstacle while driving through a barrier or when there is low visibility? Here automation needs human help.
How Can Choose Cflow Make a Difference?
Digital automation streamlines business processes, making complex business decisions faster. Aside from the pros and cons, digital process automation is increasingly adopted by businesses worldwide. However, automation has been here around for centuries. The machines at present cannot complete a task five years ago.
To make informed market decisions and face the dramatic markets and learn from mistakes, you need to adopt DPA strategies. Machines are now designed with the ability to learn from their mistakes through AI and machine learning. These advancements will definitely result in a huge change in how humans interact with computers in the future.
"There is no alternative to digital transformation. Visionary companies will carve out new strategic options for themselves — those that don't adapt will fail." — Jeff Bezos, Amazon.
A no-code cloud BPM solution like Cflow empowers organizations to breeze through digital process automation. Our easy-to-use visual form builder enables even a non-technical person to set up a business process workflow within minutes. You can transform and streamline your business processes with Cflow's automation features.
What would you like to do next?​
Automate your workflows with our Cflow experts.​
Get your workflows automated for FREE
---