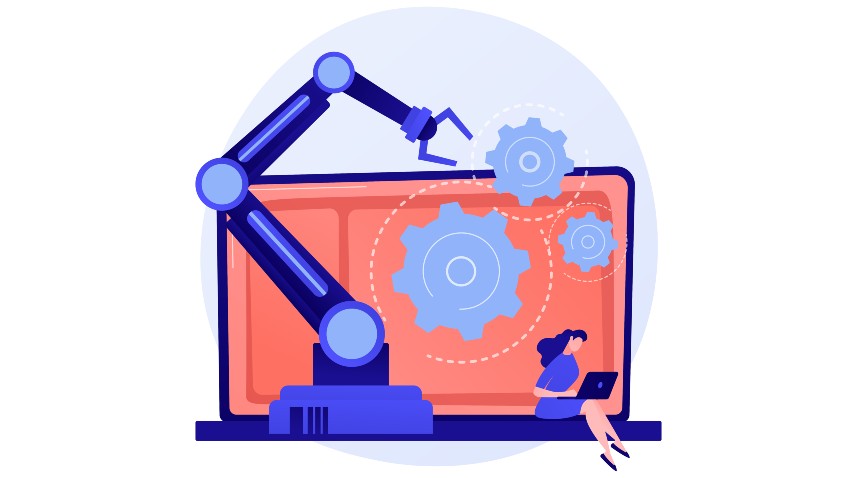 Digital Automation
• 4 min read
What is Digital Process Automation?
Is Digital Process Automation Required For Your Business?
Business process management (BPM) helps businesses optimize their business operations. The first step in business process management is to review and understand existing process flows. This enables businesses to differentiate steps requiring human intervention from those that don't and identify redundancies and bottlenecks. The next steps are to model an ideal digital workflow and automate those steps that do not require human intervention. This is where digital process automation can contribute significantly.
What Is Digital Process Automation?
Digital process automation (DPA) is part of business process management that optimizes processes and practices, allowing teams to focus on tasks that matter. A simple explanation is that DPA eliminates those tasks that a process need not perform. Businesses that have a BPM in place will find it very easy to implement digital process automation.
DPA is a method that focuses on the automation of workflows using the software. Certain tasks in sales, marketing or IT require a certain level of human intervention, in such cases, partial automation can be done. Often, digital process automation and business process automation (BPA) are used interchangeably. Although the aim of both processes is the same, they are different in many ways. BPA is the technology-based automation of activities to accomplish a specific function. Digital automation on the other hand assumes that business processes are already digitized and focus on optimizing digital workflows. BPA builds, operates, and automates manual processes, while DPA focuses on the human element of interaction by updating processes.
Digital automation automates one or more tasks in a business process. Mostly, partial automation of the process is achieved through digital automation, some aspects of the process workflow still require human intervention.
Robotic process automation (RPA) is software that creates robots or bots that can mimic, learn, and execute rule-based business processes. Intelligent process automation (IA) is the new trend in DPA, which is a combination of robotic process automation and artificial intelligence. IA covers the entire automation journey, from discovery to work orchestration.
Need for Digital Process Automation
Businesses looking to optimize their operations would look at automating routine and repetitive tasks through digital process automation. Digital processes eliminate the need for human intervention for repetitive tasks, thereby saving the time of employees for more intuitive tasks.
Here are a few reasons why businesses should automate their business processes:
Do away with manual effort – Manual effort is prone to error, variability, and bias. Automation of repetitive tasks increases the speed and accuracy of processes.
Increase productivity – Automation provides better control of the process flow and improved use of resources, which results in increased productivity. Lesser human-induced variance also results in less scrap.
Better safety – In industrial processes, automation of risky tasks ensures human safety.
Better customer engagement – Digital automation aims at creating better customer engagement.
In general, any business looking to improve their processes' accuracy, speed, and productivity can look at digital automation.
End-to-end workflow automation
Build fully-customizable, no code process workflows in a jiffy.
Suitability of Digital Process Automation
Digital automation enables the optimization of business operations. The nature of business operations is an important factor to consider while deciding on automating processes. What type of processes can be automated effectively? Processes that involve data collection, activity tracking, triggers, approvals, compliance and standardization, and information routing can be effectively digitized.
The suitability of DPA is as below:
Triggered tasks: Triggers can be initiated by humans or machines. Any event or request occurring in a CRM system can trigger a process. In such processes, triggering can be automated.
Data collection: Online registration or feedback forms generate a lot of data, which can be automatically extracted or received from a system. Data collection processes can be automated effectively.
Activity tracking: Processes that need to be measured or audited can be automated for better control and tracking.
Information routing: Exchange of data between two systems is based on a set of rules and logic that can be automated.
Risky manufacturing steps: In industrial environments, repetitive steps that are risky for humans can be automated. Automation of repetitive steps in manufacturing or assembly helps bring down the hours worked per week.
Those were some of the cases where digital process automation proves to be effective.
Market Outlook for Digital Process Automation
A recent report by Markets and Markets predicts that the Global DPA market will reach 12.61 billion USD by 2023 at a CAGR of 13.3%. The increasing demand for automation and adoption of low-code automation platforms is the driving force behind the market growth. Another Markets and Markets report predicts the Global Intelligent Automation Market to reach 13.75 billion USD by the year 2023.
IA solutions streamline business processes so that complex business decisions are taken faster.
A no-code cloud BPM solution like Cflow empowers organizations to breeze through digital process automation. Our easy-to-use visual form builder enables even a non-technical person to set up a business process workflow within minutes.
To learn more about our workflow automation solutions. Sign up for the free trial of Cflow today.
Get your workflows automated for FREE