A Comprehensive Guide to IT Process Automation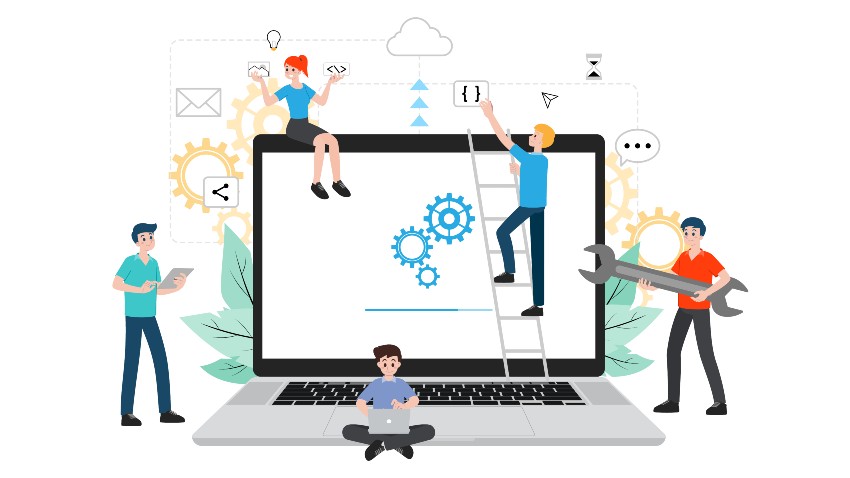 Process automation is one of the most powerful technologies available today. Automating key business processes helps companies improve their productivity significantly. Process automation speeds up response times and creates better user experiences by eliminating repetitive work and avoiding errors. Key business workflows like finance, procurement, IT, and HR can be automated using workflow automation tools like Cflow. IT process automation (ITPA) brings several benefits to the team by alleviating the burden of manual labour or repetitive tasks and freeing up IT personnel for performing more valuable tasks.
Understanding IT Processes
The decision to go for IT process automation should be backed by a good understanding and mapping of various IT processes. IT teams have a lot to gain from automation.
What is an IT process?
IT processes are a series of steps that the team follows to accomplish the end goal. For example: handling IT requests from various departments is the main task for the team. A request for a new laptop submitted by any employee is routed to the IT team. The end goal of this process is to assign a laptop to the employee who requested the laptop. From logging the request to grant the laptop, there are several sub-tasks like identifying the right model of the laptop, checking its availability, seeking approval from various department heads, and updating the organizational asset database about the issue of the new laptop. The IT request process workflow typically comprises sub-tasks such as the ones mentioned previously.
There is a lot going on in the IT department on a daily basis, from handling service requests to monitoring and servicing hardware and software to implementing new technologies. Other tasks include working out the bugs, monitoring compliance security and maintenance, and issuing new hardware and software. A mere look at the long list of tasks that IT handles on a daily basis can be overwhelming, but the good news is that automating the manual components of these tasks relieves the team from labour-intensive work and speeds up the processes.
Now, where does IT process automation software fit into the picture? IT process automation can streamline IT processes so that less time is spent on repeatable and low-value tasks like data verification/updation and approvals. ITPA tools replace the human effort in IT systems by taking over repeatable instructions or tasks. IT process automation is key to process optimization and digital transformation.
IT process automation software helps plug the gap between multiple IT systems to give a single source of truth. Multiple systems, applications, and platforms can be bridged together via IT process automation so that infrastructure is unified and bottlenecks are eliminated.
What is IT Process Automation?
There has been a mention of IT process automation in the above discussion. But, what is IT process automation? The use of technology to automate complex IT processes in order to eliminate bottlenecks, and reduce errors and inconsistencies, while improving transparency and visibility throughout the process is called IT process automation. IT process automation solutions focus on process automation, information centralization, and minimizing human effort. IT process automation tools increase transparency within IT processes and accelerate the IT processes.
Automation in IT removes human input while decreasing errors and inconsistencies. IT process automation incorporates software tools, people, and processes, to create a completely automated workflow. IT automation is sometimes referred to as infrastructure automation because it uses software to create repeatable processes and instructions to replace or minimize human intervention. Process automation has grown into a necessity from a mere trend. IT process automation tools like Cflow are no-code BPM solutions that can automate IT workflows within minutes. The easy-to-use drag-and-drop user interface makes process automation a breeze.
Once the IT process that requires automation is identified, a workflow that takes care of all the functions is created. The workflow is made up of specified procedures that are scheduled in advance or activated automatically by specific triggers. The automated process escalates notifications or alerts based on the preset parameters. When you automate IT processes the results are faster and more efficient, and error margins are significantly reduced. When it comes to automating IT tasks, there is a wide scope for automation possibilities. Automation could be as minimal as the automation of one-off tasks or as intensive as automatic full deployments.
Benefits of IT Process Automation
While the main perk of ITPA is the automation of manual work, there are several other ways ITPA adds value to the business. Some of the more tangible benefits of automation in IT include:
Improved accuracy – The IT department handles sensitive business information. IT automation replaces the human element with secure and compliant preset workflows. The absence of human intervention in data handling, validation, or updation, not only improves the accuracy but also makes the processes more compliant.
Reduced costs – Businesses that have used workflow automation have reported a 59% cost reduction. The money saved can be used to reinvest and grow the business. The cost savings are due to a number of factors like increased process speed, fewer bottlenecks and delays, fewer errors and duplicates in data, and more time for the team to perform important tasks.
Streamlined team collaboration and communication – Automating feedback requests, emails, and other types of communication helps seal the communication gaps within the team. Automating the communication channels promotes collaboration within the team and across the organization.
Faster response times – Whether it is a request for a new laptop or the resolution of a software bug – response time is everything. By automating the IT request logging process, all requests can be organized and escalated according to priority and criticality. This way IT teams are able to respond faster to priority requests and solve issues faster and more effectively.
Improved visibility – Manual processes lack visibility into the status of every task, as a result, IT requests fall through the cracks. Automation of IT request management improves visibility so that you never lose track of a ticket or an urgent request. This way updates do not rely on manual inputs, and managers are always on top of workflow updates.
Improved productivity – Automation of repetitive admin tasks relieves the IT team from low-value tasks. This time can be utilized by IT personnel to focus on more strategic and critical tasks. Increasing focus on mission-critical tasks improves the productivity of the IT team. Moreover, when IT personnel work on important tasks rather than mundane tasks, they feel more valued in the organization.
Standardization of process – Automation brings about standardization in business processes by eliminating the human element. Automation creates consistent process frameworks that can be easily repeated managed and optimized according to business requirements. Standard processes make it easy to enforce security requirements.
Improved resource utilization – Involving IT staff in low-value tasks results in improper utilization of their potential. With automation taking up such tasks, employees have time to work on strategic initiatives that utilize their potential more efficiently. This also improves employee satisfaction and results in positive business outcomes.
How to get started with IT Automation?
Whether you are already on the road to automation or trying to increase its adaptation or just beginning to transition from older manual systems, the challenging part is to recognize which task makes a good automation candidate. Every organization has different automation needs, but the basic steps to automation remain the same. Here is how you can get started with automation –
Identify tasks and processes prime for automation –
Process automation is not suitable for all IT tasks. How do you make out that a task is apt for automation? Some process characteristics that indicate that the process is apt for automation are: repetitive, time-sensitive, involves the number of people and pieces, requires auditing or compliance trials, impacts other systems and processes, is rule-based or standardized, and potential for high ROI.
Set organizational goals –
Any change in a process must be aligned with the overall organizational goal. Organizational goals need to be clearly defined so that process automation methods can be designed to achieve these organizational goals. Process KPIs must be in place in order to measure the effectiveness of the automation. Once organizational goals are clear, decision-making becomes easy and clear.
Choose the right tools –
Choosing the right IT process automation tools is important for the successful implementation of the automation solution. Professionals who have success in creating successful automation systems must be involved in choosing the right tools. Ideally, IT process automation software must be simple and easy to understand, have an intuitive user interface, scale according to evolving business needs, and integrate seamlessly with other business systems.
Manage change efficiently –
Change management is an important step when you transition into the new automation software. Getting the buy-in of your staff and training them to use the software effectively is important for successfully transitioning to automation. Having all the IT staff on the same page helps build a positive attitude around the transition. Key team members must be involved in all the stages of automation, from planning to implementation to training.
Feedback –
Once the new automation solution is implemented, its performance must be measured using KPIs. Continuous monitoring of the KPIs is the best way to gather feedback on the new automation solution. Wherever a drop in performance is observed, the root cause must be identified and process re-evaluation must be done to put it back on track.
End-to-end workflow automation
Build fully-customizable, no code process workflows in a jiffy.
IT Processes Suitable for Automation
Compared to other business workflows, IT process workflows are relatively complex and require a robust automation solution to handle their complexities. Although IT processes are difficult to automate, having a structured and standardized workflow can ease the transition to IT automation. Some of the IT processes fit for automation include:
Service requests – Handling service requests is the main job of the IT team. The nature of these requests varies widely; from new laptop requests to debugging an internal software tool; and from fixing damaged hardware to ensuring data compliance and security. Such processes can be effectively automated. Although there may be ad-hoc requests initially, a solid workflow can be set to ensure that the IT team does not get swamped with innumerable and undocumented requests. Having an automation workflow is much more efficient than having to use a paper form for every request. Once a request is raised, it is automatically assigned to the appropriate IT team member. Once the request is cleared, it is automatically removed from the queue.
Change requests – Apart from laptop servicing, IT teams take care of updating records and databases, implementing changes to the company's ERP systems, and data updation. Handling change requests is another important task taken care of by the IT team. Change requests are initiated when there is a database or record that needs to be updated. Digitizing change request management ensures that all the clarification is done while logging the change request. Simple forms and emails can be used to handle change requests automatically.
Ticketing system – Automating the ticketing system in IT ensures that all the tasks can be tracked, assigned, and closed as efficiently as possible. An automated ticketing system helps handle ad-hoc requests that are logged by employees. Centralized information access and availability is the greatest advantage of an automated ticketing system.
Asset management – Assigning or returning the hardware is a critical step during the employee onboarding or offboarding process. Having manual forms and papers for tracking these requests makes it much simpler. Whenever a new user requests new equipment for IT, all they need to do is to create a digital form with the necessary details. Upon receiving the request form, the IT team processes it and issues the requested equipment/hardware. A similar process is followed during offboarding, where the details of the assets to be returned by the employee are provided to the IT team.
Compliances and auditing – Any software used by the organization and its employees needs to adhere to compliance standards. All the safety and regulatory standards must be met by the software. The IT team needs to conduct regular audits to ensure that these regulatory standards are met at all times. This isn't very effective when done manually, this is where IT process automation comes into the picture. Through automated forms, the IT team does not have to manually screen every employee's form. A master compliance database keeps them updated on whether each employee has finished compliance testing or not.
IT Automation Best Practices
To get the best out of IT automation, organizations need to follow certain best practices. Here are some best practices to follow while deploying IT automation.
Carefully consider what needs to be automated –
Automating all the processes in IT is not a good decision because not all process outcomes can be improved via automation. It should be determined well in advance what processes need to be automated. The time freed by automation must be well utilized in order to derive the complete benefit of IT process automation.
Get total buy-in from the team –
It is important to seek complete buy-in from the entire team. Before making big changes to the IT infrastructure, discussions must be held with the entire team in order to gain their approval and trust. This enables a smooth transition during automation.
Choose tasks that require low skill but are time-consuming and labour-intensive –
IT processes that require low skill levels but involve a lot of time and resources need to be automated first.
Prioritize flexibility –
Lack of flexibility is one of the drawbacks often associated with automation solutions. To get the most out of automation, organizations need to prioritize flexibility in the enterprise.
Focus on long-term goals –
While choosing the workflow automation solution, organizations must keep long-term organizational growth in mind. Prioritize tasks that contribute to this long-term goal. Instead of implementing the automation solution in one go, it is better to proceed incrementally.
Position a dedicated automation lead –
Appointing a competent automation specialist to lead the entire automation exercise designates a point of contact to funnel resources to and from the automation exercise. The lead specialist also ensures that proper documentation is created every time the process is automated.
Don't hesitate to pass on automation where it doesn't fit in –
It is not necessary that all the processes are a fit for automation. For example, services that require significant customization or stand-alone deliveries will not benefit from automation. Choose to leave such processes out of the automation plan.
Effective as it may seem, IT process automation is a decision that most organizations put off. The reasons may vary from unpreparedness to apparent job loss within the company. However, choosing the right IT process automation tools makes all the difference in the transition. Cflow is a workflow automation tool that provides companies with quick and effective automation solutions. The visual form creator in Cflow enables even a person with a non-technical background to create process workflows. IT process automation software makes life super easy for IT staff by relieving them from repetitive, mundane tasks.
Conclusion
The decision to automate IT processes must be backed by in-depth research of existing processes and the tasks that make up the process. IT process automation is more of a necessity for progressive organizations that look to improve productivity and operational efficiency. Choosing a powerful cloud-based BPM solution like Cflow helps businesses derive the best out of workflow automation. The insane automation capabilities that Cflow brings to IT processes make it the most trusted and reliable workflow automation software. To explore the various features that Cflow has to offer, you can sign up for the free trial today.
What would you like to do next?​
Automate your workflows with our Cflow experts.​
Get your workflows automated for FREE
---