Top 10 Automation Software for Improving Business Outcomes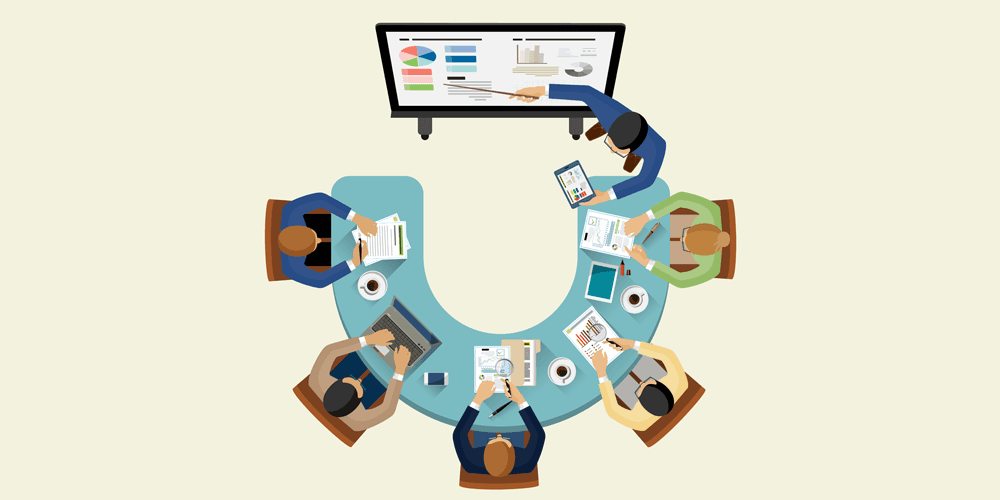 Business automation has touched almost every industry – from manufacturing industry lines to healthcare systems to financial institutions. The capabilities that automation software brings to businesses are further enhanced by artificial intelligence and machine learning technologies.
Intelligent automation is changing the way machines and humans are interacting with each other. Using the best automation software for your business improves operational efficiency, drives ROIs and helps gain a competitive edge. This article explores automation in detail and includes tips on choosing the best automation platform for your organization from the best automation tools in the market.
What is Business Automation?
Business automation software is a term used to describe technology applications that perform repetitive tasks, thereby, freeing up employees for more productive work. automation platforms include business process automation (BPA), robotic automation, and Intelligent automation. During the initial stages of automation, massive mainframes that were operated and maintained by a team of experts were needed. Now, cloud-based automation software has brought automation within the reach of companies of all types and scales.
A business automation platform systematically replaces repetitive manual effort with intuitive rules-driven automation, real-time analytics, and open collaboration. BPA technology enables standardization and streamlining of business processes that are handled by employees.
For example: Onboarding new hires is made up of several steps that are repetitive and require low levels of intelligence. These processes can be effectively automated by automation tools, which improves operational efficiency and accelerates the onboarding process. How do you make out which process is a prime case for automation?
• Processes that require high levels of consistency throughout the organization
• Processes that are repetitive and require low intelligence efforts
• Processes that require high accuracy and speed levels
Investing in automation software speeds up the workflow and improves the productivity and efficiency of the process. Automation software platforms help create workflows that automate mundane and repetitive tasks.
Types of Automation
Basic Automation
Basic automation takes up the automation of simple, rudimentary tasks that are time-consuming and labor-intensive. This type of automation used very little or no coding and basic automation tools to digitize repetitive tasks. These tools help eliminate errors and accelerate the pace of transactional work. Examples of basic automation are business process management (BPM) and robotic process automation (RPA).
Process automation
This type of automation brings uniformity and transparency into business processes. Process automation requires dedicated software for automating steps in the process workflow. The use of process automation software increases productivity and efficiency and delivers useful business insights. Examples of process automation include process mining and workflow automation.
Advanced automation
Advanced automation combines human effort with the machine working into an integrated system. Multiple integrated systems are used across organizations to automate key processes. Advanced automation systems for complex processes require unstructured data coupled with machine learning, natural language processing, and analysis. This type of automation promotes knowledge management and decision support for specialized processes.
Intelligent automation
Intelligent automation is an automation system that is driven by artificial intelligence. Using AI enables machines to learn and make decisions based on situations that they have encountered and analyzed. An example of intelligent automation is the use of virtual assistants in customer service. These assistants enable smarter and quicker interactions between customers and human agents. Such interactions help in improving customer engagement and experience.
Enterprise-wide intelligent automation
Refers to the pervasive use of intelligent automation across the enterprise. This capability extends beyond the technologies in use to the breadth of their applications, which extends to the use of intelligent automation in transforming the way work is executed in the workplace.
BPA versus RPA versus BPM
We have discussed what automation is all about, and the different types of automation. To choose the one right for your business, you need to understand the difference between the types of automation. process automation or BPA is the automation umbrella that covers all types of automation systems.
Robotic process automation (RPA) uses software to automate specific repetitive tasks. RPS is exclusively for mimicking repetitive steps that humans take, like copying and pasting data into a field. BPA tends to handle more complex tasks than RPA. Typically, the end user can train and deploy RPA bots without the need for development skills.
Most of the RPA solutions are easily installed pre-built software tools that run on top of existing systems without the need to connect to databases or access application programming interfaces (APIs). BPA solutions on the other hand are customized for a specific organization and integrated into data systems or connected to APIs. Both BPA and RPA can use AI and ML technologies to interpret unstructured data like images, emails, and audio files to provide a personalized user experience.
Business process management (BPM) is a collaboration between business and IT teams for modeling, analyzing, and optimizing end-to-end business processes, which helps businesses meet strategic goals. BPM is a continuous process that leads to improvement over time.
The end goal of BPM and BPA is to improve tasks and processes that are repetitive, ongoing, and predictable. Both of them aim to improve efficiency and reduce costs. Although the end goal is the same for BPA and BPM, the methods to achieve the goals vary.
BPM takes a wise view of the organization, while BPA aims at improving specific processes. When we apply BPA within a BPM practice, it can continuously track and improve process efficiencies. It is not always necessary that BPM and BPA should work together, both these systems can work as stand-alone initiatives that impact business productivity and efficiency positively.
Need for Automation
Automation of business processes has grown into a necessity from a good have. Automating business processes may be intimidating at first, but a well-planned and implemented process can increase your business efficiency and save time. Using automation software like Cflow simplifies and streamlines the automation process. Irrespective of the BPA software you choose, the following advantages are provided for your business:
Saves time
Automating repetitive, labor-intensive tasks frees up time for the employees so that they can focus on more important tasks.
Improve productivity
Automated tasks run on their own set schedule, this means that employees need not worry about follow-ups or missed tasks.
Increases consistency
Automation ensures that tasks are streamlined and run smoothly without any hiccups or missteps.
Minimizes human error
A high level of human error causes many missed opportunities and errors in data updates. Automating data-based activities and labor-intensive, mundane tasks brings down the error margin and improves accuracy. The transactional errors committed by humans can be reduced via automation.
Empowers the workforce
When mundane admin tasks are taken care of by automation software, employees get time to focus on more strategic activities. Employees feel more valued when they work on meaningful tasks. Employee engagement and productivity improve considerably by automation.
Improves customer experience
Automation streamlines business processes by removing redundant steps and ensuring optimal use of resources. Streamlined and standardized processes improve process outcomes, eventually the customer experience.
Understand customer behavior
The right automation software can provide an accurate read on the behavior of customers. Knowing customer behavior also helps predict which products might become in demand in the future. Businesses can ensure that they have enough inventory on-hand to meet customers' demands.
Gathering business data
The information collected from automated workflows helps refine customer interactions. Better customer interactions translate to more sales, improved customer satisfaction, and optimal usage of resources.
Components of Automation Software
The main focus of automation software is to streamline and standardize business processes. The main components of automation software are described below:
1. Intelligent rules engine – A workflow engine or a rules engine is the central component of the automation software. This is an application that runs with an automation system that makes automated decisions based on preset rules. Rule-based decisions involve transitioning to a specific path, task, or action in a workflow decision. There are certain triggers that enable these automated decisions. For example, companies can establish workflows that execute functions like assigning a task to someone or saving a document to a specific folder.
2. Real-time analytics – Automation software measures and stores business metrics in a relational database. Reports and information can be displayed in real-time and scheduled for distribution when users need them. Visual reports and dashboards paint a complete picture of the process that users can easily access and share across the organization. The reports and dashboard can be used to follow team progress against Service Level Agreements (SLAs) and use business scoreboards to track the overall efficiency of business processes to drive improvements.
3. People – Even most automated business processes require human involvement and collaboration at various stages of the process workflow. While smart rules, bots, and intelligent tools can help make business workflows more efficient, people working on the process need tools that allow them to collaborate and find answers to critical questions.
Choosing the Right Automation Software
Choosing the best automation software requires careful consideration and evaluation of the features provided by the software. Over the past decade, automation platforms have seen explosive growth. While it is an established fact that automation helps improve business outcomes, the next question is to choose the right automation software. What are the key features that one should look for in automation tools?
Some of the must-have features of automated business software are:
Easy to Use –
The software must have an easy-to-use interface that makes it easy for users to operate the automation tool. Complex user interfaces are an out of for users.
Cloud and on-prem support –
The automated software must support both cloud and on-premise operations.
Cost-effective pricing –
The automation software must provide complete value for the money invested in them.
Integrations –
The automation software must integrate seamlessly with other systems for hassle-free data exchange.
Customizable –
The workflow automation software must be customizable for various business functions.
Mobile –
The software must be mobile-friendly so that businesses can stay updated from anywhere at any time.
End-to-end workflow automation
Build fully-customizable, no code process workflows in a jiffy.
Top Automation Software for Small Businesses
automation software benefits businesses of all types and sizes. The features of the automation software must be aligned with the unique requirements of your business. Some of the business processes that can be effectively automated include Finance, IT, Procurement, Legal, Sales, HR, and Marketing. The best marketing automation software for small businesses enables the team to track, manage, and optimize their marketing efforts.
The best business automation tools in the market are listed below:
1. Cflow
A workflow automation software that can be customized according to the unique requirements of your business. From Finance to Procurement to HR, key business functions can be automated with Cflow. The visual form builder enables all employees to create workflows easily. Cflow can be integrated with over 1000 essential business tools via Zapier. Trusted by over 20,000 users across the globe, Cflow is your choice for no-code automation software. The free trial period of Cflow is for 14 days. Pricing of Cflow plans is $7, $11, and $16 per month per user.
2. Hive
This is a leading project management program that provides in-app automation and integrations with outside tools for creating streamlined workflows. Hive integrates seamlessly with popular work tools like Slack, Gmail, Dropbox, and Zoom. Hive Automate is a powerful automation software that helps connect, integrate, and build automated workflows across 1000s of work apps. It helps businesses save time by automating everyday tasks and enables collaboration between colleagues and teams. The team plans are priced at $12 per user per month.
3. Hubspot
Hubspot is a popular tool that can automate email, creating, marketing, and executing sales funnel. It can also be used for streamlining customer service. The software is a compelling CRM platform that can automate multiple aspects of the user journey while tracking customer behavior. The visual editor in Hubspot helps you envision workflows in real time, from complex to multi-stage journeys. This software is ideal for larger teams in larger businesses. Pricing starts at $800 per month and an enterprise-level client is charged $3200 per month.
4. Kissflow
This is a low-code work platform that provides a wide spectrum of powerful apps, processes, or case boards that are flexible and natively integrated. With Kissflow businesses and IT can co-create apps on a unified platform. The no-code drag-and-drop visual studio helps automate workflows easily and quickly. The same platform can be used for development, testing, and production. Kissflow offers 3 pricing plans: a small business plan at $10 per user per month, a corporate plan at $20 per user per month, and a customized Enterprise plan.
5. Zapier
This is an integration platform that enables the seamless exchange of data between online tools. Repetitive tasks can be automated by Zapier. It is a great way to speed up your workflow and connect apps that would otherwise function disparately. Pricing starts at $19.99 per month for 750 automation.
6. Mailchimp
This is the best platform to automate complex emails and newsletters. Mailchimp offers an intuitive and user-friendly platform with impressive automation features. It offers email segmentation features that categorize subscribers by location, or demographic characteristics. Pricing begins at a free version and goes up to $299 per month for the enterprise-level client.
Conclusion
The "Automation and Future of Work" by IBM reveals that automation supported by AI is expected to generate revenue to the tune of billions of dollars in labor value in 2022. Intelligent automation enables the entire organization to be "ON" constantly, and optimize the delivery of goods and services to provide seamless continuity in dynamic markets.  automation software like Cflow transforms the way your business operates. To explore the best automation software for your business, sign up for Cflow today.
What would you like to do next?​
Automate your workflows with our Cflow experts.​
Get your workflows automated for FREE
---