Approvals or Rejections in the purchase process are very important for every organization because any wrong decision, delay, or a lack of streamlined process could lead to huge losses. Besides, in order to keep vendors and customers happy, it is mandatory that the company has a proper workflow integrated so as to avoid any delays and lack of proper decision making.
We are going to explore the importance of the purchase order approval process, the important elements that you should consider, the strategies that can be used, and how they can be automated to save time while minimizing errors.
Why is Automation So Important for Purchase Order Approval Process?
The size of your organization hardly matters because both large companies and small startups require automation in one way or the other. Compared to the past, access to technology is much easier these days on your computers, laptops, and smartphones. It makes it much easier to automate a process making your purchases much faster, saving costs, and avoiding wrong decisions. Purchase requisition automation is a boon for your company as it ensures operations are carried out in the fastest possible time without bottlenecks and your investment will be spent only where it is absolutely necessary.
The Five Major Benefits of Automating Your Purchase Order Approval
Saving costs
Removing any bottlenecks
Rejecting improper claims
Improving accessibility
Simplifies auditing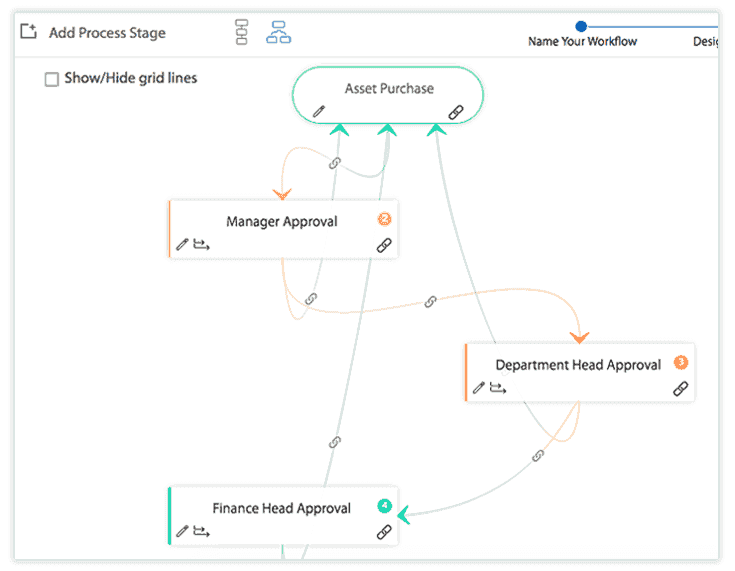 1. Cost Saving by Setting Parameters
The Purchase Order approval process is largely based on a set of parameters. The software or the administrator will quickly approve it when it meets them all. They may choose to reject it when it is not valid. This saves a lot of money spent during the waiting period and wrong approvals done without any pre-defined parameters.
Read: Why Off-the-shelf Purchase Order Software doesn't work
2. Removing Bottlenecks and Slowdowns
There is no need to wait for managers to go through every purchase order and invoice requested. They can attend to more important tasks while your automated program can focus on day-to-day tasks. It largely reduces the time taken by a deciding authority to approve or reject any request thus removing all types of slowdowns.
3. Quick Rejection of Invalid Claims
Claims that no longer meet the eligibility criteria will immediately be rejected. This ensures people who submit a request go through its content properly before they send it for approval. It also avoids a long list of waiting receipts to be approved as rejection is done in an instant.
4. Easy to Access
The entire list of purchase orders, invoices, and requests raised can be viewed on almost any platform through the power of the cloud. You can easily view them all in the workflow automation software's interface and make informed decisions in the future.
5. Easy to Audit
Auditing has never been this easy as the entire process and the long list of receipts are stored in an easy-to-access spot. The cloud service keeps track of all approved and rejected receipts in the past that you can immediately retrieve during auditing.
Adopting Automation For Your Organization.
Embracing automation for the purchase order process is not something that only corporates should do because you can try it out without the cost or investment involved in setting it up.
Cflow is workflow software that simplifies purchase order approval and provides you the freedom to focus on more important work. The true power of automation is now much cheaper, more reliable, and easy to access for all organizations than ever.
Get your workflows automated for FREE