Claims Processing Workflow: A Win-Win In Healthcare Revenue Cycle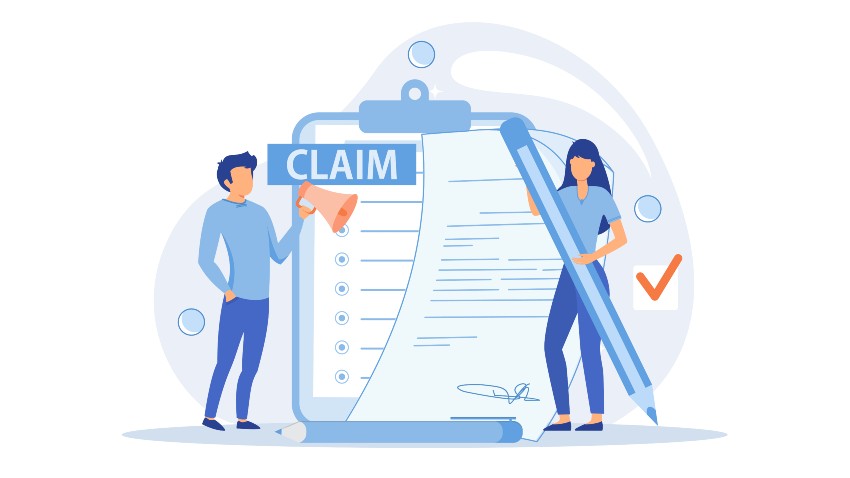 A McKinsey study reveals that " By 2025, around 25% of the insurance industry is expected to use automation workflows for processing claims, underwriting tasks, and other insurance filing activities".
Are healthcare providers aware of what is essential to accelerate organizational efficiency and enhance customer experience?- The answer would be surprising and it is a better-processed claim! What is an ideal solution to achieve it? A claims processing workflow!
A well-managed claims process ensures that customers can quickly and easily receive the compensation they are entitled to. Creating a better claims process requires a comprehensive understanding of the customer experience, a commitment to continuous improvement, and a willingness to embrace new technologies.
This write-up explores the journey of the medical claim and the challenges involved in claims processing. This blog also lists the importance of claims processing workflow in the healthcare industry and the best practices involved in unraveling the mysterious claims processing.
What Are Claims?
Medical claims are an important part of the healthcare industry. Medical claims are invoice documents that are submitted to insurance companies to request payment for services rendered by a healthcare provider. A medical claim typically includes the patient's name, date of service, procedure code, diagnosis code, and the provider's name, address, and National Provider Identifier (NPI) number. 
Additionally, medical claims also include the patient's policy information, the cost of the service, and the amount being charged. Without medical claims, healthcare providers wouldn't be able to bill for the services they provide and patients wouldn't be able to receive reimbursement from their insurance companies.
What is A Claims Processing Workflow?
The medical claim processing workflow is the set of steps that medical staff and insurance companies must take to ensure accurate and timely reimbursement to the patient. A claims processing workflow helps to streamline the insurance industry's most challenging claims process and protects the organization against reputational damage. The fundamentals of a medical claims workflow process involve:
Collecting, validating, and processing data from various sources to ensure that patients receive the correct care and are reimbursed for the services they receive. 

Typically begins with the patient's medical record and ends when the healthcare provider receives full reimbursement for all the services delivered to the patients. This includes a variety of data points such as the patient's name, address, date of birth, insurance information, and diagnostic codes. 

The data is collected by medical staff, such as physicians, nurses, and medical technicians, and then submitted to the insurance provider. 

Enough steps to ensure all the checkpoints are met, and the insurance company will reimburse you for the payment. 

If the claim is incomplete or incorrect, the insurance carrier will send the claim back to the provider for additional information or correction. The provider then must resubmit the claim with the requested changes. 

The processing time will depend on the complexities of the medical services rendered and the denials encountered and how organizations effectively collect a patient's details.
An intricate understanding of the fundamentals of claims processing will benefit healthcare providers with a smooth revenue cycle and allow quality healthcare.
Journey of A Medical claim:
Processing medical claims is a crucial aspect of the healthcare industry that involves submitting and managing claims for medical services rendered to patients. Automation solution makes this information-intensive process to be more organized driving organizations to find paths to improve their customer experience within their revenue margin. Generally, the journey of a medical claim involves much human effort and many time-consuming processes.
This section explores the steps involved in the process.
1. Claim Submission
When a patient visits a clinic or healthcare provider, the appointment and services rendered are documented and submitted for reimbursement from the insurance company. This can be done either electronically or via traditional paper mail. Paper claims are either scanned or manually entered into the system. Electronic claims, on the other hand, are directly entered into the system.
2. Initial Review
Before the claims are processed, they undergo several checks. The first is an initial review, which ensures that there are no spelling errors, dates are correct, and there are no duplicate charges. The next check involves verifying the patient's insurance coverage at the time of service.
3. In-Network Check
The claims then undergo an in-network review, where the doctor and facility are checked to confirm if they are in-network based on the patient's insurance plan. Negotiations follow, determining the payment that the doctor will receive, what the insurance provider will cover, and what the patient needs to pay out-of-pocket.
4. Eligibility Check
The patient's benefits are checked to ascertain what is covered and what is not, while medical necessity is confirmed to determine eligibility for insurance coverage in most cases. The claims are then evaluated for claim risk or quality assurance, looking out for any signs of fraud or abnormally high charges.
5. Payment Negotiation
Pricing negotiation is primarily done to ensure what is paid to the doctor and what is covered by the insurance company and what is to be paid by the patient.
6. Claim Approval
Once the claim is approved, the insurance company sends payment to the healthcare provider. The payment is posted to the patient's account, and any remaining balance is billed to the patient.
7. Claim Adjudication
The patient's benefits are checked to ascertain what is covered and what is not, while medical necessity is confirmed to determine eligibility for insurance coverage in most cases. The claims are then evaluated for claim risk or quality assurance, looking out for any signs of fraud or abnormally high charges.
8. Explanation of Benefits & Billing
Once the claim is processed, the healthcare provider is paid, and an explanation of benefits (EOB) is sent to the patient, showing what was covered and what was not. This is not a bill but serves as a reference for what the patient can expect on their bill. The patient is then billed for any balance remaining after insurance coverage and the claim is settled.
Challenges in Medical Claims Processing
The journey of a medical claim is a complex and challenging process that involves many steps and stakeholders. Healthcare providers and patients must understand the process and be prepared to navigate the challenges that may arise. A few challenges that impact smooth medical claims processing are:
1. Complex Coding And Billing Regulations:
Medical claims processing involves a lot of complex coding and billing regulations that can be difficult to navigate, even for experienced professionals.
2. Inaccurate or Incomplete Information:
Claims may contain inaccurate or incomplete information, which can delay the payment process or result in claim denials. Double billings and typos can even make the patients out-of-the packet expenses widen.
3. Higher Processing Time:
Delays In Claim Submission And Processing Can Occur Due To Various Reasons, Including missing information, coding errors, and system downtime. This can make a huge impact on processing time to slow and also involves huge labor input and costs.
4. Denial of Claims:
Claims may be denied for various reasons, including incorrect coding, insufficient documentation, and lack of medical necessity.
5. Coordination of Benefits:
When patients have multiple insurance plans, coordinating benefits between the plans can be complicated and time-consuming.
6. Communication Issues:
Communication between providers, insurance companies, and patients can be challenging, leading to misunderstandings and delays in claim processing.
7. Fraud and Abuse:
Medical claims processing is vulnerable to fraud and abuse, which can result in financial losses for insurance companies and patients.
With proper preparation and attention to detail, medical claims can be processed smoothly and efficiently, ensuring that patients receive the care they need and that healthcare providers are fairly compensated for their services.     
Importance of Claims Processing Workflow
A pile of medical claims is being decked up in the insurance companies every single day. Processing such huge data volumes will be the most time-consuming and challenging task in the healthcare industry. Manual documentation and verification would take longer process time and are much more prone to error. The submitted claims require the most accurate and fast processing procedure making the claims processing more complex and mysterious. A claims workflow process is the key and this section documents its importance.
Have you ever experienced a surprise surge while glancing at a hospital invoice? There lies the unsaid stories of hidden-paid mysteries and you got to notice you have paid the biggest bucks for a facile steam therapy. 
An audit by Equifax found that hospital bills that totaled more than $10,000 contained an average error of $1,300. 
Thus, claims processing is the most complex and error-prone task and is indeed for the insurance organization to look for an effective solution to maximize their revenue recovery.  The real chaos of claims processing seems to reciprocate as claims processing errors originate from varied sources and require detailed investigations. Moreover, the manual processing of claims will make this even worse.
A recent study has also declared that up to 90 percent of hospital bills are erroneous; only one accurate medical invoice is made out of 10, costing around $750 billion annually. 
Claims are being built by potential output from medical billing and coding. If something is missed out while your medical expense is being billed or coded, eventually there is a mess with your claims processing! 
The golden saying of the healthcare industry, "Do not code it or bill for it if it's not well-documented in the medical record", makes this more clear. 
These dictate the rise of the desperate urge of insurance companies to look for a solution that could automate their claims processing and aid them in reducing processing time and minimizing manual errors. Of course, claims processing workflow can ease out the complexities associated with claims processing with efficient automation and evolves to be the best thing of business wisdom to opt for.
How Businesses Can Benefit From A Claims Processing Workflow
We live in an era of automation and medical claims process management is in a thriving arena of business processes to be automated. Claims processing workflows make seamless streamlining of this multifaceted process. Healthcare systems use different BPA methodologies to ensure supporting all standard forms of medical claims. The benefits that help insurance organizations to automate the claims processing. With the right workflows in place, a health insurance organization can revel in the benefits of:
Increased Efficiency:
Having a medical claim processing workflow can increase efficiency by reducing errors. This aids in streamlining the process and reducing the time and effort required to process claims.
Reduced Manual Labour:
The traditional claims processing workflow is often a tedious and time-consuming process that involves a significant amount of manual labor. It requires the manual intake, sorting, and analysis of paper documents, which can result in errors, inefficiencies, and delays. However, with the advent of the claims processing workflow organizations are equipped to eliminate much of the manual labor involved in executing simple repetitive tasks like collecting the claimant details and verifying their eligibility criteria, etc.
Faster Claims Processing:
With reduced human errors and intervention, and a well-defined workflow, claims processing is done more quickly, resulting in faster reimbursement for healthcare providers and patients.
Improved Accuracy:
Automated workflows can help to minimize errors and inconsistencies in the handling of claims, improving accuracy and reducing the likelihood of disputes or complaints. 
Cost Savings:
A streamlined workflow can result in cost savings for healthcare providers and insurance companies by reducing administrative costs and minimizing the need for additional resources.
Electronic Claim Management:
With electronic payment processing, payments can be made automatically without the need for manual check printing and mailing. This reduces the need for bigger paper claim storage. An electronic claims management system eases out the physical checks and reduces the time it takes to process payments.
Better Communication:
A defined workflow can improve communication between healthcare providers, insurance companies, and patients, reducing misunderstandings and delays in the processing of claims.
Automated Data Extraction:
With claims processing workflows, claim information can be automatically extracted from electronic documents or even scanned paper documents. This eliminates the need for manual data entry, reducing the risk of human error and freeing up staff to focus on more complex tasks.
Easy Verification:
A well-designed claims processing workflow can help ensure all the submitted claims are factual and free from any risks any A well-designed claims processing workflow can help ensure accuracy and reduce the risk of errors, resulting in fewer claim rejections and denials.
No Obscure Processing:
With a clear workflow, healthcare providers and patients can have greater transparency into the claims processing process, including what is covered and what is not.
Reduced Fraud And Abuse:
A well-designed workflow automation tool can help detect and prevent fraud and abuse, reducing financial losses for insurance companies and patients.
Better Management:
The Claims processing workflow automation can include automated workflows that streamline the handling of claims. Automated workflows allow for rules-based routing, enabling claims to be automatically directed to the appropriate department or individual based on specific criteria, such as claim type or severity.
Enhanced Customer Experience:
Every industry focuses on thriving without failing to delight its customers. A well-organized claim processing workflow makes the claims processing hit the spot to abate the out-of-pocket expenses of the customers in minimal time.
Easy Claim Settlement:
Automated claims processing workflows can provide real-time monitoring of claims, enabling staff to identify and resolve issues quickly. This can help to reduce the turnaround time of resolving a claim submitted.
End-to-end workflow automation
Build fully-customizable, no code process workflows in a jiffy.
Best Practices To Efficiently Process A Claim: Getting The Most Of The Best!
1. Define A Standard:
Develop a standardized claims processing workflow that outlines the steps involved. This helps to ensure consistency, reduce errors, and increase productivity.
2. Leverage Technology:
Use tech trends like automated workflows, process automation methods, or AI-powered decision-making tools in as many aspects of the claims processing workflow as possible. 
3. Communicate:
Establish clear communication channels with patients, insurance companies, and healthcare providers to ensure that everyone is informed about the status of the claim. In simpler terms, visibility is the key and an automated workflow solution unlocks the essentials for operational excellence.
4. Ensure Regulatory Compliance:
Compliance with regulatory requirements is essential for insurance companies. Claims processing workflows must comply with relevant regulations, including state and federal laws, industry guidelines, and internal policies.
5. Analyze And Monitor:
Continuously monitor and analyze the performance of the claims processing workflow to identify areas for improvement. Analyze performance metrics and implement changes to enhance efficiency, accuracy, and customer satisfaction.
6. Be Informed:
Provide staff with the necessary training to ensure they understand the claims processing workflow, the tools used, and the importance of following the established processes. This helps to ensure that everyone involved in the process is aligned with the company's goals and objectives.
Thus the adoption of a claims processing workflow can result in a more efficient, accurate, and cost-effective insurance operation, benefiting both the insurance company and its customers.
Final Thoughts
Every ad-hoc situation sets out every industry of any economy to have a drastic change to restructure its policies and regulations. The outbreak of covid-19 pandemic has given hiccups to every industry and has prompted the healthcare industry to invest in solutions that reduce bizarre administration and empower healthcare facilities.
Being on a growth scale, the healthcare industry should predominantly be able to leverage new digital technologies to embrace operational efficiency. Claims processing workflows maximize the efficiencies of the medical claims process and help pay patients' insurance effectively. 
WHO states a good healthcare system is one which is safe-effective-equitable-efficient-integrated-timely. Any healthcare system, embracing new technological advancements should adhere to this. Modern tools and software should be capable enough to enhance the fair business values of the healthcare system, eradicating inherent fraud risks to ensure every citizen is being covered under healthcare insurance policies.
Rising technologies like automation have done enough changes to the US healthcare claims processing system workflows in recent years (which once had an uninsured model), driven by a focus on value-based care, improved patient outcomes, and increased healthcare IT adoption. No code workflow automation solutions like Cflow can help create magic in your current business principles and revenue cycles!
Experience Cflow To Stay Competitive With Automated Claims Processing!  Sign Up and Start Your Free Trial Now!
What would you like to do next?​
Automate your workflows with our Cflow experts.​
Get your workflows automated for FREE
---