10 Proven Ways Enterprise Workflow Automation Improves Business Outcomes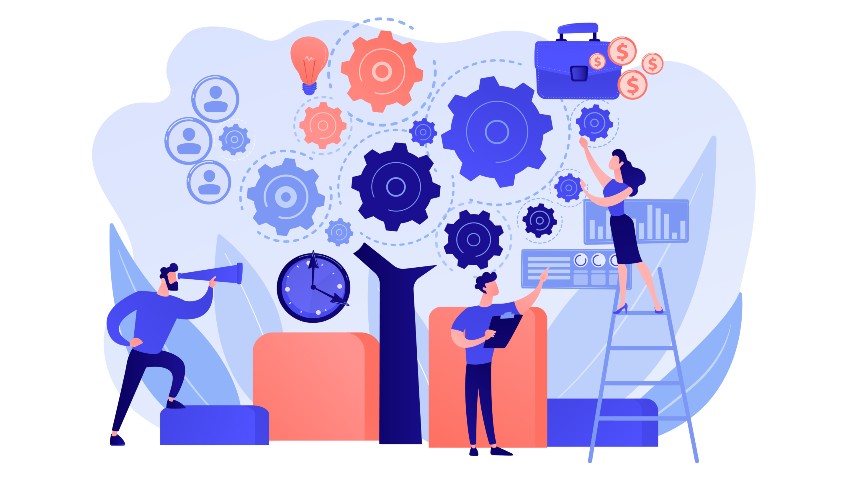 The word "business workflow" has been a buzzword in the business world for over a decade. While most business owners understand the importance of workflows, it is difficult for laymen to wrap their heads around the idea of business workflow. Developing and streamlining business workflows is important for improving business efficiency and performance. Enterprise workflow automation is one of the most effective ways of improving workflow efficiency.
Importance of Business Workflows
Before we get into the importance of workflows, let us first understand what a workflow is. Workflow is simply the flow of work. Workflow is a term that refers to the set of tools or methods that are followed by the business to achieve results. A workflow clearly establishes the relationships and dependency between tasks.
Workflows streamline and automate repeatable business tasks, which minimizes the room for errors and improves overall efficiency. Not only does business efficiency improve, but having business workflows enables managers to make smart, quick, and informed business decisions. Guided by business workflows, employees are empowered to work in a productive and collaborative manner. Simply put, workflows bring order into business operations.
Here are why business workflows are important:
Provides deeper business insights – mapping out business processes allows leadership to get a clear, top-level view of the business. Despite having well-established business processes, businesses are unable to deliver expected productivity levels. Ill-organized business processes lead to business inefficiencies. A well-mapped business process gives deeper business insights. These insights can be used to streamline process workflows and earn more revenue.
Identifies business redundancies – business processes are ridden with several repetitive and redundant tasks that bring down process efficiency. Mapping out business processes helps identify these repetitive tasks and determine activities that are truly necessary. Eliminating such tasks creates more value for the business by relieving employees to perform more productive activities.
Increases accountability and transparency – micromanagement poses many issues in a business. Micromanagement has been cited as one of the main reasons for high attrition rates. Clear mapping of a process workflow brings accountability and transparency into business processes. Workflows provide clear answers to questions like – what tasks are to be completed by whom and by what time.
Clear communication – poor communication can have disastrous consequences in a workplace. Mapping out business processes brings orderliness and improves communication between employees. The visibility and accountability that workflows bring into business processes, streamline day-to-day communication and business operations as well.
Improves customer experience – delivering superior customer experience gives businesses an edge over competitors. Outdated manual systems often lead to compromised customer service. Workflows can help you provide superior customer service and respond proactively to customer requirements.
What is Enterprise Workflow Automation?
Now that we have understood the importance of workflows in a business, the next step is to understand the importance of managing workflows. Workflow management is essential to derive maximum benefits from business processes. Business process management (BPM) should be taken into consideration when you work with workflow tools.
Efficient management of workflows is a must to derive the benefits of business workflows. Efficiency, productivity, accuracy, transparency, job satisfaction, and communication can be improved by managing workflows well. Enterprise workflow management software is the best way to manage business workflows. The automation of business workflows may involve a simple approval/request process or include several tasks and resources. Irrespective of how simple or complex the workflow may be, enterprise workflow solutions can be applied to them to improve operational efficiency.
Most enterprise workflow management software enables the complete customization of workflows according to the business requirements. Cflow is a cloud-BPM-based enterprise workflow software that brings insane customization levels into workflow automation. The easy-to-use and understand drag-and-drop interface helps build tasks and arrange them according to business rules. Automated workflows can be planned and designed visually to simulate an existing process or improve upon existing processes. The visual form builder in Cflow enables the quick and easy building of forms, tasks, alerts, notifications, recipients, etc. Pre-built task libraries can be used to arrange tasks and connect them as per business requirements.
What is process automation and how does it work? Workflow automation is built on a series of If-Then statements to trigger another task. Further branching of the workflow depends on the action taken by the employee or other stakeholders. Let us understand the enterprise workflow system with an example.
Take the marketing enterprise workflow. The marketing workflow is made up of several repetitive tasks like sending emails, posting social media updates, framing advertising campaigns, etc. Automating the marketing workflow can schedule the entire social media calendar and create workflows that nurture certain types of prospects with email offers.
Some of the marketing tasks that can be automated are:
Lead tracking and nurturing – lead capturing through contact forms can be effectively automated. Automating steps like capturing data, organizing or categorizing it, identifying touchpoints, and follow-ups enables early problem detection, resolution, and feedback.
Newsletters and email marketing – there are several email marketing tools for sending newsletters. Automating email marketing gives users access to data on who opened the email or who clicked links.
Social media marketing – social media engagement consists of 3 components – posting media content, conversations on social media, and community building. Of these tasks, posting content on social media and community building has a good scope for automation.
User onboarding and engagement – converting a user is important in the marketing cycle. Retaining users, ensuring that they stay engaged, and finding opportunities require a well-crafted marketing campaign. Smart automation based on data analytics makes the user onboarding and engagement process more effective and simpler.
Website or App operation and optimization – websites or mobile interfaces are the most important and effective marketing assets that improve conversions and user capture. Timely prompts can engage prospects effectively. Automating website operations helps track a visitor or user activity in real-time.
Some of the key business workflows that can be automated are IT service requests, Change requests, Capex requests, Expense Reimbursement approval, procurement processes, Employee onboarding, vendor management, and invoice approvals.
Benefits of Enterprise Workflow Automation
The obvious benefits of enterprise workflow automation are time and cost savings. In addition to this, all the disadvantages of manual processes are overcome through automation. The benefits of enterprise automation software can be categorized into business benefits, developers and operations benefits, and IT network administration.
The benefits for a business by adopting enterprise workflow automation software are:
Time-consuming, labor-intensive, and repetitive tasks are eliminated
Human errors that arise due to manual data entries are eliminated
Task management is streamlined
Process cycle time is reduced considerably
Approval of key business tasks is accelerated
Benefits derived by developers and operations through automation are many. Automation in the dev and ops functions improves releases and clearer communication among teams. Common DevOps barriers like follow-ups and bottlenecks can be overcome through automation.
Benefits derived by IT network administration from automation include better administrative oversight across the cloud, departmental interactivity, and operating system. Workflow automation also adds a critical layer of visualization to configure, oversee, and analyze network health, security, and deficiencies.
10 Ways in which Enterprise Workflow Automation Improves Business Outcomes
1. Paper trail is replaced by digital trail – the larger the organization, the more space is required for storing files and paperwork related to business transactions. Excessive paperwork not only requires more storage but also results in misplaced or damaged documents. Workflow automation replaces the paper trail with a digital trail that is easy to handle, organize, and store. Having digital copies of files automates the routing of tasks, issuance of alerts and notifications, and keeps copies of data relevant to the process. Elimination of paper trails from key business processes is a great cost saver.
2. Reduced approval cycles – workflow automation ensures that approvals happen on time. Process bottlenecks are eliminated through automation, which ensures that the waiting time for approvals is minimal. Faster approvals are possible in automated workflows because eForms require electronic signatures.
3. Eliminate redundancy – there are so many wasteful and duplicative tasks in a process. Automation software helps identify critical points of activity, which enables an accurate definition of participants, actions, and expected results.
4. Improved visibility – mapping the process workflows increases the visibility and transparency of the process. The status of tasks can be monitored in real-time when you automate the process. Increased transparency in turn increases the accountability of the stakeholders, so everyone is aware of their role in the process.
5. Improved employee satisfaction – mundane and repetitive tasks in the process are automated, which leaves employees plenty of time to focus on strategic project-related activities. Working on meaningful project-related tasks improves employee satisfaction, which results in improved productivity.
6. Improved workload management – workflow automation increases the transparency of the process. The team lead/manager is aware of all the tasks that make up the process, which helps in efficient workload management by assigning tasks to resources with the right skill set.
7. Continuous process improvement – once the process workflow is mapped accurately, the bottlenecks and redundancies can be easily identified. Workflow software works towards eliminating these bottlenecks. Feedback from each task is collected by the software to facilitate continuous process improvement.
8. Deeper insights – knowing what is happening within the process at any time is important for leaders. Workflows are great at providing regular and deeper insights into all the activities, and resources involved, and how effectively the process deadlines are met.
9. Improved policy compliance – workflow automation brings standardization into the process. This ensures that each task in the process is compliant with internal and external policies and regulations.
10. Seamless collaboration – a good workflow automation solution encourages collaboration between disparate systems. Whether it is through various access points or communication channels or platforms – automation enables seamless collaboration.
End-to-end workflow automation
Build fully-customizable, no code process workflows in a jiffy.
Top Workflow Automation Software for Enterprises
Several enterprise workflow management software is available in the market, each one providing its own set of features. Cloud-workflow automation solutions like Cflow are designed for quick and effective automation of key business workflows.
What are the must-have features of enterprise workflow solutions?
No-code tools – the solution must provide intuitive tools for building workflows without requiring any coding.
Seamless integration – the enterprise workflow management software must integrate with third-party tools for a stress-free user experience.
Data security-sensitive business data must be handled safely and securely by adopting data encryption methods.
Reporting and analytics – the automation software must provide process insights through reporting and analytics features.
Scalable and flexible – the software must be able to scale up to evolving business needs. Flexibility to accommodate process changes is a must for workflow automation software.
Mobile access – users must be able to view, access, control, and manage processes from any place at any time. The software must provide mobile access in addition to the web interface.
Cflow provides all these features and much more! A unique feature exclusively for Cflow users is the ability to approve a Cflow request without a user license.
We have listed down the top enterprise workflow management software for 2023.
Cflow
Nintex
Kissflow
Snov.io
Comidor
Automate.io
Flokzu
Integrify
Integromat
Coupler.io
The success of implementing a workflow automation solution depends on the software you choose. Choosing a complete automation solution like Cflow gives you a competitive edge. You get a complete automation package with Cflow; you can set up automation rules, gain process insights from intuitive dashboards, reports, and analytics, and stay in control of your business processes from anywhere, at any time.
Conclusion
A Markets and Markets report reveals that the workflow automation market was valued at 4.26 billion USD in the year 2016 and is expected to reach 18.45 billion USD by the year 2023 at a CAGR of 23.56%. Given the significant growth potential of the automation market, several progressive businesses are implementing automation solutions for several processes. The speedy adoption of workflow automation in various business processes has opened avenues for strategic partnerships between workflow automation tool vendors, BPOs, and other service providers. The study also reveals that workflow automation will be implemented more in the utility sector, supply chain management, and finance, and accounting.
Skip paper-based manual processes, eliminate chaos, and improve productivity levels dramatically with a complete enterprise workflow management software like Cflow. Enterprise workflow automation solutions like Cflow are built on BPM methodologies for creating efficiencies that scale as your business grows. You can accelerate day-to-day process workflows, save working hours, and focus on the growth and productivity of your team with an automation solution like Cflow. To explore insane levels of workflow automation, sign up for Cflow today.
What would you like to do next?​
Automate your workflows with our Cflow experts.​
Get your workflows automated for FREE
---