Understanding the Vendor Management Process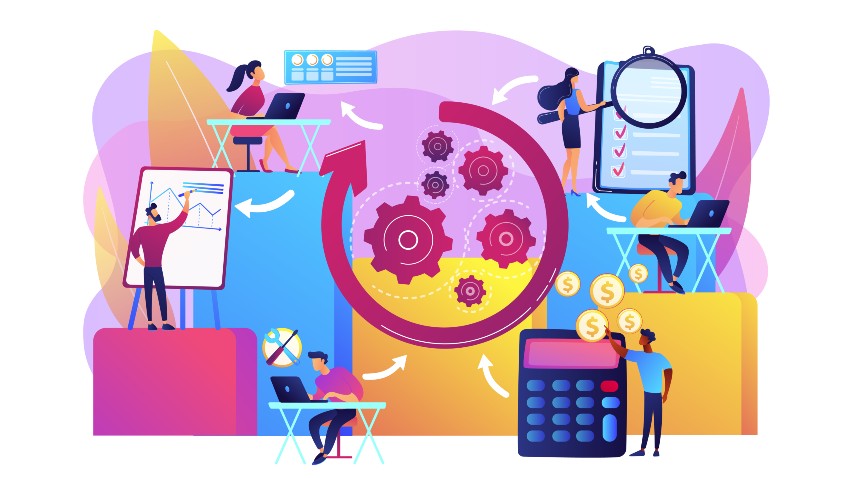 Buyers, vendors, and approvers are the stakeholders in the procurement process. Each of them plays a vital role in the procurement cycle. Improving customer relationship management is a time-tested way to improve business outcomes. Only recently people have begun to recognize that working with suppliers is as important as listening to customers.
Vendor management is equally important for business success. Effective vendor management processes enable businesses to control costs, minimize potential risks related to vendors, deliver excellent service to customers, and derive maximum value from vendors in the long run.
What is Vendor Management?
Businesses usually do not have adequate resources to execute projects and fulfil business objectives on their own. They often turn to external resources from vendors to fulfil their resource requirements. The buyer-vendor ecosystem may be simple or complex depending on the size and scope of the business. Acquiring and managing several vendors, and handling different points of contact, pay rates, and contract terms can be unmanageable for businesses. This is where a well-drafted vendor management process can help businesses manage vendor relationships.
What is the definition of vendor management? Vendor management is a discipline that enables organizations to manage their suppliers or vendors. Vendor relationship management includes activities like choosing vendors, negotiating purchase contracts, controlling, and managing costs, ensuring quality and timely delivery, and reducing vendor-related risks. The vendor management process is responsible for managing relationships with vendors.
Effective vendor management empowers businesses to make data-driven buying decisions. Managing vendors requires a complete understanding of how vendors work, their pricing quotes, and discounts. Having a vendor management process in place enables the procurement team to evaluate vendors, source and obtain pricing information, gauge their quality of work, evaluate vendor selection performance against organizational standards, and ensure that payments are made on time.
Role of Vendor Management in Procurement
Vendor management is a structured program for managing suppliers and improving their impact on the buyer's business. Vendors are key stakeholders in the procurement process. The vendor management process is an important part of the procurement cycle that focuses on ensuring that third-party relationships are successful and vendor risk is mitigated. For successful procurement operations, managing and establishing strong vendor relationships is important.
From choosing the right vendor to ensuring the quality of deliverables – vendor management takes care of everything. Efficient vendor management ensures the smooth functioning of the procurement function and reduces the vendor risk of supply chain disruption. Vendors are chosen based on vendor performance, reputation, quality, and timely delivery of goods/services.
Staying updated on vendor pricing and discounts enables businesses to save on the cost of purchases. Stronger relationships with vendors enable buyers to negotiate better rates. Establishing long-standing vendor relationships also helps in getting regular discounts on the price of goods and services. Information regarding price hikes is passed on to buyers in advance so that they can plan their purchases before new prices are introduced.
Compliance with organizational policies and regulations is easier with a vendor management process in place. The risk associated with vendors is also considerably low when your procurement function has a vendor contract management system in place.
Challenges in Manual Vendor Management
Managing a handful of vendors may entail minimal effort in terms of contract and payment management. Vendor management for small businesses may seem like a straightforward process that can be executed through manual efforts by the procurement team. Sourcing and vetting new vendors, negotiating terms and drafting a contract, contract approval, subsequent payment of invoices, etc. are some of the tasks in vendor management. As the scope of a business expands, vendor risk management requirements expand proportionally. Problems with manual vendor management like inaccurate results, delays in purchase order and invoice approval, and data errors, can cost a business dearly.
A vendor management system helps overcome the vendor management issues mentioned above and also strengthens vendor relationships that provide long-term business benefits.
Vendor Management Process
IT Vendor management process helps achieve business goals effectively. Establishing strong, long-term buyer-vendor relationships is easier when you have a vendor management and buying system. The vendor management process workflow involves several steps like vendor vetting, onboarding, purchase requisitions, order confirmation, purchase orders, and vendor performance management.
The vendor management process can be divided into 6 steps:
1) Establish business goals:
The first step is to set clear business goals like streamlining vendor management to improve efficiencies, ensuring that contract agreement terms are mutually beneficial, and managing and controlling costs. The main intent of setting business goals is to gain a complete understanding of buyer and vendor roles. Once business goals are set, the next step is to share them with vendors and prospects. Knowledge of your business goals aids vendors in forecasting business needs and inventory fluctuations.
2) Locating and choosing vendors:
complete evaluation of every vendor prospect based on experience, quality commitment, resources, and track record is performed while choosing the vendor. The choice of vendor relations must be aligned with business goals and KPIs. Vendors that are most capable of fulfilling your business objectives. Once the vendor is chosen, the next step is to establish strategic vendor relationships. Buyers must focus on forging long-term strategic vendor management.
3) Risk assessment:
Every vendor prospect should be scrutinized for compliance and transparency in key metrics like on-time delivery rates, total annual spending, and aggravated risk assessments.
4) Contract negotiation:
The buyer should reach mutually beneficial contract terms and agree upon vendor risk KPIs for monitoring performance. To reach mutually agreeable terms, vendors' business objectives also must be known. The vendor's business model must be studied to understand how a mutually beneficial contract can be drawn between the two parties.
5) Onboarding suppliers:
Gathering all the information required to process and set up a company as an approved supplier.
6) Risk mitigation and monitoring:
Gathering data needed for frequent, ongoing risk reporting, and ensuring vendor due diligence.
For successful vendor management, a strategic approach to building and maintaining relationships with the chosen vendors is required. Good vendors are hard to come by, so it is important to nurture strong relationships with vendors. To maintain strong, long-term vendor relationships, you need to share complete information about your requirements promptly. Also having clear vendor management strategic objectives helps businesses derive maximum value for their money. Building long-term vendor relationships provides long-term gains for your business and helps build trust and commitment with vendors.
End-to-end workflow automation
Build fully-customizable, no code process workflows in a jiffy.
Importance of Vendor Management
There are several reasons why vendor management is important in a business. Vendor management services enable businesses to identify the right vendor for specific business needs. More importantly, companies can use vendor management to effectively reduce the risk of supply chain disruption and ensure that goods and services are delivered on time and to the expected standard.
Vendor management services can be used to achieve business goals by harnessing cost-saving opportunities and accelerating the vendor onboarding process. An effective supplier relationship management strategy aids companies in building good vendor relationships and creating better opportunities to negotiate better rates.
Here are 7 reasons why vendor management is important for your business.
1) Mitigate risks:
Vendor management best practices are effective in mitigating supplier risks in terms of vendor operations, regulatory compliance, and unforeseen cost implications. The vendor management system helps track suppliers and identify the risks. An effective supplier quality management process flow enables speedy and accurate verification of supplier information, tracking of vendor performance, and gathering supplier financial data for getting a broader picture of the risk level.
2) Optimize performance:
The performance of active suppliers in the vendor management system can be tracked and measured for periodic vendor appraisal. Vendor performance data is evaluated to ensure that the company is aligned with contract terms and complying with your needs for optimal performance. Tracking vendor performance continuously ensures the proactive identification of challenges and improvement areas.
3) Reduce costs:
A vendor management system in an organization increases visibility, which helps identify hidden costs. Strong vendor relationships also enable buyers to negotiate better rates by way of discounts and incentives that increase profit margins.
4) Establish long-term relationships:
Identifying good vendors and strengthening relationships is an important part of vendor management. Ways to improve existing vendor relationships and establish long-term relationships is the main aim of vendor management. Sourcing good vendor profiles can also be done by a vendor management system.
5) Improve admin efficiency:
Centralized vendor management helps drive significant admin efficiencies by providing a central hub for vendor master data and record keeping. Vendor challenges like increased admin labour costs, data errors, and loss of contracts can be handled efficiently through vendor management systems.
6) Increase onboarding efficiency:
Onboarding vendors is more efficient and quicker with a vendor management system. Complete vendor information like their bank details, capability information, capacity details, and regulatory information are automatically input into the system for faster and error-free approvals and vendor onboarding.
7) Protect brand:
Smooth handling of vendors through quick onboarding and timely payments protects the reputation of your brand. A vendor management system enables the smooth handling of vendors and also validates vendor information before onboarding so that your business remains unaffected by unprofessional or unethical actions by vendors.
Benefits of Vendor Management
A well-defined vendor management system process flow helps businesses achieve their business goals and improve business outcomes. Vendor management is critical for managing all the moving parts of a business successfully. Vendors are critical for the success of a company. They drive new growth within the industry and ensure that the business can achieve revenue and profit goals. The supplier management process includes managing and controlling key business processes and activities.
Here are the top benefits of a vendor management system (VMS):
Automate vendor management cycle: vendor processes like vendor sourcing, vetting, assignment management, project management, onboarding, off-boarding, and invoicing can be automated by the vendor management process. An automated vendor management process simplifies contract management and cost management.
Improves transparency:
Businesses get greater visibility into vendor details with a vendor management system. Centralized information on vendors working for you, their location, and their assets and facilities are provided by the vendor management system. The entire workforce can always track and manage vendor information, from any location with the help of supplier information management systems.
Compliance management:
Internal and external compliance management is critical for the successful running of a business. A vendor management system ensures that vendor-related processes are as per governmental regulations and corporate onboarding policies. Centralized access to information ensures clear audit trails. A vendor management system provides a single entry point for all the locations, which helps prevent inaccuracy in results.
Shortened requisition cycle time:
The time to fulfil a purchase requisition is significantly shortened by a VMS. Optimization of the procurement cycle can be achieved through an automated vendor management system.
Reduce operational costs:
A vendor management system helps minimize operational costs by streamlining vendor operations.
Advanced data analysis and reporting:
Cloud vendor management solutions provide robust analysis and reporting of vendor data. Key business insights can be derived from these reports which the management can use to make informed business decisions.
A robust vendor management framework is essential for building long-term vendor relationships that are mutually beneficial for the buyer and vendor. A cloud-based process automation solution like Cflow enables businesses to automate key business workflows like vendor contract management, vendor sourcing, vendor monitoring processes, and vendor engagement processes. Cflow simplifies vendor management by automating tasks like data validation, approvals, and vetting. Purchasing and vendor management can be optimized with a no-code BPM like Cflow.
Vendor Management Best Practices
It is not enough if you have a vendor management system in place, businesses also need to follow vendor contract management and vendor performance management best practices to derive maximum value out of a vendor management solution. Vendor management best practices help you extract maximum value out of the software solution. These best practices are a guide for businesses to choose the right vendors, monitor, and track vendor performance, deliver high-quality products/services, and lower risk on the life of the contract.
Here are some vendor management best practices that help businesses derive the maximum value out of VMS:
Set clear vendor management objectives: a vendor management solution takes care of all the vendor activities. Setting a clear and comprehensive vendor policy is primal for strategic vendor management. Best practices for setting vendor management policy include:
Forming a purchasing committee:
members of the purchasing committee must include the vendor manager, unit managers, and other stakeholders responsible for discussing the policy, reviewing performance, and repurposing the policy as per changing conditions.
Designate roles for stakeholders:
appropriate roles and responsibilities must be assigned to various stakeholders for carrying out the tasks listed in the vendor policy.
Create a formal document:
the vendor management policy is a clear strategic framework that must be documented to keep the management informed of the policy.
Align purchase policy with organizational policy:
the purchase policy must be in sync with the overall organizational strategy.
Designate an ideal number of vendors:
for each category established in the policy, an adequate number of vendors must be identified. The diversity of the requirements, market dynamics, and risk factors involved must be considered while choosing the number of vendors.
Define vendor selection and review processes:
the data points based on which vendors must be selected and reviewed must be clearly outlined in the policy.
Establish risk assessment guidelines:
the financial and legal conditions that must be reviewed while choosing vendors must be specified as well.
Vendor contract best practices include policy document guidelines, SLAs and SOWs, payment terms, and insurance and liability requirements.
Vendor performance best practices involve the establishment of KPIs or metrics that track key areas of vendor performance, capacity, and compliance. Vendor performance metrics help evaluate the effectiveness of using vendors, managing the supply chain, and continuous improvements. Some of the vendor performance metrics best practices include setting KPI limits, explaining metrics, setting realistic explanations, and ongoing review.
All companies face inherent risks associated with financial, legal, and data security when they get into a contract with third parties. These risks can be mitigated by defining clear policies and performing due diligence while signing contracts and performing ongoing reviews.
Conclusion
Global vendor management is a complex and emerging discipline that requires a multi-vendor management framework able to handle several vendors spread across multiple geographical locations. For a smooth experience working with vendors, businesses need to adopt strategic vendor management solutions. Automating key areas of vendor management saves a great deal of cost, time, and effort for companies and streamlines the supplier management process flow. Cflow is a cloud BPM solution that is trusted by businesses across the globe for the efficient automation of key business processes.
Vendor management workflows can be set within minutes through visual form builders in Cflow. Workflows can be customized as per the unique requirements of the business. Progressive organizations looking to improve their business outcomes are automating key business workflows. Cflow lets you accelerate day-to-day process workflows, save work hours, and focus on the growth and productivity of the procurement team.
Sign up for 14-day free trial to know more.
What would you like to do next?​
Automate your workflows with our Cflow experts.​
Get your workflows automated for FREE
---