Workflow Visualization: No More Obscure Business Workflows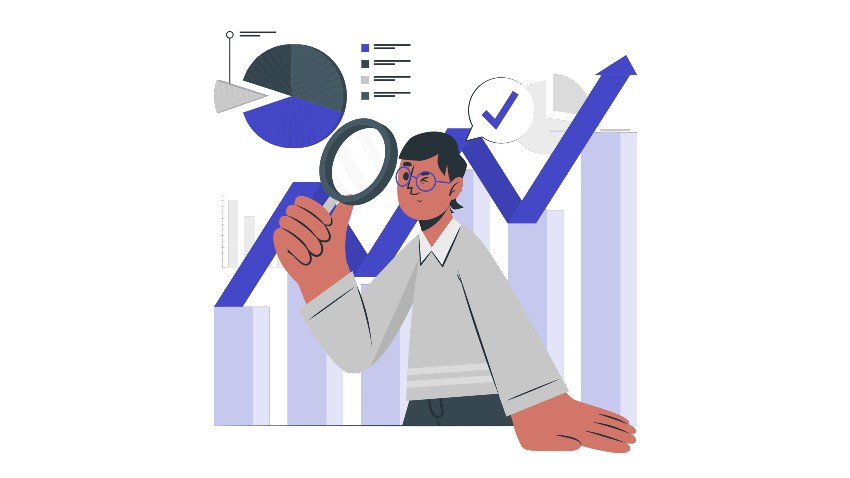 Are you often overwhelmed by a tangled web of tasks, to-dos, and responsibilities? Huge data volumes derived from complex business processes can be exhausting to manage and track, resulting in a chaotic situation. A workflow visualizer is a powerful tool that can help you with the visual overview of your business processes.  
Workflow modules help organizations streamline their operations in more ways than one. So why not choose the most effective way of utilizing workflows? Workflow visualization is an easier and more effective approach to building an automated business culture and transforming business standards. This write-up talks about what is a workflow visualizer and how it enhances business workflows to empower and automate businesses.
Research shows that human brains process visuals better than anything else and 90% of data that the brain captures is visual. 
Why not harness this natural power of humans to achieve business excellence? A workflow visualizer can be an effective tool to visualize business processes so that you can gain clarity on your business goals, reduce inefficiencies, and increase business productivity. 
What is a Workflow Visualizer?
A workflow visualizer is a software application that helps you to map out and visualize the different stages of a workflow. It allows you to visualize the entire business process from start to finish, giving you a clear view of the steps that need to be taken and how they all interact with each other. By being able to see the entire process in one place, it's much easier to make sure that tasks are completed in a timely manner and that all the necessary and appropriate steps are taken.
Why Workflow Visualization Is Important?
Managing workflows can often be a daunting task, especially when you're dealing with several different tasks at once. It's easy to get entrenched in the chaos of trying to keep track of everything and it can be difficult to visualize the entire process. This promotes the necessity of a workflow visualizer for any business to get a detailed report of the entire process flow. Workflow visualization is a versatile management system that uses visuals (diagrams) to track tasks, deadlines, and progress, as well as to manage resources and workloads. 
Workflow visualizer depicts the orientation of a business process visually and uses functional graphics to provide insights on what is done, how it is done, what is to be done, and what you need to make things better. Thus, workflow visualization endeavors to be the blueprint of the business model aiming for a clear picture of the business process flow. This also boosts transparency within the organization so that no one is left behind in terms of informed business process flow.
How to Visualize Workflows: A Brief Overview
Visualizing workflows can be a great way to improve business operations. By taking the time to create a visual representation of your workflows, you can identify areas of inefficiency and optimize your process for better results.
With the right workflow visualizer, you can improve your operational performance and increase the efficiency of your business. This section explores how and what it involves for a workflow visualizer to make the business operation more seamless and hassle-free.
Figuring out value-added streams
Businesses involve multiple tasks and processes to accomplish their goals and objectives. Some tasks are mandatory for business operations while some additional value to the business drive. Identifying such value-adding factors will reveal many opportunities for improvement that you were unaware of. Visualization of workflows commences with:
Listing out the tasks, processes, and activities in a workflow.

Identifying any dependencies or constraints affecting workflow.

Analyzing how they are linked and how they interact with one another.
Identifying the scope
Every business process has its own scope. Manipulating your role and control over the specified scope will make business process management more easy and simple. Knowing the scope of a particular business process lets you identify the requirements, the right path to proceed, and its impact on business performance. This step also helps you identify the business process that needs to be visualized.
Mapping workflow stages
The workflow visualization then progresses with mapping. Knowing business processes and their corresponding visualizer component is the key to effective workflow visualization. Map the value-added streams with the respective teams or departments involved, mark the handoff points, and the degree of their responsibility or ownership in the scope, using the defined component shapes. This mapping procedure helps break down complex business processes into simpler tasks.
Here is a quick representation of shapes used in workflow visualizers and what they correspond to.
| | | |
| --- | --- | --- |
| Oval                        |   ⭖ | Represents the start/end point |
| Rectangle |   ▭ | Represents instruction/command |
| Diamond |   ◇         | Represents the decision-making block. One path of the block directs to true while the other directs to false. |
| Arrow |   → | Represents flow |
| Circle |  ⚪ | Represents connector |
| Clock |   | Represents time delay |
Determining the type and output
The mapped process is usually known for employee engagement but determining the type and their outcome improves the feasibility of the business management process. Differentiating and segregating the tasks based on their type, prerequisites, outcomes, and state facilitate a structured approach in the workflow.
Tracking and review
By tracking the process and reviewing their outcomes periodically workflow visualizer can help businesses identify potential bottlenecks and make any necessary adjustments in order to meet deadlines. In addition to visualizing workflow, businesses can also use the workflow visualizer to create reports.
These reports can help to provide insights into the performance of the business and its effectiveness. This can be extremely useful for businesses that are looking to improve their operations.
With workflow visualization, businesses can ensure that their workflows are running smoothly and efficiently. A workflow visualizer can be a great asset for any business. Providing an easy way to keep track of workflows, can help to seamless streamlining processes and promote easy business management.
It also improves collaboration between team members ensuring everyone involved is on the same page. If you're looking for a way to simplify your workflow, a workflow visualizer is definitely worth considering. Furthermore, choosing the right workflow visualization tools can further enhance workflow efficiency, reduce costs and improve productivity.
Benefits of Workflow Visualization
Managing business processes is all about knowing the tasks and effectively communicating with the team about the process and its deliverables. Workflow visualizer simplifies this key business management aspect and prevents deviations from the business goal via visuals. Though workflow visualizer creates a visual representation of how business processes work and what is done in every stage of the process, its benefits are more diverse. 
1. Improved Productivity
Workflows are an essential part of any business operation. Using visualization tools can make users utilize the workflow elements effortlessly without any tech barriers. Visualizing workflows can be a powerful way to improve business productivity. It also helps to enhance efficiency, reduce waste, and ensure high-quality outcomes.
Workflow visualization tools create insights into your workflows. This can help to identify trends, identify areas of waste, and help to develop strategies for improving the overall performance of your business operations.
2. Enhanced Collaboration
The workflow visualizer allows you to collaborate with other team members. By being able to visualize your workflow, you can better understand the relationships between tasks and processes, which can help you make more informed decisions and optimize your workflow. Listing out the tasks and requirements can positively boost internal communication and collaboration.
3. Effective Elimination Of Bottlenecks
With a workflow visualizer, you can create a map of all the tasks and processes involved in the project, making it easier to figure out the challenges and bottlenecks. Visualizing workflows can help you identify and eliminate redundancies, identify areas of inefficiency, and optimize your process for better results.
It can also help to identify areas that need improvement and help you develop better strategies for improving the overall performance of your business operations.
4. Consistent Improvement
A workflow visualizer helps to identify areas of complexity and pinpoint areas where improvements can be made. In addition to its organizational benefits, workflow visualizer also provides insights into how your workflow is performing. Reports about which tasks are taking the longest and which processes are the most efficient help to analyze the performance of individual team members too.
Workflow visualization is also used for tracking dependencies and ensuring that each task is completed on time. This can be an effective way to monitor progress and identify areas where tasks can be improved or streamlined consistently. 
5. Increased Transparency
A workflow visualizer accomplishes process mapping to offer higher transparency. This makes it easy to understand your business progress and helps you make better decisions. You can share the workflow map with your team to ensure that everyone is on the same page and working towards the same goal.
This can help speed up the completion of projects and ensure that everyone is working with informed knowledge of their roles and their impact on the business's bottom line. Analyzing every step of the workflow can ease identifying the bottlenecks and eradicating the inefficiencies at that stage itself. Such decisions rescue you from losing time, resources, and effort.
6. Easy Alignment Of Priorities
Workflow visualizer helps you organize your business process workflows in an intuitive, easy-to-understand manner. This helps you get a detailed overview of how tasks are connected and determines the most effective flow of activities. Better process alignment by workflow visualizer promotes making better decisions and ensures that your critical projects (high-priority tasks) are completed on time and within budget.
Figuring out the most and least priorities and working accordingly can help businesses ensure operational excellence in the long run. This makes it ideal for businesses that need to streamline their operations and make data-driven decisions.
How to Use A Workflow Visualization Tool to Improve Business Efficiency
As businesses of all sizes continue to search for ways to maximize efficiency and productivity, workflow visualization tools are becoming increasingly popular. These tools are designed to help organizations visualize their workflows, making it easier to identify inefficiencies and other opportunities for improvement.
Interactive data visualization of operational processes can be an enabler in overcoming organizational resistance to big data technologies in a change-resistant organization, claims a study on workflow visualization techniques.
Workflow visualizers are becoming increasingly popular as a way to map out and visualize processes. The best way to visualize workflow commences only when you have a better understanding of the components of a business process and when to use a workflow visualization tool. Knowing the components of workflow visualization tools can help you to create detailed diagrams of these business processes.
Workflow visualizers also show how tasks are related, what tasks depend on each other, and how resources are used.  So, using a workflow visualizer before automating a process will be more beneficial, as there is a chance of identifying the inefficiencies at the right time and taking appropriate measures at the right time. Thus, a workflow visualizer emerges to be a great way to understand the flow of work and identify areas of improvement.
When to Use A Workflow Visualization Tool?
Workflow visualization tools are particularly useful for businesses that have complex processes or multiple departments that need to collaborate on tasks. Visualizing workflows can be a great way to make complex processes easier to understand and execute. By breaking down the steps of a workflow into visual components, users can better comprehend the entire process.
This can be especially useful in the workplace, where employees can quickly identify tasks and responsibilities. By creating a visual representation of the workflow, your teams can understand exactly how tasks are related, what tasks depend on each other, and how resources are used.
This can give them a clear idea of what needs to be done and when – allowing them to identify any bottlenecks or inefficiencies in the process. As such, a workflow visualizer can be an invaluable tool for businesses looking to streamline their operations.
Why an Effective Workflow Visualization Tool is Essential?
Workflow visualizers also provide an easy way to track progress and make sure that tasks are completed in the right order. By being able to quickly view the workflow and make sure that each step is completed successfully, you can make sure that the entire workflow is completed correctly and efficiently.
This can be especially helpful when dealing with large and complex workflows, as it can be difficult to keep track of every step manually. Thus, a workflow visualizer is the best way to visualize workflow and improve the efficiency of any business. By using it, businesses can identify potential issues and make improvements to their operations.
It is a great tool for streamlining processes, making data-driven decisions, and providing valuable insights into business performance.
End-to-end workflow automation
Build fully-customizable, no code process workflows in a jiffy.
Workflow Visualizer – Real Time Examples:
With an effective workflow visualizer organizations can maximize efficiency and streamline complex processes. Flowcharts, Gantt charts, UML diagrams, business process modeling notation, data flow diagrams, Kanban boards, workflow techniques, and simulation models are just a few of the workflow visualization tools that can be used to represent workflows graphically.
By using these tools, users can quickly identify tasks and understand the entire workflow. In the end, visualizing workflows can be a great way to make complex processes easier to understand and execute. Here are a few real-time instances that make use of workflow visualizers for their business processes.
1. Human Resources
The common use of workflow visualization in human resource activity will be for employee onboarding workflow and below is the sample visualization.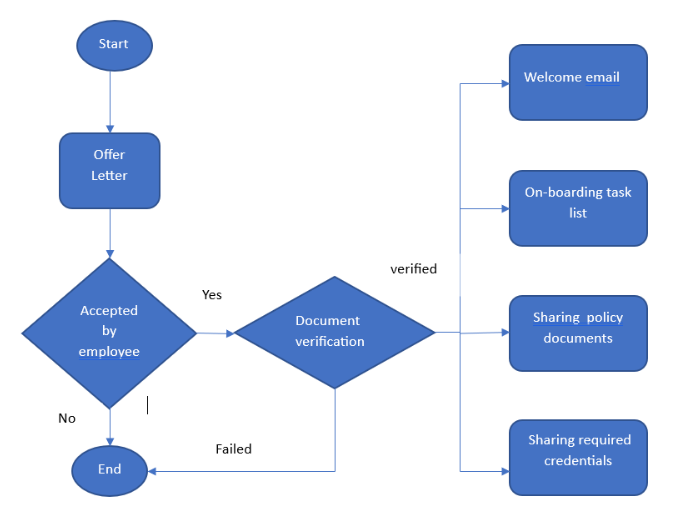 2. Content Marketing
Content marketing involves more coordinated and aligned efforts from the writing, editing, designing, and marketing departments. A workflow visualizer can be a godsend to such workflows and here is a glimpse.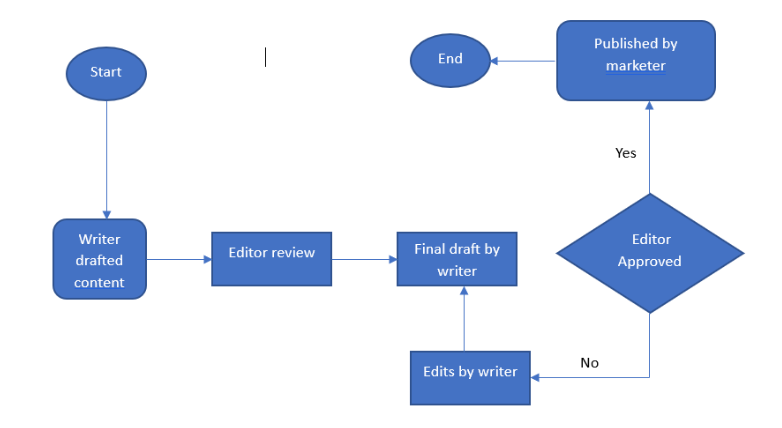 3. Procurement
Every business involves laborious procurement. Workflow visualization aids in making this process chaos-free and easy. A workflow in an e-commerce platform involves a visualization as shown below.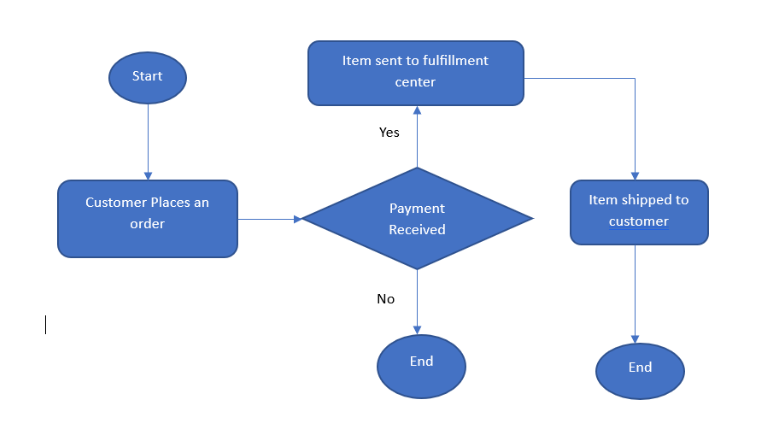 Let the Visuals Communicate Your Business Workflow Clearly!
Workflow visualization tools allow an organization to get an accurate picture of its workflow processes and opting for the right tool drives you through business excellence.  Invest in a workflow solution like Cflow which facilitates a visual workflow builder to experience smooth workflow visualization. It is like a feather on your cap, as you can streamline business and Cflow's visual workflow builder takes care of the workflow visualization part.
Get obvious visualization of your business workflows with Cflow, Sign up now.
What would you like to do next?​
Automate your workflows with our Cflow experts.​
Get your workflows automated for FREE
---