Workflow Management Software: Experience Zen Mode by Managing Workflows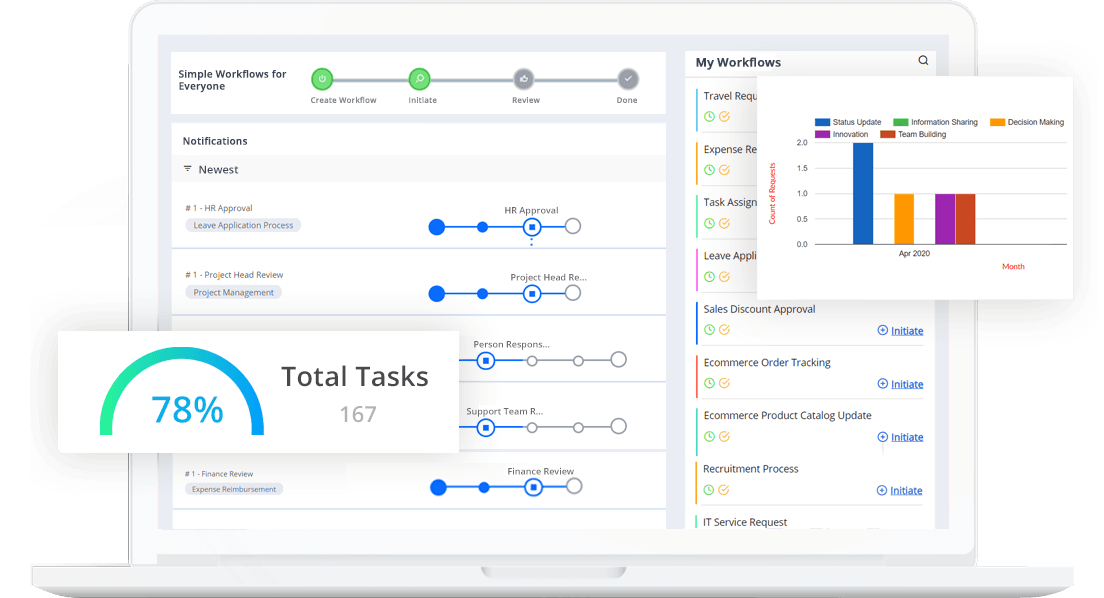 What is a Workflow Management Software?
Workflow management software is a software application that instantly automates tasks and manages time-consuming processes with pre-built workflow apps. Workflow management software uses a systematic method of maximizing productivity by dividing tasks into smaller subtasks, which are then assigned to the employees with the required skills and knowledge. It includes managing workflows throughout their entire lifecycle from inception to completion.
A Workflow is a set of operations that processes data in a certain order. All sorts of organizations and industries use workflows. A workflow is created anytime data is transferred between people or systems. Workflows are the pathways that show something from being unfinished to being done or unprepared to prepared.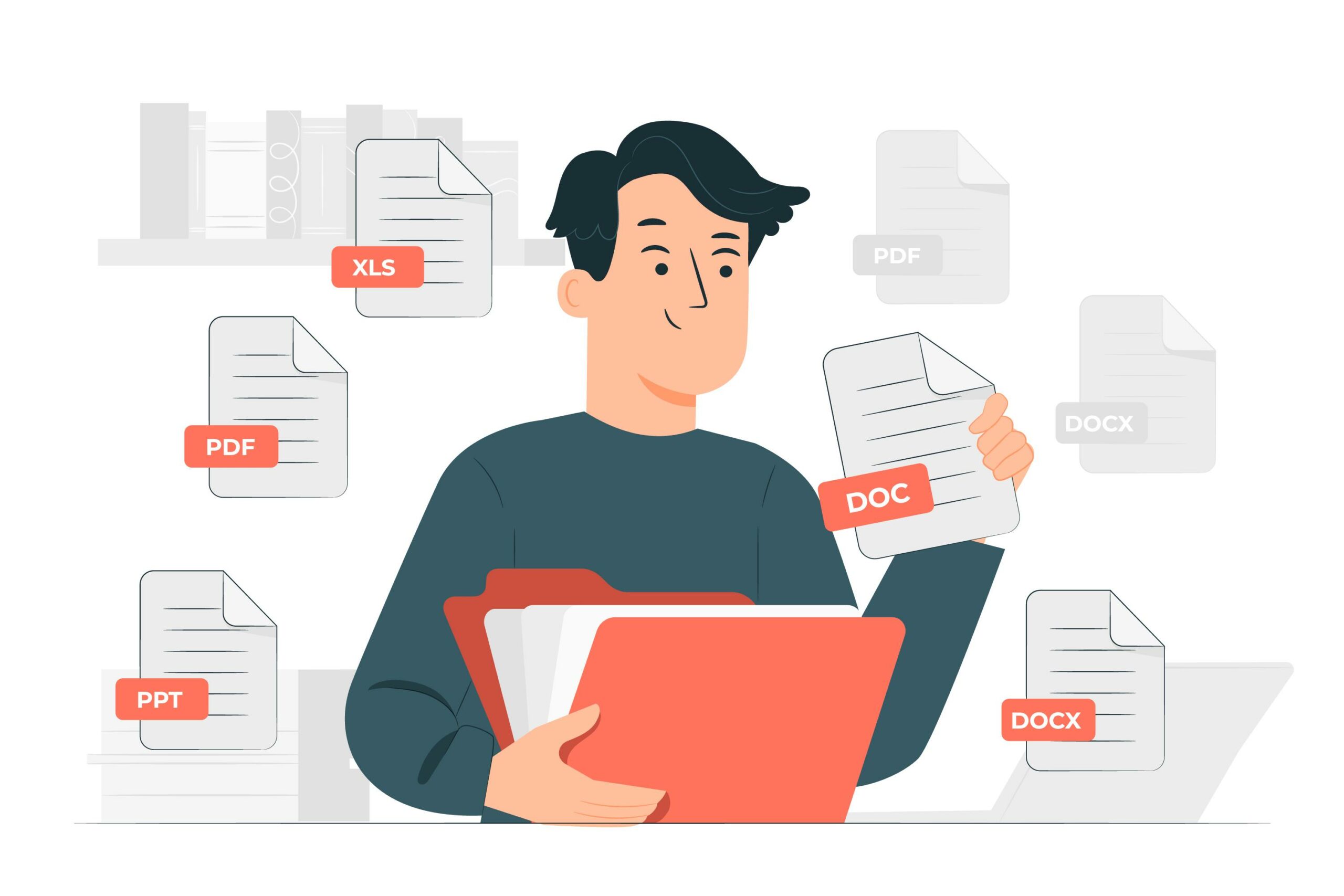 Workflow Software to Accelerate Approvals.
Automated business applications empower the workforce to break free from low-value, repetitive tasks, and improve productivity. Optimized digital workflows improve overall business efficiency. Enterprise SaaS platform automates day-to-day process workflows like employee onboarding, approval of invoices, travel expenses, vacation requests, and more.
Zero code for you
No-code cloud workflow management solutions enable you to create workflows and complete your tasks faster. Visual form builder helps build customized templates.
Seamless integration
Seamless workflow integration Google Drive, Gmail, Google Calendar, G Suite, Office 365, and with 100s of apps, including Slack using CflowZaps (Zapier integration).
Business activity monitor
Get actionable insights right away with custom dashboards, reporting, and analytics features. Monitor your processes using Business Activity Monitor (BAM).
Email nirvana
Stop flooding email inboxes. Cflow organizes emails and sends one consolidated email at the end of the day.
Speed up processes
Be it purchase requests or expense reimbursement, Cflow helps you initiate multiple requests at a time using the import feature.
How Workflow Software Became a Part of Organizations?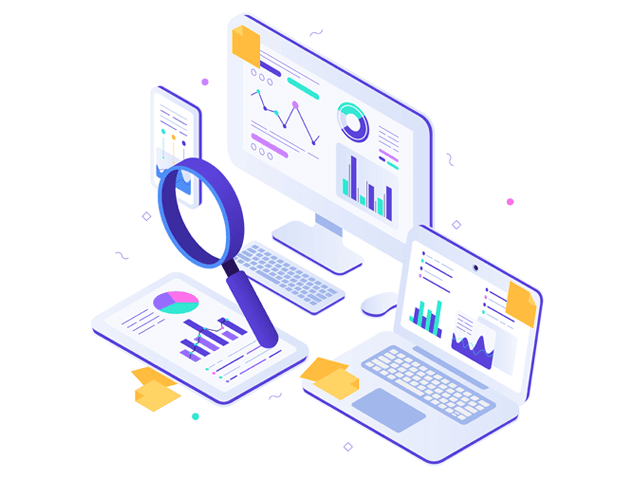 The concept of a workflow has been around for years. The objective of the workflow is to improve the speed, accuracy, and standardization of complicated business processes by moving documents or activities from one step to another.
Workflows were formerly handled manually during the early stage. The employees used to fill out the hard copies of the form and then send them to the designated department by hand, which was a tedious task.
Then, someone from that division would read over the request and decide what to do with it. If the application was accepted, the employee might have received a paper check. If they were turned down, they could receive a letter explaining why their application was denied.
But all of this transferring files from one department to another would take a lot of time.
Therefore, at present, there is a greater need than ever for workflow solutions. The growth of data and the transition to a cloud-first world are altering the business process landscape and workflows that rely on them. This emerging pattern creates new possibilities for improving a broader range of business activities.
Today's computers can execute procedures automatically by detecting triggers, assigning activities, and achieving outcomes. They can even help in generating progress and status reports. The same systems may be used for rules-driven workflows, allowing businesses to choose the order of activities and events based on corporate regulations.
An employee may save time by uploading any document form to an online portal rather than filling it out manually. The computers can read the information on the application, search for specific trigger phrases, and check to see whether it meets the criteria. Also, they can decide whether to approve or deny the request.
Thus, the time wasted before transferring the files can be utilized in other important tasks, all thanks to the automated workflow system.
Let's now move to learn what this workflow management software is.
Intuitive Workflow Management Solutions
Workflow
The workflow tool helps to transform time-consuming processes into automated workflows. Pre-installed workflow apps help streamline repeated jobs and identify efficiency bottlenecks.
Form Builder
Simplify workflow requests with a visual forms builder. This drag & drop form designer can be customized for multiple departments and projects across the organization.
Create smarter workflows with a simple 2-step visual workflow builder.
1. Design form
Design your form to make it intuitive for users to work with. Organize the form into sections and drag and drop fields from the toolbox. There are no limits on sections and fields. Use your imagination to design forms that are easy to fill in.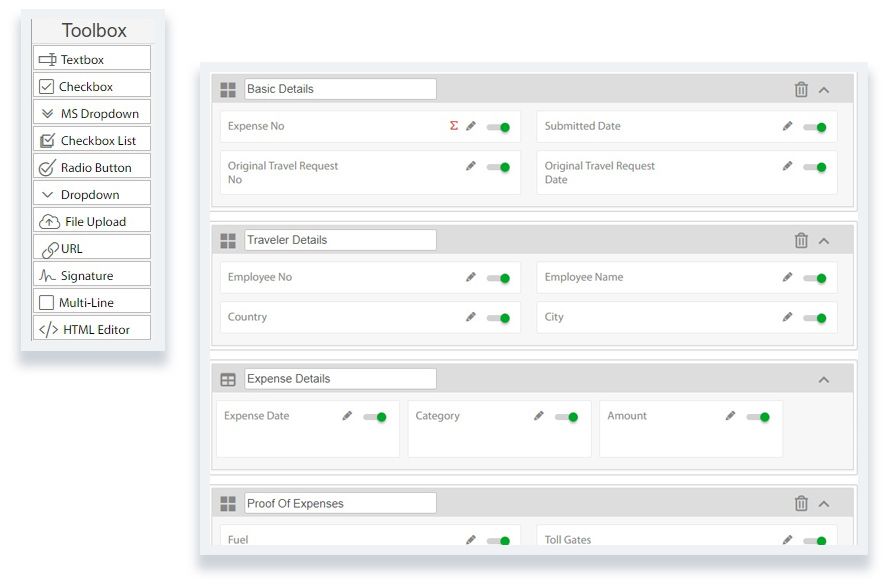 2. Create workflow
Create your workflow simply by clicking the Process Stage button and connecting the stages. The end-to-end automation of the process flows requires no coding and is completed within minutes.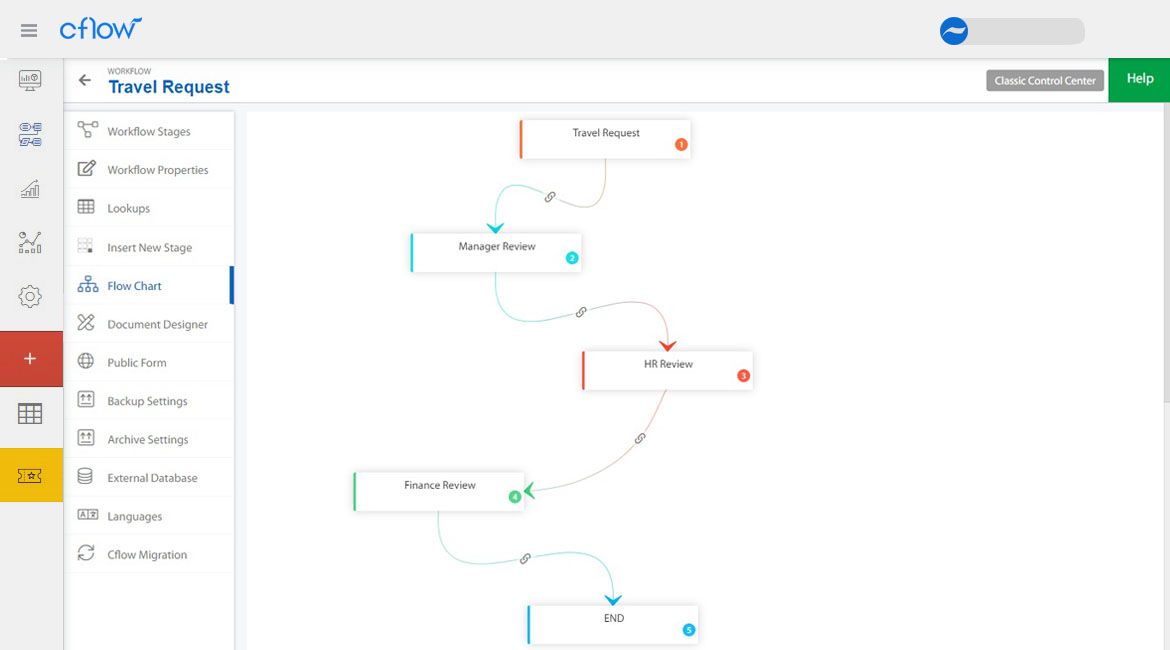 The Difference Between Manual and Automated Workflow
Both Manual and Automated workflows are efficient. However, only an automated workflow meets all the business criteria to help your company grow. As expected, manual workflows require more time before completion and might not fit into every type of process.
For example, it is impossible to follow a manual workflow for hyper-automated tasks, where data is processed extremely fast. Manual workflows are mostly suitable for repetitive processes that don't require much intelligence.
Manual workflow mainly limits your team members to follow a predefined procedure or protocol, which might not be up to date all the time. For example: 'How to complete a sales order process as it is a highly dynamic environment requires manual workflows to meet the changing demands of end customers.
Automated workflow allows you to design a process that adapts according to various variables and data streams. This type of workflow doesn't require much intervention from multiple departments. This way, you can save a few pennies on labour. Small and medium-sized businesses often face time and resource constraints that prevent them from investing in automated workflows.
Many companies rely heavily on manual workflows to manage their business processes, affecting overall performance. In such instances, it is essential to have proper documentation of all the manual workflows to ensure that they are executed correctly. Using an automated workflow operations management system software, you overcome these and many other challenges.
Therefore, the next big question is which workflow management software to use. You can't just choose any system. It should meet your and your company's expectations. Therefore, we have tailored a list of industry-leading workflow automation systems.
Benefits of Managing Workflows
Businesses can use workflow management platforms or workflow engines to automate routine business procedures, ensuring identical (or very similar) outcomes each time. Managers always need software that is adaptable, integrated, and capable of handling multiple activities so that they may accomplish their objectives. The management systems help them precisely with that and many more things like:
Unlimited Dependencies:
Workflow management software allows you to create as many linked activities as needed so that each right step takes you one step closer to the desired outcome.
Automated Notifications:
Workflow management software automatically alerts those who need updates so that the users won't miss out on any information or deadlines.
Offers Automatic Processes:
Workflow management software provides automated processes, also known as 'workflows.' Workflows consist of a series of tasks that can be repeated.
An example of this is the process followed when invoices are generated and sent to customers: First, sales create an invoice in their system, then accounts receivable enters the information into their system, and finally, accounts payable pay the invoice.
Unambiguous data: Workflow management software ensures data is clear and easy to understand. So you will know exactly what each person involved with your workflow needs to do next at every step.
Automated routing: Workflow management software allows for automatic routing so that steps such as approval or rejections go where they need to without any human intervention.
Automatic calculations: Workflow management software allows for automatic calculations to ensure that financials and other metrics are kept current throughout the process.
Independence from Location: With workflow management software in place, employees working from the office and those on the go can easily access important documents, data, and communications at any time. As a result, projects are never delayed due to reliance on a single team member or location for input or submissions of final results.
Cloud-based system: Usually, a workflow management solution runs on a cloud platform. Thus you can access your work anywhere, anytime.
Integrates with SAP and other services: Workflow management systems integrate with other systems and processes, reducing the number of interfaces, decreasing costs, and increasing workflow.
Time-tracking and timesheets: The workflow management software automatically records the time spent on different tasks, making it possible to generate reports and submit them for payroll.
Different workflows: The workflow software allows you to create multiple workflows depending upon the requirements and needs of your project, which helps in achieving outcomes faster and better.
Team collaboration: It is possible that with workflow management software, you can keep track of meaningful conversations and information. As a result, teams can collaborate more efficiently and avoid confusion or miscommunication that might affect deadlines or even the outcome of tasks.
Create invoices and forms: The workflow software makes it possible to create forms and invoices automatically. This saves time for the company by eliminating human error.
So, these were some of the benefits of Workflow management software. You can now easily comprehend how the Workflow system works and the processes followed by the workflow system.
Workflow Management Software Best Practices
Defined workflows
There are generally hundreds of workflows in each team and department. These workflows are scattered across a variety of tools and personnel. But, when the entire company is aware of all these procedures, it indicates that good workflow management has been established.
Some workflows are well-defined, while others are not. However, you should make an effort to regularly recognize and document these processes.
Codified workflows
Another way to improve workflow management is by documenting it. Documenting a workflow ensures that everyone can follow the same steps and actions regardless of their personality, department, or role. This practice will help people become aware of where information is going and what happens after it's processed.
Data-driven workflows
When you have data on your side, you can learn from past mistakes and make future decisions more quickly. Workflow management systems keep track of all the notes made during every step of the process.
Data-driven workflow management enables timely decision-making based on accurate numbers rather than guesswork and assumptions. Everyone with access to this system can see precisely how things went wrong (or right) and adjust accordingly.
Prioritized and Streamlined Workflows
If you prioritize tasks appropriately, it will be easier to implement the most important ones. Although tasks might seem small, these tasks may significantly impact your workflow management efforts. Prioritizing also helps shorten the time to complete each task before moving on to another one.
You can start with customer-facing workflows like sales processes and discount approvals or employee-centered workflows like hiring and onboarding. These are critical business processes that have a significant influence on the company.
Regular monitoring and optimization
The only way to create highly efficient procedures is through optimization. Even if your initial workflow is intelligent and data-driven, it will be inefficient. Workflows on paper are primarily flawless and inhuman.
Workflows that operate in real-time are imperfect both in design and execution. An organization with effective workflows can effortlessly achieve all commercial objectives.
End-to-end workflow automation
Build fully-customizable, no code process workflows in a jiffy.
17 Best Workflow Management Software Solutions in 2023
1. Cflow
A cloud-BPM workflow automation software that can be completely customized according to the unique requirements of any business workflow. Cflow is a no-code BPM, which means that setting up workflows or workflow forms can be done by just anyone using the visual form builder. Key business workflows like procurement, finance, accounting, employee onboarding, etc. can be automated within minutes by using the drag-and-drop option. Cflow enables teams to tailor their workflow to their demands and communicate seamlessly.
Cflow can be easily integrated into a number of productivity and collaboration apps like SAP, Zapier, G-Suite, and many more.
Top Features:
Cflow enables you to create highly customized automation workflows that operate smoothly and efficiently.
Visual workflow builder uses the drag-and-drop way to create rules automatically and set any process in action within minutes.
Cflow works efficiently as a standalone workflow management platform but also integrates seamlessly with over 1000 business applications.
The highest levels of data encryption and security are provided in Cflow. Frequent data backups and multiple storage solutions ensure the safety and security of data.
Pricing:
Happy: $7 per user per month, a minimum of 10 users
Joy: $11 per user per month, a minimum of 10 users
Bliss: $16 per user per month, a minimum of 10 users
Pros:
Real-time insights into process statuses through an intuitive dashboard.
Cflow offers insane levels of customer support
Easy API integration of thousands of apps via Zapier
Only workflow software enables people without a Cflow license to approve workflows.
Cons:
The free version is limited in functionality.
2. ProofHub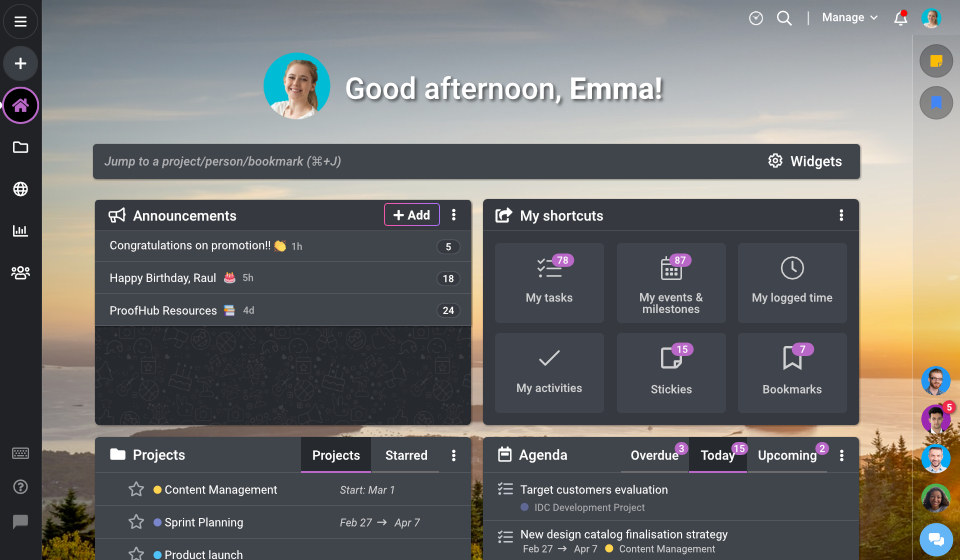 Source: ProofHub
ProofHub is a user-friendly project management tool that allows project managers and teams to organize, manage, and execute their work with more flexibility and accountability. Proofhub's versatility in project management and team collaboration software enables it to become one of the most popular choices among workflow management solutions.
Using ProofHub means you will get to hold discussions easily, communicate with the employees, and make and share Gantt charts, custom workflows, and Kanban boards. All these functions and many others including tasklist viewing, and time tracking helps in ensuring prompt project delivery.
Top Features:
Organizing the tasks and projects is easily executed in ProofHub.
You can view the tasks that are pending, in progress, priority, completed, under review, etc.
Divide the tasks among the employees using Kanban boards.
Use Gantt charts to arrange the task's timeline.
Bring all the project-related documents and files to one place.
You can set access permissions for everyone using the software.
Pricing:
Ultimate Control – $89 per month
Essential – $45 per month
Pros:
The visualization aspects of ProofHub are great.
Task division is made easier and more efficient.
You can manage every task and its files in one place.
ProofHub makes it easier to synchronize different tasks of a simple project super easy.
Cons:
The user interface is cluttered.
Setting up forms is not easy.
Lacks resource management functionality.
3. Next Matter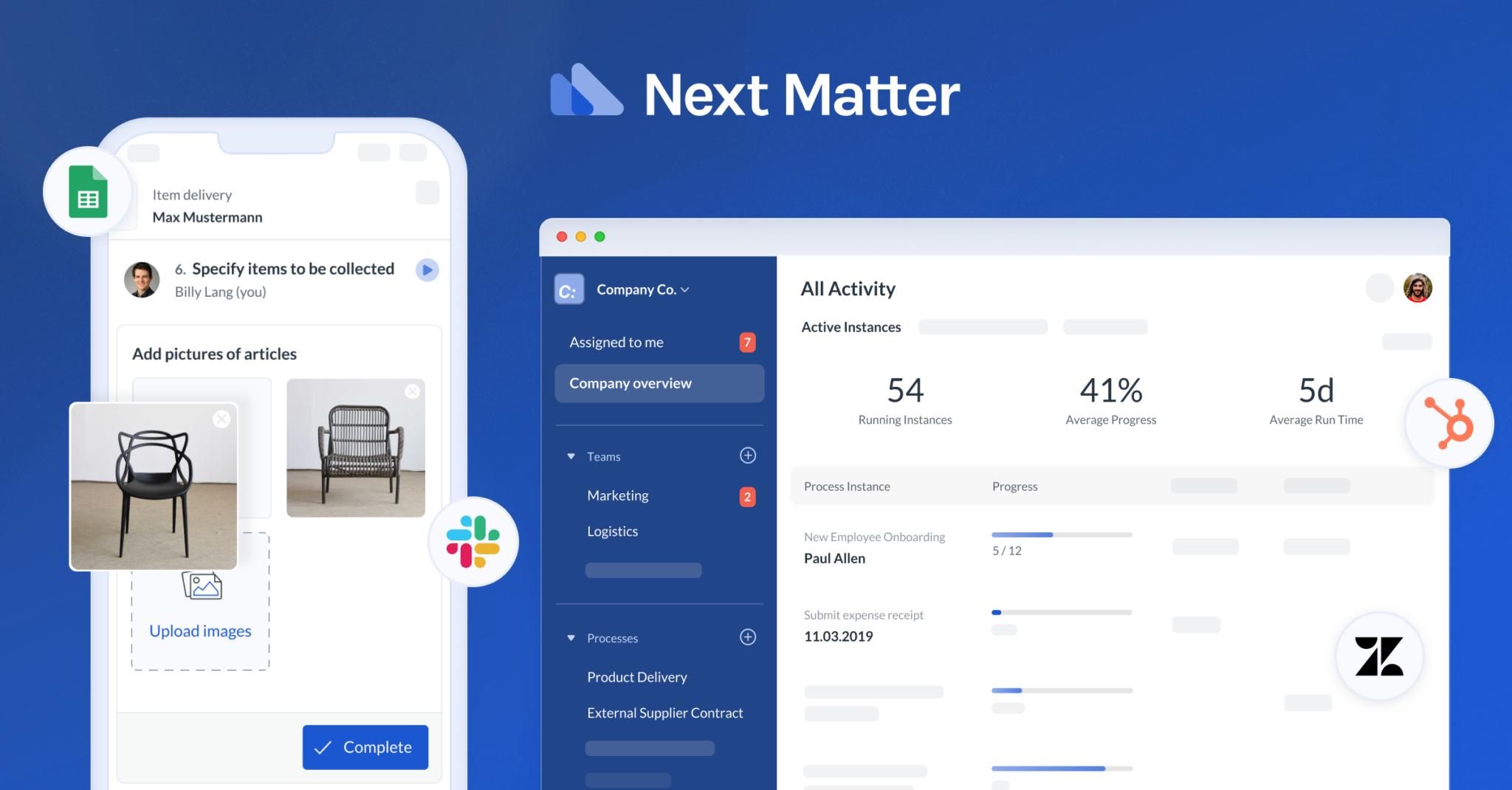 Source: Next Matter
Next Matter is an automation-oriented workflow management and maintenance solution meant to help scale businesses. It works like a dedicated partner having the deepest management consulting and technical experience in customized workflow implementation and project onboarding. By using the system you will also benefit from intelligent technical support for integration purposes.
This workflow management solution provides task, process customization, and automation features. The interface is compatible with several third-party tools, further enhancing the solution's utility. You can scale the management processes here without knowing how to code or hire developers, or without having IT project management experience.
Top Features:
Next Matter gives you effective options to automate tasks and streamline the work.
Notifications about updates on the tasks are sent to chosen platforms including Gmail, Slack, Team, etc.
It lets you schedule calls with the team members and configure them to trigger according to the designated events.
Smart task pooling helps manage every project and activity easily according to the jobs and roles.
Single-page accessible execution view and dashboard.
Pricing:
Starter: $29 per user per month
Professional: $50 per user per month
Enterprise: $108 per user per month
Pros:
The automation sequence of Next Matter is highly efficient and rules-based.
The dashboard is intuitive.
You can also collaborate and connect with external users on Next Matter without asking them to install it separately.
The low-code/no-code process builder is useful for customizing the platform.
Cons:
Next Matter is more suited for bigger enterprises.
With extended usage, there have been some performance issues.
4. Process Maker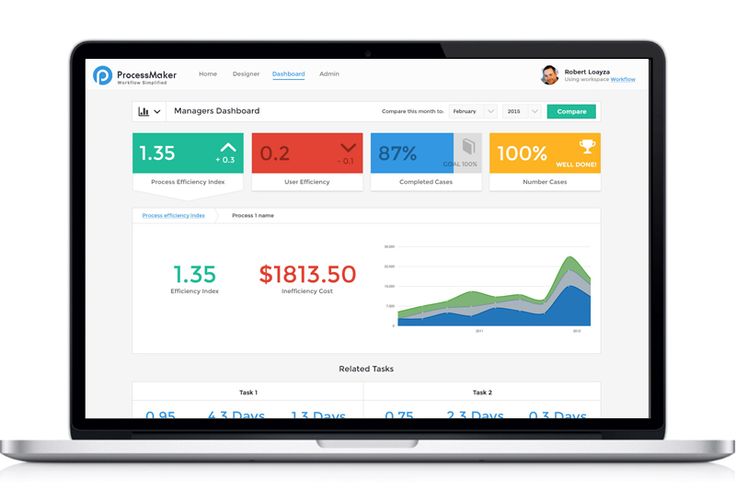 Source: ProcessMaker
ProcessMaker is an open-source workflow and business process management solution meant for modern businesses. This solution is developed to provide the necessary flow of information between data and systems by automating form-based, approval-driven workflow processes.
Users can especially benefit from its simple drag-and-drop interface which is both simple to use and cost-effective. The fact that ProcessMaker is low maintenance, efficient, and has a low overhead makes it an excellent choice for small and budding businesses. Due to its ability to work in favour of small businesses, professionals use it to automate processes, communicate with their teams, and achieve more.
Top Features:
Create, modify, and execute processes with zero coding and technical understanding.
Let's design and execute bespoke deployment systems for tasks and projects.
The automation-led functions enable you to reduce manual task handling and data management.
Intuitive and powerful dashboards are meant to create efficient workflows and improve visibility.
ProcessMaker can also work seamlessly with legacy systems which are also beneficial for digital transformation.
Pricing:
Standard: $1495 per month
Enterprise: $2479 per month
Pros:
The user interface is clean & easy-to-use.
The drag-and-drop builder visualizer helps implement the design you want.
Has in-built capabilities of data analysis.
ProcessMaker is easy to scale.
Cons:
You will require some coding knowledge and experience for more advanced features and functions.
It is not compatible with the IE browser.
5. Smartsheet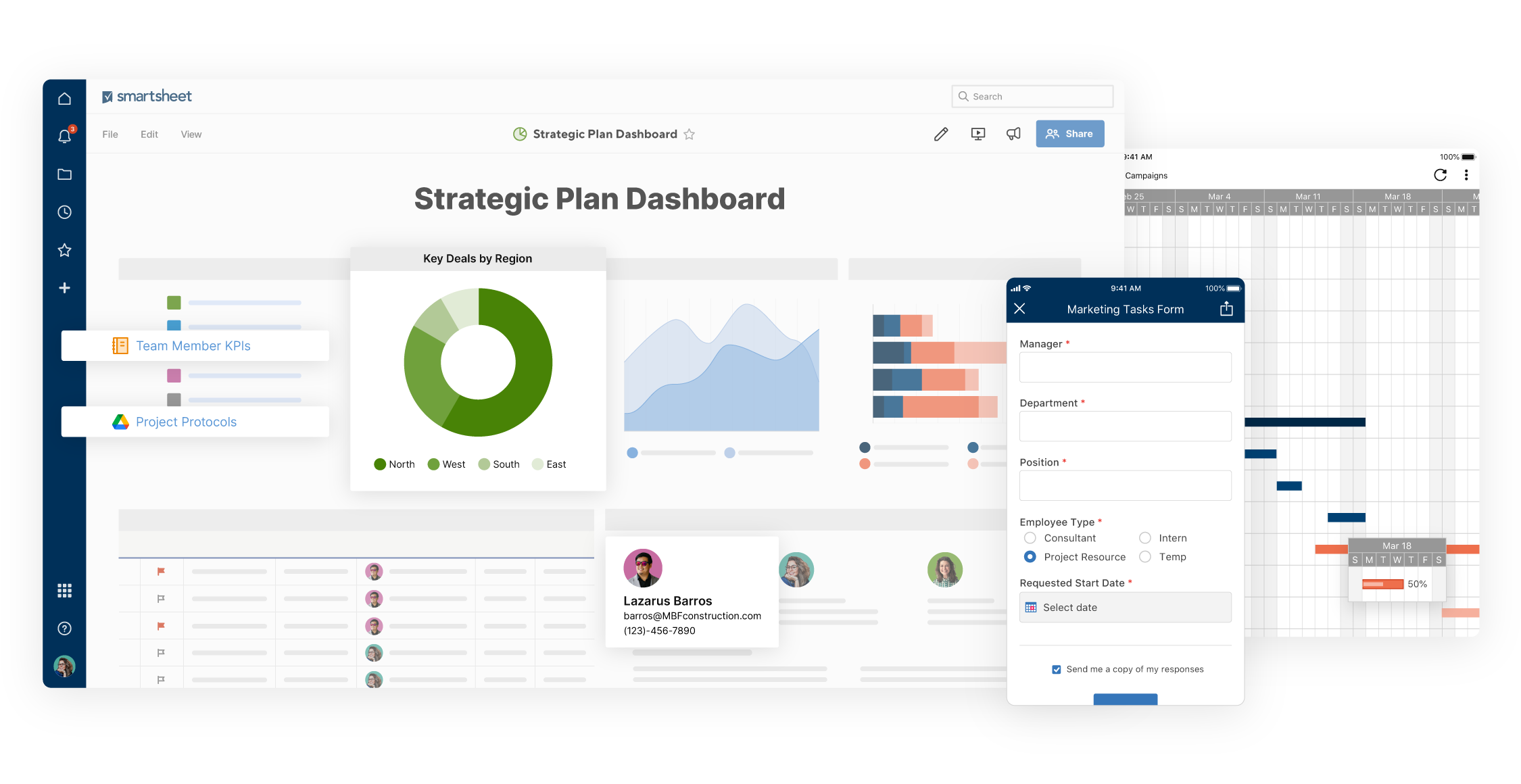 Source: Smartsheet
Built on the lines of a spreadsheet, Smartsheet gives you the ability to organize company tasks, schedules, processes, and other aspects of business management. Besides being a project management tool, the workflow management capabilities of this solution include customizing the brand logos and prescribing different color themes for individual projects.
To keep up with the tasks and their completion process, Smartsheet lets you automate the workflow and visualize the calendar, card-styles views, and Gantt. Furthermore, the team members are automatically updated about the critical changes in the project in real-time.
Main Features:
Smartsheet can be integrated with Microsoft and other Google applications.
It has an in-built Critical Path feature that highlights all the projects that have an immediate and direct impact on your existing projects.
All the calculations associated with the tasks and projects will be complicated within the software.
Smartsheet helps you deliver projects and tasks quickly while ensuring that everyone stays accountable.
The repetitive tasks are automated, saving you time and resources.
Pricing Plan:
Pro – $7 per month
Business – $25 per month
Enterprise – Shared according to requirements
Pros:
It can easily extract data from multiple sources collaborating on a single platform.
Provides all the functionality of a spreadsheet in one solution.
In-built templated forms for prepare-by-client requests.
Cons:
Using Smartsheet must be done with effective training.
The pricing structure starts at the higher end.
6. Monday.com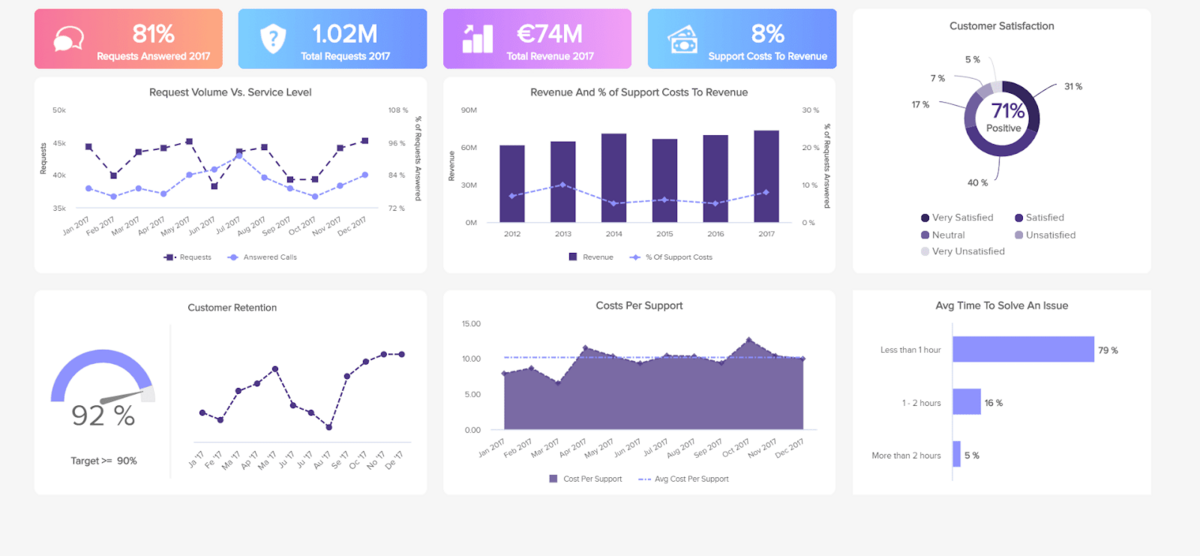 Source: Monday.com
It is a flexible project management tool that allows businesses to schedule and plan future work. It offers real-time data insights, including instant notifications when tasks are completed or changed, which helps team members achieve their goals more quickly. You can also chat in groups to discuss issues with ease.
Top Features:
The tool allows you to schedule tasks and set priorities so that you and your team stay on top of your workload.
You can use this software to view your project boards in a team calendar format.
Monday.com's platform also allows you to build your boards, which will help you track materials for your project.
Gantt charts are part of this software.
Workflow automation options are also available.
Pricing:
Basic: $8 per month per user
Standard: $10 per month per user
Pro: $16 per month per user
Pros:
Real-time updates.
Plentiful features in a single platform.
Work chat helps in effective communication.
Easy to use UI with almost identical interface same as Microsoft Excel.
Cons:
The free version is limited in functionality.
Doesn't provide any more features than collaborative boards.
Limited reporting, which feels a bumper when handling more than one client.
7. Pipedrive

Source: Pipedrive
Pipedrive is a simple-to-use pipeline management software that includes a slew of useful features. Using a drag-and-drop sales pipeline, Pipedrive makes managing and tracking your sales efforts simpler.
Pipedrive's adaptable approach to following up on leads and its proactive nature to track and organize calls and emails and sync calendars across devices make it ideal for salespeople. The capacity of Pipedrive to comprehensively portray the sales process from beginning to end may be pretty appealing to most small and mid-sized enterprises (SMBs).
Features:
Logging Leads
Revenue Projection
Scheduler
Smart Contact Data
Track Communication
Customizable Reports
Visual Pipeline of Sales Stages
Workflow Automation
Price:
Basic Plan – $12.50/user per month
Advanced Plan – $24.90/user per month
Professional Plan – $49.90
Enterprise Plan – $99.00 per user per month
Pros:
It helps in importing data from other CRMs easily.
Pipeline management is simplified with customizable dashboards.
Sales leads are immediately added to your pipeline after receiving a response from custom chatbots & web forms.
Assesses sales performance with the help of metrics.
User-friendly interface
Customized reporting capabilities
A lengthy list of app connections
Communication monitoring is excellent.
Cons:
Designed for small and mid-sized enterprises.
Lists of new leads and contacts are not divided.
Doesn't integrate with larger corporations like SAP or Oracle.
Marketing solutions and features that are simple to use.
8. Kintone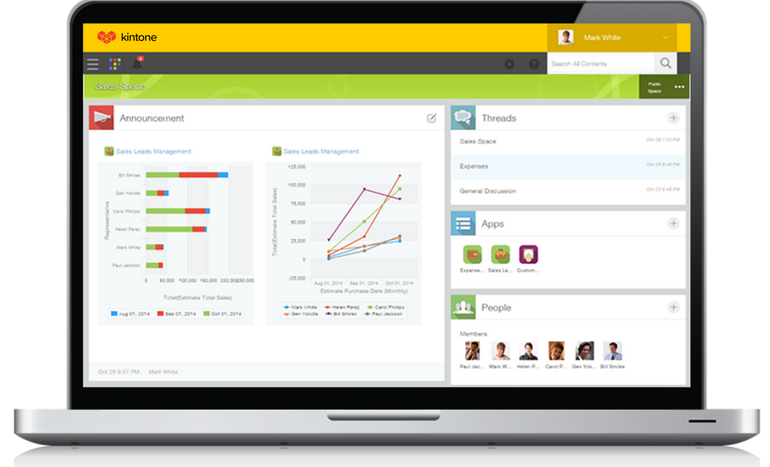 Source: Kintone
Kintone is a project and workflow process management software allowing managers to track, prioritize, and assess their team's tasks for any workflow. Kintone is built to handle any project or task with the same efficiency. It is built with a drag-and-drop builder meant for non-coders and it enables you to design personalized workflows for any type of task or project.
You can also customize Kintone to create automated reminders. There are options to filter tasks or project stages by data field or team member to generate custom reports or dashboard views and automate handoffs.
Top Features:
You can view, edit, and update the workflows may also be viewed, edited, and updated from the platform's mobile and desktop apps.
Kintone has an in-built communication channel for seamless interaction between the teams.
With customized alerts and notifications, you can easily let the team members know the updates without having to specifically message everyone.
Kintone is also available as a mobile application for teams on the go.
You can also set permissions and approvals for the projects and their associated tasks.
Pricing:
Professional: $24 per month per user
Enterprise: You can request a quote
Education and Government: $15 per month per user
NGO: $15 per month per user
Pros:
There are specially curated plans for NGOs, government agencies, and educational institutions.
The platform offers low code customization with automation-led workflows.
The mobile application of Kintone is intuitive and smart.
The record-keeping system of Kintone is commendable.
Cons:
The desktop version of Kintone is not very intuitive in terms of UI.
The integration with third-party applications comes at an additional cost.
9. Nintex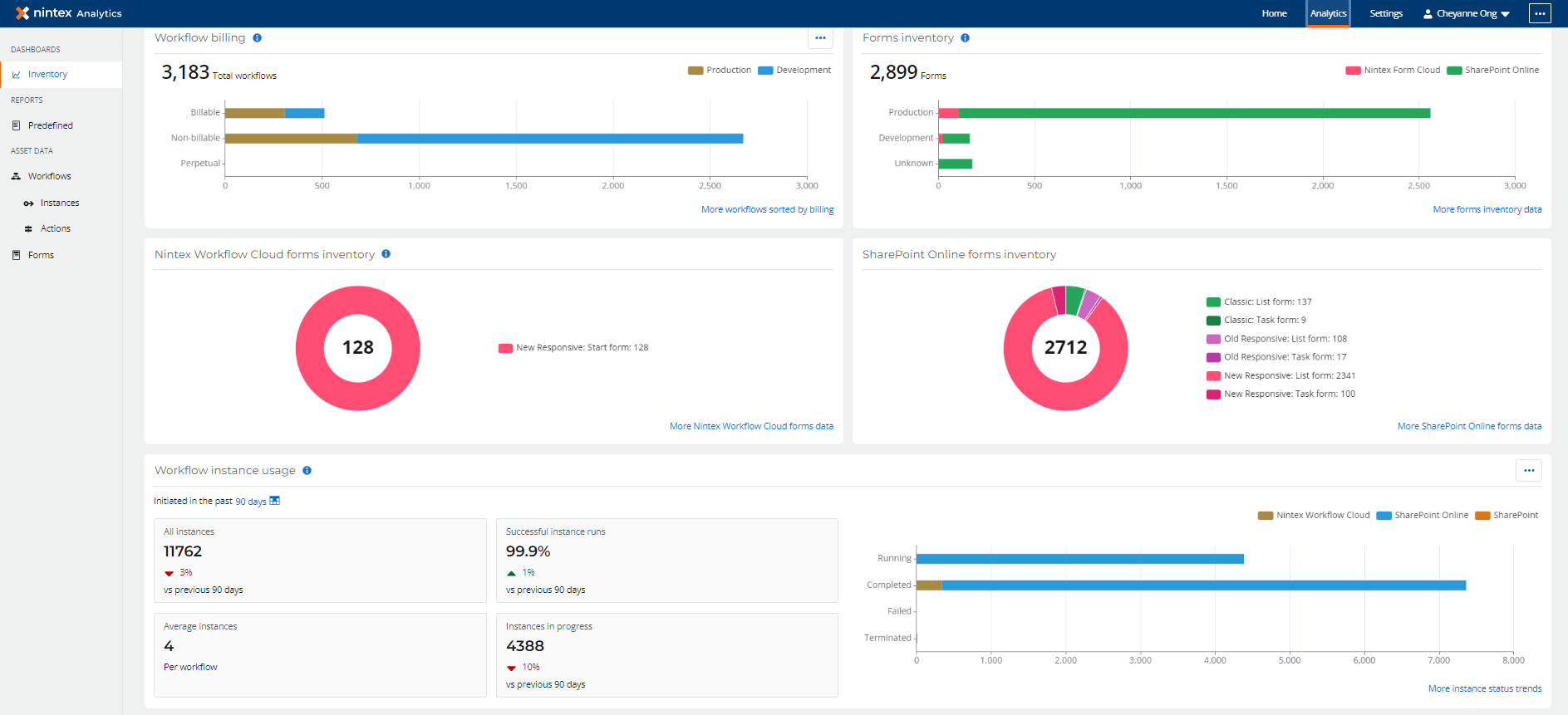 Source: Nintex
Nintex is a leading workflow management software for businesses in every industry and vertical. This solution aims to help make your workflow management work simpler and quicker and automate the procedures. Furthermore, Nintex connects cloud workflows, on-premise computing networks, and mobile users to automate processes. It helps manage the existing content management systems while assisting companies in collaborating on a larger scale.
Nintex makes it simple for teams to streamline work systems, integrate content, and enhance the existing results to get a better outcome. The application has a user-centric design and interface that works well for both everyday tasks and more sophisticated ones.
Top Features:
Nintex has several features that help improve processes by leveraging the power of automation.
It has in-built process mapping systems and mobile app compatibility for a more robust outcome.
There are many free workflow templates available on the platform relevant to every industry and department.
You can instantly share, send, and receive documents.
The collaborative center of the processing system helps with the easy management of every task from a single place.
Pricing:
Nintex Promapp Standard: $955 per month.
Nintex Promapp Enterprise: $1405 per month.
Nintex Workflow Standard: $910 per month.
Nintex Workflow Enterprise: $1400 per month.
Pros:
Integration with Salesforce is easy and quick.
It has an in-built e-signature system to fast-track the signing process.
The user interface is intuitive and user-friendly.
It removes the need to enter data manually.
The design of Nintex is adaptable to the company's needs and market.
Cons:
Implementing multilingual forms requires more work than usual.
The reporting and logging function is less efficient.
There is some lagging while working with new events on the platform.
10. Process Street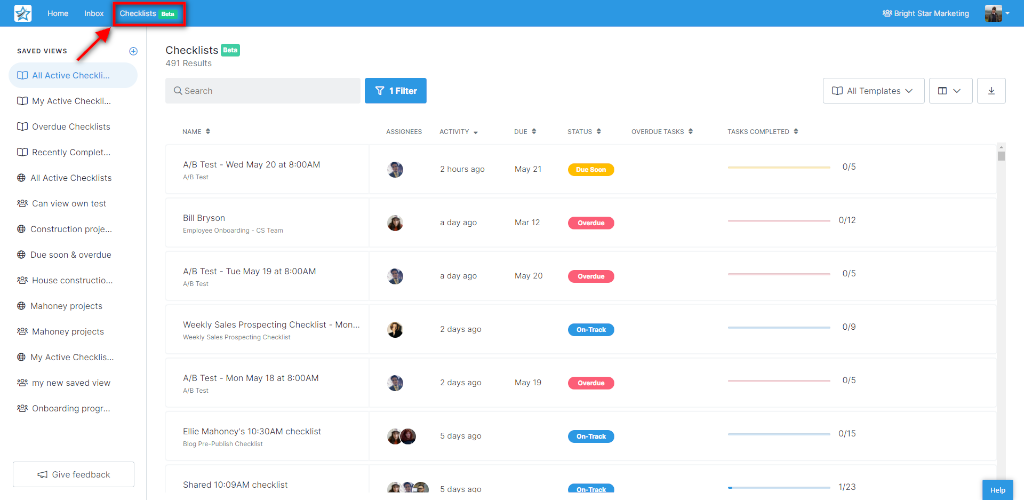 Source: Process Street
Process Street is a workflow & process management solution with some powerful features to make the entire process easier and quicker. It's one of the simplest ways for teams to handle recurring procedures and checklists while working on projects.
Businesses can use Process Street to track their work processes using checklists and commit zero errors in task allocation, monitoring, and tracking. All of this saves a lot of time for the project managers and ensures timely delivery.
Any type and configuration of the team can use Process Street to create recurring checklists, collaborate on them in real time, and track their progress until they're finished. Furthermore, it has a number of additional features such as custom permissions, automation, and reporting that enable enterprises to achieve more than they anticipated.
Top Features:
Pages represent the system that helps with documentation on Process Street. It lets you share, organize, and capture project-related information.
You can quickly design and implement collaborative workflows while tracking their progress.
Process Street is compatible with over 1000 applications for task automation and high-level management.
The forms feature of this workflow process management software can be used to capture and structure data.
Pricing:
Pro: $25 per month per user.
Enterprise: Custom quotes
Pros:
The pre-built templates make it easy to create and manage workflows.
Process Street has an amazing amount of documentation for using the solution easily.
The template-based process workflow automation helps improve business efficiency.
You can create, customize, and manage the checklists easily.
Cons:
The user interface is clunky for some users.
The permission setting system is not great.
Process Street's inbox tab is not user-friendly.
11. Process Bliss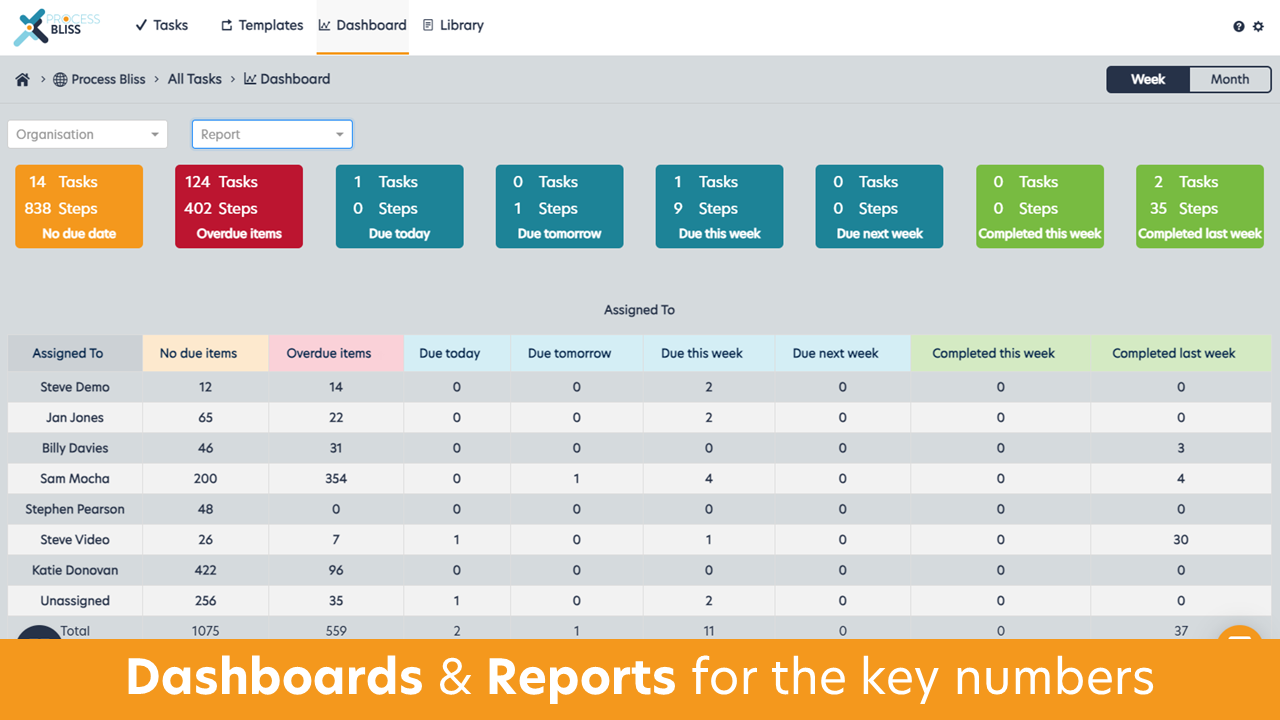 Source: Process Bliss
Process Bliss is an all-in-one workflow management system for small and medium organizations. Besides an impressive process flowchart-making interface, Process Bliss also facilitates several templates and associated features to improve decision branching, loops, dependent due dates, data sorting, and file capture.
The templates in Process Bliss are organized in a friendly structure with a permissions-based system. If not for using the prebuilt template workflows, the users can also create their own templates. Furthermore, with features like process quality analytics and feedback on the templates, Process Bliss can be improved according to the changing requirements.
Top Features:
Process Bliss gives you a system to centralize the organizational policies, processes, and procedures.
A single dashboard acts as a view-in-one-place system for the users, ensuring complete visibility from a single window.
You can integrate more than 2000 third-party applications with Process Bliss to further enhance the functionality.
Pricing:
Pros:
The task workflow builder in Process Bliss is amazing.
Built-in process improvement systems are helping you complete them with ease.
The support team behind Process Bliss is readily available.
Cons:
It doesn't have a built-in time-tracking system.
The dashboard has fewer features than required.
There have been reports of lagging.
12. Freshservice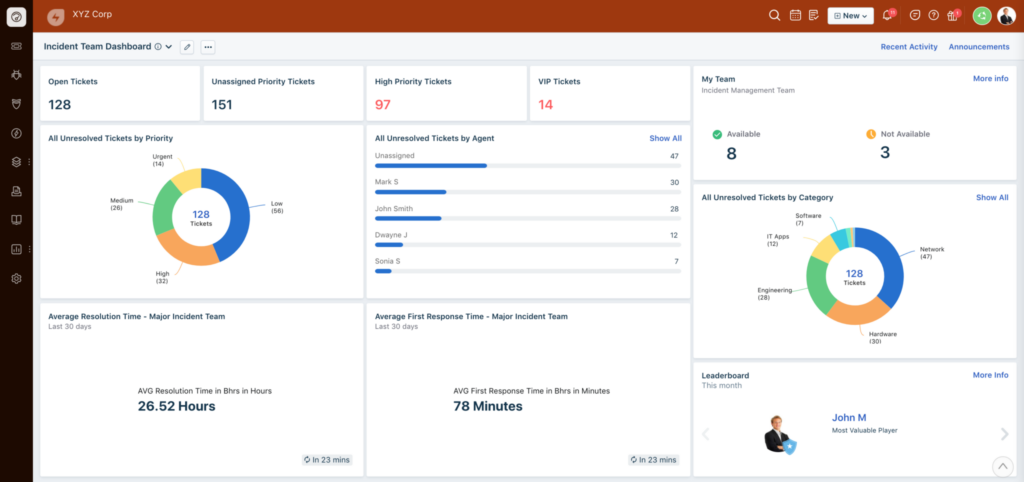 Source: Freshservice
Freshservice includes all of the tools and capabilities needed for proactive IT service and systems management. The solution has a robust automation system that reduces manual work and the costs associated with the same. You can also automate the internal operations with the workflow Automator provided within the solution.
It contains features that allow it to assign agents to requests automatically. Workflow Automator can assist you in creating approval workflows to speed up the work and reduce window hopping to wait time and file misplacing. The program will automate the complete approval workflow across all service desk modules.
Top Features:
The Workflow Automator allocates and auto-assigns the tickets to the right person in the team.
It can also automate repetitive tasks like employee onboarding and desk approvals, leave approvals, budget allocation, etc.
Besides efficient ticket allocation, you can build customized rules for ticket monitoring.
Run, manage, and complete projects in any way you want.
FreshService IT workflow management solution works with agile, waterfall, and Hybrid management modes.
Pricing:
Starter: $14 per user per month
Growth: $34 per user per month
Pro: $54 per user per month
Enterprise: $64 per user per month
Pros:
The easy-to-use drag-and-drop system helps build a bespoke workflow and interface.
Create custom triggers for a particular project or event.
Automates the majority of repetitive tasks.
Can handle problem management and change management.
Cons:
Project and task reporting is not efficient.
Customer support services are slow.
13. Hive

Source: Hive
Google, Starbucks, Comcast, and Toyota all use Hive to strengthen and reinforce their process and workflow management. With its features and functions built to improve your organizational processing and lay a strong foundation, Hive is an excellent solution for teams and companies of every size.
Its features and functions, particularly in the creative arena, enable the teams to become more efficient, proactive, and knowledgeable.
Some of the tools available with Hive include systems for creating workflows and automating routine chores. Due to this, company-based processes and communication will be streamlined. It may be integrated with a variety of apps, allowing you to manage all of your tasks from a single location.
Top Features:
Subject to the plan you choose, there is no limit to the number of projects and tasks that can be added and managed here.
View and arrange your projects with Gantt, Kanban, and other visualization tools for better understanding.
A single and clean view (dashboard) will give an overview of every project.
Build and share customized intake forms to collect and process information.
Pricing:
Hive Solo: Free to use
Hive Teams: $12 per user per month
Hive Enterprise: Contact the sales team
Pros:
The analytics part of Hive is exemplary.
It comes with an efficient messaging and resourcing system.
You can create and implement automated workflows.
The users will get a fully integrated email box.
You can improve the workflow management system with more than 1000 integrations.
Cons:
The Hive mobile application has some performance issues.
Data shuffling can reduce performance and speed.
Hive is complicated to work with.
14. Wrike

Source: Wrike
Wrike is a user-friendly workflow management tool for small to enterprise-level teams that can accommodate unlimited users. It allows users to easily modify processes, dashboards, reports, and request forms.
For displaying priorities, Wrike's intuitive interface allows users to transition between Kanban boards, interactive drag-and-drop Gantt charts, and traditional workload views. Wrike also has a lot of automation tools, such as custom request forms that assign tasks automatically, push alerts, and deadline tracking.
Top Features:
You can generate reports for resource management and allocation for better insights.
Wrike enables you to customize the dashboard and create the required workflows, request forms, etc.
Besides basic workflow management, you can also share files, tasks, and reports for better collaboration.
It sets your team on a scaling path and can be modified to adapt to the new changes in the company.
Pricing:
Professional: $9.80 per user per month
Business: $24.80 per user per month
Enterprise: Customized quotes
Pros:
Wrike gives amazing visibility into projects according to their departments and teams.
It has comprehensive task modeling features.
The features can be easily configured.
Wrike offers multiple ways to view the same data using Kanban boards, Gantt charts, etc.
Cons:
Wrike's cost of adaptation and maintenance is high.
It also has a steep learning curve.
15. Quixy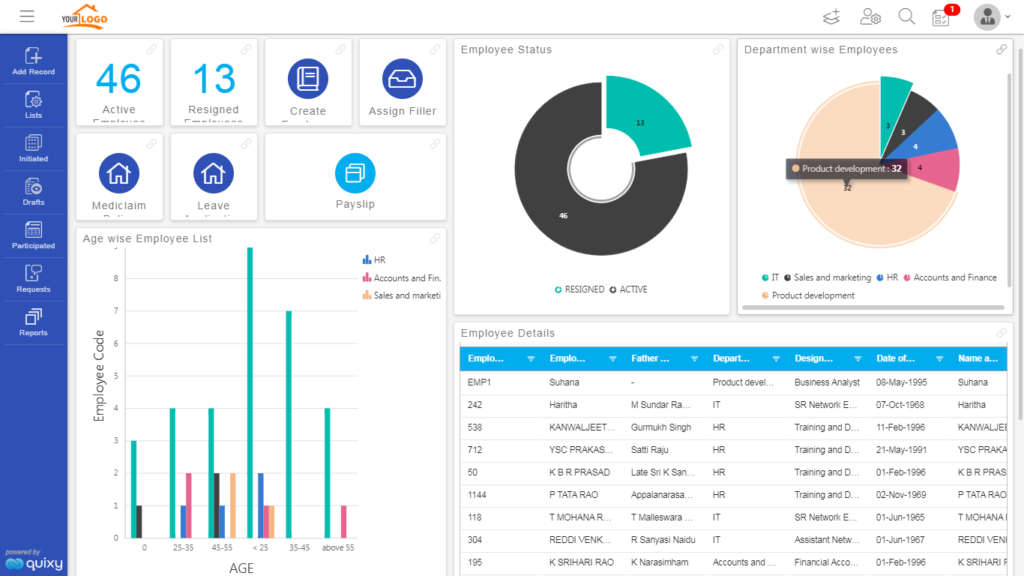 Source: Quixy
Quixy's cloud-based no-code platform enables corporate users to build and modify automated procedures and workflows across departments. Without writing any code, any type of workflow can be automated. Whether sequential, conditional, or parallel, Quixy can help you build a bespoke system.
Quixy offers many pre-built workflow apps for a variety of use cases, including CRM, project management, HRMS, and more. Quixy stands out in the market from the competition for its ability to implement the required product direction and its ease of use.
Top Features:
Besides creating workflow processes and systems, Quixy can help create custom applications to support the business.
For business process management, you can create and process workflows, not to mention automate them.
You can build a single digital workspace for more efficient workflow implementation and management.
You can work with advanced features like facial recognition, QR code scanning, and grid controls.
The Quixy rules engine lets you configure the required business rules and validations without writing code.
Pricing:
Solution: $1000 per month
Platform: $18 per user per month
Enterprise: Contact the sales team for a custom quote.
Pros:
The no-code system allows anyone to work with Quixy.
You can implement and handle sequential, conditional, and parallel workflows.
You can build applications for the business faster and of higher quality.
It comes with an extensive list of features to customize the business processes and workflows.
Cons:
Initially, Quixy is a bit difficult to learn, but it gets easier as you learn more.
There is a lack of supporting documentation.
16. Qntrl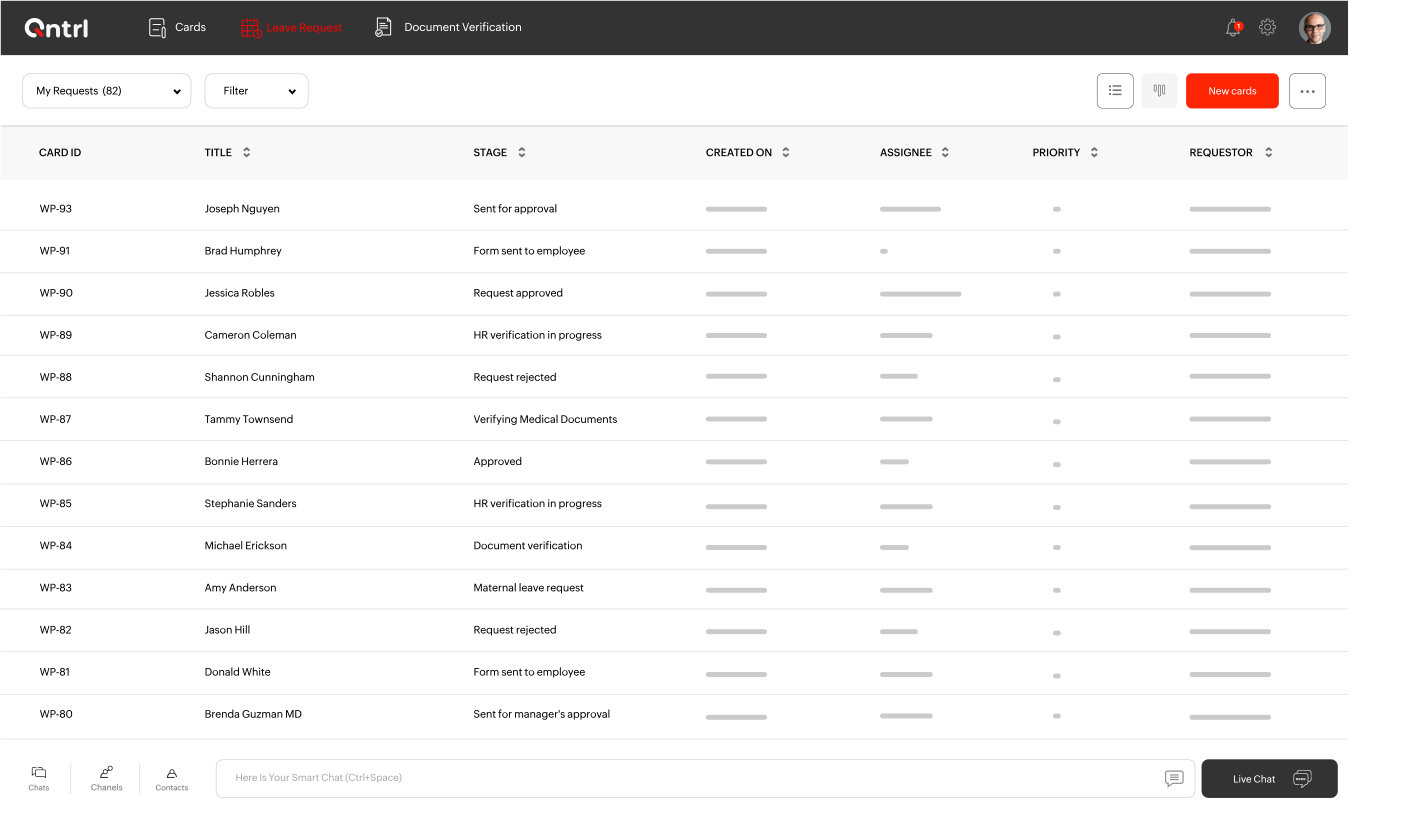 Source: Qntrl
Qntrl is primarily a drag-and-drop platform meant to help build management workflows and systems for a company. The users can use Qntrl to automate, manage, and improve traditional corporate workflows and standard operating procedures. With its features and capabilities, you can automate operations across departments such as HR, Marketing, Finance, IT, and Legal.
Qntrl is designed to help medium and enterprise-size companies in any industry. The forms in Qntrl can be customized for collecting company data. Moreover, it comes with a workflow generator that can map both simple and large workflows as flowcharts in a matter of minutes.
Top Features:
Qntrl lets you assign tasks and projects to the team members while ensuring accountability.
You can set if-then conditions to automate the workflow and reduce human intervention.
It offers real-time tracking systems to help you stay updated with requests.
Qntrl generates comprehensive reports to help you get better insights into processes and help identify the bottlenecks.
The role-based access control helps with setting permissions according to the employee's level.
Pricing:
Pros:
Qntrl can be integrated with Zoho for better accounts management.
The workflow visualizations are impressive.
It allows sending in-app notifications to the users.
Automates the workflow actions to ensure efficient implementation.
Cons:
Some of the features in Qntrl are complex and are not easy to use or learn.
Qntrl dashboards cannot be customized.
17. Automate.io

Source: Automate.io
besides allowing you to construct one-to-one integrations and multi-step workflows between various applications, Automate.io works similarly to other workflow management solutions. This software is great for teams who want to tailor their workflow to their demands while staying connected to each other and communicating seamlessly.
Integrations with a variety of products that professionals use on a daily basis are available in Automate.io, including CRM, lead generation software, and a variety of other business productivity apps.
Top Features:
With Automate.io, you can create customized automation-led workflows and speed up the process management systems.
The smart workflow builder lets you create efficient workflows connecting multiple applications, logic, and formats.
More than 200 connector applications and APIs are available to create a connected network of the required solutions.
The drag-and-drop system helps build workflows without coding experience and knowledge.
Pricing:
Personal: $9.99 per month for 600 actions
Professional: $19 per month for 2000 actions
Startup: $39 per month for 10,000 actions
Growth: $79 per month for 30,000 actions
Business: $15 per month for 100,000 actions
Pros:
The Automate.io interface is clean and easy to use.
You can filter several options to build the required workflows easily.
The customer and tech support team is quick, proactive, and smart.
The wide range of integrations helps in creating systems favorable for any kind of organization.
Cons:
The interface requires continuous improvement, which is lacking here.
There are issues with the screen loading speed.
Conclusion
Streamlining workflows can be effectively done by using workflow management software. The right workflow management solution can organize tasks in the workflow so that redundancies and inefficiencies are eliminated. Mapping out the workflow helps identify key areas of improvement, which the workflow management software can focus on. The list of top workflow software tools provided in this blog ought to help you choose the one that suits the requirements of your organization. Cflow is a comprehensive workflow management platform that caters to diverse requirements of organizations across industries. Insane levels of customer service that comes with the software takes you through every stage of automation. To know more, simply sign up for the free trial.
What would you like to do next?​
Automate your workflows with our Cflow experts.​
Get your workflows automated for FREE
---