Top 15 Business Process Management Software to Consider for 2023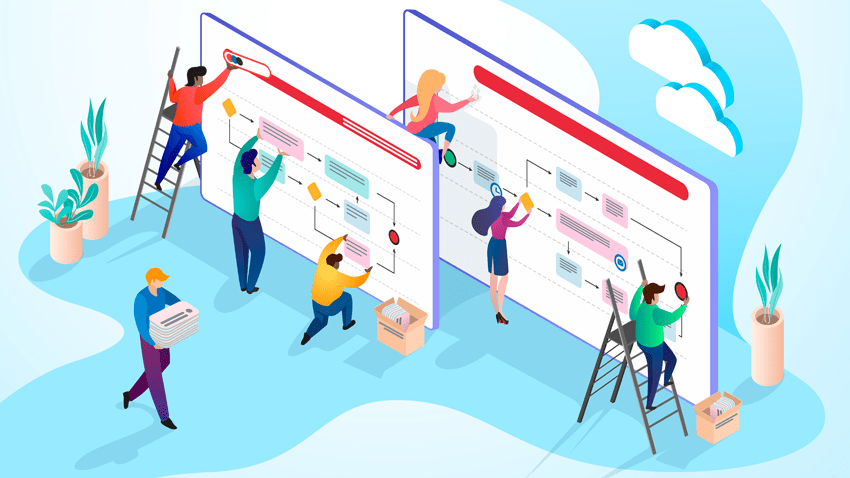 Business runs on its people, systems, and processes. A perfect synergy of these 3 components is necessary for smooth business operations. Using business software for operations management helps you map out everyday processes to identify and eliminate bottlenecks, control the company's costs, and make your day-to-day processes as efficient as possible.
Business process software also ensures the effectiveness of the people involved in your process. This blog explores the need for business process management, what business process management software is, and the best business process management software. 
What is Business Process Management?
Organizations without clear procedures and streamlined processes are likely to end up with operational delays, security threats, and chaotic processes, which will ultimately affect the business's bottom line. Guided by the right business process management (BPM) principles, businesses can optimize their processes and teams can carry out their responsibilities on time for faster and more reliable results. Business process management is the creation, optimization, implementation, and evaluation of specific processes in an organization. 
BPM principles can be applied to operational activities that are repetitive, ongoing, and predictable. Most often, such tasks are tedious and time-consuming, and employees end up spending most of their work hours laboring over them. BPM forms the basis for workflow automation, which automates such tasks.
Organizations can streamline and automate repetitive tasks so that the teams are able to achieve important business milestones rather than labor over these tasks. Implementing BPM also helps reduce the incidence and cost of error and delivers excellent customer experience. 
Unfortunately, most businesses debate implementing BPM mainly due to the costs that come with it. They might be tempted to ignore the need for BPM until processes are stable. It is not enough if processes just work, they need to work optimally. Optimal process performance is possible only when resources are utilized optimally and tasks are executed as per preset business rules.
Even more established businesses experience challenges in certain aspects of their business, like onboarding, sales and marketing, hiring, etc, when processes span multiple departments. The key to improving process performance is to build a solid foundation for systemized business processes with BPM. 
BPM can help organizations achieve business objectives in many departments and functions.
Some of the departments that can achieve optimal performance via BPM include –
1. Accounts payable and receivable 
accelerating invoice reviews and approvals, avoiding late payments, and deeper visibility into process performance can be achieved by BPM. 
2. Human resources 
processes like employee onboarding, and automating document routing for approvals are some of the HR processes that can be automated using BPM.
3. Compliance and risk management 
BPM can help identify legal and financial risks and help internal audit teams track and resolve issues via alerts and notifications. 
Based on the purpose of using BPM, it is categorized into document-centric, human-centric, and integration centric. Human-centric BPM is used for processes that are carried out by humans and usually require staff approvals. Document-centric BPM is when a document is at the core of the process. Integration-centric BPM is used between existing systems. 
Steps in the BPM lifecycle
A deep understanding of the BPM lifecycle is essential to deploy growth-oriented strategies that suit your business. The BPM lifecycle is broken down into 5 stages that need to be executed in a sequence to achieve desired business outcomes. 
1. Design phase 
The designing stage of the BPM cycle thoroughly examines how a process is carried out. For instance, management could start interviewing employees and teams to understand how work is carried out. Talking to team members sheds light on how requests are approved, claims are managed, or payments are made. The relevant documents are also observed, and the people and resources involved in the process are identified. The design phase is when you take time to note all the challenges that are slowing the process. 
2.  Modeling phase 
End-to-End observation of the process is carried out in the previous phase. In the modeling phase, a visual illustration of the process is created. Creating a process map is an important part of the modeling phase. The process map depicts the entire process, along with ways to optimize it and deliver the best outcomes. Teams can work along with management to create a process model that maps existing processes accurately and also highlights potential bottlenecks and scenarios that might arise in the future. 
3. Execution phase 
Once you have the process map ready, it becomes super easy to identify areas of improvement and changes that need to be done to the process. This part of the BPM cycle is utilized to test how a process would perform with smaller teams within a controlled setting. BPM stakeholders must document exactly which workflows are going to be changed and notify all the concerned parties about the changes. This is a very important step that ensures that business operations are not affected by the changes. 
4. Monitoring phase
The monitoring phase of the BPM cycle mainly concerns regular tracking and monitoring of the progress of the newly implemented system. The management, team, and other stakeholders must come together periodically to follow up on the performance of the project. When done right, process monitoring helps teams identify new or unexpected workflow bottlenecks.
When such scenarios are encountered, the team has to gather complete information on what went wrong, at what stage it occurred, and whether team members must re-evaluate how the activity is performed. 
5. Optimization phase 
Optimizing the outlined business process is the final and most important phase of BPM. While optimizing a process plan, you need to consider all the information on the process in the form of reports and metrics. A consolidated view of the process data helps make thorough improvements to efficiency.
It is important to consider BPM as an ongoing process improvement exercise, and not as a set-and-forget initiative. Success from BPM comes only when evaluation is ongoing and processes are improved and adapted to the organizations evolving demands. 
What is Business Process Management Software?
Now that we have explored BPM concepts in detail, let us move to what business process management software is. Business process management software analyzes, monitors, and transforms business processes based on BPM methodology. Business process management cloud software provides anytime, anywhere access to users, and real-time reports and analytics for making data-driven business decisions. 
A business process management platform can be used for a variety of reasons
1. To review and analyze existing processes 
This is the primary use of BPM. Analysis and review of existing processes help in monitoring the performance of the process and identifying bottlenecks and areas of improvement. Continuous improvement of business processes ensures that business performance is optimized and expected outcomes are achieved. 
2. Design new processes 
BPM helps in analyzing business requirements thoroughly and designing processes according to the requirements. Improving existing processes is also based on the review and analysis of the process based on BPM methodologies. 
3. Aligning business functions according to customer needs 
BPM techniques can be followed to analyze customer needs and expectations. Once you have that data, it becomes easy to modify business functions according to the customer requirements. When business functions and operations are aligned to customer expectations and requirements, process outcomes are better. 
4. Monitoring and measuring business resources 
effective resource utilization is possible only when the right resource is assigned to the right job/role. Also when a resource is not being utilized by a task or process, it must be released to the resource pool so that other tasks can use it. BPM enables effective monitoring and measurement of business resources so that process resources are used optimally. 
5. Optimizing business processes 
when a business process is designed, not much attention is paid to the redundant or repetitive tasks that make up the process. Only once the process is operational, do the redundancies crop up. Applying BPM methodologies to business processes eliminates redundant steps in the process and identifies repetitive, low-value steps that can be automated. 
6. Checking costs to make daily operations more streamlined 
the outcome of streamlining business processes to eliminate redundancies results in cost cutting. When repetitive steps are automated, the time and costs associated with these steps are also reduced significantly. As a result, the process becomes cost-effective and the execution time is also reduced significantly. Applying BPM techniques to essential business processes is highly beneficial for the organization in terms of cost and time savings. 
7. Speed up process approvals 
BPMS software alerts process owners on repetitive tasks that are causing excessive manual work for employees. Managers and team leads may be spending too much time reviewing and validating employee requests. Automating such processes speeds up approvals and frees up managers from spending too much time reviewing requests. 
Must-Have Features of BPM Software
Once you have chosen to implement a business process management software, you need to mull over the features of business process management workflow software. The market is flooded with BPMS software, but not all of them offer the same features. When it comes to choosing business process management software, the one-size-fits-all approach does not work at all.
The BPMS tool must be chosen based on the unique requirements of your business. There are some must-have features that you must look out for in the business process management platform, as listed below-
1. Customization 
The software must be customizable as per the requirements of your business. The software must be flexible to adapt to the expansions and changes that might crop up in the future. Customizability and scalability are a must for BPMS solutions. 
2. Integrations 
Prior to BPM implementation, businesses will have existing systems and software that are already running. Implementing a BPM solution must not disrupt the working of existing systems. Seamless integration with existing systems is a must-have feature of BPMS software. When the BPM tool integrates with existing software, data exchange between tasks becomes easy and quick. You must choose software that supports a range of integrations. 
3. Easy implementation 
Choosing a business process management cloud software simplifies the implementation and usage greatly. Cloud-based BPM systems can be installed within minutes, as opposed to on-premise systems that take days or even months. Working on cloud-BPM solutions is comparatively easy with intuitive dashboards and user interfaces. Dependence on the IT team is significantly reduced by using software that is easy to use and install. Look for software that provides templates and drag-and-drop features that do not require coding knowledge. 
4. Reporting and analytics 
The BPMS software must provide real-time reporting and analytics on process performance and task statuses. Having a bird's eye view of the entire process enables better control over process performance. The software must enable the real-time gathering of process data and presenting it in the form of an easily readable and understandable format. These reports can be used to measure the efficiency of process management. Process analytics also throws light on how the current process is performing and whether optimal results are delivered by each task in the process. 
5. Omni-channel operability 
Staying connected on the go has become the norm for business operations. The business process management system must support seamless interconnectivity between multiple channels and devices used for business operations. Interconnectivity between desktop, iOS, and Android devices is a must for easy collaboration. 
6. Support 
BPM systems are not the "fit-and-forget" types, where you install the software and forget about it. You require constant support even after you install the software. Any issues that might arise during the installation or working of the software must be addressed immediately. Choose a software that provides comprehensive support that helps businesses deal with issues quickly and efficiently. 
7. Tool control and role-based access 
business data must be handled very carefully. In order to secure business data, the BPMS tool must provide strict tool control features via profiles and role-based access. Role-based access to business data ensures that it is not misused or duplicated by unauthorized personnel. A single sign-on feature in the software and a security-based interface for logging into the software is a must-have feature that ensures data security and safety. 
Cflow is a cloud-BPM tool that provides a rich feature set that covers all of the above features and much more. This workflow automation tool supports digital strategies for organizations that demand agility, visibility, and cost efficiency. The visual form designer in Cflow makes it super easy to create workflow forms without any coding knowledge. Users can create customized workflows according to the requirements of their businesses. 
Implementing robust BPM tools requires an objective approach to analyzing the current processes and identifying areas of improvement. Process owners also need to be flexible while creating process rules, which gives people the power to take sensible decisions and modify changes wherever needed. While implementing BPMS software it is important to empower teams rather than control them. Process owners must go the extra mile to ensure that everyone is on board with the new system from the start. 
Benefits of Using Business Process Management Software (BPMS)
As your business grows, it is challenging to personally track and monitor each process. Manual processes cannot scale up to evolving business requirements. Moreover, managers and team leads are forever in the fire fighting mode when handling business processes in manual mode.
Working with manual processes takes the focus away from process improvement by diverting it toward issue resolution. This is where business process management workflow software comes into the picture. The main benefits of using BPMS software are listed below:
1. Reduction of risks 
A BPM tool provides deeper visibility into business processes, which makes it quick and easy to spot errors. Deeper visibility and transparency give organizations a way to work more efficiently and save time and money. 
2. Improved collaboration 
Running several tasks simultaneously requires good collaboration between tasks. BPMS tools foster better communication and collaboration between tasks so that everyone is on the same page. 
3. Better operational control 
Business process management software provides a comprehensive view of who is running what and where in a business process. The API dashboard in the software provides real-time information along with charts to help monitor progress and performance. 
4. Better agility 
Business process management software provides the ability to create smooth design processes so that changes can be made easily and quickly to align with evolving needs of the organization.
5. Improved productivity 
Implementing BPM techniques in a process makes it easy to measure performance via key performance indicators. Tracking of KPIs helps process owners identify endpoints that require improvement and maximize revenues. 
6. Reduced costs 
Redundant tasks are streamlined when BPM is implemented. Repetitive tasks that do not require human intelligence can be automated based on BPM methods. The costs associated with such tasks are greatly reduced by using business process management software.
7. Improved employee satisfaction 
When employees start working on high-value tasks that add value to the organization and their careers, their work satisfaction automatically goes up. They feel more valued and are willing to contribute more to organizational growth. When routine tasks are taken care of by the software, employees get time to focus on meaningful tasks. 
End-to-end workflow automation
Build fully-customizable, no code process workflows in a jiffy.
Top 15 Business Process Management Software (BPMS)
According to Grandview Research, the global business process management market size which was valued at 14.46 billion USD in 2022, is expected to grow at a CAGR of 19.9% during the forecast period of 2023-2030. The integration of AI into BPM has been a significant boost to market growth.
Integrating AI with BPMS software provided several benefits like automation of repetitive tasks, predictive analysis, and improved customer experience. Another major contributor to the growth of the BPMS market is its adoption in the healthcare sector. Other industries that have adopted BPMS include manufacturing, Banking and Financial Services, Insurance, and telecommunications. 
We have put together a list of the best business process management software for 2023. You can choose from this exhaustive list based on the requirements of your business. 
1. Cflow 
fully customizable, BPM-based no-code business process management platform that can automate key business workflows within minutes using the visual form builder. 
2. CMW platform 
an easy-to-use reporting and workflow automation. You can track the project progress of multiple teams in an organization with this low-code workflow automation platform. 
3. Appian BPM suite 
a futuristic BPM automation platform that enables businesses with interaction management, monitoring and business alignment, rule-based decision management, and process discovery and optimization.
4. Nintex 
a great tool to automate business processes without any coding knowledge. The easy-to-use interface simplifies workflow creation. The visual process mapping tool encourages enterprise-wide collaboration. 
5. IBM Business automation workflow 
a complete suite of software products and solutions that help organizations automate and optimize their business processes, workflows, and decision-making process. 
6. BeSlick 
workflow automation software that is easy to use with a simple interface. The process workflow builder, forms builder, and process reports are powerful and visually appealing.
7. Zoho Creator 
a low-code automation solution that allows businesses to create customized applications. Easy-to-build basic forms and a good set of basic apps are some of the notable features. 
8. Process street 
good BPM software for small businesses. Recurring tasks and checklists and automated workflows can be created intuitively via a drag-and-drop interface. 
9. Pipefy 
a flexible low-code platform that is trusted by leading enterprise-level companies. This software combines organization, automation, and communication tools into a single platform. 
10. Kintone 
a no-code application building platform that can also accommodate processes. Supports API integration as well as basic database functionalities. 
11. iGrafx 
best suited for enterprise organizations looking to bring visions to operational reality. Enables businesses to systemize risk and compliance, and improve the quality of information processing. 
12. Studio Creatio 
designed to help in the development of no-code applications. It is great for converting existing processes into applications with automation wherever possible. 
13. Monday.com 
a powerful project management tool that helps businesses plan, execute, and implement business processes in a visual collaborative space.
14. Proworkflow 
you can spend less time mentally managing projects and more time making processes a reality. 
15. ClickUp
all-in-one project management tool that gives teams and any business the advanced tools and flexibility to create efficient workflows. 
Conclusion
Business process management software is here to stay. Progressive businesses can experience multiple benefits by choosing a comprehensive business process automation platform like Cflow. Sign up for a free trial to know more.
What would you like to do next?​
Automate your workflows with our Cflow experts.​
Get your workflows automated for FREE
---