Business Process Management Software (BPMS)
A business is centered on its processes. Business processes are the lifeline of any business; they are required for the business to operate, communicate, and also utilize project resources. When you have processes, you need to monitor, control, and manage them.
Business process management (BPM) is a methodology that identifies, analyzes, tracks, controls, and improves business processes for operational efficiency. Business process management software (BPMS) on the other hand is a set of technologies that help build systems to manage business processes.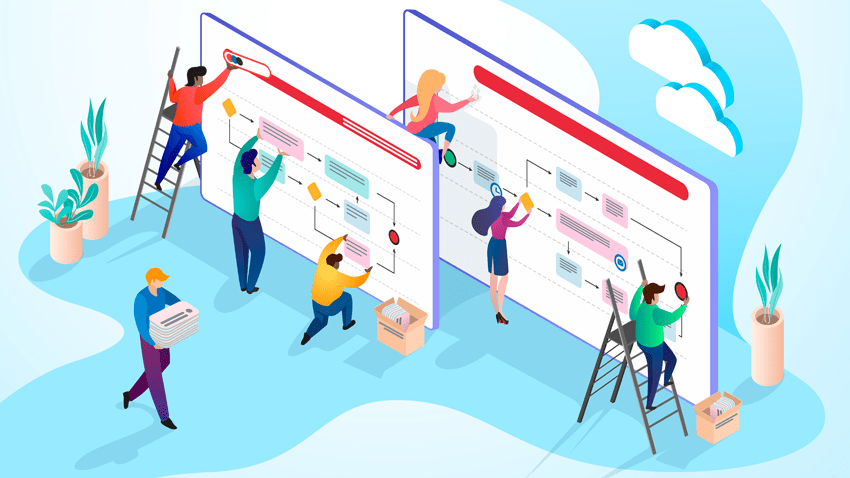 Evolution of BPM – Business Process Management
Business process management is an age-old business tradition that focuses on improving the way people think and manage businesses. The concept of business process management gained prominence after the industrial revolution.
The evolution of BPM can be divided into 4 Waves or Stages,
The first wave originated in the 1980s. Modern BPM was born during the 1980s as a result of the "Quality Revolution". In the initial stages, BPM focused on the specialization of labor, task productivity, and cost reduction.
The second wave came in the 1990s with a focus on Business Process Reengineering (BPR). The BPR approach gave importance to process improvement by leveraging technology.
The third wave originated in the 2000s, with a focus on managing business processes.
The fourth wave (current BPM) is focused on Process-based Competition. Processes should be a function of strategy and strategy must be a function of process capability – this was the principle behind the Fourth Wave.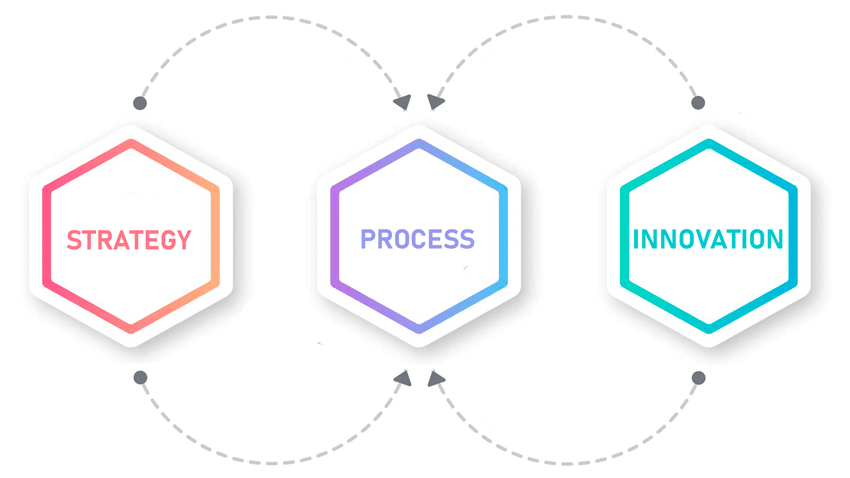 Over the years new business tools, organization development methodologies, technological advancements, compliance standards, and performance measurement tools have altered the BPM landscape significantly. In the 2000s, a new term "Business Process Management Suite (BPMS)" was coined by Gartner to refer to a wide array of software applications that are carried out by people or machines to achieve clearly defined business goals.
BPM tools have evolved with market drivers like innovation, customization, customer-centric business strategy, and globalization. Technological advancements have enabled the development of context-driven processes. BPM practices enable processes to be identified in context, and the process outcomes to be measured, managed, and aligned to the overall business strategy.
In recent years, the focus of BPM has shifted to a customer-centric approach. Business processes are now focused on delivering superior customer engagement. How can processes be altered to enable better customer collaboration? How do innovate products and services for a great customer experience? With most businesses building a customer-centric business strategy, BPM has also adopted a customer-centric approach.
Introduction to Business Process Management Software(BPMS)
Currently, BPM aims at operational efficiency by integrating with information technology. The digital revolution has influenced many businesses to automate their business processes for operational excellence. Digital transformation is not an easy proposition, it takes a good deal of planning and careful implementation to achieve the set business goals.
Business process management software automates processes and measures process outcomes in order to quantify business value and enable process optimization. Choosing the right BPM software can guarantee better business performance and ROI.
The scope of Business Process management includes
Organizing processes for better outcomes
Correcting and improving processes before automation
Establishing process workflows and designating owners
Standardizing processes across the organization
Enable continuous process improvement
Improving existing processes as opposed to creating new ones
Establishing a clear reason for changing processes
Gartner Research points out that BPM processes must not be launched based on perceived issues but rather on established facts. The primary focus of BPM must be on improving processes and not merely mapping them.
One of the main challenges in adopting BPM software is the inherent resistance to change within organizations. Successful implementation of BPMS requires complete support at the organizational level. It will help businesses to decide on implementing BPMS if they get to know the value it adds to the business.
Implementing a business process management software helps ….
Execute business-critical functions faster and more efficiently
Minimize human error and bias
Reduce the overall costs
Improve customer engagement
Increase employee satisfaction
Provide deeper insights into process bottlenecks
Types of Business Process Management (BPM)
Business process management is divided into three categories: BPM for Documentation, BPM for Workforce, and BPM for Integration.
BPM for Documentation: The typical nature of work in certain organizations involves massive volumes of document processing and storage. Insurance and Law Firms are examples of such organizations that deal with huge volumes of documents on a daily basis. BPM for documentation helps inefficient document management, right from creation to storage.
BPM for Workforce: Approvals are a part and parcel of every business. BPM can automate the verification and approval processes so that key personnel is relieved of the task. Moreover, tracking the status of the request is much easier through a BPM system.
BPM for Integration: Businesses that deal with software development have several systems like HRMS, CRM, and ERP as part of their business functions. BPM can be seamlessly integrated with these systems.
Principles of Business Process Management Software (BPMS)
Implementing business process management software (BPMS) is a major business decision that needs to be backed by in-depth research and fair consideration of business needs. The BPM methodology requires a set of guiding principles that define "good BPM". Framing a BPM for the business becomes easier and more effective if these principles are borne in mind. A group of BPM experts across industry practices and academics framed a set of 10 guiding principles around BPM. Here are the 10 guiding principles to model an ideal BPM for your business:
Principle of Context-Awareness: Ensure that the BPM fits into the organizational context. BPM must be designed to accommodate the diversity of business requirements.
Principle of Continuity: BPM is not a one-off event, but a permanent and continuous practice. BPM must be viewed as a continuous journey of learning and improvement.
Principle of Enablement: BPM is implemented to develop business capabilities and not as a firefighting measure. People in the organization must be empowered by BPM to utilize the processes and resources for better outcomes.
Principle of Holism: BPM is designed with a holistic approach. The focus of BPM must be on the big picture, rather than on individual initiatives.
Principle of Institutionalism: BPM should be firmly ingrained in the organizational structure. People must be made responsible for the process outcome and then be provided with BPM solutions.
Principle of Involvement: All the stakeholders are involved by BPM. People who are directly or indirectly involved in a program must be included by the BPM.
Principle of Joint Understanding: BPM creates a shared insight. A common understanding that extends to all the stakeholders must be created by the BPM.
Principle of Purpose: Strategic value creation is the aim of BPM. All BPM initiatives must be in sync with the organizational strategy.
Principle of Simplicity: BPM is cost-effective and economical. BPM must figure out the simplest and most productive way to achieve organizational goals.
Principle of Technology: BPM can be integrated with technology for better outcomes. It must leverage the available technology to provide optimized solutions.
The decision to go for business process management software should be taken based on the above principles for the best results.
Difference between BPMS and Workflow Software
Workflow software and business process management software – do they mean the same?
Although both address the same business needs, each of them differs in the way they achieve their goals. Before we get to their differences, let us first understand what workflow management is.
Workflow management eliminates the repetitions and redundancies in processes to save time and bring in efficiency. Workflow management is about people, tasks, and instructions. Workflow software digitizes and automates business processes and tracks them online.
Business process management is a holistic approach to handling business processes. BPM software is a means of re-evaluating, improving, and automating business processes. It is not just about the automation of processes, but a continuous improvement path. Workflow automation is often a small part of BPM software.
| | | |
| --- | --- | --- |
| Comparison | Workflow Software | BPM Software |
| Suitability | Organizing documents and people by automating steps in a process. | Large companies looking to implement a company strategy and coordinate multiple departments. |
| Set up | Easier to set up and configure | Longer to set up |
| Cost | Relatively low cost | Higher investment compared to workflow software |
| Scalability | Limited scalability | Can be scaled to an organizational level |
The Thin Line Business Process Management Software(BPMS) and ERP
Business process management software (BPMS) and Enterprise Resource Planning (ERP) systems are both used by companies for process efficiency and better customer engagement. As business practices evolve, the boundaries between BPMS and ERP seem to be blurring. However, there are certain fundamental differences between the two systems, which we will be seeing in the below section.
| | | |
| --- | --- | --- |
| Comparison | BPMS | ERP |
| Approach | Focused on process reengineering by eliminating or replacing tasks. | Focus on automating the flow of tasks for an efficient workflow. |
| Scope | More comprehensive in analyzing processes, even those that are highly customized. | Analyze processes at a relatively superficial level |
| Technology | Often treated as a practice that may or may not use technology | Involves technology usage |
| Integration | Process intuitive system that links data from multiple systems | More like a central repository for data within the process |
Despite the subtle differences between the two systems, they can greatly improve overall business productivity when used together.
Going in for business process management software is the next natural step that progressive organizations would take to transcend beyond transactional efficiencies and win the competitive edge.
Comparison with Other BPM vendors – Cflow vs Others
Choosing the right BPM software in a competitive market can be a daunting task. Investing in BPM software could be the next best thing for your business, but the choice of software can make all the difference. Here are a few must-have features in the BPMS software:
Easy Modelling of Forms and Processes – The BPM solution must provide an intuitive visual model of the processes and web forms.
Project Management Integration – The BPM must facilitate seamless integration of process and project management.
Effective Data Capture and Analysis – The BPMS must be able to capture, manage, and analyze Big Data.
Enterprise Architecture Modelling – The BPMS must be able to model the entire value chain across departments, projects, and tasks.
Mobility – The BPM system must cater to the flexibility and mobility requirements of the organization.
On-Premise or Cloud Deployment – The BPM solution must provide flexible cloud or on-premise deployment options.
Comprehensive Data and Document Management – Massive data volumes are generated by businesses. The BPM system must include robust data and document management features.
Those were some of the features you must look for in the BPM software before making a choice. Here is a bonus for you.
We have put together a list of top BPM software providers to help you choose the one that suits your unique business requirements.
Cflow
Cflow is a no-code Cloud BPM that is easy and intuitive. Small to medium-sized businesses can automate their workflows just like that with Cflow. The easy visual drag-and-drop form designer equips anyone to create a workflow and automate processes. Get started now
Process Maker
This is a no-code BPM and workflow automation solution that enables businesses to design, automate, and deploy business processes easily. If you are looking for an enterprise-scale, production-ready solution – then Process Maker is your best bet.
Zoho Creator
This is a low-code application development program that can be used to design custom forms and workflows.
Bpm'Online
This is a process-driven cloud-based software exclusively created for sales and service automation.
The right BPM software can differentiate your business. One size definitely does not fit all when it comes to BPM software. You need tailor-made BPM software that is unique to your business requirements. Cflow is available on a 14-day free trial. Sign up to see how your business can be transformed.