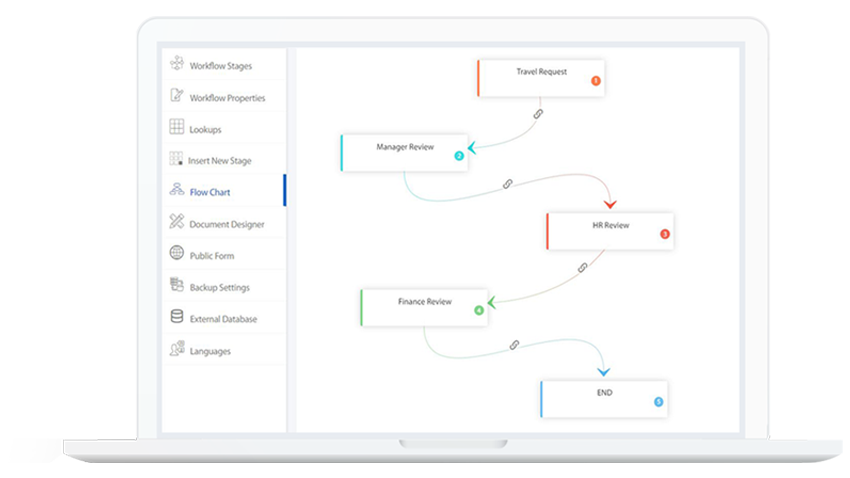 Workflow Engine
The only software suite every business needs to revolutionize the way they work remotely, create workflows, automate redundant tasks, and unleash a new flow of productivity into existing processes.
Workflow Engine – Persistent Question Answered
A workflow engine is responsible for acting as a central processing unit that adheres to a specific set of pre-defined rules and is utilized to monitor progress, send alerts while ensuring task completion at different levels.
Users can receive instructions and documents through an automated system when a workflow engine is operational and the job responsibilities are automatically assigned to task owners. Any error in the system will be immediately notified so that it can be rectified and the process can continue as scheduled.
Focus Areas of Cflow Workflow Engine
Cflow is an efficient workflow engine created on a robust, scalable, and reliable platform driven by the power of AWS as the background cloud partner. The major areas of focus for the Workflow Engine are as follows:
Streamlining tasks for remote productivity

Compliance via Business Rules

Responsibility and accountability management

Timely updates and reporting
Streamlining Tasks
Cflow Workflow Platform enables business folks to break down the process into a sequence of tasks using the visual workflow builder. This brings about significant improvements in the quality of work being executed.
Customizable notifications
Parallel flows to save time
Automatic reminders for compliance to SLAs
These are some of the key additional features that can be utilized when tasks are streamlined and managed in a seamless, unified environment.
Compliance and Business Rule Management
Defining the business rules help maintain compliance in the work being completed, focus on deadlines, and ensure absence or minimize human errors.
Multiple aspects of rule adherence can be managed using a workflow engine:
Focusing on assigning tasks
Automatic data save
Handling exceptions
Validations
Every business is different and the kind of data handled by an organization varies drastically. The ability to customize business rules intuitively on Cflow makes a huge difference.
Individual Responsibility and Accountability Management
Each team is comprised of multiple individuals working towards a common goal. The ability to assign responsibilities at a group or individual level is an important differentiator in Cflow. The key factors related to responsibility and accountability are
Role-based security to easily manage access permissions
Detailed audit trail to track changes made by users
Instead of having to manually determine where and who committed a change that is not permitted, Cflow keeps track of each and every update that happens on every task.
The workflow engine promotes seamless management of the remote workforce and identifies changes so that mistakes can be rolled back.
Notifications, Document Management, and Reports
Cflow includes a number of features for collaborative task execution such real-time workflow tracking, identifying bottlenecks, workflow and user analytics for deep insights on operational cost savings, ubiquitous cloud storage for document management, and timely reminders for employees to take action on pending tasks.
Clear assignment of tasks and owners for better compliance and accountability.
Version control and encryption of documents for better security and availability.
Business Activity Monitor and Analytics to help in identifying bottlenecks.