Compelling Workflow Automation Statistics for Data-driven Business Decisions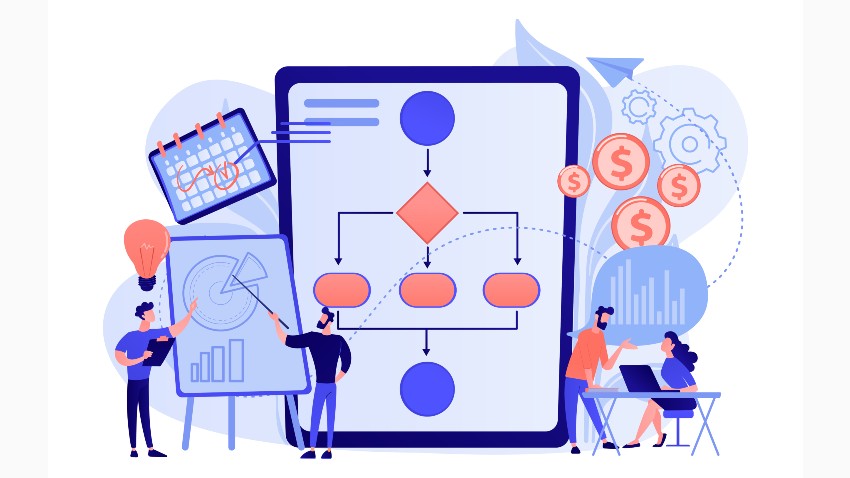 Driving business efficiencies, the right way is what every organization aspires to achieve. The means adopted to achieve operational efficiencies vary with every company. Process workflows are the arterial routes through which business processes are carried out. These arterial routes must be free of redundancies, bottlenecks, and repetitive steps so that optimal operational levels are attained. Workflow automation is the most effective way to eliminate process redundancies and improve process efficiency. We have put together a few compelling automation statistics that help businesses make data-driven decisions on implementing workflow automation.
Brief Introduction to Workflow Automation
Workflow automation is taking over key business processes, this doesn't come as a surprise for those who know the benefits of workflow automation. Modern business workflows are full of tedious tasks that are time-consuming but do not require brainpower. Here is where workflow automation comes into the picture. Workflow automation helps employees focus on important and strategic activities, rather than repetitive mundane work. What is workflow automation? Workflow automation is an approach to standardizing the flow of tasks, information, and documents across work-related functions to perform independently as per predefined business rules. Successful implementation of workflow automation for key everyday tasks improves the overall productivity of the organization. There are several statistics illustrating automation benefits.
Process workflows are a series of activities executed to complete a task. Automating these workflows shifts the performance of these activities from humans to software programs. The first step in automation is to identify all the steps that make up the job. The next step is to create the rules and logic that decide the sequence of these tasks. The automation software programs this predefined business logic and rules. The business rules and logic are in the form of If-Then statements that act like instructions that tell the program what actions to undertake and how to move from one task to another.
All types of business functions made up of repetitive tasks can be effectively automated. In addition to improving productivity, workflow automation frees employees from performing mundane tasks. They get more time to focus on strategic project-related activities, while automation software takes care of repetitive tasks.
The main steps in workflow automation are listed below:
Identify the processes that would benefit from automation
Map the processes by breaking them into steps/tasks
Define business goals clearly
Choose the workflow automation software wisely
Implement the software for the chosen processes
Train employees about the new changes
Establish KPI metrics for measuring the success of implementation and adjust automated workflows to meet the goals
Enable continuous improvement by gathering employee feedback combined with KPIs
Cflow is a workflow automation platform that enables quick and easy automation of key business workflows. The visual form builder in Cflow can be used by just anyone to create automated workflows to streamline the process. Procurement, finance and accounting, HR, and Admin workflows can be effectively automated by Cflow.
Why is it Important for a Business?
Automated workflows offer several benefits to the business. From improving productivity to easing out day-to-day operations, there are several ways in which process automation can improve business results.
Why is workflow automation important for the business?
Workflow automation increases job efficiency and allows staff to focus on non-automated activities
Automation of process workflows improves visibility across various tasks in the process
Workflow automation increases productivity by automating repetitive and redundant tasks
Automating process workflows increases the precision of the process. The inaccuracies and inconsistencies in manual processes are eliminated through automation.
The accountability of all the stakeholders is increased by automating the process. Each stakeholder is clear about their role in the automated workflow.
Work satisfaction of employees increases considerably by automating labor-intensive and mundane tasks.
Automated client-facing processes improve the quality of customer service.
Tasks in an automated process communicate seamlessly with each other. The exchange of information between tasks is seamless in an automated process.
Choosing to automate key process workflows is a major business decision. The software you choose to automate your processes is key to the success of implementation. Cflow is a complete workflow automation solution that works for any type and scale of business.
Workflow Automation Statistics to Consider for 2023
The decision to automate business processes must be supported by relevant automation statistics that throw light on the performance, benefits, and industry-wise relevance of the automation software. We have gathered relevant workflow statistics that help businesses make the right decisions regarding workflow automation implementation. Automation statistics have been categorized into: Rise of workflow automation; automation benefits statistics; industry-wise automation data; and challenges in workflow automation. These statistics help businesses see why automation is the way forward in several industries. The sources for these statistics are highly reliable and trusted companies across the globe.
According to Signavio, 62% of the organizations have modeled up to 25% of their businesses, but a meager 2% have all their processes modeled.
Business process automation (BPA) and business process management are closely related terms, but with different meanings. BPM is an organizational methodology for effective and efficient management of processes. BPM can be used to improve the outcome of process automation by identifying and eliminating flawed routines from manual processes. Although BPM is a business practice, organizations implement it by using specialized BPM tools to model their processes, optimize, automate and measure them. BPA is both a complementary and interdependent process that automates recurring tasks that require decision-making. Robotic process automation and digital process automation are the two main forms of automation that are taking off.
Rise of Workflow Automation
These statistics focus on how workflow automation has been adopted by various industries. The percentage of businesses that use automation, the percentage of business processes that are automated, and the adoption of workflow automation, are some of the areas of focus of these statistics.
31% of businesses have fully automated at least one key business function.
13% of the surveyed organizations say that they are implementing intelligent automation solutions at scale; 23% are implementing, and 37% are piloting automation
41% of the respondents say that they are using automation extensively across multiple functions.
94% of the business professionals at enterprises prefer a unified automation platform for all their applications and building workflow automation rather than relying on disparate systems.
The market for workflow automation and related technologies is growing at the rate of 20% per year and is poised to reach 5 billion USD by the year 2024.
Among various workflow automation technologies, robotic process automation (RPA) is at the top with 31% adoption and AI is the least at 18%.
AI-driven automation is gaining traction among companies with 74% of the current users saying that their organization will increase their AI investment in the next 3 years.
57% of the respondents say that their organization is in the piloting stage of workflow automation in one or more business units or functions.
38% of the respondents admit that their organizations have not taken the first step in automation. Half of these respondents plan to take up automation within the next year.
Out of the total market revenue for RPA, the on-premises sector accounted for the largest revenue share of over 90% of the automation market in 2020.
Grandview Research valued the RPA market at 1.4 billion USD in 2019 and forecasted a market growth of 40.6% CAGR between 2020-27.
Larger organizations claim to use automation in their business (40%) than smaller organizations (25%).
The robotic process automation market was valued at 1.4 billion USD in 2019 and is expected to grow at a CAGR of 40% between 2020 and 2027. Enterprise companies have been the largest adopters of RPA.
Digital process automation (DPA) was valued at 7.8 billion USD in 2019 and is poised to reach 16 billion USD by 2025 to Morder Research.
More than 80% of the business leaders report having been speeding up work process automation and expanding the use of remote work.
43% of businesses say that they plan to reduce their workforce by adopting automation technologies.
36% of organizations are already implementing BPM software for automating workflows.
As many as 50% of business leaders say that they were planning to increase the automation of repetitive tasks within their organization.
As per Gartner, 69% of managerial work will be automated by 2024.
A Deloitte survey says that 29% of companies are planning to implement BPM software soon.
48% of organizations are working towards installing process automation solutions for managing manual tasks better.
67% of organizations are implementing BPA solutions for increasing visibility across different systems.
According to a survey by Salesforce, 47% of IT leaders claim that the greatest ROI from process automation is from the operations function.
29% of organizations intend to implement low-code workflow automation. 24% of the organizations are already implementing low-code workflow automation software.
Business process automation is a team activity that requires the contribution and involvement of each stakeholder.
45% of business teams have important roles to play in building automation.
Statistics around Impact and Benefits of Automation
One of the main reasons why companies automate their process workflows is to improve the productivity of the process. The inaccuracies and inconsistencies of manual processes are eliminated through automation. Automating repetitive steps in a process saves a considerable amount of time. In addition to improving company revenue, automation also improves employee skills and work satisfaction. These statistics ought to provide answers to companies with questions in their mind regarding the benefits of automation.
90% of executives expect their automation investments to improve the capacity of their workforce over the next 3 years.
73% of the leaders in the IT industry attribute 10-50% of time savings in performing tasks to automation.
As many as 51% of automation initiatives aim at boosting business efficiency.
57% of IT leaders say that automation technology saves 10-50% on the business costs associated with manual processing.
More than half of the respondents agree that automation minimizes human error.
42% of business leaders agree that automation accelerates the completion of repetitive tasks.
As many as 85% of business leaders believe that automation of their workload will enable them and their employees to focus more on strategic goals that are important for business success.
78% of business leaders believe that automating tasks in the organization increases the productivity of all stakeholders.
31% of business leaders believe that automation helps reduce labor costs.
Organizations that have implemented an automation solution indicated a 12% workforce capacity increase.
Companies are increasingly optimistic about automation adoption. It was expected that in 2020, the organization's automation strategies would drive a 15% increase in its revenue.
83% of US executives and 70% of Indian executives report faster adoption of automation during the COVID pandemic when compared to other countries.
Organizations that have implemented automation have reported a cost reduction of 24%, which is up from 19% in 2019.
52% of business leaders believe that 10-30% of their daily tasks can be automated.
Process automation is the building block for digital transformation. 97% of IT decision-makers say that process automation is vital for successful digital transformation.
Artificial Intelligence and machine learning have fueled the growth of workflow automation by enabling commercially viable products and services that can be used to automate several routine business processes. Leading SaaS solution providers have simplified the process of automating manual processes and workflows within an organization and across businesses. Cflow from Cavintek is a trusted cloud-based SaaS process automation platform that simplifies the automation of key business workflows. Here are some of the AI-related workflow automation statistics.
25% of organizations are currently using AI in their process automation, and 53% intend to implement it soon.
Surveyed executives in countries like China and the United Kingdom showed a preference for using AI automation to free up workers for higher-value tasks.
As many as 43% of AI high performers are led by a clear vision and strategy.
62% of organizations are using AI to support IT operations and 54% use it for improving business process efficiency.
45% of companies use AI to bring down business costs.
66% of the companies have increased their revenue by deploying AI technology.
Organization budgets for AI technology have increased by 55% year on year.
38% of the companies are implementing machine learning to reduce costs, 34% use it for improving customer experience, and 17% want to use it for increasing conversion rates.
Statistics on Industry Wise adoption of Process Automation
Statistics around the adoption of automation have shown that several organizations have adopted process automation for reasons varying from improving productivity to minimizing errors to reducing labor costs. In this section, we have gathered statistics on how each industry or business function has adopted BPA. Big data, Human resource management, Sales and Marketing, Customer Service Automation, Finance, Supply chain management, social media, Cyber Security, Insurance, Manufacturing, Advertising, and Health Industry.
Automation in Big Data
Automating Big Data helps organizations manage data better and recognize patterns in behavior and performance. Deeper insights from big data enable organizations to make informed business decisions. Here is how the automation streak in Big Data is going on:
95% of businesses need to manage unstructured data out of which 40% are required to do this on a regular basis.
30% of organizations are investing in Big Data to modernize their IT systems, while 23% are looking at cost savings, and 20% plan to use it for accelerating business growth.
45% of the companies using big data operate at least a part of the data on the cloud.
Human Resource Management and Automation
Managing human resources in an organization can be challenging when done via manual processes. Manual processes are prone to delays, inconsistencies, and human biases. Several organizations are adopting BPA solutions to automate key HR functions like employee onboarding, pre-employment screening, background checks, etc.
45% of the HR departments are focusing on intelligent process automation over the next year.
One out of 10 business leaders agrees that hiring automation is an easy and straightforward process.
18% of IT leaders say that the highest ROI from automation occurs in the HR department.
70% of business leaders believe that they can build more effective teams through automation.
54% of business leaders believe that automation software will bring down the need for HR staff and hiring managers.
61% of decision-makers believe that automation technology could help to hire managers to pick the right talent for the job.
56% of HR departments have increased their revenue by adopting AI technology.
10% of companies are already using AI to optimize talent management.
Automation in Sales and Marketing
Sales and marketing teams are using automation technology to improve their conversion rates, lead capture, and deal closing. Automating the buyer journey improves customer engagement and interaction. These statistics throw light on how organizations are building their sales and marketing automation strategy.
Survey respondents have credited AI-driven automation with increasing revenue in pricing, customer service analytics, and prediction of the likelihood to buy.
• 55% of global marketers plan to increase spending on overall marketing technology in the next year.
• Automation in sales boosts productivity within the department by 14.5% and brings down marketing costs by 12.2%.
• Using Salesforce, sales teams have been able to close 30% more deals, reduce the sales cycle by 18%, and save 14% of admin time.
• Sales automation in lead nurturing has shown a 200% increase in conversions for different brands.
• B2B marketers have seen an average increase of 10% in their sales pipeline by automating their sales.
• The quality of leads can be significantly improved through marketing automation.
• As many as 67% of marketing leaders are making use of marketing automation platforms.
• Marketing automation spending is expected to surpass 25 billion USD by 2023 with a growth rate of 14%.
• Sales personnel can automate offers based on browsing history to provide personalized offers. Personalized offers are known to increase sales by 20%.
• Sales personnel that use marketing automation to improve the quality of leads have been able to generate 3 times more leads every month.
• 74% of the marketers surveyed agree that the main reason why business owners and marketers use automation is to save time and costs.
• Conversions are estimated to increase by 77% by spending on marketing automation solutions.
• As many as 91% of online marketers see automation as a critical factor in the success of their marketing campaigns.
• 50% of sales time is wasted on unproductive prospecting.
• 92% of marketing automation users say that the main use of automation is to improve lead generation, increase customer retention, and lead nurturing.
• 75% of companies use marketing automation software.
• 83% of marketing departments automate social media posting, 75% automate email marketing, 58% automate social media advertising, and 36% automate social media engagement.
In automated email marketing, the welcome sequence is the most common automated email marketing technique. The second most common strategy is lead nurturing emails.
End-to-end workflow automation
Build fully-customizable, no code process workflows in a jiffy.
Most businesses agree that automated landing pages are effective in lead generation.
• Only a meager 2% of companies are using sales automation for sales order fulfillment.
• 39% of companies automate sales prospecting.
• 36% of companies use automation to generate sales quotes.
• 18% of IT leaders say that their marketing departments are seeing the highest ROI from automation.
• More than half of the businesses surveyed claim that sales and marketing automation increases their conversion rates significantly.
• 58% of companies use chatbots for sales or marketing.
• 39% of organizations say that their marketing automation system produces higher-quality leads.
• According to a survey, 59% of Fortune 500 companies are using marketing automation and this number is steadily increasing.
• A study conducted by Omnisend revealed that omnichannel sales automation is likely to create customer retention of 90% and an increase of 250% in engagement and purchase rates.
Automation in Advertising
Google automated bidding is among the most used advertising automated software. Let us look at some statistics about automation in advertising.
• 70% of the advertisers used Google's automated bidding software in 2019.
• A whopping 130,000 USD can be saved by businesses annually by automating advertising strategies.
• Programmatic advertising accounted for more than 80% of digital display marketing in the US in 2018.
• It is expected that by the end of 2020, 90% of mobile display advertisements will be negotiated automatically via programmatic ads.
• From 32% of automated display ads in 2016, the figure doubled to 64% in 2019.
• Most companies would be able to automate 80% of their advertising processes by 2023.
Automation in Finance
The finance and accounting function is a critical one in any business. The highest levels of accuracy and consistency are required while handling financial transactions. Automating key finance and accounting processes improves the accuracy and efficiency of transactions and data handling. Here are some of the finance and accounting automation statistics for your reference.
• The Global Market for Accounting Software is forecasted to grow at a CAGR of 8.02% from 2018 to 2026, with the market value poised to reach 20.4 billion USD by 2026.
• According to a McKinsey survey, CEOs could save 20% of the time they spend on financial tasks via automation.
• Bot interactions with humans in the banking sector are expected to reach a 90% success rate by 2023.
• McKinsey predicted automation and AI to take up 10-25% of banking tasks.
• ICICI bank has deployed more than 750 robots to handle daily transactions and interactions with these robots have recorded 100% accuracy. Also, the bank was able to cut down on the time spent on complaint redressal about ATM cash disbursal from 12 hours to 4 hours via automation.
• 19% of automation falls under order to cash.
• Since the outbreak of COVID-19, financial services and technology sectors have adopted automation rampantly, with as many as 88% and 76% of the executives reporting increased implementation.
• More than 50% of CEOs of banking and financial organizations are focusing on simplifying their products and operations by adopting process automation.
Insurance Statistics
Insurance is another business sector that is prime for automation. There are several tasks in insurance transactions that require quick turnaround and verification of data. Manual execution of these tasks is a laborious task that is prone to inaccuracies. Automating tedious insurance tasks provides relief from repetitive work for insurance personnel. Some statistics explore the effectiveness of automation in insurance.
A report predicts that customer service and claims adjustment tasks will see a 16% displacement. The report also predicts that by 2030, the United States forecasts 46% of its insurance claims processing jobs to be automated.
2017 Deloitte insights predicted a loss of 22.7 million insurance jobs in the US because of automation and the creation of 13.6 new ones over the next 10 years.
In 2018, claims review was considered one of the biggest processes to be automated. 30% of the insurers were considering robotic process automation as a popular choice for automating this process.
Automation was able to bring down the quote generation time for insurance agents in California to 4 minutes as opposed to 14 days. The form that adopted this automation solution saw a 70% increase in sales.
Automation in the Manufacturing sector
The manufacturing sector is among the earliest adopters of automation. Large manufacturing units can improve the quality of products and save time and costs through automation. Some of the statistics reiterate the usefulness of automation in the manufacturing sector.
• IT and Engineering Industries account for nearly 40% of an organization's automation.
• A McKinsey Report estimates that automating manufacturing tasks can increase annual productivity by 1.4%.
• As per a report, 749 billion work hours can be saved by automating 64% of manufacturing tasks.
• An Oxford report estimates that implementing automation in the manufacturing sector could reach 4.9 trillion USD by 2030.
• According to a report by the World Economic Forum, 42% of the time spent on manufacturing tasks will be automated by robots by 2023.
• A PwC study states that the use of automation in 3 key industries will contribute 15.7 trillion USD to the global economy.
Customer Service Automation Statistics
Automating tasks in customer service has a direct impact on customer engagement and experience. It boosts the company's reputation and improves customer retention.
• 34% of the organizations are using guided self-service.
• 65% of customer service experts say that automating feedback gathering helps analyze customer behavior effectively.
• 38% of customer representatives say that their organizations use chatbots to automate customer service interactions.
Automation in Healthcare
The global healthcare automation market is expected to grow at the rate of 8.415% in 7 years. Growing at this rate, this industry is expected to show profits amounting to 63 million USD by 2026.
A McKinsey report states that to match the demand for assisted care, the purchase of medical robots has risen by 50% every year. The Global Medical Robotics Market is expected to reach 20 billion USD by 2023.
Statistics around Challenges or Roadblocks to the Adoption of Workflow automation
31% of the respondents are concerned about labor displacement and job loss that could be caused by automation and artificial intelligence.
7-24% of currently employed women and 8-28% of men may need to transition to different skill sets due to changes in labor demand due to automation.
Conclusion
The automation statistics listed above are compelling enough for businesses to consider the automation of key functions of their company. The benefits of automation clearly outnumber the challenges. Implementing a cloud workflow automation solution like Cflow enables organizations to streamline their operations, which in turn improves productivity. Users can easily customize workflows according to the unique requirements of their business. The no-code workflow automation software creates workflows within minutes using a visual form builder. Your search for a customizable workflow solution ends with Cflow. Explore more by signing up for a free trial today.
What would you like to do next?​
Automate your workflows with our Cflow experts.​
Get your workflows automated for FREE
---