Understanding the Budget Approval Workflow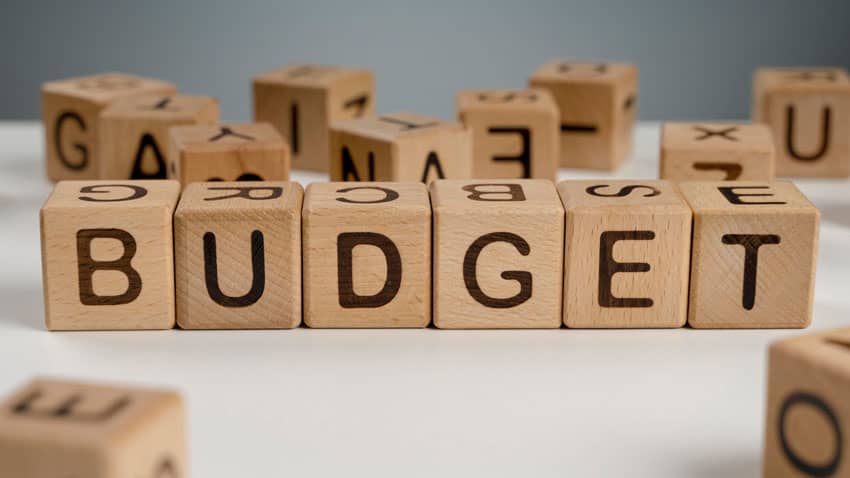 Efficient financial management determines the success of a business. Whether you are a startup or a well-established firm, sound financial management can make your business profitable. Budget approval is a critical financial management process that enables businesses to spend money wisely and stay within expense boundaries.
Expected sales, seasonal fluctuations, market trends, and business goals are some of the points on which budget planning is done. The budget approvals transcend several managerial layers and final approval is given by Finance.
Budget Approval Workflow
At the outset, budget management seems like a straightforward journey from planning to approval. However, there are several practical challenges that make it a tedious and prolonged process.
Given that, is there a way to make the budget process transparent and efficient? Workflow automation holds the key!
Before we get into the automation of budget management, we need to understand the budget workflow.
The Procedure for the Approval of a Budget is as follows:
1. Setting/planning budget policies
Setting policies for a budget is an essential part of running your business. These policies will help ensure that you and your employees are on the same page when it comes to spending, saving, and investing.
2. Preparation of the budget for each department
The budget preparation process should be done systematically so that you can easily track the progress of your department's performance. This will help you monitor the performance of your employees and assess whether or not they are doing their jobs well. Furthermore, budgets should be prepared consistently throughout every department within an organization. This ensures fairness among all departments when it comes down to distributing funds amongst different projects or initiatives. 
3. Budget consolidation based on organizational guidelines
The budgeting process can be a long and complicated one. So, when you prepare the budget, ensure that the process is in compliance with the organizational guidelines. The budget should be consolidated in accordance with the needs of each department within the organization.
4. Review by top management
This is the first step in the budget approval process. The CEO and/or CFO will review the proposed budget and make any necessary adjustments before submitting it to their respective teams for review.
5. Budget approval by Finance Team
Upon review from the top management, the finance team will give the final say. They will review your budget plan and ensure that all procedures are followed and that they are in compliance with approved budgets. Therefore, the finance team is responsible for framing the procedure for the approval of the budget, inclusive of organizational compliance guidelines. Moreover, the finance team has to follow their own approved budget, as well as report any changes in the budget to management.
Despite such clearly laid out steps in the budget approval process, most budgets take months to get approved. Why?
The use of archaic budgeting tools, misinformation, human bias, and slow processing are some of the factors that prolong the budget management process.
Streamlining Budget Process Workflow
One of the most common reasons why the budget approval process spans months is the lack of proper processes and adequate data. Too many emails are exchanged for validation of data, passing information, and asking for approval.
Workflow automation brings transparency, speed, and accuracy to budget approval. It helps define a process that every person in the organization can easily follow.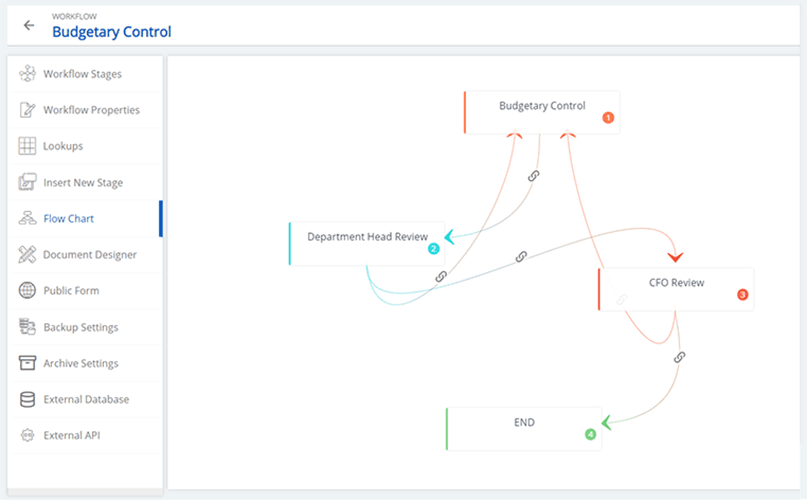 Fig: Example of a Budgetary Control Workflow
Automating the budget process also cuts down on the preparation time as well. An automated budget workflow streamlines budget approval in the following ways:
Central data repository for the safety of data and easy retrieval

Real-time visibility on available budgets

Eliminates email overload and brings version control

Clarifies the role of leadership in the approval process

Eliminates hours of manual budgeting activities

Ensures accuracy of data and adherence to company policies
Speed, transparency, accuracy, and consistency can be bought into the budget approval process by automating the workflow.
Benefits of Automating Budget Approval Process
Apart from increasing the speed and transparency of the budget approval process, there are many advantages to automating the workflow.
More transparency

– Automation clearly defines the workflow so that everyone in the loop knows the next steps. Any changes or reviews done are documented so that everyone stays informed.

Better accuracy

– The budgeting tool gets data directly from accounting, payroll, and expense tools, which eliminates the scope for manual errors.

Standardization

– Budgets from various departments are standardized and come in a uniform readable format, irrespective of who prepared them.

Flexibility

– Budgets need to be dynamic to changing market conditions and business goals. Automation brings flexibility into budgeting while maintaining control over workflow and data.
As businesses explore growth opportunities and expand their operations, stronger and more consistent budgeting becomes imperative. Automation of budget workflow becomes a priority to ensure seamless, transparent, and consistent budget approval.
End-to-end workflow automation
Build fully-customizable, no code process workflows in a jiffy.
Must-have Features of Budget Workflow Automation
Given the advantages of budget workflow automation, the next step is choosing the right software for automation. Here are a few must-have features of workflow software:
Central Repository: The budget-related data must be kept in a central repository that is easy to access. Data should be safely stored and it should be secured so that only authorized users are provided access.

Minimize email load: Budget approval can be delayed due to email overload. The automation software should eliminate email overload and enable version control.

Track user activities: The automation tool must allow managers/ finance teams to track changes made by users. A real-time view of all changes minimizes email exchanges for clarifying changes.

Audit trail: users can conveniently see the changes in the workflow via the audit trail feature.

Data-based predictions: Helps determine when the project team may exceed the initially allotted budget.
Once you automate the budget management workflow, there will be a significant reduction in approval times and the finance department will have better control and visibility over the entire budget process.
Cflow is a workflow automation software that can be customized to suit your business needs. The software comes with a simple, easy-to-use user interface that can be accessed via the Internet and mobile. The pre-built workflow library can be customized for operations of all sizes. The software equips you with analytical tools that identify bottlenecks, streamline operations, and increase productivity.
Smooth and transparent financial processing is the key to better business outcomes. Manual budget processing eats up the productive time of employees.
Automation of the budget process will not only cut out the chaos but also give the management more control and visibility over the status of tasks in the approval process. There is no better time than NOW to automate the budget approval workflow.
Try Cflow for free to know how our software can add value to the budget processing in your organization.
What would you like to do next?​
Automate your workflows with our Cflow experts.​
Get your workflows automated for FREE
---