Process Tracking- Functions, Features, and benefits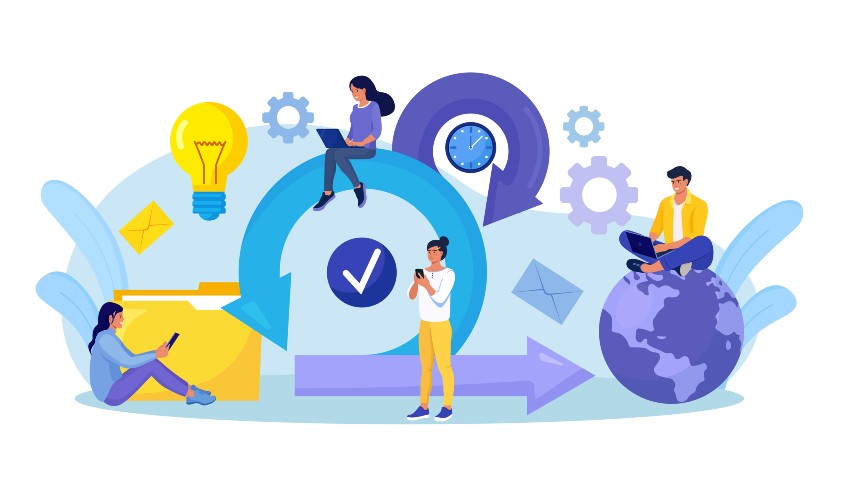 Process tracking helps improve performance, build accountability, and ensure compliance of company-wide operations, workflows, processes, and systems. All the aspects of an organization that are interconnected and require the implementation of one or more than one step can benefit from process tracking software.
Companies using a process tracking system can view the current and upcoming procedures related to a process and make changes to ensure the intended results are accomplished. Business process tracking aims to optimize the existing structure and optimize for higher performance and productivity.
What is Process Tracking, and How Does it Help?
Process tracking involves tracking every process and its lifecycle to analyze its performance, completion, and ability to impact the overall company operation. As a company has different processes and operations, all working together to run a machine, every process needs to be managed meticulously.
Process tracking can help your company increase productivity, improve collaboration, and discover process improvement opportunities. Many businesses are looking for a way to document and time stamp the stages of their operation from beginning to end.
They can do this with the solutions and possibilities presented by process tracking and workflow automation software built to improve the outcome of every operation within the organization.
Generally, we have two types of process tracking systems:
1. Historical Tracking
Historical tracking is done after the process is complete and is done via audit process tracking. The people responsible for the job conduct audits and verify the actions taken in the past, focusing on who took the decision, what action was taken, and when.
Under this type of tracking, we conduct audit trails containing in-depth information of every single process, including all the touchpoints and their intended action to measure the impact.
This type of audit process tracking aims to find out what has happened and compare it to what is happening now. This helps improve the existing processes by taking lessons from the past.
Plus, historical tracking becomes a learning tool for the teams and their members, helping them understand what they should have done in comparison to what they actually did.
2. Real-time tracking
As opposed to historical tracking, there is real-time process tracking, which is often implemented with the help of workflow tracking software. It shows the process live along with its updates.
The process tracking software used for this purpose has intuitive dashboards that provide up-to-the-minute information about a process along with its metrics.
In contrast to lengthy reports, here, you will get information about the same in a digestible format presented via charts, gauges, graphs, etc. You can also see the completion percentage.
Out of the two, we can clearly see that a real-time tracking system is better than a historical one. In the latter, we can make changes as the process progresses and ensure that we get the intended result. Whereas in historical tracking, all we can do is damage control for the wrongs committed in the existing process and optimize the future processes while building contingency plans.
Benefits of Process Tracking
Ensure Employee Promptness in Work
The beauty of setting up processes is that we can integrate any type of work or operation. Since every process somehow involves employee participation, we can use a process tracking system to track the employee's response or work.
You can measure the time they have taken to complete their part of the work and help take ownership with accountability. Employees that are more accountable also make the work environment smooth and polished.
Work on Self-Improvement
As you share the insights from the process tracking software with the employees, they will be able to see their performance. For instance, you have set up a process to complete an application, and one of the developers is working on the features.
Once the features are complete, the code will go forward for testing which is the job of another person. Tracking the time taken by a developer to finish their job helps the person ensure that they work with faster speed to improve their outcome.
Set Priorities
As several processes run together in an organization, process tracking software helps prioritize them according to their importance. When you can view every process as it progresses and know the deadlines of the same, you can adjust the workflow to ensure that the ones that need to be done first are prioritized.
Better Management
As someone who is responsible for managing the operations, using a business process tracking system will help you effectively manage everything from your desk.
The process tracking software with advanced features to display the data will help you view the time taken to complete every task and find patterns. This is crucial for setting more realistic time frames for the next projects and building a better and more productive workforce on the whole.
Save Time
It would be super-efficient to create time for your employees to work on other vital jobs instead of spending most of their day trying to run reports or input data if they adopt user-friendly problem-tracking software.
Furthermore, providing a knowledge base or other resource where users may discover information for themselves 24 hours a day, seven days a week, improves efficiency by allowing users to get information on their own time rather than relying on the convenience or schedule of others.
A process tracking system does exactly the same thing and gives you access to better and more in-depth information about every task giving you more freedom to work on other tasks.
Consistency in Procedures
Whether it's complaint resolution or onboarding new staff, every firm has workflow processes that must be followed. It's critical that your processes are properly documented.
You can document your workflows and procedures with good business process tracking software. You can simply make changes if things change, but you can rest assured that your users will always do things the same way.
With this, you can easily focus on building a strategy that is consistent with the company's objectives.
Effective Collaboration
Great planning and management are equivalent to effective collaboration inspired by cohesive communication between departments. Process tracking software can help you improve communication and collaboration as it helps streamline day-to-day responsibilities.
With greater visibility into the tasks of every department and their real-time progress report, you can avoid delays in intra-department communication leading to effective collaboration.
Manage Scope Creep
Scope Creep refers to the immediate and uninvited changes requested by the client leading to an uncontrolled mounting of tasks and jobs required to complete the project.
Getting bombarded with these frequent and abrupt requests can mess up your timeline, especially if you didn't have the right tools to track the processes before. With process tracking software, you will get complete visibility into the existing tasks and also see the potential spots where you can insert new requests.
These are the most important benefits of using process tracking software. With these covered, we can move on to knowing the most important features and functions of the software to understand its capabilities better.
Ideal Functions and Features of a Process Tracking Software
As every business process tracking software is not cut from the same cloth, they are different in terms of their execution and functionality. To ensure complete optimization of business processes and operations, you must work with a system that has the following features.
1. Customizable Dashboards
You need software with customizable dashboard settings to ensure that every aspect of the system aligns with your business requirements. This will help in setting process tracking systems according to your specific departmental requirements.
2. Detailed Reporting and Analysis
Instead of dedicated employees to understand and interpret the data, an ideal business process tracking system must have in-built features to provide detailed analysis of processes monitored with it.
3. Simple Interface
One of the key elements of a process tracking system is that it must be easy to use. Cluttered software can only increase the time required to understand it works thereby negating the very reason for which it was employed in the first place. So, your ideal system for monitoring businesses must have an intuitive interface.
4. Build Processes as Required
You would want to work with software that allows you to customize your process creation and workflows and track the same. To this end, you need software with an efficient rule-creation engine covering every base in terms of process execution and implementation.
Selecting the right process tracking system is essential, and the same is reflected repeatedly in every point given above. Furthermore, with an effective workflow tracking system set in place, companies become more vigilant and able to create targeted contingency plans.
End-to-end workflow automation
Build fully-customizable, no code process workflows in a jiffy.
Is a Process Tracking System Beneficial for Employees as Well?
The central point of all the points above is that a process tracking system makes a company better in all manners. But does it specifically help employees improve in any aspect?
Yes, it does. With access to process tracking systems and workflow management solutions, employees can view and track their own requests and tasks. Moreover, if changes are required in the tasks the employees need to ask for more permissions, they need not send emails to get approval for everything.
Simply adding another task to the workflow will cut things short without compromising accountability. So, tracking processes by the employees helps them monitor the current situation as it is performed or in retrospect. In both ways, it helps an employee become better at what they do and how they do it.
Industries That Will Benefit the Most from a Process Tracking Software
There isn't any industry that won't benefit when they monitor business systems. Every company, irrespective of its, has some processes that must be executed to achieve the intended result.
So, a process tracking system is compatible with every type of business. But yes, there are a few types of organizations that cannot function smoothly without such tracking and monitoring of the processes. These are.
1. Insurance:
Imagine handling a massive amount of paperwork manually. Insurance providers need a robust system that helps them complete every task with speed and accuracy. From accepting claims to reviewing them and accepting/rejecting them, there are a lot of systems involved.
2. Healthcare:
A hospital, clinic, etc., must work under several regulations and systems in order to ensure a smooth functioning system. A hospital is a place where there is no room for delays and inefficient work processes. So, these establishments need a process tracking system to easily take care of every task and process. Plus, they need a robust document management system that keeps track of every paper and offers seamless access to the users.
3. Information Technology:
An IT company also needs access to efficient workflows. Without one, they would be bombarded with frequent client requests that will mess up the entire process leading to delays.
Conclusion
An essential measurable aspect for an organization is its overall efficacy and strategy to handle the tasks and processes leading to a favorable outcome. Any company can benefit from business process management. However, business process management software must be easily configurable to the individual user even within the same industry.
Using a business process tracking system ensures the best administration of business activities such as sales, marketing, and customer support, among others. It's a system that is worth every penny you need to spend because, in essence, a process tracking system will only improve your business outcome by streamlining business processes.
What would you like to do next?​
Automate your workflows with our Cflow experts.​
Get your workflows automated for FREE
---