What is Digital Transformation?
Digital Transformation is the act of completely changing the business process activities to meet a definite business goal.
This process of digital transformation requires a thorough examination of all the steps necessary, remove unnecessary and redundant steps, and automate as many processes as possible to achieve the desired goal with higher efficiency.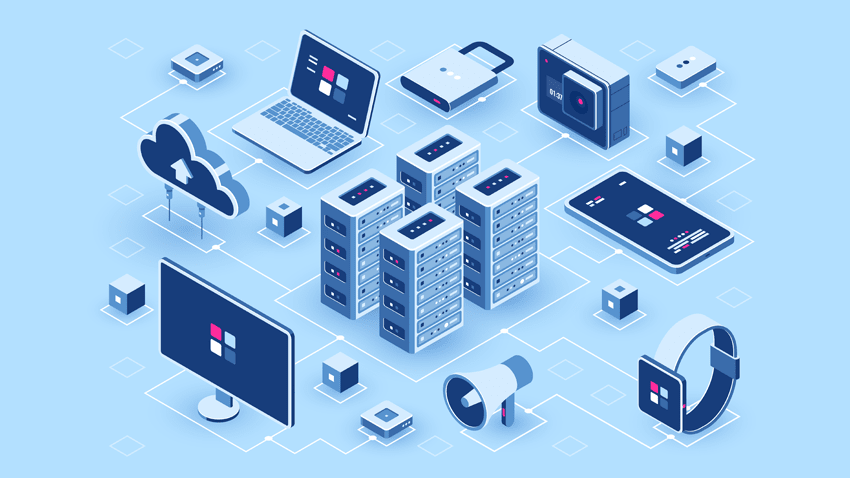 In the early days when businesses wanted to choose automation as a means to achieve higher productivity, they had to invest millions of dollars in complex systems like ERP. These systems required complex licensing and infrastructure requirements and would often take years to roll out.
How Cloud enables Digital Process Transformation?
The new-age cloud-based business process management software crushed the barriers caused by traditional on-premise software applications. Now, what does the term cloud mean? It essentially means the entire Internet – A global network connecting millions of computers. So, cloud computing would refer to Internet-based computing, where different services are delivered to an organization through the internet.
Why are businesses aiming for a Business Process Transformation that is leaning heavily towards cloud computing? The concept of cloud computing has gained popularity predominantly because it focuses on maximizing the effectiveness of shared resources.
Cloud infrastructure is not only shared by multiple resources, but they are also dynamically reallocated per demand, rather than investing a massive ransom amount in deprecating dedicated hardware, customers can adopt a pay per use model. This avoids the necessity to spend on license purchase, infrastructure arrangements when new software is procured. This culminates in the benefit that moving to the cloud is not only cost-effective but also faster.
Benefits of Cloud Migration for Digital Process Transformation
The benefits of cloud migration also extend to easy installation. Due to this, there is reduced IT management effort and employees can focus more on core activities that make a difference to their organization's productivity. As the applications can be accessed virtually from anywhere, it gives the organization the benefit of optimal utilization of their resources which are on the go.
Teamwork or collaboration is made easy with cloud-based BPM software. Teams sitting across different geographical locations can easily access the same application and share their data and results with greater ease which earlier was possible only for systems connected to the same network. The pain of uploading and downloading documents for verification is reduced as all the data is shared in the cloud and accessible to all with greater ease.
Another term that is increasingly popular while considering Digital Transformation is SaaS which means using 'Software As A Service'.
Learn How SaaS Helps in Digital Transformation
'SaaS' are used interchangeably sometimes; there are some clear distinctions between these two. In the Saas Model, centrally hosted software is licensed on a subscription basis and is accessed using a thin client or web browser.
As the definition suggests, in SaaS, users are limited to using the features and capabilities of the centrally located software. However, in the case of 'Cloud Computing' users have the option to customize or build an application that suits your need as in the case of 'Cloud Computing' users are given access to a shared environment. However, in the case of 'SaaS', users are given access to the application in the 'one-size-fits-all' approach. In 'Cloud Computing' you can increase or decrease the resource and cost based on the demand. Whereas in 'SaaS', the functionality offered to tend to be fixed as you set fee per user, per month basis.
'Cloud Computing' helps to keep your business in pace with the rapid evolution and keeps you digitally connected with your employees and customers. Cost reduction may be one of the several benefits offered by Cloud Computing, but organizations that have moved to the cloud continue to stay with this technology as utilizing the real potential of the agile delivery model can help organizations to transform their business entirely.
The Growth of Cloud Digital Process Transformation – Statistical Analysis
No wonder Gartner, Inc. has named cloud as one of the top 10 strategic technology trends for 2015 and this is expected to have a significant impact on organizations in the next three years. According to Forrester Research, the public cloud market is estimated to reach $191 billion by 2020. Such is the expected growth of the 'Cloud Computing' technology.
Till the year 2012, businesses were moving towards cloud technology mainly because of the cost efficiencies; later it was realized that speed to the adoption of the technology is yet another reason why businesses are moving towards cloud computing. Other notable advantages of cloud technology are that they improve alignment with customers/partners, assist in the development of new business models, and also provide a faster time to market. With these advantages in place, Cloud enables organizations to be quicker in responding to the changing business needs, and supporting innovation has become much more feasible than before as it is not required to invest more in the technology infrastructure.
Congregating Data Using Cloud Power for Improved Efficiency
Cloud technology can be used in different lines of business, starting from retailers and restaurants to hospitals and information technology. Workforce mobility has been possible with the advent of the cloud. This has increased employee productivity and employee satisfaction, and thereby employee engagement with the organization. With the help of Cloud, technology organizations can maintain and analyze massive amounts of data.
Now that we have seen all the advantages of adopting cloud technology, there are also a few challenges in moving to the cloud. The first and foremost issue most organizations are facing is data loss and privacy risks and the next problem is the repetitive cost. Organizations are moving to cloud technology as their advantages outweigh the challenges. Organizations need to think of ways to efficiently optimize their investment made in cloud computing technology and how best they can minimize their risk exposure.
Cflow – The Only Software You Need for Digital Transformation
Given all the benefits of cloud-based bpm software for moving to 'Digital Transformation', try 'Cflow' to start automating your business today. Cflow is cloud-based software, you do not have to worry about the servers, infrastructure, and software upgrades. You do not have to worry about your data safety and security. All communication is encrypted, and your entire data is backed up. Start automating today by trying Cflow for Free and let us know your feedback.