Workflow Automation Software for Small Business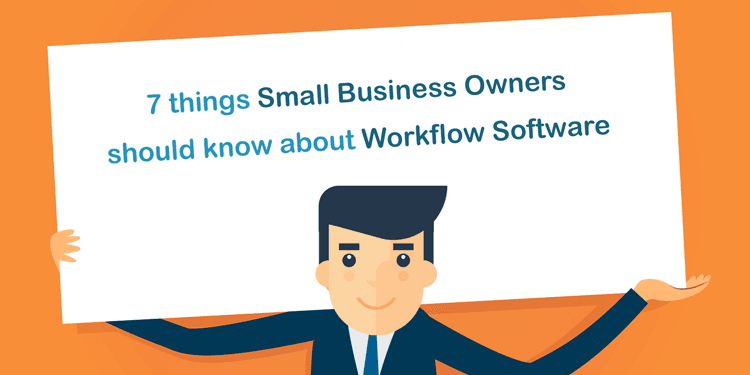 Myths and assumptions often mar small business owners that they do not need workflow software. If you are one of them, this guide is for you. The seven most basic things every small business and startup should know as business management or workflow software can change how your company operates.
Do I need it? – Use cases, what can workflow automation software be used for?
Most small business owners think twice before using workflow automation software because they are prejudiced that a small company usually doesn't need one. The software can be used even by small teams of 5 or 10 to ensure smooth communication, escalate tasks, and improve transparency.
Your employees can use it to submit expense reimbursement forms, request HR to approve leaves, and so on. A client or customer can easily create invoice requests, forward them to your finance team and get them passed. Repetitive tasks can be automated, and you can avoid bottlenecks using software streamlining everyday tasks.
Number of Employees – Less than 10, then not required, or try to get it for free.
When your employee count is less than 10, it's vital not quick to assume that you don't need workflow software. If your team works from multiple locations or in different spots in the same building, a connecting platform such as workflow automation software will make things easier.
Most popular programs charge per user, and if you have just eight employees, you only pay for the services you avail of. Besides, it avoids the situation where a person must wait or seek approval manually. The streamlined flow leads to better business growth and a professional atmosphere.
One or More locations – Distributed customers, suppliers, workforce, then workflow software may be useful.
Every organization has to operate in a condition where they may have their employees located in different regions or their customers spread throughout the state or country. Everyday activities like invoice processing, raising tickets, sending receipts, and delivering hardware or services require seamless communication.
Workflow software can bring a small business together by connecting employees with customers and ensuring everything is carried out in a well-planned manner. An organization's growth relies on happy customers and clients combined with an efficient, motivated workforce. The software tool can play its part in boosting them all.
Cloud or On-Premise – Based on users' security and location, the cloud is typically the way to go.
Before choosing a business process software, a lot of factors should be considered based on your requirement. Your storage matters a lot as you have the freedom to keep servers in your workplace or get a hassle-free experience by storing everything in the cloud.
While setting up a server has its own benefits, it requires more maintenance and manual backups. A cloud storage solution is seamless and easy, especially for small businesses, as it requires little investment.
All your data will be safely stored online and accessible on a wide range of devices.
Cost is – Important factor, so choose something that is within your budget and tailored for you.
Cost is an important factor in choosing workflow software, or any software for that matter. Businesses are always constrained by money, but that doesn't mean you can gain access to the best aspects of IT.
Choose a program with multiple bundles and plans matching your budget. You can start with a free program to know how efficient the tool is and turn it into a paid subscriber in limited numbers. There is always scope to expand it further based on requirements. Most companies are flexible in pricing, and you can explain your requirement before signing the deal.
Implementation – Check if the vendor will provide live support or help during implementation; everything self-service might require SMB to invest a lot of time.
As small businesses can't spend a large sum on IT, implementation of the software should be easy and technical support should be provided by the service provider.
Consult with your vendor to understand the kind of support they will provide, as self-service is something SMBs can't afford to do with limited resources.
Support – This is very important as the success of the automation initiative may depend on customer support post-live.
When you run a small business and are about to choose your automation software solution, go for the best balance between pricing and support. Ensuring your workflow runs as intended depends mainly on the type of support the vendor provides.
Check for an efficient customer support team that should be well-informed and ready to help you automate your processes.
Steps in a Small Business Workflow
As a business person, you know that having a well-defined workflow is an essential component of any successful business. A small business workflow is no different. It is the process that enables a small business to complete tasks and achieve its goals promptly and efficiently.
To ensure your workflow is optimized, here are some steps you can take to create a successful small business workflow:
The first step in a small business workflow is to identify the objectives.
This involves understanding the business's core goals, such as increasing sales, improving customer satisfaction, or developing new products.
Once the objectives are identified, it's time to create a plan of action to help the business reach its goals.
This may involve creating a timeline of activities, assigning tasks to team members, and setting deadlines.
The next step in a small business workflow is to develop an organizational structure.
This involves determining the roles and responsibilities of each team member and how they will work together.
It is also important to develop a communication plan for the team.
This should include creating a regular schedule for meetings and ensuring that all team members are informed about updates and changes.
Once the organizational structure is in place, the workflow can begin.
This involves creating a system for tracking progress, setting deadlines, and managing resources.
It is important to ensure that all tasks are completed in a timely manner and that team members understand their roles and responsibilities.
Finally, it is important to review the workflow regularly.
This can involve assessing the effectiveness of each step and making adjustments as needed.
This helps to ensure that the small business is on track to meet its goals and objectives in a timely manner.
By following a few simple steps, businesses can create an effective workflow that can help to improve their efficiency and profitability. Professional business owners should strive to create a workflow that is tailored to their specific needs and goals. By doing so, they can ensure that their business runs as smoothly and effectively as possible.
Best Workflow Management Software for Small Businesses
As a small business, workflow automation, and management software can be a lifeline, allowing you to streamline processes and maximize efficiency. With the right tools, you can automate repetitive tasks, improve communication between teams, and gain greater visibility over your operations.
Fortunately, there are many software solutions available for small businesses. But how do you know which one is best for your organization? To help you out, we've compiled a list of some of the top workflow automation and management software for small businesses.
Cflow: Cflow is an end-to-end workflow automation and management solution which is designed for SMBs, startups, and large enterprises. It has intuitive features that will take your business to the next level. It offers a customizable dashboard, drag-and-drop interface for workflow creation, real-time reporting and data analytics, audit trail, and much more. Cflow is designed to give your business a competitive edge. It also has a mobile app.
Asana: Asana is an easy-to-use task and project management software designed to help teams collaborate and stay on top of tasks. It provides features such as task tracking, timelines, reminders, and comments. It is ideal for teams that are working on multiple projects at once.
Trello: Trello is an intuitive project management tool designed to help teams collaborate and stay organized. It offers features such as boards, lists, and cards to help teams track tasks and progress. It is beneficial for tracking the progress of multiple projects.
Smartsheet: Smartsheet is a powerful spreadsheet and workflow automation solution designed to help teams track and manage projects. It offers automated templates, task tracking, reminders, and reporting. It is beneficial for teams that need to track tasks and progress.
Monday.com: Monday.com is a powerful project and resource management software designed to help teams collaborate more efficiently. It offers features such as visual boards, automated workflow rules, reporting, and task automation. It is especially useful for teams that are managing multiple projects at once.
Jira: Jira is a project management platform that helps you to track progress on any project. It includes issue tracking, reporting, and workflow automation. It also has a mobile app.
Zapier: Zapier is an automation tool that connects web applications and automates tasks. It can be used to create automated workflows, such as notifications, and integrates with several different applications.
Wrike: Wrike is a project management platform that includes task management, resource planning, and workflow automation. It can be used to manage projects across teams, as well as track progress and workloads.
Process Street: Process Street is a powerful workflow automation and management software that helps small businesses automate repetitive processes. It allows you to create checklists, forms, and templates to streamline your workflow. You can also assign tasks to team members and track progress in real-time.
Nintex: Nintex is a comprehensive workflow automation and management software. It allows you to create and manage complex workflows, from simple tasks to complex projects. Additionally, it comes with powerful analytics and reporting tools to help you measure performance and make better decisions.
By taking advantage of these workflow management tools, you can save time and money while improving productivity and customer satisfaction. Try out some of the top solutions listed above and see how they can help your small business.
Here is How Cflow can be a Win-Win Solution for Your Small Business Workflow Automation
Cflow's Seamless No-code Workflow Management
Cflow's no-code workflow management is an ideal solution for small businesses, as it allows you to manage your workflow without having to invest in costly coding resources.
No-code workflow management is a process of automating the flow of tasks across your business. It involves creating rules and processes that automate the flow of tasks from one department or person to another. This eliminates the need for manual tracking and consolidates control of the process into one central system.
With Cflow, you can manage different types of processes efficiently. From customer onboarding and customer support tickets to accounts payable and project management, you can use Cflow to streamline and improve operations. This process can be used to automate mundane tasks, freeing up time for more important projects.
Cflow's no-code workflow management can be tailored to the specific needs of your business. You can set up rules for how tasks are transferred from one person or department to another, how tasks are prioritized, and when tasks should be completed. This allows you to customize your workflow to meet the needs of your business.
Cflow's Easy-to-Use Workflow Creation
Creating workflows designed for your unique needs is one of the most effective ways for businesses to maximize their time and resources. With the right workflow in place, businesses can streamline processes, improve communication, and ensure that all tasks are completed quickly and efficiently.
Cflow lets you create unique workflows needed for your small business by understanding the situations. You can design the workflows for maximum efficiency. Cflow lets you identify and analyze your customer relationships and effectively facilitates customer communication and task tracking in your workflows.
End-to-end workflow automation
Build fully-customizable, no code process workflows in a jiffy.
Cflow Lets You Stay Ahead of The Competition.
To stay competitive, it is important to ensure your business runs as efficiently as possible. Automated business logic can be one of the most effective ways of improving productivity in your small business.
Business logic is the process of using both automated and manual processes to make decisions and execute tasks. Automation involves using computer algorithms to do the decision-making for you. This can save you both time and money and help you make better decisions for your business.
Cflow enhances your business productivity using automation as and when required. For instance, Cflow's workflow automation will let you generate invoices and process payments automatically. This can save you time and money that would have otherwise been spent manually dealing with paperwork. You can also use Cflow to automate customer service tasks, such as responding to customer inquiries or automatically routing customer requests to the appropriate team member.
Also, Cflow's automation can help you streamline your processes, which can help you save time and money. This can also help you reduce manual errors, which can result in improved efficiency and productivity.
Cflow's Optimized Reporting and Analytics
Cflow helps you optimize your operations and ensure that your business is running at its peak performance.
Reporting and analytics are essential for small businesses because it allows you to track and analyze key performance indicators. Having access to this data can help you make informed decisions that will improve your operations.
With Cflow you can monitor your inventory, sales figures, customer satisfaction, and other key data points. By understanding these metrics, you can identify areas of inefficiency and areas of growth. You can also adjust your operations accordingly to better meet the needs of your customers and maximize your profits.
The real-time reporting and analytics in Cflow can also provide valuable insights into your customer base. You can identify key customer segments, understand their needs and preferences, and use this data to improve your products and services.
Cflow's Mobility and Integration
Integrating mobile access into your small business workflows can be done in various ways. First, it is important to ensure that all employees have access to the same tools and data. Since Cflow is a cloud-based platform that comes with a mobile app, you can allow all employees to access the same documents and make changes from any device.
Second, with Cflow you can create a streamlined platform for communication and collaboration. It offers you excellent project management and collaboration features which allow everyone to stay on the same page and easily communicate with each other.
Third, it is essential to ensure that everyone can access the same data. To do this, you can use Cflow's mobile app, which allows employees to access the same information.
Lastly, you should create a secure way to store data. Cflow offers best-in-class encryption for your data armed with SSL encryption, multi-factor authentication, password expiry timelines, and non-repeatable passwords. These services allow you to store all data securely and easily share it with other users.
Wrapping up!
As a small business owner, it's important to take advantage of every opportunity for growth and success. Workflow automation is an invaluable tool for small businesses. It can help businesses reduce costs, increase productivity and efficiency, and improve customer service. In turn, this can lead to increased sales, improved customer satisfaction and loyalty, and greater overall success. Also, automation can help you track and monitor changes in processes and procedures, ensuring that you remain compliant at all times. So, with powerful workflow software for a small business like Cflow, you elevate your business performance.
What would you like to do next?​
Automate your workflows with our Cflow experts.​
Get your workflows automated for FREE
---