Top 6 Document Approval Software to Consider for 2023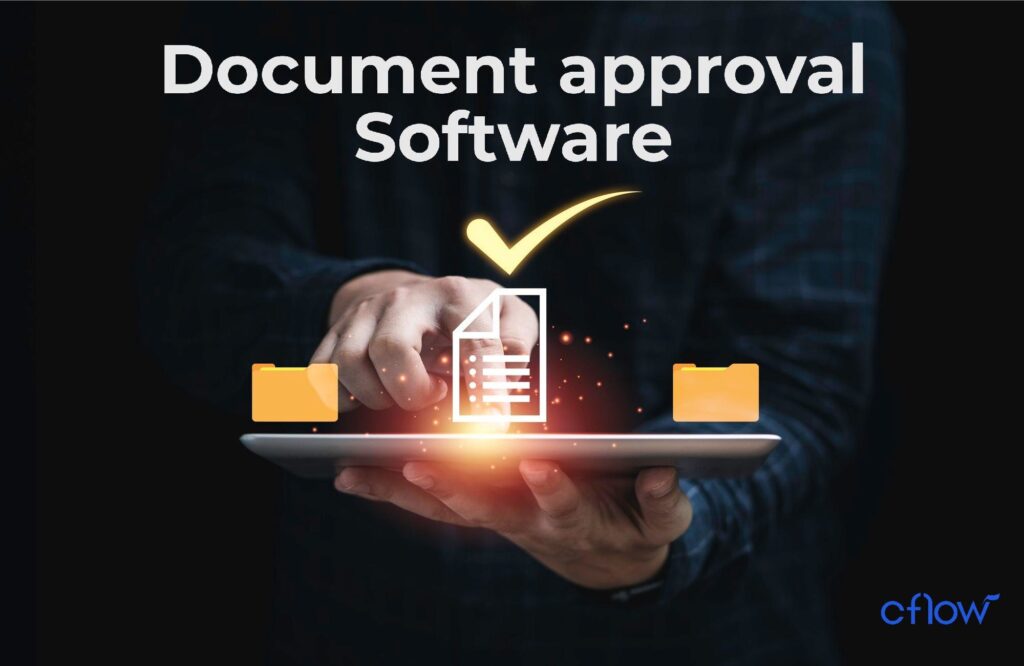 Approvals! From document approval to leave request approval; and from purchase order approval to employee reimbursement approval – the faster and more transparent the approval process, the better business outcomes will be. Creation, review, and approval of documents are important parts of business operations.
A streamlined document approval workflow eases the document management process. Read on to understand the need for a document approval system, the way it works, and the top 5 document approval software to consider for 2023.
Need for Document Approval System
What is a document approval software system? A formalized and automated approval system that takes care of document reviews submission, routing, review, approval, approval tracking, and collaboration for a variety of document types to make approval decisions is called a document approval system.
With document approval software, organizations can ensure that documentation standards are met and that a complete audit trail of document workflow actions is available.
Document approvals are often delayed or missed in organizations that have multiple approval levels or those that still follow paper-based documentation. It would be time-consuming and inefficient to go around asking and waiting for document approvals. Approvals may be required for a variety of reasons expense reports, leave requests, invoices, purchase orders, purchase requisitions, travel expense reimbursements, department budgets, etc.
Documents like purchase orders and invoices must flow through a series of steps to ensure compliance and standardization. Doing things manually or not having a formal approval system in place will cost the business in the long run. An online document approval system is the most efficient way to review, approve, and track documents.
Why do you Need a Document Approval System?
Compliance management
A document approval system streamlines the document management process. The documents in any organization must comply with policies and industry standards. Without a document approval system, standardization in document handling is not possible. A document approval workflow software improves compliance management within the organization.
Lack of clarity
One of the main reasons for delayed or missed approvals is a lack of clarity in roles for the approval of documents. When the roles are not clearly defined, approval of documents is often missed or delayed because approvers are not clear about the documents assigned to them for approval. The approval software enables clear assignment of roles so that there is no confusion or delay in document approval. The approver not receiving notification about the document that needs approval is another issue that arises due to lack of clarity.
Document version
Having disparate document sources creates confusion on document versions. The approver is not sure which version of the document to review and approve, as a result, the wrong version of the document is approved. A document approval system ensures that the latest version is presented to the approver for review and approval. As and when changes are made to the document, the version is automatically updated.
Deeper visibility
Manual document approval does not provide visibility into the status of the document. The employee submitting the document for approval is unaware of the status of the submitted document. An automated document approval system provides visibility and transparency into the status of the document so that the employee is always aware of the status of the document. Sometimes approvers do not have access to the document they are supposed to approve. This can lead to undue delays in approvals.
Confusion and chaos
One of the most common issues that occur during an approval workflow is the confusion and chaos that is caused by the document changes made by the approver. This causes confusion and delays in the approval process or even leads to incorrect or incomplete approvals.
A typical document approval workflow includes the following steps:
Employee creates the document ——–> document is sent to manager for review —–> manager reviews the document and approves/rejects the document accordingly —->the employee is informed about the approval—–> the approved document is sent to the next level in the workflow
How Does a Document Approval System Work?
Document workflows are different in every organization, depending on the unique needs of the organization. A typical approval workflow includes the following elements:
1. Documents
Documents that need approval like purchase orders, budget approvals, contract renewals, project proposals, and legal documents. These documents are created based on a standardized template or form.
2. Reviewers and approvers
Reviewers and approvers, typically managers, are the most important element in the approval process. They are in charge of reviewing the submitted document and deciding whether to approve or reject the document. When data is missing or incorrect, the approver sends the document back to the submitter for filling in missing information or correcting the information.
3. Permission levels
In any document workflow, permission levels are very important. The approval system must set clear permission levels for each user. These permission levels allow you to determine who can view, edit, approve, and reject submitted documents. With clearly set permission levels, employees cannot bypass an approval step. When there are multiple approvers, clear permission levels minimize the risk of fraud.
4. Due dates
Every task in a document workflow must have due dates. Working with set due dates instils a sense of urgency in employees so that they complete their work on time.
5. Business rules and conditions
Workflows operate based on business rules and conditions. Conditional rules specify what happens when certain conditions are met. Business processes that work according to rules and conditions are efficient and streamlined.
6. Signatures
Collecting approval signatures is a key element of the approval process. Signatures show that a supervisor or approver has reviewed and approved the document.
An approval workflow is a series of actions that must be completed so that a request can be approved or rejected. The steps in an approval workflow may vary according to the type of request. However, a typical approval workflow involves gathering information from stakeholders, making a decision, and communicating the decision. When a workflow is designed, the following points need to be considered –
➤ Who needs to be involved in the process?
➤ What information needs to be gathered?
➤ What are the conditions based on which decision is made?
➤ How will the results be communicated?
Each step in the workflow must be clearly defined, and who is responsible for which task must be clearly defined. In addition to these conditions, there should be a way to track the progress of the request so that each stakeholder can know the status of the request.
Here are the steps in creating an approval workflow:
Defining the approval starting points
The starting point of the approval process is the submission of documents like sales proposals, quotes, purchase orders, contracts, or invoices.
Defining the workflow
Approval workflows are classified into two groups- parallel and sequential. A parallel workflow is one where a series of steps are tackled at once to move the task to completion. An example of this type of workflow is employee onboarding where several tasks need to be completed simultaneously. A sequential workflow is a rules-driven workflow that proceeds along a sequential path based on which rules are triggered. An example of sequential workflow is the loan application process, where the previous step needs to be completed for the next step to occur.
Defining the approval conditions
The definition of approval conditions is an important part of the approval workflow. Approval or rejection of output is based on approval conditions.
Defining the results
The results component of an approval workflow is based on the action taken based on the workflow results.
Most document approval workflows involve the following activities:
➤ Submission
➤ Routing
➤ Reviewing/Approving
➤ Collaborating
➤ Tracking/Reporting
➤ Storage
Benefits of Automating Document Approval Process
The immediate benefits of automating the document approval workflow are time-saving and error reduction. The other benefits of automating the document approval workflow are given below.
1. Faster and more effective approvals
Automating the approval process helps track documents more effectively. Routing of the document is done automatically, which enables faster approvals. The approver is alerted of pending approvals so that there is no delay in document approval. Automation streamlines the approval request process so that in-context information is automatically shared with chosen approvers. Custom routing is another advantage of automated workflows.
2. Complete visibility on approvals
All the necessary details are collected to enable quicker and more efficient sign-offs. The approver and the submitter are aware of the status of the request at all times. Automated alerts and notifications ensure that the approver is aware of the status of the request.
3. Complete the audit trail
An automated document approval system helps maintain a complete audit trail of all the activity and communication that goes on through the approval process. Process parameters/information that needs to be recorded for audit purposes include:
➤ Who makes the decision?
➤ What are the factors that lead to approval/rejection?
➤ When was the decision made?
Automation helps record this information and other important information required for in-built audit trails.
4. Maximum compliance
Implementing a document approval process ensures process compliance in every single task. The approval process orchestrated by a system standardizes the approval process and runs it on autopilot. In processes that have multiple approval levels, from the first approver to the last everyone is contextually guided based on the business rules.
5. Increased productivity
Automation enables faster and clearer communication between all the stakeholders in the approval process. Automated approval workflow assists the stakeholders with the right context at every touchpoint, which boosts the efficiency of the ecosystem.
6. Higher transparency, control, and reliability
Decision-making is a highly collaborative process where several teams have to collaborate to carry out the process smoothly. Any discrepancy in process flow can interfere with the smooth handoff of information required to make final approval decisions. All the decisions and supporting reasons are captured in the approval workflow by providing a single source of truth for all stakeholders. Improved transparency for the stakeholders provides admins better control over the process by establishing rules to follow.
7. Reduction in costs
Automating approval-based processes saves a significant amount of time for approvers. The approver cycle time is drastically reduced through automation, which cuts down overall spending and costs.
8. Decrease in errors
Workflow interfaces provide an intuitive way to configure and govern all processes. Automated approvals enable the agent to track events with information captured within the tool and take necessary actions. The workflow can be pre-configured to monitor checkboxes to sign off approval requests, change approval status, and even manage pending requests.
9. Improved work culture
Employees getting involved in more strategic activities as opposed to mundane activities boosts their morale. Employees will be more satisfied and productive with a system that helps them focus on their subject matter expertise and competency on tasks.
End-to-end workflow automation
Build fully-customizable, no code process workflows in a jiffy.
Features of a Document Approval System
Choosing the right document approval system is an important decision that organizations need to take. Approval workflow tools must have the following features:
1. Automated approval alerts
Approvers must be alerted and notified of approval deadlines. This way all requests are approved on time.
2. No-code workflow applications
The document approval software must be easy to install and use. If the workflow application involves complex coding, then non-technical users would find it difficult to use the software. No-code or low-code workflow applications enable non-technical users to automate important aspects of the workflow like filling out forms, scheduling tasks, responding to email messages, etc.
3. Both online and offline access
The document approval workflow software must support online and offline access. Authorized employees must be able to use cloud-based workflow from anywhere with an internet connection. Offline access makes it easy to complete their tasks even when they do not have Internet access.
4. On-premise and Cloud implementations
The document approval workflow must support both on-premise and cloud implementations.
5. Distribution automation
Workflow automation allows people to share documents with team members by providing access, and permissions and keeping track of changes.
6. Digital signatures
Document workflow systems must streamline the process of collecting legally binding signatures by automating signature capture and verification.
7. Integration
The workflow automation software must seamlessly integrate with other business systems like CRM, Procurement, and HR systems.
Cflow is a workflow automation software that can automate key business workflows within minutes. This is a no-code BPM platform that streamlines process workflows by eliminating redundant and repetitive steps. The document approval process can be easily automated with Cflow. The visual drag-and-drop form builder can be used to create custom workflows as per each business process. Creating customized workflows is super easy with the form builder in Cflow.
Top 6 Document Approval Software for 2023
Irrespective of whether a business needs to handle general or legal documents, a document approval system helps in handling document requests efficiently and approving documents on time. So, if you are thinking of going for a document approval system for your business, then you must consider the list of top document approval software given below:
1. Cflow
A no-code BPM platform that automates key business workflows for SMBs and enterprises. Business workflows like HR, Finance, CapEx approvals, Document approvals, procurement, and sales can be effectively automated by Cflow. This is a useful document approval software that takes out repetition and redundancy from the approval workflow by automating low-value admin activities.
2. Microsoft SharePoint
This is a cloud-based service designed for businesses of all sizes. It is available for cloud and on-premise implementations. Companies can either subscribe to a Microsoft 365 plan or only the standalone SharePoint service. The main features include reusable templates, restricted data sharing, and customization friendly. The software is GDPR and HIPAA.
3. Avokaado
This is the best document approval software for legal document approvals. This is a contract approval workflow software that specializes in legal documents. This software allows businesses to manage the entire contract lifecycle and related workflows from a centralized console. Key features include pre-lawyered templates in a central library, centralized storage of documents, and monitoring of post-signing milestones.
4. Nintex process platform
This is a visual-based document approval platform for non-coders. Nintex platform is an easy-to-use document approval software that comes with a drag-and-drop interface for constructing complicated workflows. Other features include bots to automate routine work, drag-and-drop workflow design tools, and a pre-built dashboard to monitor workflow performance.
5. DocuWare
The best document approval workflow for a mobile workforce. This is an on-premise platform that offers mobile document management and workflow automation for workers who are always on the go. Centralized, instant access to documents and workflows, stamps and data fields, and secure document archiving are some of the features offered by DocuWare.
6. Box for Business
This is a cloud-native document management platform that helps businesses create, store, and collaborate on content securely from any device. Box can integrate with over 1500 apps via pre-built integrations. Document lifecycle management, robust user permissions, seamless integrations, and ML-based automation are the top features offered by Box.
Conclusion
Document approvals are an integral part of every business. Document approval systems simplify and streamline the approval workflows so that approvals happen on time. Online document approval systems help save a lot of time and effort for businesses. The use of document approval software improves the productivity of businesses by enabling employees to focus on meaningful tasks.
Workflow automation software like Cflow streamlines the entire document approval workflow within minutes. To explore our feature-rich workflow automation software, sign up for the free trial today.
What would you like to do next?​
Automate your workflows with our Cflow experts.​
Get your workflows automated for FREE
---