Business Process as a Service (BPaaS): The Next Big Thing in IT!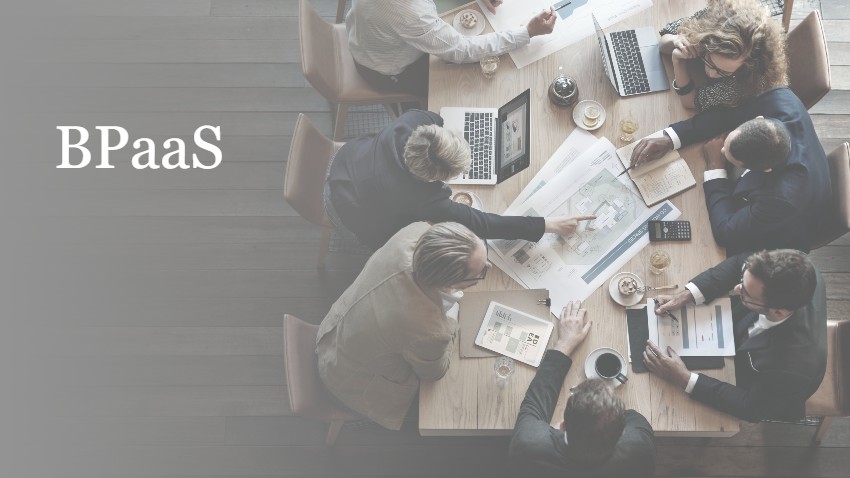 Business Process as a Service (BPaaS) is accelerating with momentum, with organizations attempting to move their business processes (BPs) to the cloud. To survive the dynamic business world, enterprises need to exploit the process service providers to adapt to the current situation as well as to provide an enhanced customer experience.
Cloud computing provides flexible IT solutions. Moreover, the need for business process management (BPM) is ubiquitous as BPs exist in all industries, from the government to health care. Therefore the success of cloud computing is fueled by the despite to develop and offer BP execution as a service or BPaaS. Cloud computing is regarded as the most reliable solution for providing improved supply and cheap commodity resources and enabling organizations to focus on their core business activities. Keep reading this article to learn more about BPaaS and how it is the next big thing in IT.
What is BPaaS?
The BPaaS definition, according to Gartner, is "a business process that is provisioned as a service in the cloud, thereby enabling customers to reduce capital expenditures and associated infrastructure costs."
In other words, BPaaS enables organizations to access and use cloud-based business processes without having to purchase or maintain software or hardware. Instead of spending money on things like servers, databases, or security systems—all things required when you run your own IT infrastructure—you can simply pay for what you need through BPaaS providers like Cflow.
BPaaS vs SaaS
BPaaS and SaaS solutions are often confused with each other; however, there is a clear difference between them.
BPaaS is a business process as a service. It's cloud-based, and it can be used to automate repetitive tasks, increase efficiency and improve customer experience.
It also reduces capital expenditure by reducing the need for capital investments in hardware or software. BPaaS solutions are often confused with SaaS solutions, but there is a clear difference between them:
BPaaS provides functionality that allows businesses to create their own custom apps (called composites), whereas SaaS just offers basic functionalities. For example, if you want more advanced features like automated notifications or workflows, then BPaaS will be more suitable than SaaS.
Despite the similar three-letter acronyms and the fact they are both cloud-based services, they have distinct purposes and offer different benefits. BPaaS is a wider concept than SaaS. It can be used to outsource business processes of all kinds, not just software—for example, it could be used to create a BPaaS for optimizing customer experience or improving productivity within an organization.
While SaaS products are mainly focused on providing software solutions, BPaaS includes both software solutions and business process solutions. BPaaS is a broader term than SaaS, which means that it contains more than just software.
For example, if you need social media management services, you would use BPaaS rather than SaaS because even though it requires specialized software, it also requires people with social media skills to run campaigns.
BPaaS is used to manage marketing campaigns, customer service campaigns, and compliance campaigns, among other things. BPaaS allows companies that aren't tech-savvy to outsource their entire process or just specific parts of their business processes.
BPaaS differs from existing SaaS (Software-as-a-Service) models by providing automation of entire business processes instead of just software applications or data storage services. BPaaS allows users to create workflow diagrams that define their business processes and associate them with related data sources, such as customer records or bank account information.
The user can then publish these diagrams, so other people in the organization can access them and start using them immediately without having any programming knowledge at all–which makes BPaaS ideal for quickly creating custom solutions while still maintaining control over project management responsibilities associated with traditional programming projects like Java development projects.
You may have already heard of BPaaS, but if not, it's a great new buzzword. If you're unfamiliar with business process automation (BPA), it involves automating repetitive tasks that can be performed by computer software. This can include anything from data entry and information processing to document generation and more.
Business Process as a Service (BPaaS) is an extension of SaaS (Software as a Service). Software as a service refers to software that's offered through cloud-based servers rather than local servers or other physical storage devices.
BPaaS differs from SaaS in that it also offers BPA capabilities to its customers—and those advantages are pretty significant! Not only do businesses gain access to cutting-edge software solutions such as chatbots and artificial intelligence (AI), but they also get access to highly trained professionals who can help them implement these solutions into their existing processes, so they run smoothly from start to finish without any hiccups along the way!
Benefits of BPaaS
BPaaS formulates an approach to IT that provides organizations with the freedom and flexibility to implement modern business processes. BPaaS can potentially streamline your organization's operations by eliminating manual tasks, reducing costs, and improving efficiency. While small businesses might not be able to afford an in-house team of experts for every aspect of their business, BPaaS can help them improve their processes without having to invest heavily upfront.
Cost
Cost is also a major reason why BPaaS is so great. This can be true for both the initial setup and ongoing maintenance costs. BPaaS eliminates the need to buy and maintain software, hardware, and other infrastructure that otherwise would be necessary to run your business processes.
The initial setup of the process is often more affordable than hiring a team to build your process from scratch. You won't need any specialized skills or training, so this can save you time and money when you start up your business. Plus, it's easier for businesses to get started on their own because there are no resources needed beyond basic ones—a computer and internet connection should be enough!
If you're outsourcing work overseas, then that's another cost factor to consider when looking at BPAaaS versus other options like hiring an in-house team or building processes yourself (which would take even more time). Outsourcing can also get expensive if you need help with managing employees abroad or dealing with issues like language barriers; these kinds of problems won't happen if all employees are located in one place.
Efficiency
The benefits of Business Process As A Service are numerous and varied, but one that often goes under the radar is efficiency. This can be especially important to small businesses, which often lack the resources necessary to scale up their operations when faced with a sudden increase in demand or workload.
BPaaS providers have invested heavily in building their products, so they are designed for efficiency and can handle large volumes of users as well as data requests with minimal latency.
By outsourcing your business processes through BPAaaS providers like Cflow, you gain access to a team of experts who specialize in maintaining efficiency while working within your budget. They will invest time upfront getting to know your specific needs so that they're able to streamline operations from start to finish. The result? A streamlined process that's easy for everyone involved—and helps keep costs down!
Eliminate Disruption
One of the biggest benefits of BPaaS is that it eliminates disruption to your business. Whether you're a small startup or a large enterprise, you can enjoy an uninterrupted experience through the use of a managed service model. No more worrying about IT, security or scalability—let us worry about all of those things for you!
In addition to eliminating disruption, BPaaS also helps companies avoid becoming distracted by IT tasks that are not core to their business goals. This enables them to focus on what really matters – growing their business profitably.
Running your own business processes means you have control over them, but it also means that any downtime or disruption can cost you dearly in terms of lost productivity among employees who rely on automated workflows within the system — not to mention the loss of revenue while customers wait for an answer from an employee who isn't able to help them because he or she has been put on hold by a system failure! With BPaaS offerings, this problem is eliminated because everything is hosted off-site, so there is no risk of internal service disruptions occurring at all (unless you're using an unreliable provider).
Speed to Market
Buying a business process as a service is one way to speed up the time it takes to get your product to market. With BPaaS, you can find out if your idea is going to work without investing any capital in building and testing it yourself. This will help save both time and money.
BPaaS is a way to monetize your idea. It's a form of outsourcing, which means that it can give you access to highly skilled people who can help you out with the project. You won't have to worry about finding and hiring developers or designers yourself; instead, they will be provided by the BPaaS platform.
The time needed to create new applications using BPaaS platforms can be significantly reduced compared with traditional development methods because most functionality comes prebuilt out of the box without requiring customized coding from scratch; moreover, these systems are easier than ever before, thanks to advances made by cloud providers.
Security and Privacy Concerns
If you're worried about security and privacy, don't be. The business process outsourcing (BPO) providers that offer BPaaS solutions have a strong track record of providing secure and private platforms for their customers.
Most providers have security policies in place that protect the confidentiality of their client's data, as well as information on how they will respond to a potential breach or intrusion. They also require third-party vendors to follow strict standards when it comes to securing data during transmission, storage, and disposal.
Additionally, many providers have received certification from leading organizations such as ISO/IEC 27001:2013 (information security management system), SOC 1/2/3 (service organization control), PCI DSS Level 1/2 (payment card industry compliance), HIPAA BAA Level 1/2, (health insurance portability and accountability act), and FISMA (federal information security management act) which makes BPaaS even more reliable.
Flexibility and Scalability
Let's face it, your business is constantly growing and changing. You need the ability to adjust to changing business needs and accommodate growth in demand. The Process as a Service (PAAS) offers the flexibility to scale and grow with your organization.
* A PAAS solution can be implemented quickly, with minimal disruption to your business operations.
* PAAS allows you to focus on your core competencies and leave the IT management to us.
* PAAS is a scalable solution that can grow with your business needs.
Innovation Focus
* BPaaS allows you to focus on innovation
* BPaaS allows you to focus on your core business
* BPaaS allows you to focus on your customers
* BPaaS allows you to focus on your employees
* BPaaS allows you to focus on your suppliers
The benefits of a business process as a service are clear, but there's still a lot to learn about this new technology. So far, we know that BPA is cheaper than regular outsourcing and can be used for both customer-facing and employee-facing processes. But how does it affect scalability? Will anyone adopt this technology? Certainly, the early adopters will see the most benefit; however, if it becomes popular enough—or perhaps even necessary—then everyone else will eventually follow suit!
End-to-end workflow automation
Build fully-customizable, no code process workflows in a jiffy.
What to Look For In a Bpaas?
What makes it good? Well, BPaaS is typically service-oriented, which needs to be well-defined in providing optimized services as expected. A strong BPaaS platform should be able to achieve:
* Intelligent process automation (IPA). The BPaaS platform offers a centralized repository of business processes. BPaaS provides development tools to help business process owners work with their IT teams to deliver IPA initiatives.
* BPaaS offers a turnkey solution to help business process owners work with their IT teams to deliver intelligent process automation (IPA) initiatives.
* The BPaaS should be configurable based on process requirements which should be unique for each business.
* BPaaS should have all the necessary APIs to connect to the related services.
* It should support multiple languages and should be able to be deployable in multiple environments.
* Should be proactive and consistent in measuring the progress of operations happening in the organization with large business outcomes.
* Should be able to upscale hundreds to thousands of customers effectively.
* BPaaS solutions should provide high-quality service at all times.
* Should be agile enough to leverage technology and business needs by eliminating the need for renegotiating with the client.
* Should enhance performance each year and facilitate overall optimization.
Have You Heard About The Watermelon Effect in BPaaS?
The watermelon effect occurs when all the SLAs are met from the service provider's perspective, but the client is still dissatisfied with the end result. This means that the service levels are not up to the client's expectations.
The analogy "watermelon effect" refers to the implying SLAs are "green" when all requirements are met according to the service provider, and the "red" indicates the client's dissatisfaction at the time of delivery. This is where business process services come to your rescue.
An SLA is considered effective only when it aligns with the service providers' operational decisions and meets all the client's business requirements. It should be able to come up with quantitative solutions through analysis. Having an outcome-based-proactive end-to-end service will help organizations to be vigilant, especially when they have parameters such as the mean time to respond. This gap between interpreting SLAs can be bridged with the BPaaS solution's help with its real-time reporting to the client.
BPaaS is a hot topic in the industry right now and is expected to grow significantly over the next few years. It makes sense because outsourcing business processes can save companies money and time while also helping them improve customer experience and productivity. BPaaS offers a lot of benefits compared with traditional BPM, including better scalability and access to resources.
There are many benefits of this service, but it's important for businesses to understand exactly what BPaaS means before jumping into an agreement with a provider—especially since there are so many different providers out there offering similar services at different price points!
With a lot of BPaaS service providers out there, Cflow BPM approaches your solutions with highly credible and innovative automation insights. It is a no-code cloud-based platform with an incredible portfolio of BPaaS solutions, which helps in gaining hyper-productivity and immense customer experience. Agility is the key for organizations on the digital transformation journey, and Cflow's BPM is the best response to the rapidly changing technology and business landscapes.
What would you like to do next?​
Automate your workflows with our Cflow experts.​
Get your workflows automated for FREE
---