Unleashing the Power of Workflow Orchestration Tools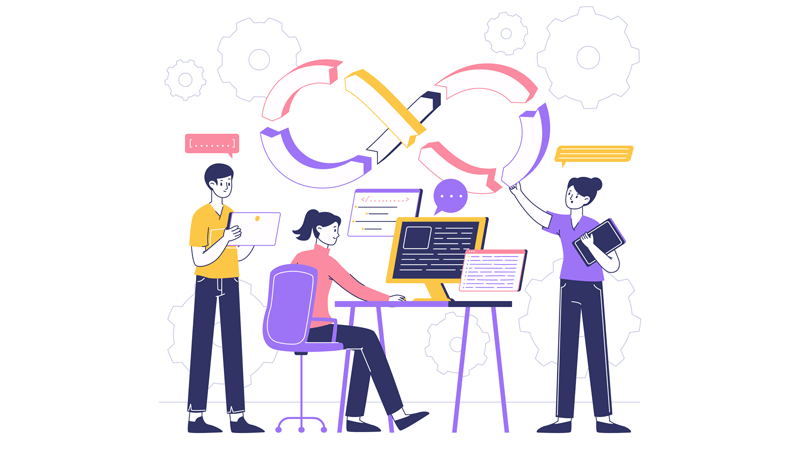 According to a Gartner analysis, "workflow orchestration software is becoming increasingly significant in the context of digital transformation, as they assist organizations in streamlining and automating complicated business processes."
There is an increased necessity for organizations to streamline and automate their workflows to find their pace stable in this digital age. Agility and speed are considered to be the prime factors that help businesses stay competitive in the market. Thanks to the technological advancements, where businesses can find  an arsenal of workflow orchestration tools to make this happen. Workflow orchestration tools aid modern business to automate and manage tasks, data, and processes. What workflow orchestration tools bring to table is a revolutionary way of business operation, enabling organizations to optimize workflows, automate business processes, and achieve unprecedented levels of efficiency.  
This blog helps you understand the workflow orchestration tools and their benefits. This article also elaborates the vast potential of workflow orchestration tools, and how they aid businesses to achieve their goals with maximum efficiency and minimal effort. Let's dive in!
Defining workflow, orchestration,  workflow orchestration, and Workflow orchestration tools
Business processes are profound and they demand intense understanding of their systems, management techniques and execution strategies. Workflow orchestration tools aid you seamlessly coordinating all these aspects. So, knowing the real meaning of terms like workflow, orchestration, and workflow orchestration tools is essential to envisage the full potential of your business.
Workflow:
A workflow is, by definition, a series of tasks or activities that are performed to achieve a specific goal or outcome. In business context, workflow refers to your execution plan. Usually, every business ensures workflows to automate business processes are in sync with the organization's overall strategy. Workflows aid organizations to automate and manage business processes by easing out the steps of data collection, approval, document management, and communication with the customers. For example, automated workflows are used by the sales team to manage the process of responding to customer inquiries, from initial contact through to closing a sale. Generally, orchestrated workflows are efficient and effective in managing business activities, reducing manual effort, and improving overall business productivity.
Orchestration
Orchestration refers to the process of automating the complex business tasks and business processes in a workflow to be coordinated and managed in such  a way to achieve the desired outcome. Orchestration involves actions of defining and automating the sequence of tasks or activities in data processing, approvals, notifications, and integrations with other systems or applications required to achieve a specific goal.
What is Workflow Orchestration?
Workflow orchestration can be termed as the process of optimizing business workflows: i.e. the tasks/processes involved in workflows are managed and coordinated with the systems and applications. Generally, this is achieved using  specified tools and software known as workflow orchestration tools. Tools like workflow orchestration software, cloud orchestration platforms, or container orchestration platforms provide a centralized interface for defining, automating, and managing complex systems or workflows, making it easier to achieve desired outcomes with greater efficiency and accuracy.
Workflow Orchestration Tools
Workflow orchestration tools are software solutions that enable organizations to automate, manage, and optimize their business processes. Thesen tools offer a centralized platform that integrates various software and hardware components, allowing teams to work collaboratively and communicate seamlessly. 
"IT teams will need to be able to quickly integrate, organize, and deploy new processes and services in order to pivot in response to new problems, crises, and trends. Tools for process orchestration and intelligent automation are needed for this.", says the Gartner report.
The prime goal of such orchestration tools is to  design and implement workflows that align with business objectives along with the features like scalability, security, flexibility, and optimizable for performance. These tools are capable of monitoring and tracking progress, identifying bottlenecks, and making real-time adjustments. Workflow orchestration tools are indispensable for organizations seeking to gain a competitive edge. 
Types of workflow orchestration
Workflow orchestration tools monitor data and help regulate them based on certain rules that adhere to the business outcome.  This process of automating and coordinating multiple tasks or steps within a larger workflow or business process is enforced by orchestration tools. The data that are pipelined into the workflows are refined to use by the ETL (Extract, Transform, and Load) process. The workflow orchestrator can be classified into the following types: 
Cloud Orchestration: Automating and managing cloud infrastructure resources, is the prime focus of cloud orchestration. Operations like provisioning virtual machines, configuring networks, enabling containers, and allocating storage are efficient with cloud orchestration. 
Service Orchestration: When end-to-end solutions are to be provided as a complete solution, service orchestration comes into picture. For example, a service workflow orchestrator platform involves every action from scratch from designing to running an application of multiple microservices in a distributed system.
Release Orchestration: Automating the process of releasing software or application updates, is the main functionality of release orchestration. Tasks such as building, testing, and deploying new code to production environments are taken care of in release orchestration.
Benefits of Workflow Orchestration
Data workflow orchestration tools can bring numerous benefits to organizations. Here are some of the most common benefits:
Efficient : Workflow orchestration tools automate and streamline routine tasks, reducing manual effort and improving overall efficiency. Potential employees find their job role engaging and satisfying helping them focus on more complex or strategic tasks. Data workflow tools thus, improve productivity and reduce costs.
Collaborative: The ultimate goal for implementing any service/tool/solution is to improve their business profitability without disrupting their existing framework. Aiding this, orchestration aims for achieving the business outcome to be aligned with the business bottomline. Making wise decisions to choose the right workflow orchestration tools will impose a surge in process visibility; when done right workflow orchestration tools ensure that everyone is working towards the same goals and objectives resulting in better outcomes and increased innovation.
Better Visibility and Control: Workflow orchestration provides a centralized interface for managing and monitoring workflows, giving organizations better visibility into their operations and processes. Easy access from centralized interface organizations can get transparency in the processes by identifying and addressing issues more quickly and analyzing them effectively.
Compliant: Non-compliance and associated penalties are huge business risks which every business wants to avoid.  Workflow orchestration software help organizations ensure compliance with regulatory requirements and internal policies by automating and enforcing compliance processes and procedures with perfectly defined policies.
Agile and Faster Time-to-Market: Businesses that are agile in their responses are most likely to win the race. It is almost a winning strategy in this dynamic environment. When everything falls in place with workflow orchestration tools organizations can respond more quickly while adapting to the changes in the business environment. Orchestrated business processes do align with business goals improving productivity at a faster pace.
Speaking about the benefits of orchestration workflow tools, here is their downside. Being aware of the challenges aids in getting ready for the worse in some cases.
Workflow orchestration often involves managing complex systems with many moving parts. Complex workflows are tedious to design and manage after implementation. 

Workflows often involve integrating with multiple systems, applications, and data sources. Integrating with third party applications or systems poses an intricate challenge and assuring them to be seamless and reliable adds up more burden. The agility of the orchestration workflow tool counts here!

Based on the nature of the business environment, workflows tend to change according to the customer needs, market needs or regulatory requirements. To keep up the tool usability and maintaining their scalability in such a dynamic environment also adds as a challenge here.

Huge data volumes are precedently processed using workflows and they can even emerge from different sources. Such data from varied sources should be effectively managed for quality and privacy is also a challenge  to be addressed. Tools that embrace ETL should be considered for such scenarios.

Generally, data workflow orchestration tools require specialized expertise  in coding and other knowledge for automation. Making such skills which are necessary to be available within the organization or somehow accessed through external resources can be challenging.

When a new workflow orchestration tool is included in your system there will be a considerable change in all the existing processes, systems, and workflows. Your team and stakeholders should be prepared or at least should be trained to face this change, which again imparts a challenge.
Application Workflow Orchestration
Application workflow orchestration involves the orchestration of the various components of a specific business process or application to ensure that it functions correctly and meets the desired outcomes. For example, an application workflow orchestration platform may manage the steps involved in customer onboarding or order fulfillment.
There are specific tools and platforms to enforce the requirements by the workflow orchestrator and the orchestration process. These tool sets and platforms aim to improve the efficiency of the process, reduce errors considerably and thereby increase the process productivity. Here are some use cases/examples of how application workflow orchestration can be applied:
Continuous Integration/Continuous Delivery: various nuances of the business process automation like building, testing or deploying the applications are done in such a way to aid faster delivery, reliability with an intent to minimize errors and downtime. This approach is relatively involved in application workflow orchestration.
Microservices Orchestration: Systems are increasingly utilizing microservices architecture, in which various application components are divided into smaller, independent services. The microservices can be orchestrated by application workflow orchestration so that these microservices provide unison with their functionality. 
Cloud Application Orchestration: Cloud applications are evolving, and application orchestration tools take care of the requirements of the application. There is a gradual spike with the cloud usage in recent years and relying on application workflow orchestration for orchestrating cloud operations like cloud computing, cloud storage and cloud networking will be a viable option. This aids businesses to ensure that applications are highly available, scalable, and secure.
As per reports on the workflow orchestration market, cloud orchestration is being adopted by many organizations for process optimization as well as lowering operational costs and mitigating issues of data loss.
Event-Driven Architecture: Extensive data collected during the flow of business processes respond to specific events or triggers. Applications thus respond quickly and accurately to user actions or other external events i.e. they are more agile with workflow orchestration tools.
Machine Learning Workflow Orchestration: Complex workflows comprise of data preprocessing, model training, and model deployment. Application workflow orchestration is used to automate and manage these workflows and helps in the efficient orchestration of machine learning applications.
Why Application Workflow Orchestration Is Important?
The capabilities of application workflow orchestration in business process automation are already fascinating and here are other several reasons portraying its importance. 
Application workflow orchestration spurs up the process visibility by automating and streamlining the system applications which would save you costs and reduce errors. The ability to adapt the dynamic environment is likely to be high with application workflow orchestration, which is a positive sign towards agility and flexibility. The spiking visibility control with centralized interface in application workflow orchestration boosts system performance and helps address issues easily. 
Application workflow orchestration imparts tools and software that can efficiently scale when there arises a demand surge. These features of application workflow orchestration facilitates a consistent business efficiency enhancement. This justifies application workflow orchestration to be an integral part of business automation.
End-to-end workflow automation
Build fully-customizable, no code process workflows in a jiffy.
Best Workflow Orchestration Tools in 2023
Every business has its own requirements and goals and also every workflow orchestration tool has its own pros and cons. The tool would be a right fit if it meets your technical needs and expectations within your finance margin and aligns with your organizational goals. Here is a detailed comparison of some of the best workflow orchestration tools and this space eventually dissects their unique capabilities and limitations to help you find the right solution.
Cflow: Cflow is a powerful SaaS based workflow management solution and is popularly used as a no-code workflow solution. With  Cflow, you can create workflows, manage them and automate them with ease.  The drag and drop interface lets you design unique workflows for every different business process. The visual workflow builder has a user-friendly interface which allows the design workflow templates. Cflow is cloud native and offers a high degree of privacy and security.  The scheduler and triggers associate tasks based on user role or as defined by the rules. The dynamic approval workflows makes easy delegation of tasks based on their authority and facilitates the execution of workflows across multiple cloud platforms and on-premises infrastructure. Cflow also facilitates usage in data integration, ETL,  as a business process automation workflow.
Microsoft Azure Logic Apps: this is a popular application developed by Microsoft and is known for its integration with other cloud based services or other SaaS applications. The Microsoft Azure Logic Apps  allows you to run  automated workflows in a web-based interface. This interface has a drag-and-drop editor, connectors and integrators. In this way, you can define your workflows and integrate them with other external applications. Microsoft Logic Apps facilitates business process automation with data integration, and application integration workflows.
Apache Airflow: Apache Airflow is an open-source platform for programmatically authoring, scheduling, and monitoring workflows. The python-based interface supports various plugins and simple integration procedures. Apache Airflow's flexible and extensible architecture favors you to define complex workflows in code. This is called Directed Acyclic Graphs (DAGs) and has a rich feature that performs workflow automation based on task dependencies, retries, and initiates alerts. These capabilities have made Apache Airflow a popular choice for data engineering, ETL, and machine learning workflows.
AWS Step Functions: AWS Step Functions is a cloud-based workflow orchestration service that allows users to coordinate the components of distributed applications using visual workflows. Integration with AWS services is simple and workflows are easily built in graphical interface. This tool thus provides a competitive edge in the workflow automation market. 
Prefect: Prefect is a workflow orchestration tool that aids in simplification of the complex workflows without compensating the process visibility and control. Data workflows that are defined, scheduled and monitored are known for their easy usage and accessibility. With Prefect, you can easily create complex workflows of tasks that run in a specified order with dependencies between them. Tasks can be written in any language, and Prefect provides a Python API for defining and running workflows. Orchestration and monitoring of data engineering and data science workflows are quite difficult as they involve complex data pipelines; Prefect does this as easy as breeze. To streamline workflows that involve multiple data sources, transformations, and processing steps, the orchestration tool, prefect would be a perfect choice.
Best Practices in workflow orchestration
Generally, Workflow orchestration intends to automate and manage business processes in such a way to improve efficiency, reduce errors, and ensure compliance.
Commence your workflow orchestration process by getting a clear understanding of the business goals and objectives; Ensure that the workflows and processes being automated are aligned with the organization's overall strategy.

Make efforts to get knowledge on the market's business trends. This allows you to decide on the perfect solution from the booming technologies and tools that can be utilized for your business process orchestration.

Identify the gap in your existing system and dissect the pros and cons of the tool before implementing in your premises. Check whether they work well with your business use cases, including customer service, sales, marketing, HR, finance, etc.

Make efforts to determine the scalability of the workflow orchestration tool. Assure that the workflows can scale according to your business growth and changing business needs.

Be sure to choose a workflow orchestration tool that aligns with your security and compliance protocols; Always witness that your sensitive data is protected and regulatory requirements are met.

Choose a tool that is flexible enough to ensure that the workflows can be easily modified or updated in a dynamic environment.

Invest in a tool that primely focuses on process transparency; It is your prime duty to ensure that all stakeholders are involved in the design and implementation of the orchestration workflows and that they have a clear understanding of their roles and responsibilities. A tool that encourages better collaboration should be your choice for orchestration.

Regular monitoring is a must to do things in any setup so you can ensure nothing falls through the cracks.

Not everything fits everywhere! Every tool has its own pros and cons. Do extensive research for the orchestration tool that aligns with your business goals and finance margin too!
Final Thoughts
Agility and speed of business processes are the life and breath of a business. Dynamic business environments require organizations to be flexible and responsive. Workflow orchestration tools improve businesses' ability to respond quickly to evolving customer needs and embrace new ways of working and collaborating. Indulging new and advanced technologies in your business environment fosters a culture of innovation and  encourages your employees to upskill.
Workflow orchestration tools like Cflow,  allow businesses to operate with agility and speed which empowers them to thrive and succeed. When you quickly seize new opportunities, respond to changing customer needs, and stay ahead of the competition, this is already a happy camper! Choose your workflow orchestration tools wisely to embrace long-term growth and success.
Orchestrate your business workflows with Cflow! Sign Up Start your free trial now!
What would you like to do next?​
Automate your workflows with our Cflow experts.​
Get your workflows automated for FREE
---