Approval Software for Workflow Management Process
Approved – Certified – Sanctioned – Licensed – These words are like music to the ears of business owners. A lot of time and effort goes into getting approvals. From vacation request approvals to expense reimbursement approvals – employees spend a substantial amount of their productive hours logging in and waiting for approvals.
Managers and senior management spend a sizable chunk of their working hours looking into and approving employee requests. Manual approval processes entail several rounds of email exchanges, delays, reminders, bottlenecks, employee frustration, and uncertainties.
Is there a better way of getting approvals?
What happens behind the scenes during the approval process?
From logging in the request to approval, there are several intermediary steps in the process. Read on to know more.
Approval Workflow Example
Let us take vacation requests as an approval workflow example.
An employee planning to go on leave sends an email to his boss specifying the reason and duration of his vacation.

The boss reviews the request based on the company's leave policy, impact on the team's productivity, and genuineness of the request.

From here, the request is routed to a higher authority (as the case may be). The request may go through several review steps.

At any stage, the reviewer may send the request back asking for more information or reject with reasons, or approve the request.

Once approved, the request goes to the payroll department for updating leave balances.
The image below shows a typical leave/vacation request approval process.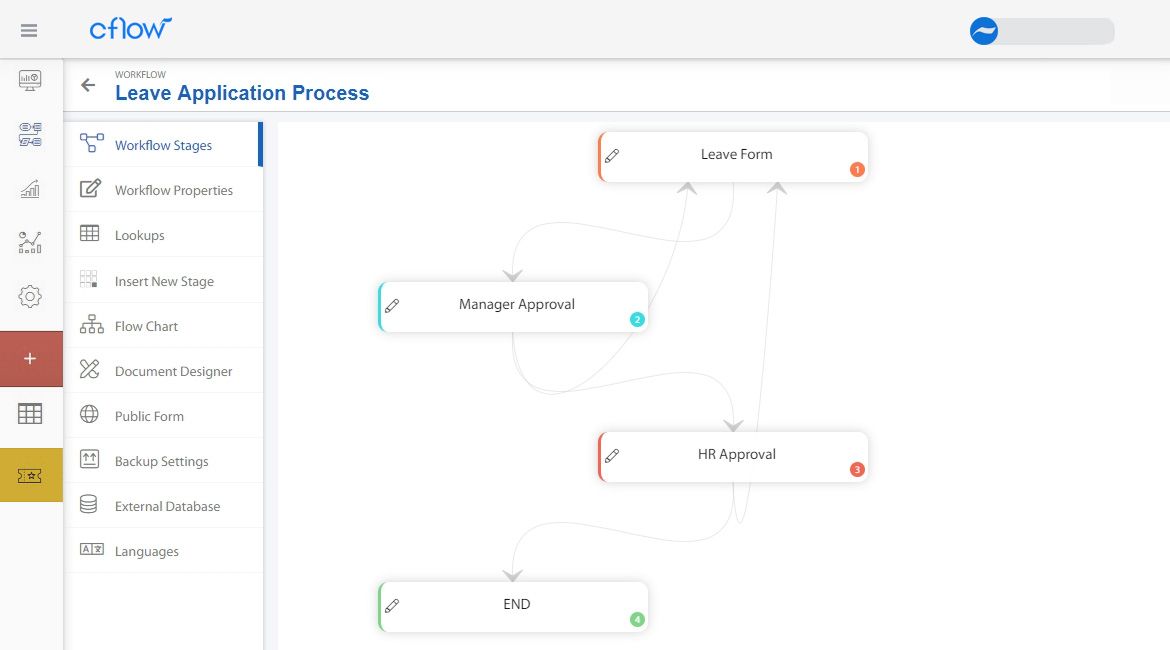 It is evident that a manual vacation request approval process has several steps to it. Several emails are exchanged between the approver and the employee. In a scenario where multiple approvers are involved, the employee has no clue about the status of his request, because email exchanges are not transparent. Employees also need to send several follow reminders to the approver. Added to this, human bias also slows down the approval process. This is the typical scenario in manual approval processes. To sum it all up, manual approval processes:
Are time-consuming and cumbersome

Require repeated reminders and follow-ups

Eat up productive time of employees

Frustrate employees due to inordinate delays

Leave employees clueless on the status of requests

Affect the productivity of the employee, eventually the team's productivity as well
Typical Scenarios of Approval Process
Businesses rely heavily on approvals! From Sales to HR to Finance – all business functions deal with approvals on a daily basis. Some approvals require approval from one person, while others involve multiple approvers from various departments.
What are the typical business scenarios that require approvals?
Leave requests to be approved by Managers and Payroll

Expense and Travel reimbursement requests to be approved by Managers, HR, Operations, and Finance

Timesheet approvals to be done by team leads or managers

Service requests to be approved by Managers and IT Admin

Purchase invoices to be approved by the Managers and Procurement department

Sales invoices to be approved by Marketing, Procurement

Employee Hiring approvals by HR and Line Managers
Doesn't it seem like businesses run on "approvals"! Not only are there several types of requests that require approvals, but there are also multiple stages of approval for each request. Two or more departments are involved in the approval process. Good coordination between the departments is essential for smooth and fast approvals. Unless there is a process in place to streamline approval workflow, businesses will incur losses due to delays and bottlenecks.
What is Approval Workflow Automation?
Automating the workflow approval process is a smart way to accelerate and optimize the approval workflow. Deploying an approval workflow system helps businesses automate repetitive steps in the workflow, notifications, and reminders. From the submission of a request to approval – all the steps are transparent to the employee.
The first step to creating an approval flow is to map put all the steps.

Once the steps are mapped out, repetitive steps can be identified easily.

Steps that do not require human intervention can be automated easily.

Approval requests are submitted by filling out a form with the required details.

Any documents required for reference in the approval process can be made available in a central repository.

Rules and conditions for approval can also be fed into the approval workflow software to automate approval, notifications, and reminders.
Automating Workflow Approvals in Business Functions
Automating approvals in various business functions improves productivity and employee satisfaction significantly.
Let us now see how each business function is benefitted from an automated approval system:
Human resources:
Leave requests, medical claims, work orders, employee hiring, comp off requests, etc. are some of the requests submitted to HR requesting approval. Automating the approval process saves a lot of time for the department, so they can focus on high-value work.
Operations:
Expenses, service, or logistic requests are usually handled by the operations department. In most cases, operations and finance departments work together. Automation of approvals accelerates the approval by improving coordination between departments.
Finance:
More than half the workload of Finance is dominated by approval requests. Invoice approval workflow or sales quotations need to be supported by proper documentation before submitting to Finance. Automating such requests enables easy submission of documents while generating the request.
IT Team:
Requests for computers, laptops, or the resolution of hardware issues, etc. are within the scope of the IT department. Automating the approval process for the IT departments saves a lot of time for the department and the employee submitting the request.
Key Benefits of Approval Workflow Automation
Automated Routed Approvals
Submitting your approvals becomes easy, which helps employees to enhance their productivity. Modern approval workflow software ensures you get a consistent picture of the status of your approvals. Approval workflow software can significantly improve communication and teamwork with enhanced visibility features. This eliminates the constant monitoring and sending of messages and reminders.
For instance, when you use approval routing software for managing spending, employees can easily submit purchase requisitions and expense reports. The automated workflows quickly do all these works.
Speedy approvals
Streamlining approvals helps establish a smooth process. Using an approval process software equates to the pending processes and bottlenecks which need to be addressed immediately. This means fewer delays and quick notifications for approvals to managers and senior officers. Automated workflow software enhances mobility by deploying where the requests are managed and approved in a cloud-based environment and allowing remote monitoring and approvals.
Compliance
Using approval management software enables increased compliance since every purchase becomes consistent with the company's policies. Risk mitigation, conducting audit trials, budget compliance, and assessing accurate information are some of the software's compliance features. You can reduce time consumption in managing and reviewing budgets and approvals. You can also set different permission levels for each manager and officer.
Internal control & Accuracy
Approval workflow software enhances your delegation of authority. The software distributes the workloads, accelerates decision making, identifies potential risks, and helps in enabling routine purchases.
You will always have access to accurate and up-to-date records, which is one of the enormous benefits of having an approval workflow software. Accurate information helps your company to do precise forecasting and make intelligent decisions.
Collaborations, cost, and time savings
Internal collaborations are of paramount importance for operating daily activities. With approved workflow software, the collaborations can be easily managed, assigned responsibilities, and efficiently track the entire transition life cycles of the workflows. Moreover, your company can save the hard-pressed and maverick spending and accelerate the streamlining of the workflow management processes.
End-to-end workflow automation
Build fully-customizable, no code process workflows in a jiffy.
Top 10 Approval Workflow App
Think about all the projects your company has done since the beginning – the milestones achieved, the goals reached, and the daily tasks that keep the employees on their toes. None of these are possible without the managers and leaders giving their timely approvals and feedback. With approval workflow software, businesses can run smoother and faster, saving money and time and reducing employers' stress. Here is a list of the top 10 approval workflow software:
1. Cflow
Cflow by Cavintek is a cloud-based BPM workflow management software. This no-code workflow app specializes in setting up automation rules, building processes, and automated workflow data tracking, helping companies improve productivity. Cflow is stocked with no-code features for assisting organizations to transform from email and spreadsheets to business applications. It provides unique data on bottleneck processes, employee productivity, and employee efficiencies.
Pros: It is best suited for all kinds of businesses as its features can be customized according to the need. Cloud, SaaS, and web-based deployment and on-premises deployments in Windows, Linux, Android, and iPhone. You can integrate with various third-party tools such as G Suite, Office 365, and many others via Zapier. Flexibility and adaptiveness with user-friendly features to enhance functionalities and workflows. Easy form creation and design, version control, collaboration tools, archiving and retention, and many other features.
Cons: Some of the features might need support to learn the workflow and logic of the processes.
2. Integrify
It is a workflow software suitable for managing a wide range of business processes. It enables data collection and stores historical records of previously approved workflows. This data can be used during audits.
Pros: Approval of audit trails can be accessed from different devices. Customizable reports and easy document storage with version control access. Enables visual workflow management.
Cons: The low code aspect is a disadvantage to many as it proves to be challenging for some users without knowledge of coding.
3. Kissflow
This is another no-code online platform that enables users to automate their processes. It allows users to create and manage their workflows and collaborates on approval processes.
Pros: It can be accessed from different devices, including phones and tablets, and provides notifications. Users can assign different levels of permissions and assign roles to persons even with no tech backgrounds.
Cons: It is costly and does not offer document management features.
4. Process.st
Process.st allows users to create approval processes with its customizable features and automated approval workflow templates. It has features such as quick one clicks approval features and creating approval checklists.
Pros: Enables users with a wide range of collaboration tools, email management functions, and multi-device access. Also, it allows integrations with external applications such as Slack and other task progress tracking tools.
Cons: some of the pre-defined functionalities are found to be restrictive to some users.
5. Frevvo
Frevvo offers users features to create visual workflows and automated forms that work well with point and click wizard tools.
Pros: Offers customizable fields and provides users with several other features to build an approval process with predefined templates. Users can have a drag and drop functionality with several customizable features and an enhanced user experience.
Cons: Users from the non-IT field find the software difficult to use, and the rule-based workflows feel restrictive to some users.
6. ApprovalMax
ApprovalMax is a cloud-based design tool that is applicable for small and medium-sized business enterprises. Users can easily create approval workflow solutions most suitable for accounting and financial needs.
Pros: Enables users to create multi-level approaches and set notifications to access approval workflows through mobile applications.
Cons: Specifically designed for financial institutions which are quite a niche restrictive. It offers a small number of features which is comparatively less than its competitors.
7. Procurify
Procurify is another automated software that is designed for financial institutions. Using Procurify, users can easily create approval workflows, and it provides them with greater transparency, especially in the financial spending of a company.
Pros: Enables users with real-time access to data and multiple integrations using different ERP systems. Moreover, it allows users to create customized reports and specialized inventory management features.
Cons: Specifically designed for financial institutions which are limited to a specific niche. Furthermore, there are issues reported concerning software filtering functions.
8. Procuredesk
Procuredesk is an invoice approval workflow software that enables companies to reduce their time spent processing and invoice approvals by about 50%. It is automation that provides complete control over spending and cash flow visibility.
Pros: You can simplify vendor catalogs and have complete control over approval processes happening at each stage: transparency and automated exception management.
Cons: supplier database registration failure which is one of the main disadvantages of this software and fails to minimize paperwork.
9. FileStage
FileStage is a review and approval software platform that allows companies to sort out their chaotic approval processes. They can easily share their approved files and manage them in a single place. The files include images, videos, audio, websites, and other documents. It is a cloud and SaaS web-based software.
Pros: It has several features such as approval process control, audit trail, bulk uploading, customizable options, collaborative tools, client management, and compliance tracking.
Cons: Users have indicated troubles with annotation features and with the google AdBlock plugin. Also, some of the features are difficult for non-tech savvy people.
10. Smartsheet
Smartsheet is an online work execution program that offers companies features for planning, tracking, automating, and reporting their workflows. It also enables users with easy project and work management. Small, medium and large-scale enterprises can use the software.
Pros: Enables users to have robust communication and quick workflow management. Moreover, automation and collaboration features are enhanced and are highly useful for the elements.
Cons: Debugging is one of the main disadvantages reported by many users, and sometimes the features are intricate for people with limited coding knowledge. Moreover, the software is occasionally tricky for handling numerous projects, which becomes overwhelming for the users.
Conclusion
Automating the approval workflows is no doubt an important business decision that improves business outcomes. Approval workflow automation software can help provide leverage for effectively managing your time and resources in the most efficient way. Now that you have seen the list of approval management software, it is crucial for you to choose the best one.
Cflow is your workflow automation partner for quick, seamless, and easy automation of business workflows. Our no-code, cloud workflow automation app can accelerate and optimize any business process. Sign up for a free trial to know more.
Get your workflows automated for FREE