3 Interlinked Workflows Every SMB must Automate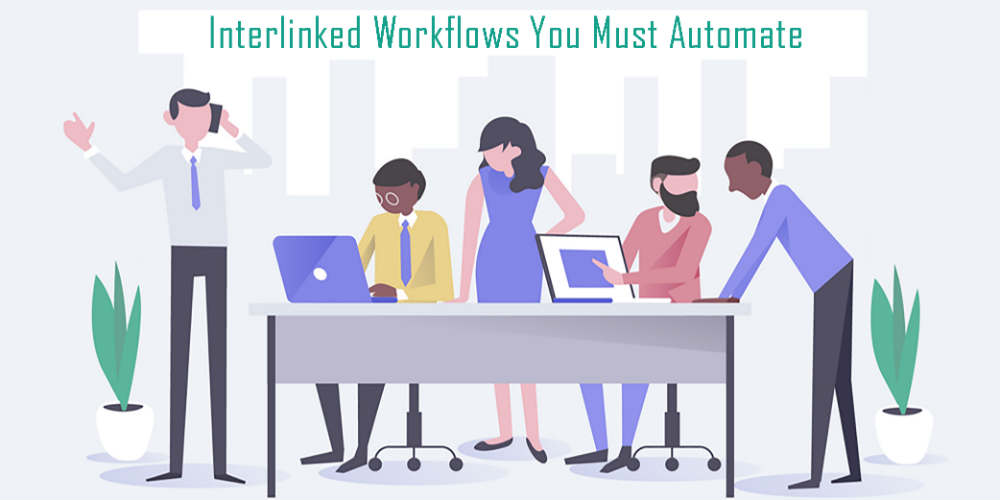 Business Process Management (BPM) is considered more of a mandatory action in every organization, especially SMBs and it is important to ensure smooth workflow on a daily basis.
A lot of workflows are interlinked in a company and by automating, you can gain some phenomenal results in terms of efficiency, team spirit and improve their ability to deliver error-free work. Identifying those interlinked workflows is not a hard task as these are some of the common tasks performed by the operations, HR, and finance teams in a company.
Automating Data Entry – Marketing, HR & Finance
Entering all customer and client data manually could be a big pain as there is always scope for data duplication, manual errors committed by people, lack of access to a centralized database and delayed operations due to improper communication.
A Small Business BPM can help you easily upload all data including customer name, phone number, e-mail address, and how the information was acquired in the first place. All entries made are saved in a centralized database, avoids duplication, and makes it easy for the marketing or HR team to get the info they need. It even makes it easier for the finance to process invoices making it an interlinked workflow that direly needs to be automated.
Project Workflow Automation – Design, Development Teams
Business workflow automation is a broad term and when you have to focus on interlinked workflows, the everyday work carried out by the design team, the development team, and the support team is of utmost importance.
Every project workflow must be automated as it gives teams the freedom to focus on their immediate tasks and they don't have to wait for approval from different members who may be located in a different part of the office.
By creating project workflow automation, any work completed by the design team will automatically move to development and the support team will always have a clear idea of the status of the project.
The automation software improves accountability, reduces errors, and ensures projects are completed on time without delays. Automatic notifications are sent to keep people informed of their job roles and respond in a timely manner.
End-to-end workflow automation
Build fully-customizable, no code process workflows in a jiffy.
Automating Invoice – Finance, Operations
The finance team is a company is often bombarded with invoice requests from every corner. While they have the responsibility to approve all of them, checking the integrity and authenticity of an invoice is mandatory before approval. Automating an invoice process makes things easy as every time it is generated, the team responsible will check the details and approve them.
The finance team will have a clear idea of who created it, its deadline, and its approval plan. If the same invoice is created every month, the automation software provides digitalized copies of the same for easy verification. By avoiding errors in an invoice and automating repeated tasks, it's easier to make sure invoices are cleared at the right time. Finance and operations are usually the teams that are interlinked in invoice processing. Automation helps both teams work more efficiently and ensure smooth operations in a company.
Conclusion
Cflow is a cloud BPM & Workflow software designed for SMBs and can help create workflows to automate your most redundant tasks. Our program can help streamline the tasks between interlinked workflows to keep multiple teams notified of every operation. It provides a centralized hub to access data, send e-mails and automate most processes for smooth workflow management.
What would you like to do next?​
Automate your workflows with our Cflow experts.​
Get your workflows automated for FREE
---